This post may contain affiliate links.
So let me start by saying that I will never purchase standard, prepackaged sun-dried tomatoes again.  Ever.  For the past several weeks, I've been experimenting with making my own Oven Dried Tomatoes at home.  Results:  Spectacular.  And really, this process is so easy, you could do it in your sleep.  Seriously… season the tomatoes in the evening then let them dry in the oven while you sleep!  When you wake up, you will have a delicious batch of homemade Oven Dried Tomatoes perfect for sammiches, pasta, pizza or just snacking.  Simply spiced with toasted cumin, salt and pepper, these Oven Dried Tomatoes have a moist center, crisp edges and a wonderfully concentrated tomato flavor.  Don't like cumin?  Try oregano, paprika, basil, rosemary or cinnamon.  I think it would be hard to find an herb or spice that wouldn't work here.  These tomatoes can be stored in an airtight container for about 2 weeks.  But I can almost guarantee they won't last that long.  So. Yum.  Continue reading for the recipe.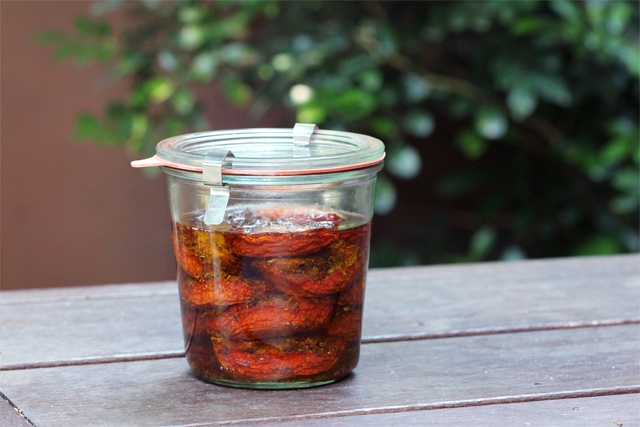 Oven Dried Tomatoes
Ingredients
4

teaspoons

cumin seeds

8

roma tomatoes (any larger tomato will work here, stemmed and cut in half vertically)

Kosher salt

Freshly ground black pepper

Extra-virgin olive oil
Accompaniments:
Bread (sliced and toasted. rubbed with garlic if you are feeling ambitious)

Cheese (mozzarella, ricotta, mascarpone, goat)

Herbs (basil, oregano, parsley)
Instructions
Preheat oven to 200°F. Line a rimmed baking sheet with aluminum foil, parchment paper or a silpat.

Warm cumin seeds in a small, dry skillet over medium heat. Cook until fragrant but not browned, shaking the skillet occasionally (about 3 minutes). Transfer seeds to the canister of a spice grinder or the bowl of a mortar and pestle. Let cool completely then grind into a fine powder.

Arrange tomatoes, cut side up, on the prepared baking sheet. Season the cut side with kosher salt and freshly ground black pepper. Drizzle each tomato with olive oil (they should be glistening with oil, not swimming in it). Finish with an even sprinkling of ground, toasted cumin (it may seem like a lot of cumin, but it works well in the end).

Bake for 11 - 14 hours, until the tomatoes have shriveled to 1/2 to 1/4 inch thickness. Cooking time will vary based on the size of your tomatoes. I checked mine around hour 10, then each hour afterwards. The batch pictured above was done at hour 12. The tomatoes will still be moist inside but have slightly crisp, brown edges.

Cool completely. Serve with toasted bread, cheese and fresh herbs. The tomatoes can also be enjoyed tossed with pasta or as a pizza topping.

To store, place the tomatoes in an airtight container and cover with extra-virgin olive oil. They will last for up to 2 weeks.
Tried this recipe?
Tag @brandiego on Instagram so I can check it out!
2