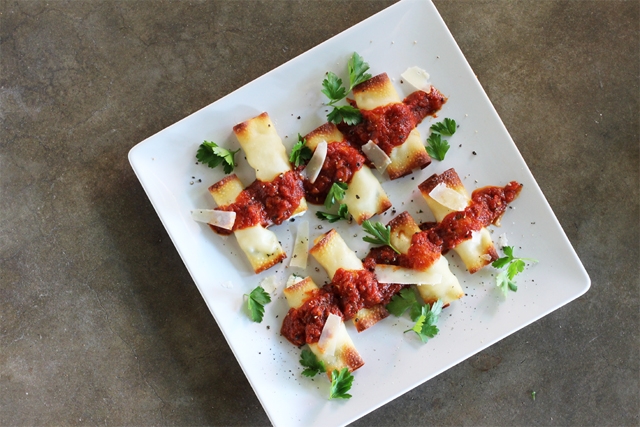 This post may contain affiliate links.
Last week, I featured these Mini Cannelloni on the San Diego Living show.  Made with wonton wrappers, these tasty morsels come together in matter of moments and are easily adaptable.  Stuffed with a mixture of ricotta, chopped parsley, Parmesan, salt and pepper, these Mini Cannelloni are cooked in the oven until just crispy and golden.  I love the contrast of the tender, creamy center and the crunchy, bubbled edges.  Don't have parsley on hand for the filling?  Try fresh basil, tarragon or sage.  Feeling ambitious?  Try mixing in some sauteed asparagus, blanched peas or caramelized fennel.  Roasted pumpkin or butternut squash would be great options in the fall.  You can easily adapt the filling based on what produce is in season.  Also, try switching up the sauce component.  Brown butter, alfredo and pesto sauces would all be great substitutions for the classic tomato sauce shown above.  Continue reading for the recipe.  Plus I've announced the winners of the Marshmallow Madness giveaway below.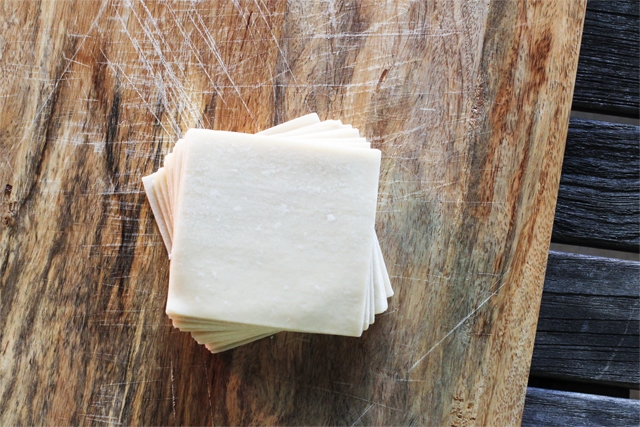 And the randomly selected winners of the Marshmallow Madness giveaway are:
Megan Gill-Kopp [Comment 15]
Lauren [Comment 31]
Kesha [Comment 62]
Congratulations!  I will be contacting each of you via email to coordinate sending out the books.  If you have not responded by 11:59pm on Sunday, March 18, I will need to select another winner.  Thanks to all who participated!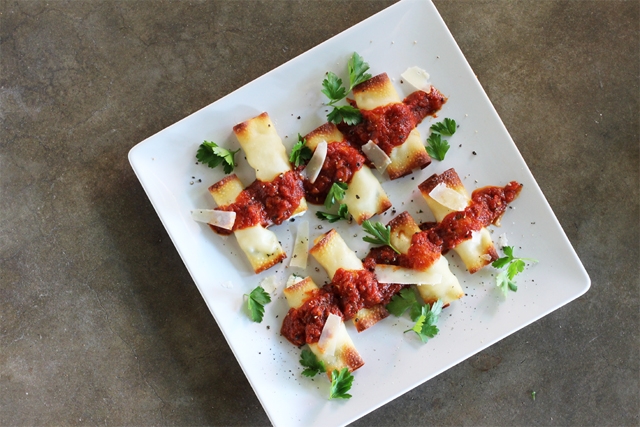 Mini Cannelloni
Ingredients
1

cup

ricotta cheese

1

tablespoon

chopped parsley (or basil, sage, tarragon)

Grated Parmesan cheese

Kosher salt

Freshly ground black pepper

Fresh wonton wrappers (10 - 15)

Olive oil

Tomato sauce, for serving

Parsley leaves, for serving

Shaved Parmesan, for serving
Instructions
Preheat an oven to 400°F. Line a baking sheet with a silpat for parchment paper.

In a small bowl, combine ricotta cheese, chopped parsley, a pinch or two of salt, several turns of freshly ground black pepper and grated Parmesan cheese (I added a small handful of cheese). Taste and season with additional salt, pepper and cheese if needed.

Using a small spoon, scoop 1 teaspoon of the ricotta mixture on to the center of a wonton wrapper. Roll into a tube then place on the prepared baking sheet, seam-side down. Repeated with remaining filling and wonton wrappers.

Lightly brush each roll with olive oil then bake for 10 - 12 minutes. The edges will turn crispy and the center will puff up.

To serve, top with tomato sauce, parsley leaves, shaved Parmesan and freshly ground black pepper.
Tried this recipe?
Tag @brandiego on Instagram so I can check it out!
33