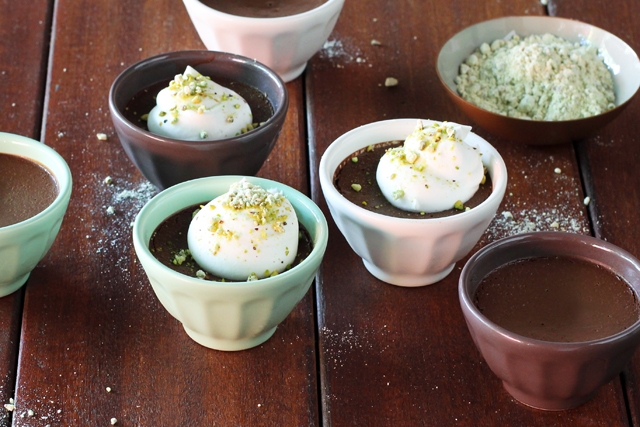 This post may contain affiliate links.
Nestled in the heart of Hillcrest (San Diego's gayborhood) lies an adorable little restaurant called Chocolat.  Serving up an impressive selection of desserts, Chocolat is very well known for their rich, creamy gelato.  A few months ago, I was standing in front of their dizzying array gelato flavors unsure of what I was going to order.  I wasn't quite in the mood for my tried-and-true favorites, coconut and lemon.  Lost in a sea of swirls, my eyes darted from each ingredient sitting atop the colorful, undulating landscape.  Fire red chiles slashed across an Aztec brown Chilli Chocolate gelato.  A flurry of finely ground espresso dusted over the Tiramisu gelato.  Thin strands of hard chocolate woven into a lattice atop the Stracciatella.  So many choices!!
The friendly gal behind the counter could clearly see that I was overwhelmed with options and provided me with a suggestion.  One scoop of dark chocolate.  One scoop of pistachio.  After just one bite, I was hooked.  The saltiness of the pistachio gelato worked perfectly with the bittersweet complexity of the dark chocolate.  I just knew I had to try to recreate this flavor combination at home.  Made with extra bittersweet chocolate and pistachio-steeped milk, these Chocolate Pistachio Pots de Creme are salty, sweet and impossibly decadent.  Topped with a cloud of freshly whipped cream and a dusting of pistachio sugar, these perfect little pots are guaranteed to satisfy my chocolate-pistachio craving any time it comes around.  Continue reading for the recipe.  I've also announced the winner of my recent slow cooker giveaway!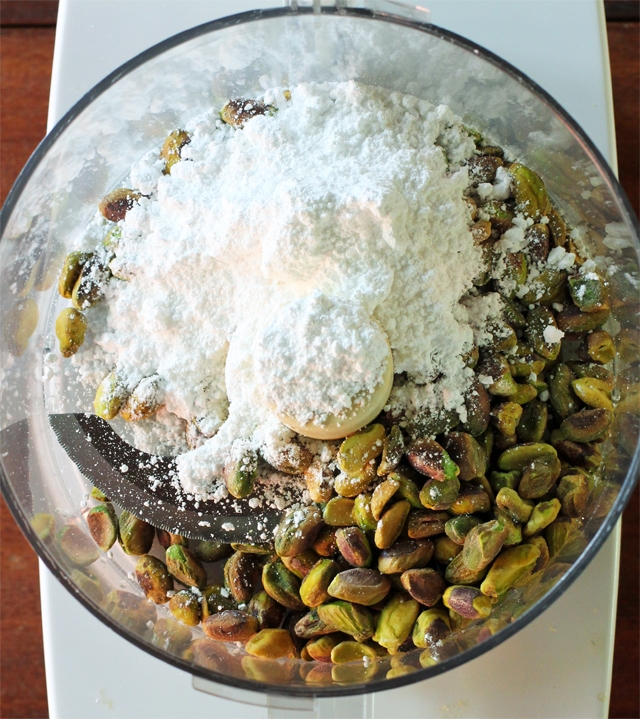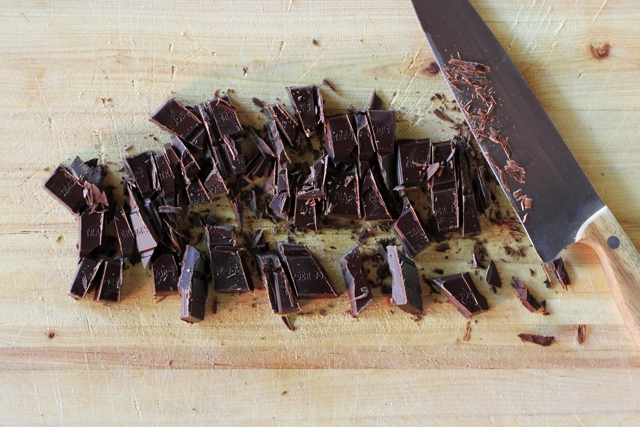 And the winner is… Heather [Comment 64]
Congratulations!  I will be contacting you via email to coordinate sending out the slow cooker.  If you have not responded by 11:59pm on Sunday, June 10, I will need to select another winner.  Thanks to all who participated!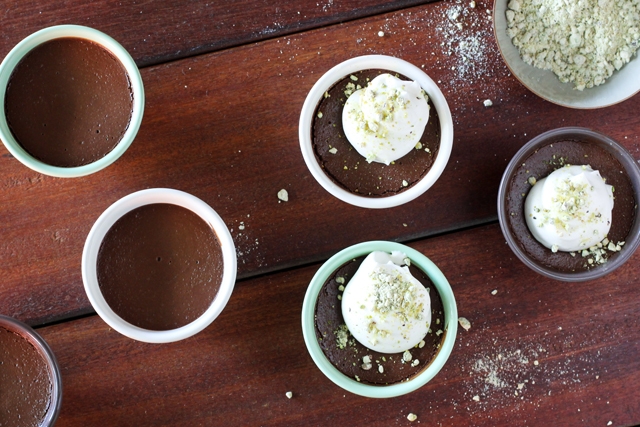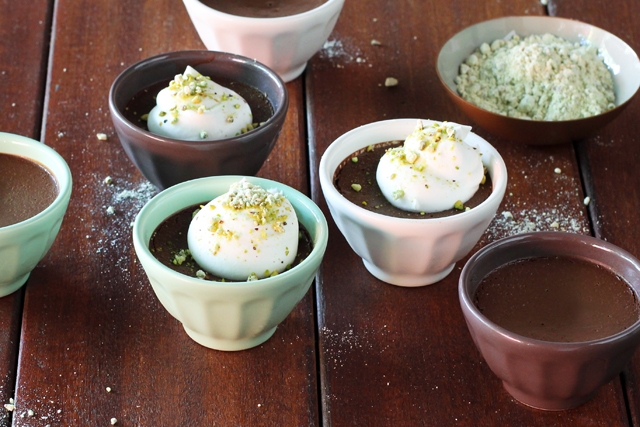 Chocolate Pistachio Pots de Creme
Ingredients
1

cup

pistachios, lightly toasted

40

grams

confectioners' sugar (about 1/3 cup)

1/8

teaspoon

fine grain sea salt, plus a pinch

1 1/2

cups

whole milk

1/2

cup

heavy cream

115

grams

bittersweet chocolate (72 percent cocoa), chopped*

4

large egg yolks

45

grams

white sugar (about 3 tablespoons)
Instructions
Preheat oven to 325°F.

Add pistachios, confectioners' sugar and 1/8 teaspoon sea salt to a food processor and process for about 5 minutes, reducing the mixture to somewhat coarse rubble.

In a medium saucepan over medium heat, combine 3/4 cup of the pistachio mixture with the milk and cream. Bring mixture to a gentle simmer. Drop the heat down to just maintain the simmer and cook for 5 minutes. Remove from the heat, cover and let steep for 20 minutes.

While you are waiting, prep the chocolate, egg yolks and ramekins. Place chocolate in a large bowl and set aside. In another large bowl, whisk together the egg yolks, white sugar and a pinch of salt until the yolks turn pale yellow. Set aside. Place 6 small ramekins (or oven-proof bowls) into a baking dish. Bring a kettle of water to a boil (to be used for the water bath).

After the 20 minute steeping period, turn the heat back to medium under the pot with pistachio-milk mixture. As soon as the mixture comes back to a simmer, carefully pour through a fine-mesh basket strainer into the bowl with the chocolate. Press down on the pistachio solids to extract all liquid. Whisk the chocolate and infused milk until smooth and well combined.

While whisking, slowly pour the chocolate mixture into the bowl with the yolks. If you go too fast here you will scramble the eggs! Keep on whisking until everything is well-combined.

Ladle the mixture into the 6 prepared ramekins. Carefully fill the baking dish with boiling water halfway up the sides of the ramekins. Cover tightly with foil and prick all over with a fork. Transfer to the oven and bake until the pots de creme are set, but still a bit wobbly (35 to 45 minutes). Around minute 30, I tested mine by unwrapping the foil then shaking the baking dish gently. They were a bit too wobbly, so I recovered and baked a bit longer.

Cool to room temperature, then cover the pots with plastic and chill for several hours until firm.

To serve, dollop whipped cream on top, then finish with a sprinkling of the pistachio-sugar mixture.
Notes
A regular sized chocolate bar is usually 100 grams. So for this recipe, I used 1 chocolate bar plus a little bit of another.
Tried this recipe?
Tag @brandiego on Instagram so I can check it out!
4