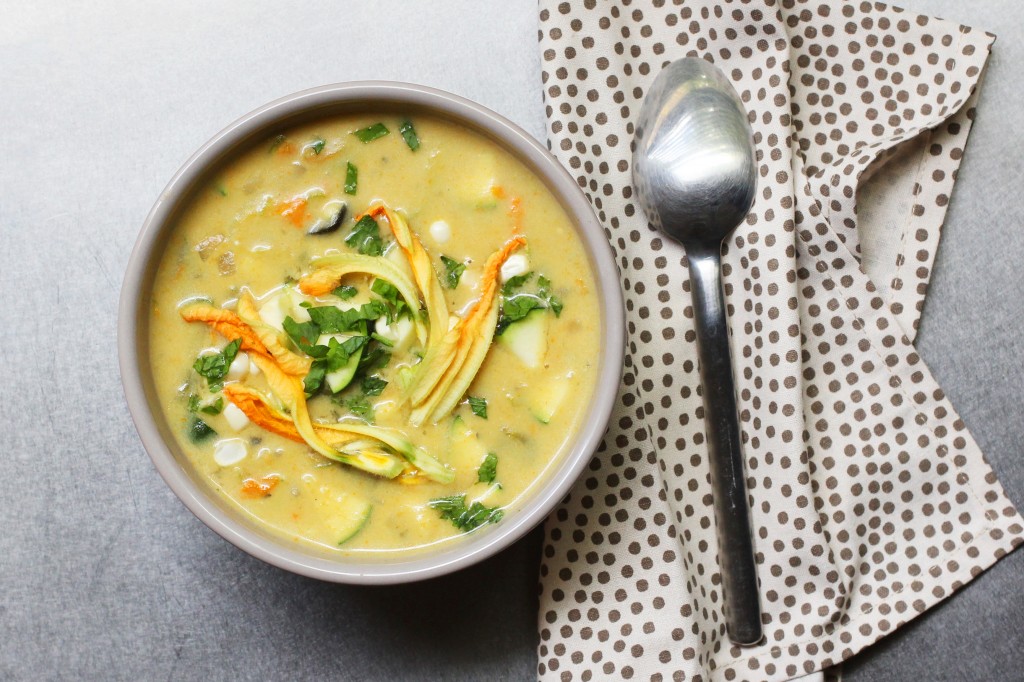 This post may contain affiliate links.
I hope everyone had a safe and happy 4th of July!  I know I did.  Despite some of the major frustrations experienced the day before.  I woke up the morning of the 3rd refreshed and ready to have a productive day.  My to-do list included cooking and photographing five recipes, cleaning the house for a 7:30pm dinner party, then preparing some ceviche to have out just before my guests would arrive.
As I was finishing up this soup (recipe 2/5 for the day), I opened the cabinets under my sink to find one of my pipes leaking all over the various odds and ends stored within.  For those of you who may not know, I am quite challenged when it comes to home maintenance and handy work.  After emptying a seemingly endless stash of wet cleaning products, bottles, bags and towels, I decided to try to fix this issue myself.  With a squeeze-tube of silicone in hand and flashlight in mouth, I made my way below.  I really should have taken a picture of my "fix."  Just imagine globs of white silicon dotting pipes haphazardly mummified in tattered duct tape.  Utterly frustrated, I sat on my kitchen floor defeated.  And guests were arriving in four and half hours.  Continue reading for the rest of my story, plus a delicious recipe for Squash Blossom Soup.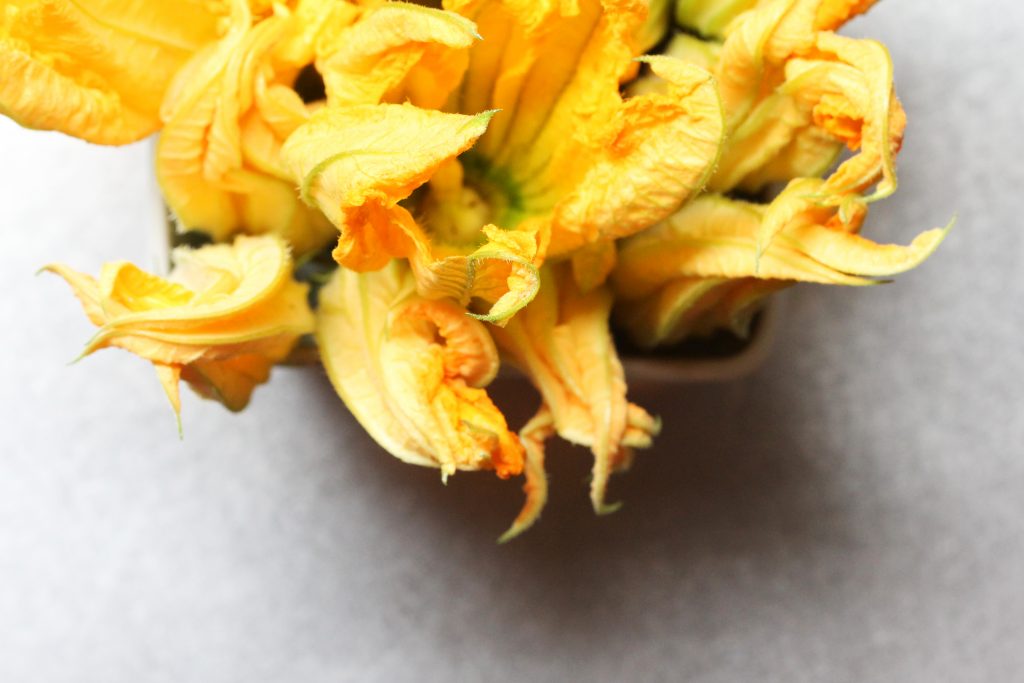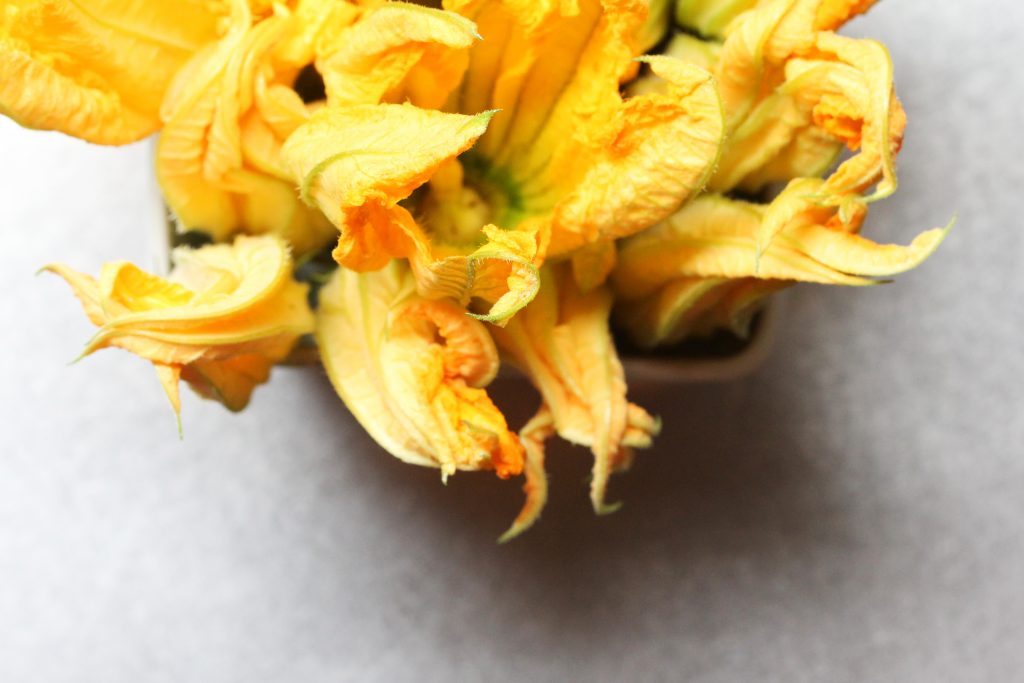 After my brief moment of weakness, I reached for my cell phone to call the landlord.  He immediately called a plumber to come over; however, I wasn't guaranteed a visit being that it was the afternoon before the 4th of July.  A solution to my problem would potentially have to wait until Thursday morning.  Determined to forge ahead, I cleaned up the mess, set a bowl and towels beneath the leak and reached for my citrus squeezer, diving right into a large pile of bright green limes.
Several hours later, my house was cleaned, the fish was marinating, laundry was drying and I felt like I was almost back on track.  Unfortunately, I had to cut a few of my cooking/photography projects to avoid running the water.  The plumber arrived at 6pm and was finished with the work just moments before 7pm.  What a relief.  The rest of the evening was a smash success.  We enjoyed homemade guac, vanilla-lime margaritas, and ceviche to start.  Squash Blossom Soup afterwards.  Piled-high, carne asada tacos for the entree.  Chocolate flan for dessert [photos courtesy of @motoridersd]:


The 4th of July was a bit cold and rainy here in San Diego.  I still enjoyed a relaxing day with the man.  Strawberry pancakes for breakfast, True Blood in the afternoon (we just finished up season 1), and a few Old Fashioneds paired with some killer burgers in the evening.  We finished the day with perhaps the most disappointing fireworks display ever [photo courtesy of @lilmsmuffinpan].  All the fireworks in the San Diego bay went off at the same time for a total of 15 seconds of excitement.


Overall, I enjoyed my holiday.  And now I won't have to worry about the plumbing for a while 🙂  How was your 4th of July celebration?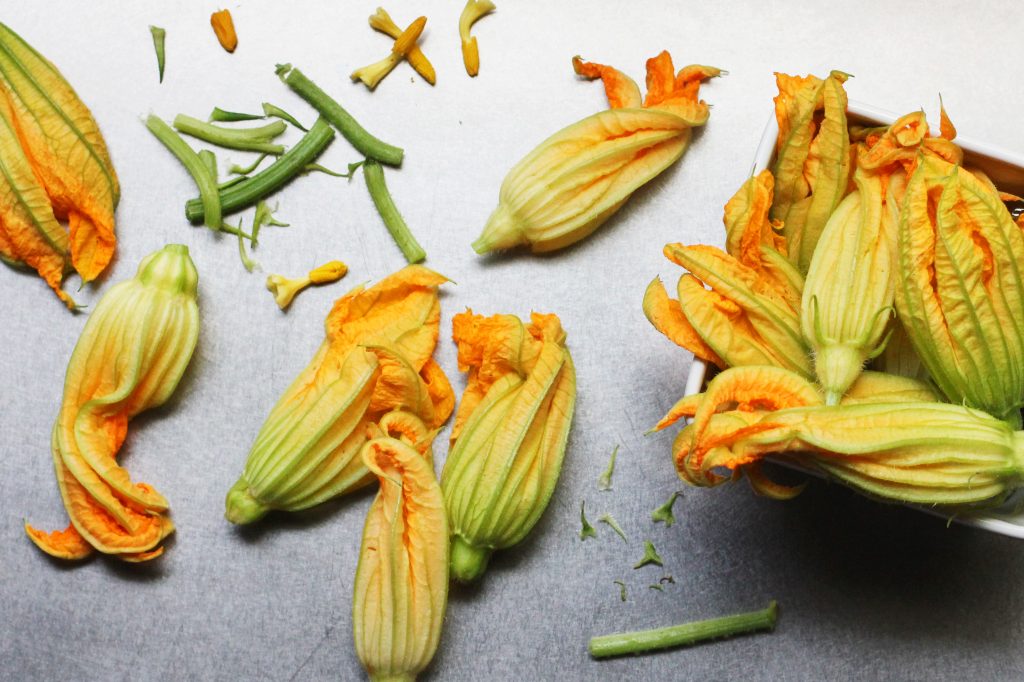 This bowl of pure golden sunshine features an array of fresh summer produce including squash blossoms, zucchini, roasted poblano and yellow corn.  Finished with a sprinkling of epazote, Squash Blossom Soup is creamy, hearty and oh, so satisfying.  The recipe is up next.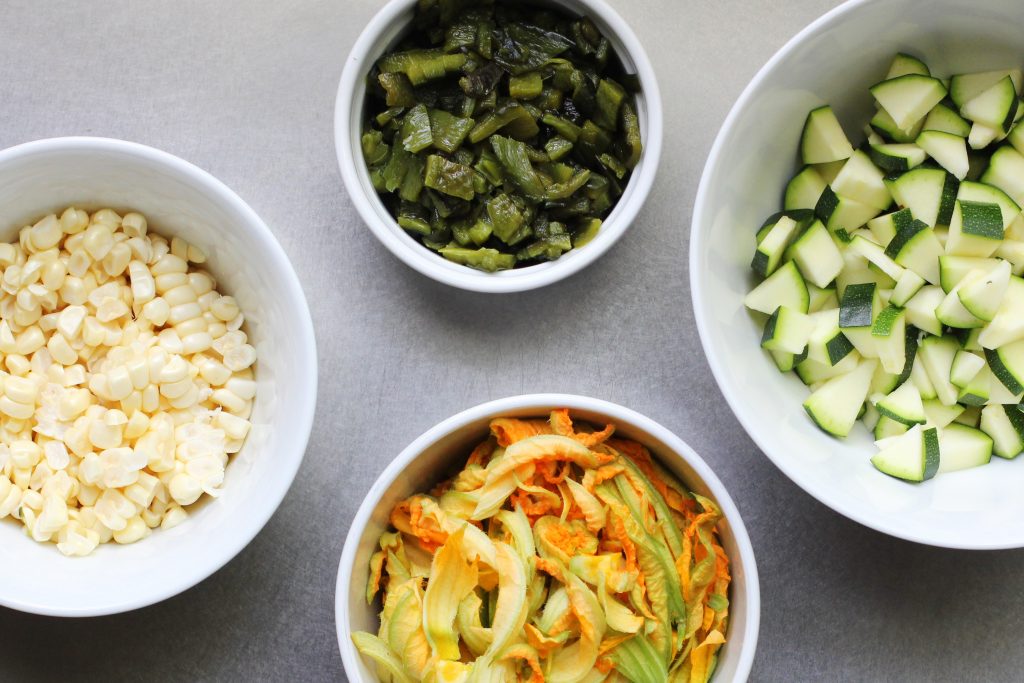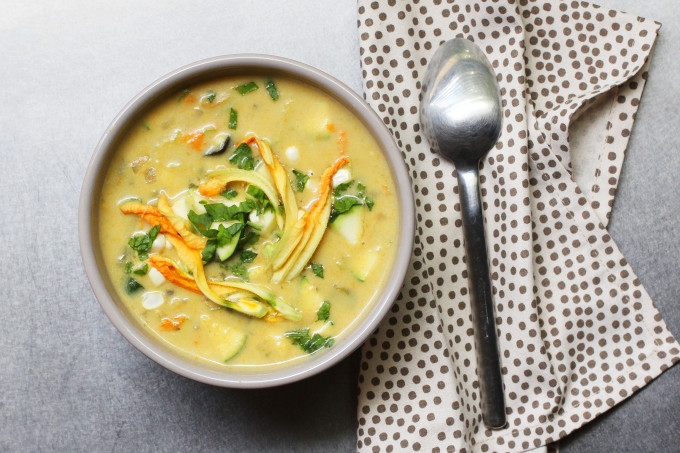 Squash Blossom Soup [Crema de Flor de Calabaza]
Ingredients
2

tablespoons

unsalted butter

1

large white onion, chopped into 1/4 inch pieces

3

cups

chicken stock

1

small Yukon gold potato, peeled and roughly chopped

24

large squash blossoms*

2

poblano chiles, roasted, peeled, deseeded and chopped into 1/4 inch pieces

(instructions on how to roast a chile here.)

1

cup

milk

1

medium zucchini, cut into 1/4 inch pieces

Kernels from 1 large ear of corn

1/2

cup

crème fraîche or heavy cream

Kosher salt

Epazote or flat leaf parsley, chopped
Instructions
In a medium, heavy-bottomed pot, warm butter over medium heat. Once foaming, add chopped onion, stirring to coat. Cook until the onions are lightly golden, stirring occasionally (about 6 minutes). Scoop out half of the onions and set aside.

Add chicken stock and chopped potato to the pot and bring mixture to a boil over medium-high heat. Once boiling, drop down the heat to medium-low and simmer partially covered for 20 minutes.

While the broth is simmering, prep the squash blossoms. Break off the stems, peel off the sepals (the small, wavy leaves that grown from the base), and pluck out the stamen. No need to be gentle here. The squash blossoms will eventually be chopped up, so you don't need to keep their original shape in tact. Discard stems, sepals and stamen.

Divide blossoms into two even piles then slice into 1/4 inch strips (including the bulbous base). Add one pile of slices to the simmering stock and cook for 3 minutes. Carefully blend the mixture until smooth. I used my immersion blender. If you don't have one, use a blender, working batches. Return the mixture back to the pot over medium heat.

Add the chopped, roasted poblano, milk and reserved onion to the soup, stirring to combine. Simmer the mixture for 10 minutes then add zucchini and corn. Simmer for another 3 minutes, then add the other pile of sliced squash blossoms. Continue simmering for 2 minutes, then take the mixture off of the heat. Stir in crème fraîche and season to taste with kosher salt (I added several pinches).
Serve in soup bowls and finish with a sprinkling of chopped epazote or flat leaf parsley.
Notes
*Look for male squash blossoms 3 to 4 inches long. Male squash blossoms are the ones that don't have a baby squash attached. These flowers tend to have a short shelf life, so be sure to make this soup shortly after purchasing the blossoms (same or next day).
Tried this recipe?
Tag @brandiego on Instagram so I can check it out!
Related links and recipes:
Squash Blossoms Stuffed with Ricotta and Herbs
Seasonal Cook: Squash Blossoms Cross Cultures
113