Last week, I shared a recipe for Melon and Prosciutto Toast with Mint Pesto along with a visit to the Five Crowns Cantaloupe farm. Today, I've got another two farm tours for you along with this Sweet Corn Frittata with Avocado and Herbs, sponsored by Albertsons and The California Avocado Commission.
This post may contain affiliate links.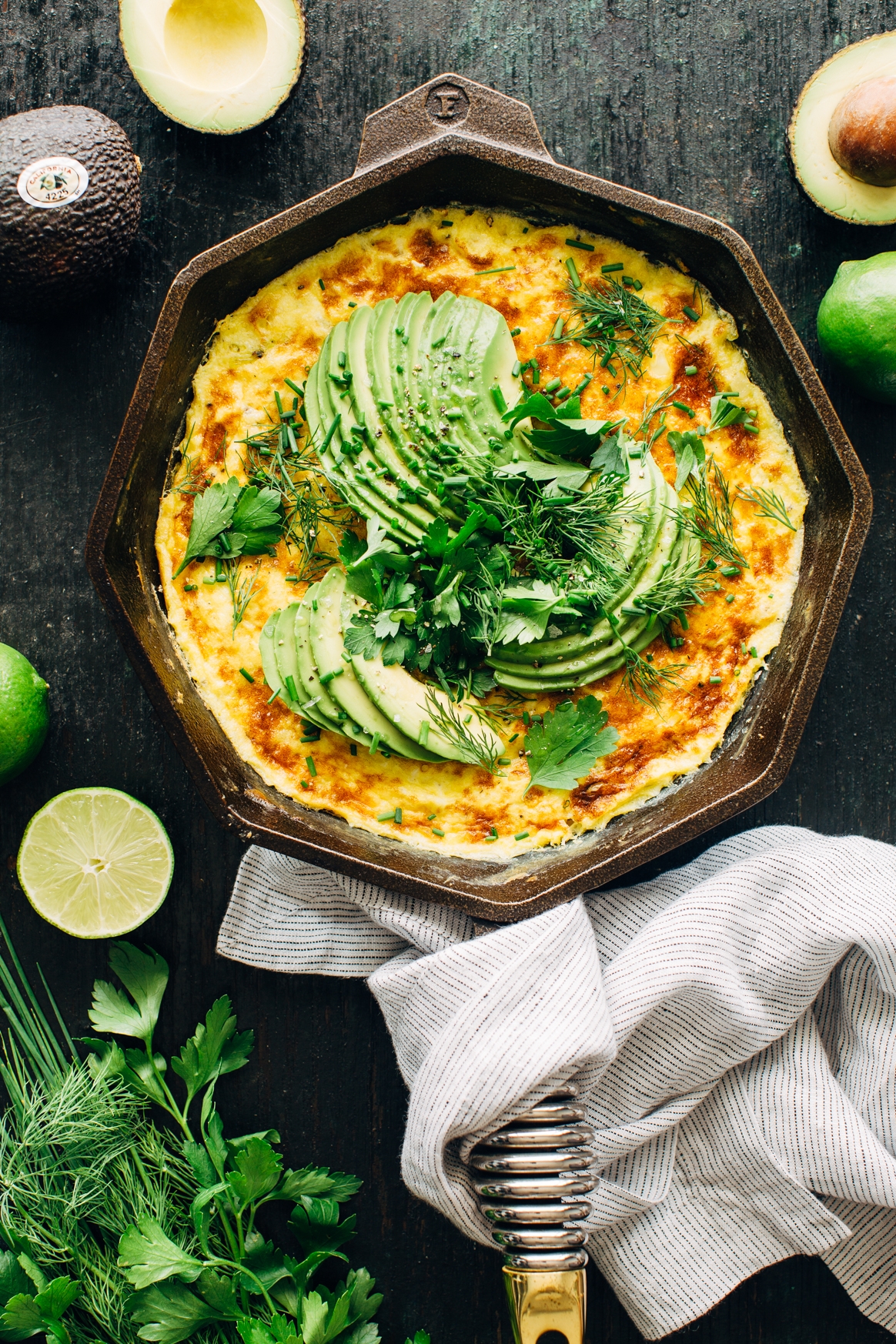 Frittatas are one of my favorite things to make during the summer months because there are so many tasty seasonal veggies you can mix in.  In this recipe, sweet corn kernels are sautéed with garlic and sliced scallions until just tender. Then, eggs laced with monterey jack cheese are stirred in.  The frittata firms up a bit on the stovetop before heading under the broiler to get nice and golden. Finished with sliced California Avocado, mixed herbs, and a squeeze of lime, this sweet corn frittata is fresh, hearty, and oh-so satisfying.  Continue reading for the recipe.
I stocked up on all the ingredients needed for this frittata in the produce section of my local Albertsons.  Both corn and avocados are in season right now, so it's the best time to enjoy them! And they are actually really delicious together.
Ripe California avocado adds a rich grassiness to this frittata along with punch of healthy fats and nutrients. Just once slice of this frittata is enough to fuel an entire morning! The herbs and lime juice on top (parsley, dill and chive shown here) help to balance and brighten up all of the rich flavors in the dish. You can use as many herbs as you'd like here and in any combination. If you've only got parsley on hand, just use that! Or just use whatever's growing in your garden. Just make sure it's a tender herb and not something hardy, like rosemary.
I've always wanted to visit an avocado grove and several weeks ago, I finally made the trip. Nestled in the hills of Valley Center, CA, I met up with the California Avocado Commission team at Rancho Santo Thomas.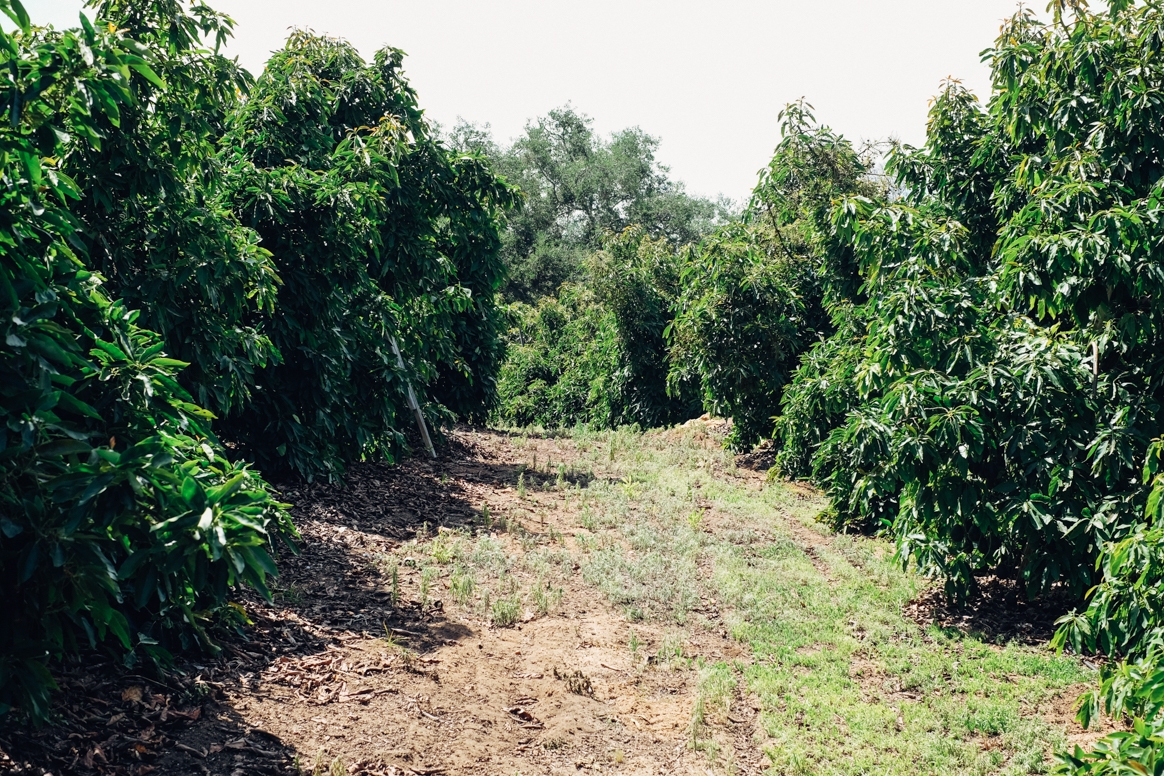 Rancho Santo Thomas is a 120 acre avocado ranch that's nurtured by Mike Sanders and his son-in-law Chris Ambuul. The two have been avocado growers for over 40 years!!
One really interesting fact I learned during the tour is that it takes two years to grow an avocado. We spotted a few trees during the tour that had two generations of avocados growing on them!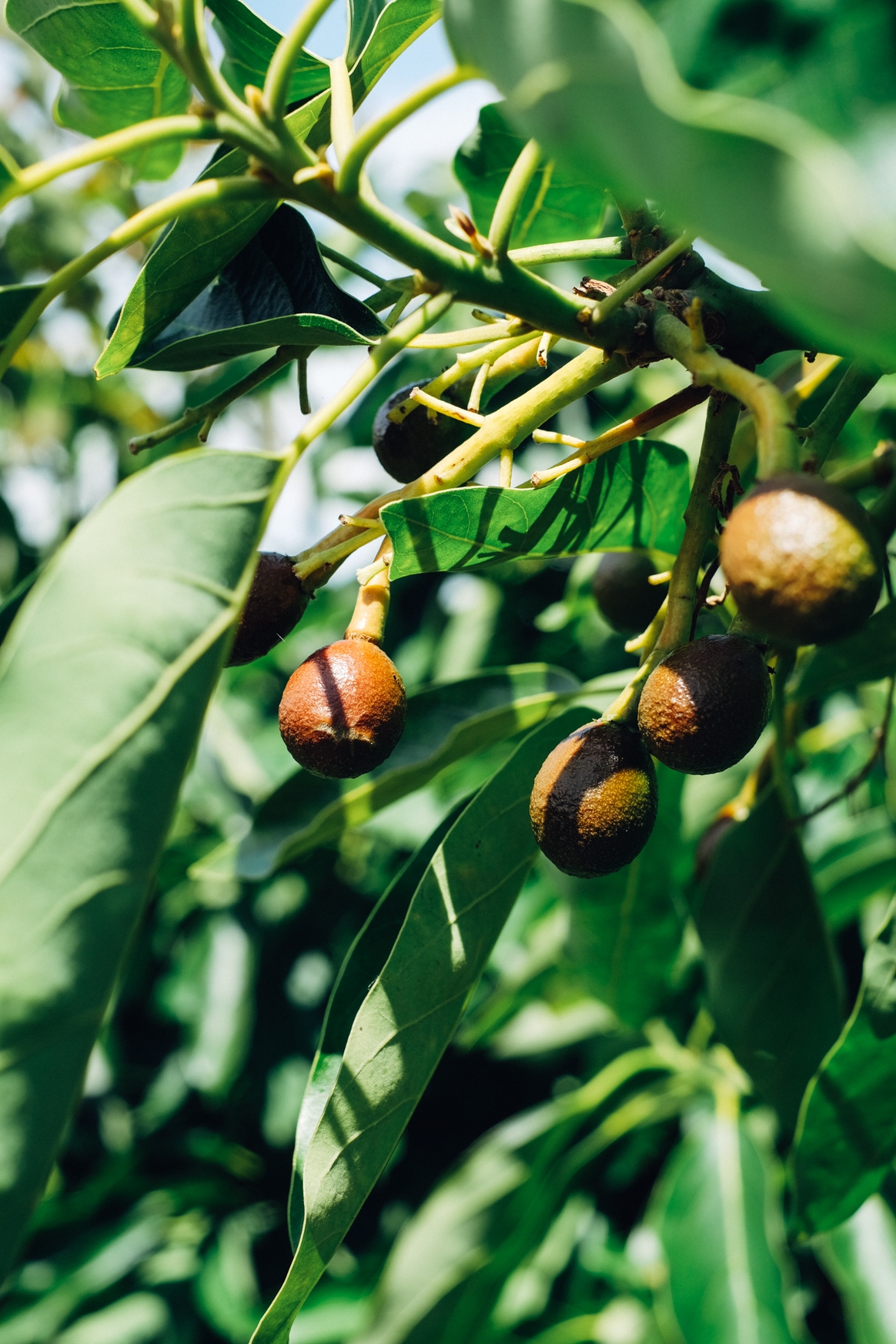 All of the avocados on Rancho Santo Thomas are harvested by hand to ensure that the fruit doesn't get damaged.
The corn featured here is from a local SoCal farm, Five Crowns, and seriously you guys, it's delish. I had the chance to visit the Five Crowns corn fields in Brawley, CA several weeks ago, and here's what I learned: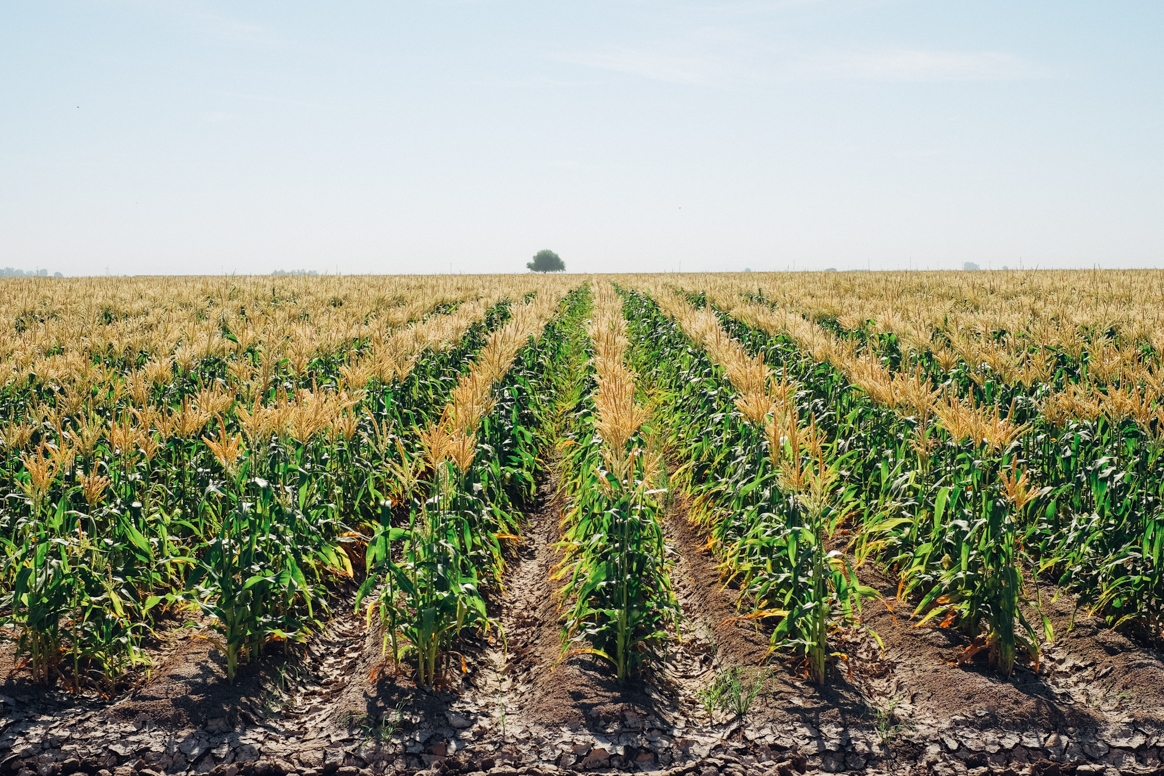 Five Crowns has 3,200 acres of corn fields and they grow a number of different varietals. We got to the fields early to explore, because the temperature was predicted to be 111°F that day! Working 12 rows at a time, they harvest the fields between the hours of 6PM and 2AM because of the heat.
It takes 80 days for a corn plant to grow and produce, and the team at Five Crowns starts looking at quality and flavor 60 days in. We got to snack on some bi color corn while in the fields, and it was SO good. Sweet, aromatic and so juicy.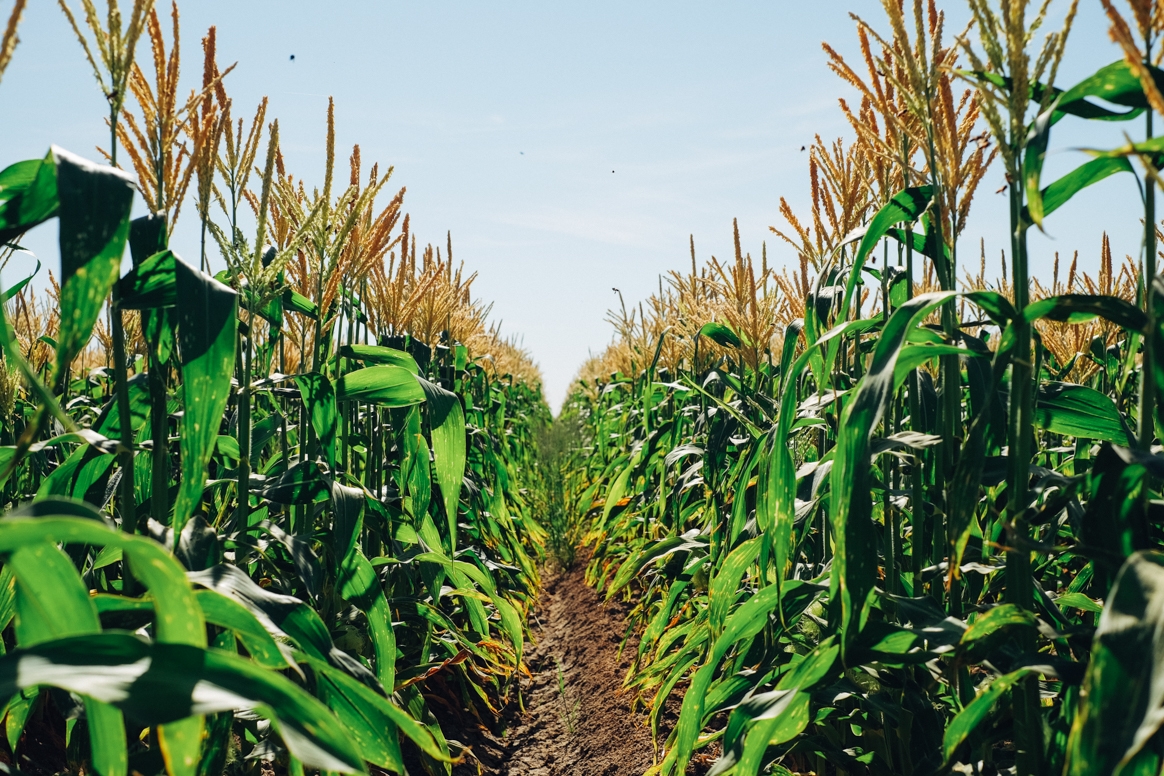 By the way, if you didn't see my visit to the Five Crowns cantaloupe fields, check that out here.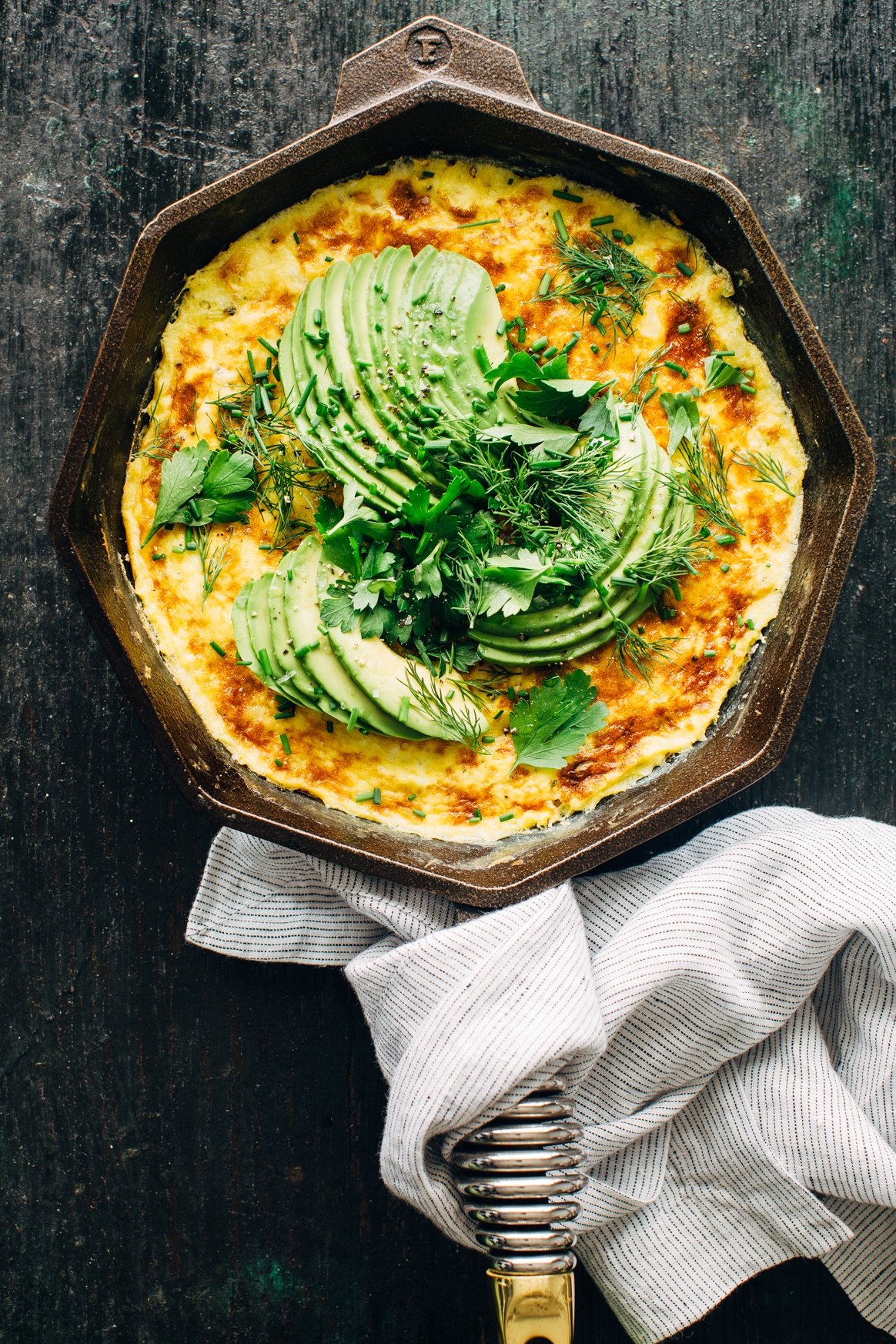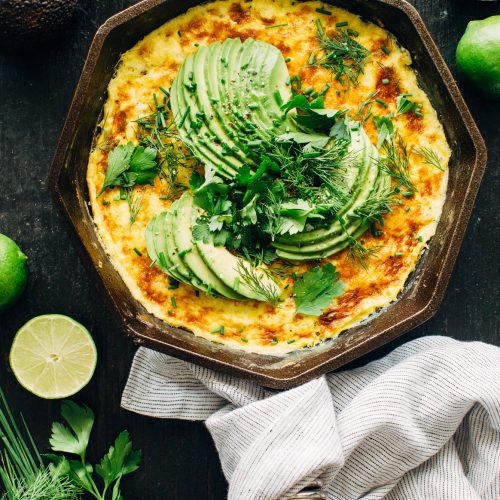 Sweet Corn Frittata with Avocado and Herbs
Ingredients
2

tablespoons

unsalted butter

2

fat scallions or 3 small ones, white and light green parts only, thinly sliced

1

garlic clove, minced

1

cup

fresh corn kernels

Kosher salt

Freshly ground black pepper

8

eggs

1/2

cup

shredded monterey jack cheese

1/4

cup

whole milk

Extra virgin olive oil, for drizzling

1

ripe California Avocado, peeled, pitted and sliced

Lime juice, for sprinkling

Fresh herbs, for sprinkling (parsley, dill and chives used here)
Instructions
Preheat broiler on high, and place an oven rack on the top 1/3 position.

Warm butter in a 10″ non-stick skillet over medium heat, then add scallions and garlic. Cook for 1 minute, then stir in the corn, a pinch of salt, and several turns of black pepper. Cook, stirring occasionally, until just tender (about 2 minutes more).

While the corn is cooking, crack eggs in a medium bowl. Add milk, cheese, a couple pinches of salt (to tastand several turns of black pepper. Using a fork, lightly whisk to combine.

Once the corn is done cooking, check the fat level in the pan. If it seems dry, add a little olive oil. Add egg-cheese mixture to the skillet, stirring to combine. Continue to scramble the eggs for 2 minutes, then let cook undisturbed for 2 minutes. Take the skillet off the heat, then run a spatula around the edge of the frittata (it should be somewhat firm). Drizzle a little olive oil around the edge to keep it from sticking. Place the skillet underneath the broiler and cook until the top of the frittata is golden brown (about 1 to 2 minutes). Timing can vary based on your broiler, so watch this step closely. You can keep the frittata in the skillet if you plan on serving immediately. If not, transfer to a cutting board or serving plate.

To serve, top warm frittata with slices of ripe avocado seasoned with lime juice and salt. Finish with a healthy sprinkling of fresh herbs, a drizzle of olive oil, and a few turns of black pepper. Enjoy warm or at room temperature.
Tried this recipe?
Tag @brandiego on Instagram so I can check it out!
This post was written in partnership with Albertsons and The California Avocado Commission. All thoughts, opinions, and recipes are my own.
27