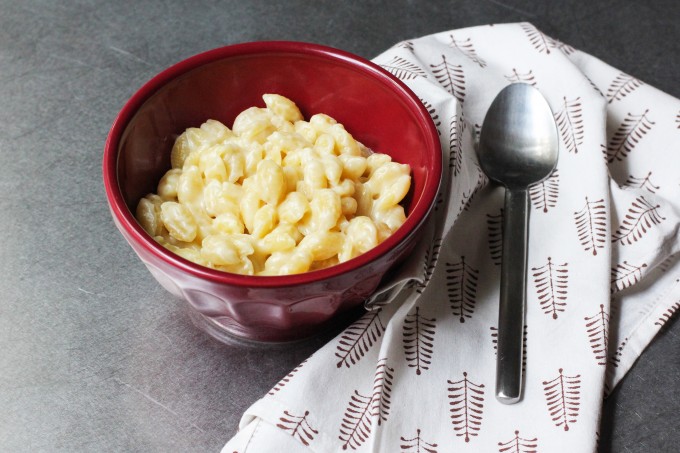 This post may contain affiliate links.
Yes, you read that correctly.  Fat-Free Mac and Cheese.  Well, to be honest, I'm not a nutritionist, so I can't 100% guarantee that there is no fat in this recipe.  But through the wonders of Modernist cooking, I'm presenting a full-flavored, utterly addicting mac and cheese recipe that contains virtually no fat.  Miniature macaroni shells are cooked in water that's been infused with the flavors of Jack and Gruyère cheese.  The mac and cheese is then finished with a silky cauliflower puree that mimics the cream and butter usually found in other calorie-laden recipes.  After just one bite, I exclaimed "OMG!"  The cheese flavor is quite unbelievable.
I mentioned above that this is a Modernist recipe, one that I've adapted from Modernist Cuisine at Home.  To make the flavorful cooking broth for this mac and cheese, you'll need to cook cheese and water using the sous vide method.  Now, I know what you may be thinking, "Sous vide?  Really?"  But before you check out, let me explain.
The sous vide method was one that I previously thought was just for professional chefs.  A method that requires fancy, high-priced machinery.  After a few months of experimentation, I'm here to tell you that this method is not just for professional chefs.  Basically, sous vide is the process of cooking food sealed in a plastic bag in a temperature controlled water bath.  This is a process that any home cook can accomplish.  Continue reading for my stove top sous vide method that utilizes everyday kitchen equipment.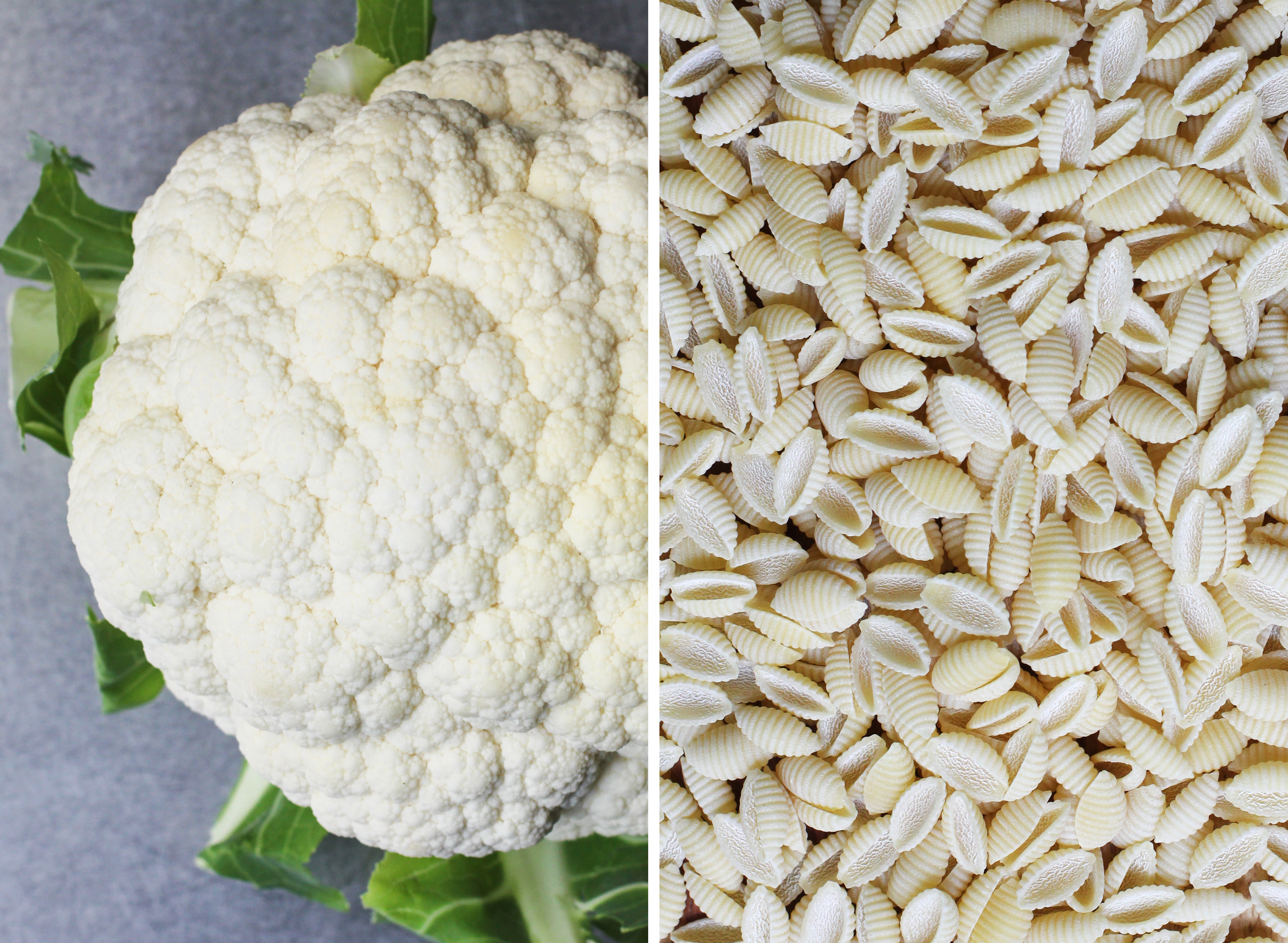 Before we get to the stove top sous vide setup, let's talk vacuum sealing.  To sous vide various different food items, you'll need to vacuum seal them in a plastic bag.  A vacuum sealer is on the list of expensive machinery that I'd rather not purchase, so I decided to test out what the Modernists like to call the "water displacement method."  Basically, you place food in a ziplock bag, then slowly lower the bag in a bowl of cold water.  The water will push out all of the air, and press the plastic up against the food.  Once the water is just below the the ziplock, seal the bag closed.  Here are some photos of this process.  In this recipe, I'll be sous viding a mixture of cheese and water.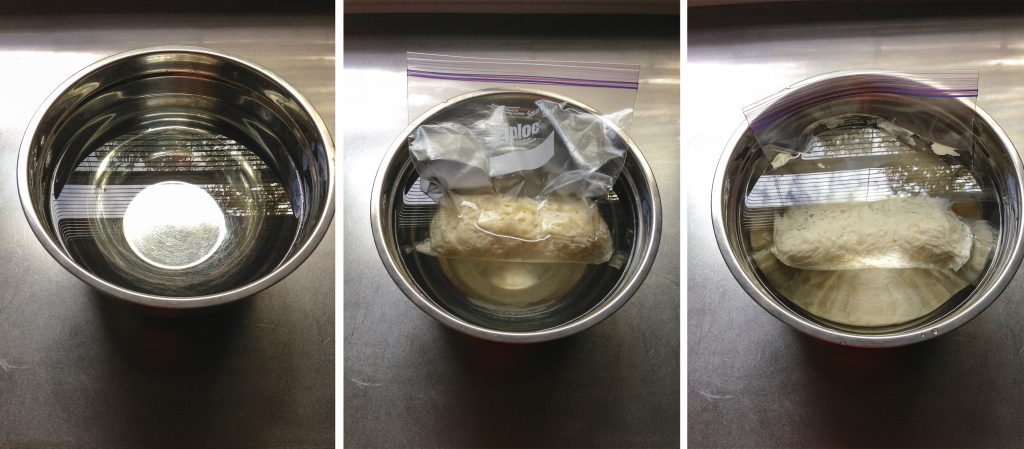 If you don't want to dirty an extra bowl, you can also complete this process in your sous vide water bath before you start heating the water.  I also use this method to seal food before freezing.  Pork, chicken and beef are three proteins I often buy in bulk.  Sealing them in bags this way has cut back big time on freezer burn.
Now that we have our cheese and water all nice and sealed, we can move on to stove top sous viding.  Here's what you'll need:
1 large stock pot – something that can accommodate a gallon ziplock bag without having the bag touch the sides
1 stove
1 probe thermometer
2 binder clips
1 drying rack
Fill the stock pot 4/5's of the way full with water, and set on the stove.  Snap a binder clip on one of the walls of the stock pot with its wings upright.  Thread the probe through the wings of the binder clip and submerge in the water.  This will keep the probe from moving around.  Warm the water over high heat until desired temperature is reached.  In this recipe, it's 176°F.  Binder clip the sealed bag of food to the drying rack, then carefully, submerge the bag in the water.  Make sure that the sides and bottom of the bag are not touching the walls of the stock pot.  The drying rack should rest on top of the stock pot.  Here are some photos of this setup:
Once the ziplock bag is submerged in the water, drop the heat to medium low.  At this point, you'll need to cook the contents of the bag at a constant temperature for a certain period of time.  For me, the best setting on my stove top is between 2 and 3.  This will certainly vary based on your stove top, so keep a watchful eye on the temperature the first time you try this.  Adjust heat accordingly.  Once the contents are done cooking, simply finish according to the recipe.  That's it!
Each time I've cooked sous vide using this method, I find that temperature varies 1 to 2 degrees above or below my target temperate.  This isn't really an issue.  And it's certainly an issue I'm willing to deal with to avoid the hefty price tag of a Sous Vide Supreme!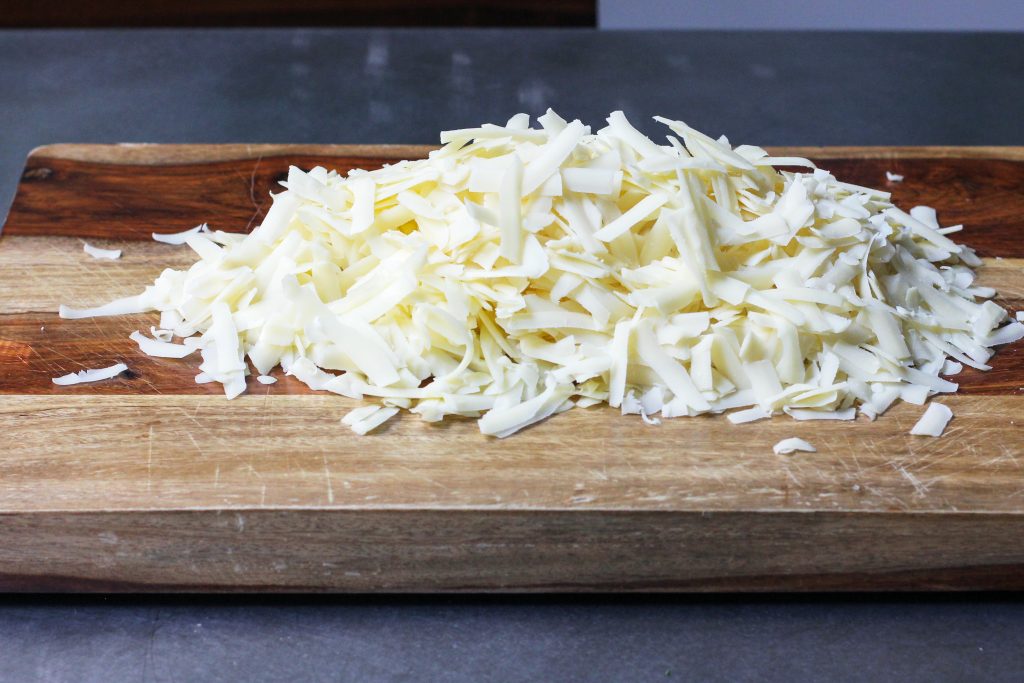 After reading through all of this, you may just be thinking to yourself, "I'll stick with my classic Mornay sauce" [which is Béchamel with cheese].  And that's totally fine.  I really enjoyed my time in the kitchen, experimenting with new Modernist techniques, and I hope I've inspired some of you to give them a try as well.
Fat-Free Mac and Cheese [well, virtually fat-free]
Ingredients
100

g

/ heaping 1 cup thinly sliced cauliflower

Kosher salt

275

g

/ 3 cups grated Jack cheese

275

g

/ 3 cups grated Gruyère cheese

2

g

/ 1/2 teaspoon sugar

180

g

/ 1 1/4 cup dry macaroni (I used mini shells*)
Instructions
Bring a medium saucepan filled with water to a boil. Add a large pinch of salt and the cauliflower. Once the mixture returns to a boil, drop heat to low and simmer for 30 minutes. Drain, then process or blend until smooth (I used a small food processor). Measure out 75 g / 1/4 cup of the cauliflower puree and set aside. Reserve the rest for another use.

Preheat a water bath to 176°F (see steps above for a stove top sous vide setup). Add Jack and Gruyère to a large ziplock bag with 500g / 2 1/8 cup cold water. Using the water displacement method outlined above, remove as much air as possible from the bag and seal.

Cook sous vide for 30 minutes, then set aside to cool at room temperature for 15 minutes. While the mixture is cooling, set a fine-mesh basket strainer over a large bowl (preferably with a pour spout). Line the strainer with a paper towel (or cheese cloth). Once cooled, pour cheese water through the lined strainer. Measure out 500g / 2 1/8 cup cheese water. Reserve remainder for another use.

Bring cheese water to a boil in a medium saucepan over medium-high heat. Add sugar, stirring to dissolve. Add macaroni and cook until al dente (soft on the outside with some bite left on the inside). The macaroni will absorb most of the cheese water (9 - 10 minutes). Stir in cauliflower puree and season to taste with salt (I added just the smallest pinch).
Notes
* Want to bump up the health factor of this recipe? Try using whole wheat pasta.
Tried this recipe?
Tag @brandiego on Instagram so I can check it out!
Related links and recipes:
Perfectly Melting Cheese Slice
16