This post may contain affiliate links.
A golden round of puff pastry is filled with a tangy goat cheese custard and 40 cloves of garlic caramelized in a mixture of balsamic vinegar, thyme and rosemary.  In other words, heaven.  Several weeks ago, I was on quite the tart binge, and too be honest, this one is my favorite.  Well, my favorite savory tart at least.
The filling for this tart is a bit involved, but you can certainly make the caramelized garlic mixture in advance.  You can actually make this entire tart in advance and rewarm when needed.  Packed with bold flavor, this Caramelized Garlic Tart would fit perfectly in any brunch spread, or could be eaten for dinner with a light, acidic salad.  If you love garlic as much as I do, then you will surely go crazy for this tart.  So yum.  Continue reading for the recipe.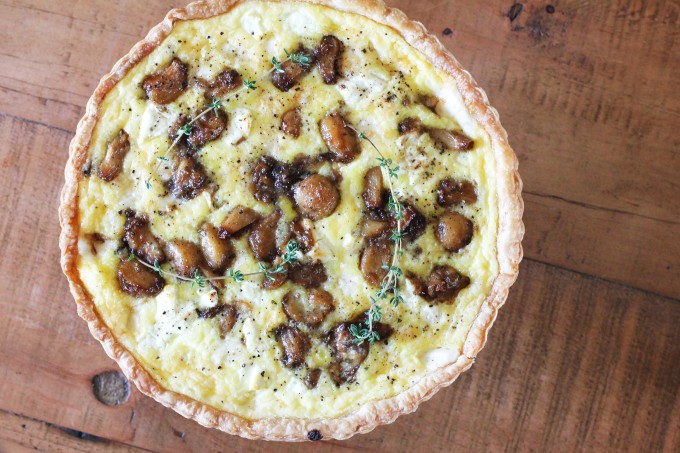 Caramelized Garlic Tart
Adapted from Plenty.
Ingredients
1

sheet frozen puff pastry (9" x 9" square), thawed

40

cloves

garlic

1

tablespoon

olive oil

1

teaspoon

balsamic vinegar

1

cup

water

3/4

tablespoon

sugar

1

teaspoon

chopped fresh rosemary

1

teaspoon

chopped fresh thyme

Kosher salt

9

oz

goat cheese (I used an even mix of chèvre and gouda)

2

eggs

6 1/2

tablespoons

heavy cream

6 1/2

tablespoons

crème fraîche

Freshly ground black pepper

Fresh thyme sprigs, for topping
Instructions
Roll out the puff pastry on a lightly floured work surface until large enough to line the bottom and sides of an 11-inch fluted tart pan. The tart pan should have a removable bottom. Using your rolling pin, trim away the pastry by rolling across the top of the tart pan. Line the pastry with parchment, then fill with pie weights, rice or dried beans. Rest in the fridge for at least 20 minutes.

While the tart shell is resting, preheat the oven to 350°F and bring a small saucepan of water to a boil. Cook the tart shell in the oven for 20 minutes. Remove the parchment and weights, then bake until the crust is golden brown (about 7 - 10 minutes more). Set baked tart shell aside to cool.

Add garlic cloves to the boiling water and cook for 3 minutes. Drain the garlic cloves, let cool a bit, then peel. Dry the saucepan, and add the peeled garlic back into it with the olive oil. Fry the garlic cloves for 2 minutes over high heat. They will start to turn golden brown. Carefully add the balsamic vinegar and water (it will splatter, so stand back). Bring the mixture to a boil, then drop the heat and simmer for 10 minutes. Add the sugar, rosemary, thyme, and 1/4 teaspoon kosher salt, stirring to combine. Continue simmering on medium until the liquid reduces down to a thick, dark syrup (10 - 15 minutes). Remove from the heat and set aside.

Using your hands, tear the goat cheese into pieces and scatter across the bottom of the tart shell. Spoon the garlic (with syrup) evenly over the cheese. In a small bowl, whisk together the eggs, heavy cream, crème fraîche, 1/2 teaspoon kosher salt, and several turns of black pepper. Pour this mixture over the cheese and garlic cloves.

Reduce the oven temperature to 325°F and cook the tart on the middle rack for 35 - 45 minutes. The filling will set (not jiggly) and the top will turn golden brown. Let the tart cool a bit before serving. Top with a few sprigs of thyme and serve warm.
Tried this recipe?
Tag @brandiego on Instagram so I can check it out!
Related recipes and articles:
Summer Crostini with Whipped Roasted Garlic Goat Cheese
Stone Fruit Galette with Ginger and Vanilla
3