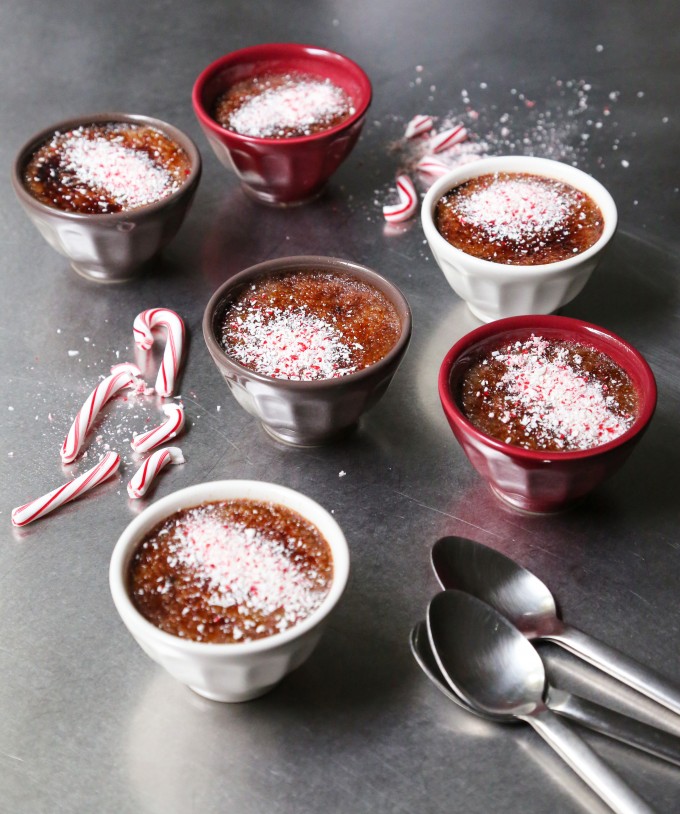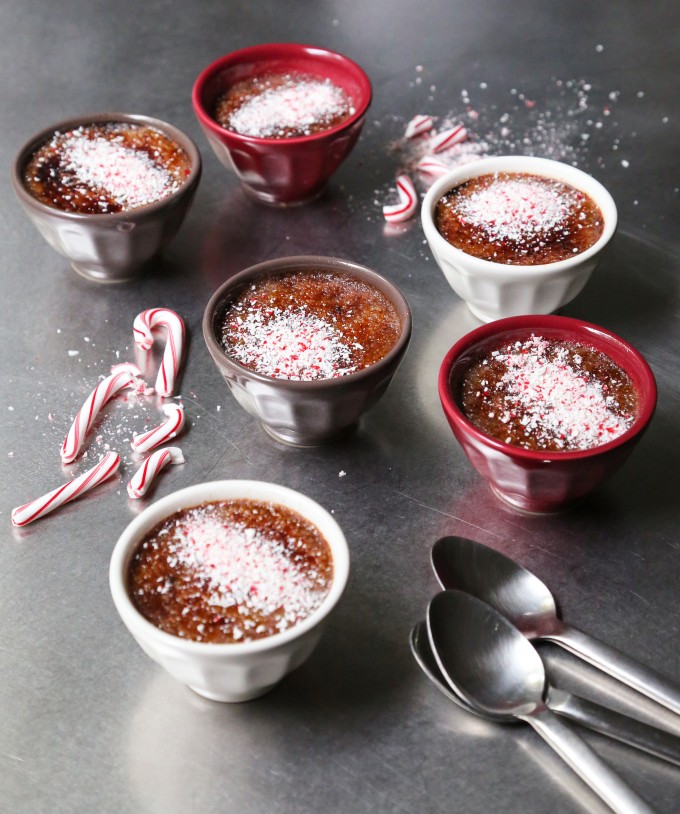 This post may contain affiliate links.
This is the time of year when I want chocolate peppermint everything.  Beverages, bark, mousse, creamer and especially this Chocolate Peppermint Crème Brûlée.  Hidden beneath a caramelized sugar carapace lies a rich, creamy chocolate custard flavored with peppermint and coffee liqueur.  The dessert is finished with a dusting of freshly crushed candy canes.  A seasonal twist on a timeless classic, this Chocolate Peppermint Crème Brûlée is incredibly luscious and packed with festive, Holiday cheer.
Although I could certainly eat a little cup crème of  every day, I like to save these brûléed babies for a special occasion.  Chocolate Peppermint Crème Brûlée is a perfect dessert to serve at your next Holiday cocktail party!  The custard can be prepared in advance (it's actually best if you chill it overnight), and a little blowtorch action makes for some fun tableside theatrics.  Continue reading for the recipe.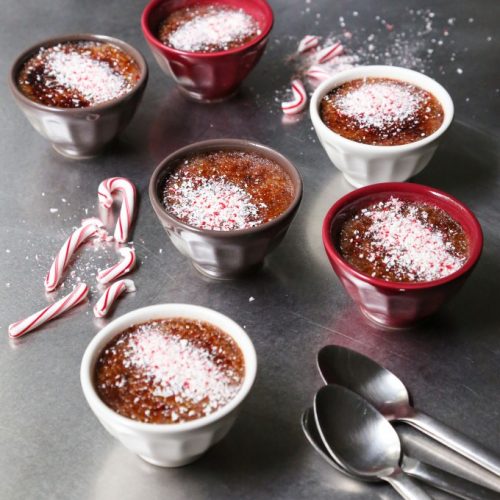 Chocolate Peppermint Crème Brûlée
Ingredients
2

cups

heavy cream

3

ounces

good quality bittersweet chocolate, chopped into small pieces (I used Valrhona here)

3

egg yolks

2

tablespoons

sugar, plus an additional 6 teaspoons for the topping

1

teaspoon

vanilla extract

1/4 to 1/2

teaspoon

peppermint extract

1

tablespoon

coffee liqueur

Mini candy canes, smashed into small bits
Special equipment: blowtorch
Instructions
Preheat an oven to 325ºF. Have a full pot of boiling water ready. Place six 4-ounce ramekins in a baking dish. Set aside.

Warm heavy cream in a small saucepan over medium heat just until small bubbles form around the edge of the pan, and you can see steam rising from the surface of the cream. Remove from the heat, add the chocolate, and stir until melted and combined. Let cool slightly. In a bowl with a pour spout, whisk together the egg yolks and 2 tablespoons of sugar until the mixture is thick and pale yellow (about 5 minutes, you can use a hand mixer here as well). Slowly stir in the warm chocolate-cream mixture, then stir in the vanilla, peppermint and coffee liqueur. Start with 1/4 teaspoon of peppermint extract, then add more to taste.

Divide the chocolate mixture among the prepared ramekins, then transfer the baking dish to the oven. Carefully add boiling water to the pan halfway up the sides of the ramekins. Cover the entire baking dish loosely with aluminum foil. Bake until the custards are just set around the edges (25 – 35 minutes). Test for doneness by jiggling one of the ramekins. It's done when the edges stay in place, and the center is still wobbly. Do not overcook. Transfer the ramekins to a wire rack, and let cool to room temperate. Cover and refrigerate for at least 4 hours.

Just before serving, sprinkle 1 teaspoon of sugar evenly over the surface of each custard. Using a blow torch, caramelize the sugar on top until just golden. Move the flame continuously over the sugar. The sugar will bubble, then darken. Finish with a sprinkling of crushed candy cane.
Tried this recipe?
Tag @brandiego on Instagram so I can check it out!
Recipe originally featured in Pacific Magazine.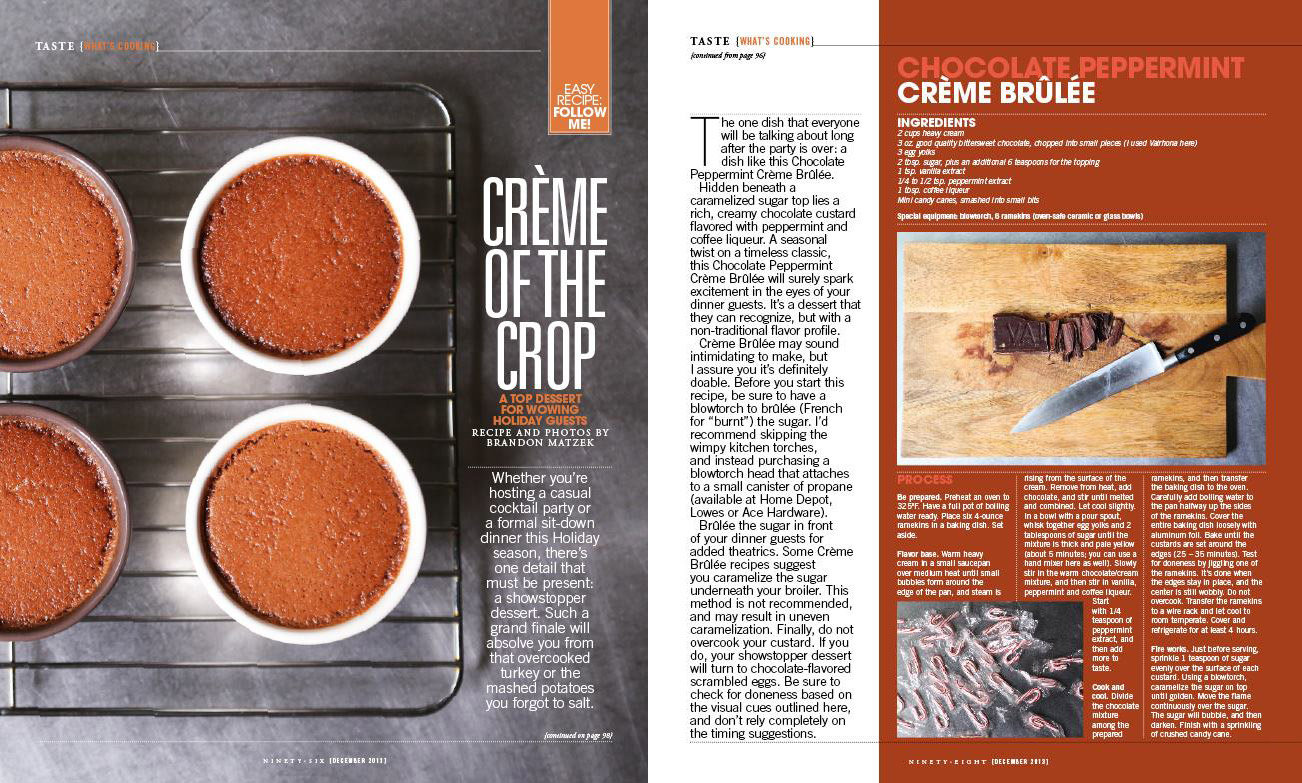 11