We're in the middle of a heatwave here in San Diego, and all I want to do right now is sit by a pool (or at the beach or in a backyard) with an ice cold michelada, and a plate of shrimp cocktail within arm's reach.
This post may contain affiliate links.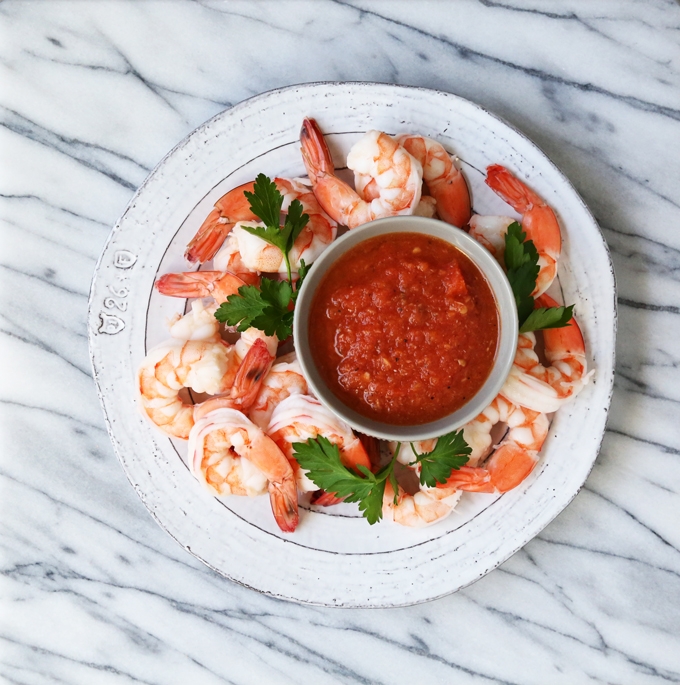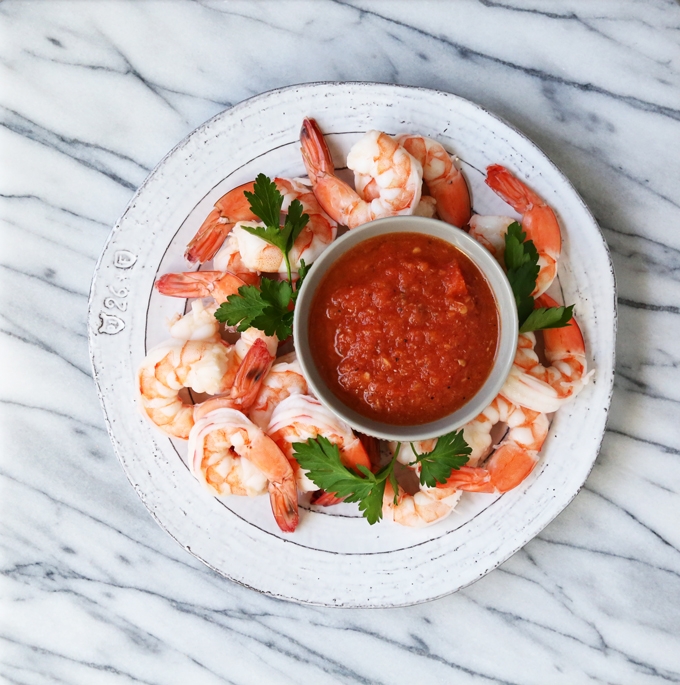 Preferably this plate of shrimp cocktail, featuring my Tomato and Horseradish Cocktail Sauce.  Made with charred tomatoes, freshly grated horseradish root, Worcestershire sauce, lemon juice, hot sauce and honey, this homemade condiment is fresh, bright, and has an incredibly light mouthfeel.  The flavors are similar to a classic cocktail sauce, but with the volume turned way up.  What I love the most about this sauce is that it allows the flavor of the shrimp to come through, giving the crustaceans a chance to be more than just a sauce delivery system.  Continue reading for the recipe.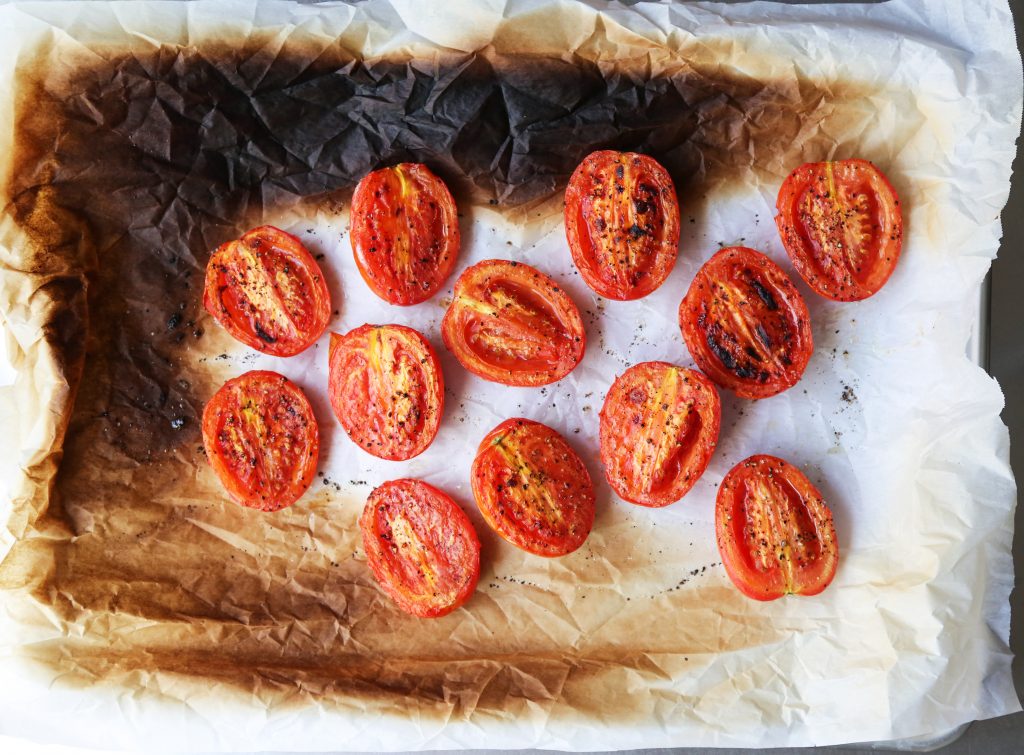 Running halved tomatoes under the broiler helps to concentrate their flavor while adding notes of smoke and char.  Once blended, these tomatoes act as the base for this cocktail sauce.  No sweet, gloppy ketchup here.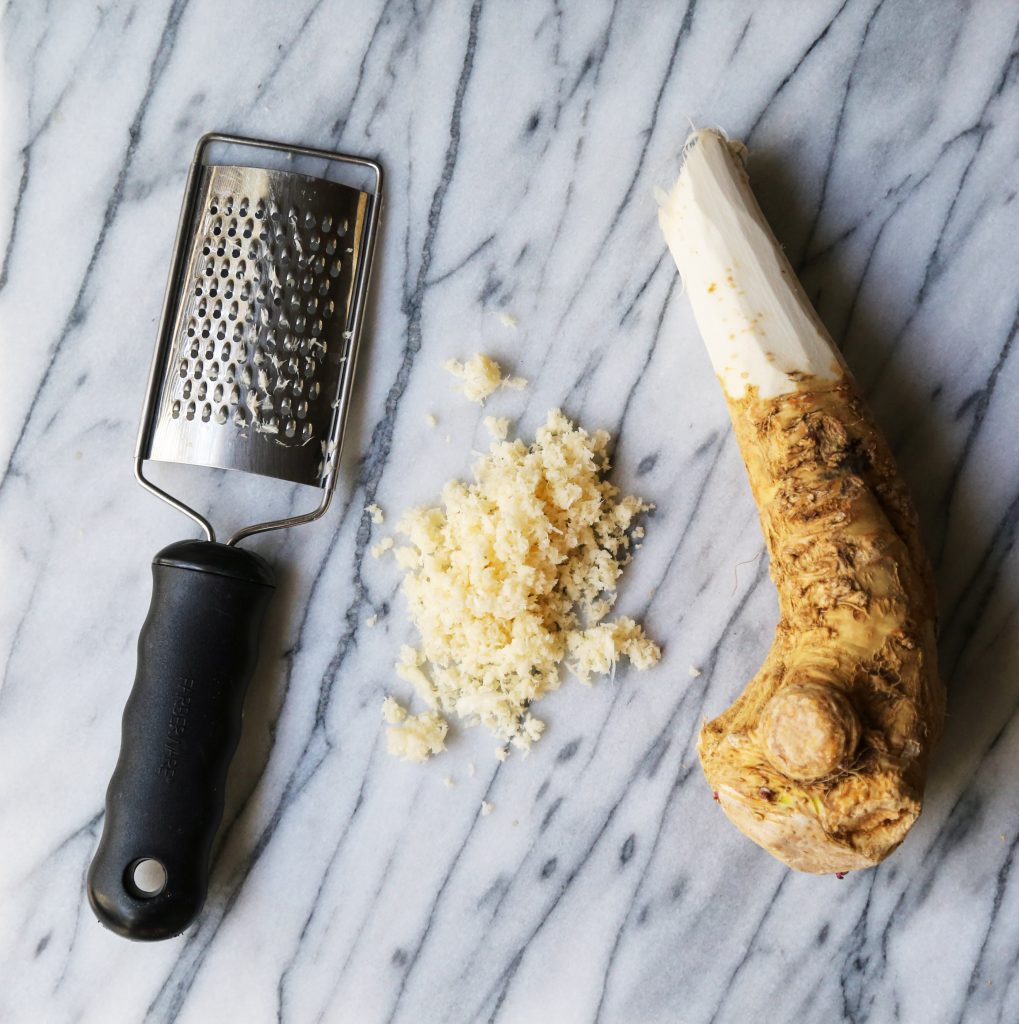 This is fresh horseradish root, now available at most grocery stores.  To prep, simply peel away the outer skin, then grate the white root beneath.  Fresh horseradish is wonderfully aromatic, and intensely hot.  The kind of heat that hits your sinuses rather than your mouth and throat.  In this recipe, I'm pairing fresh horseradish with prepared horseradish to add some depth of flavor.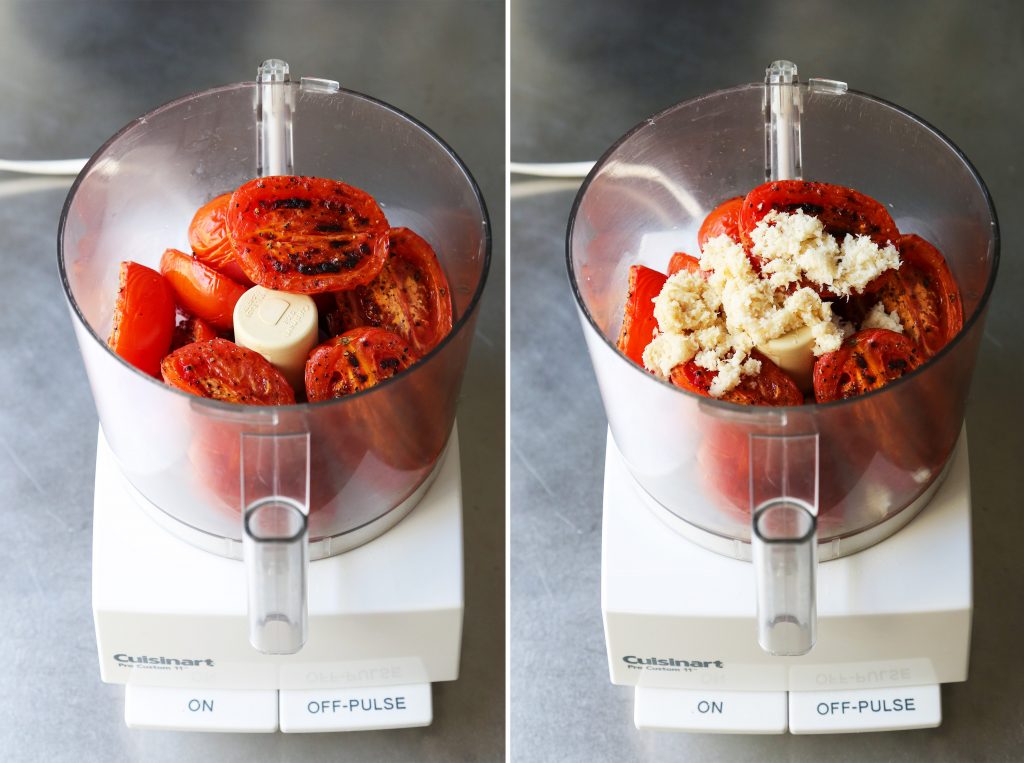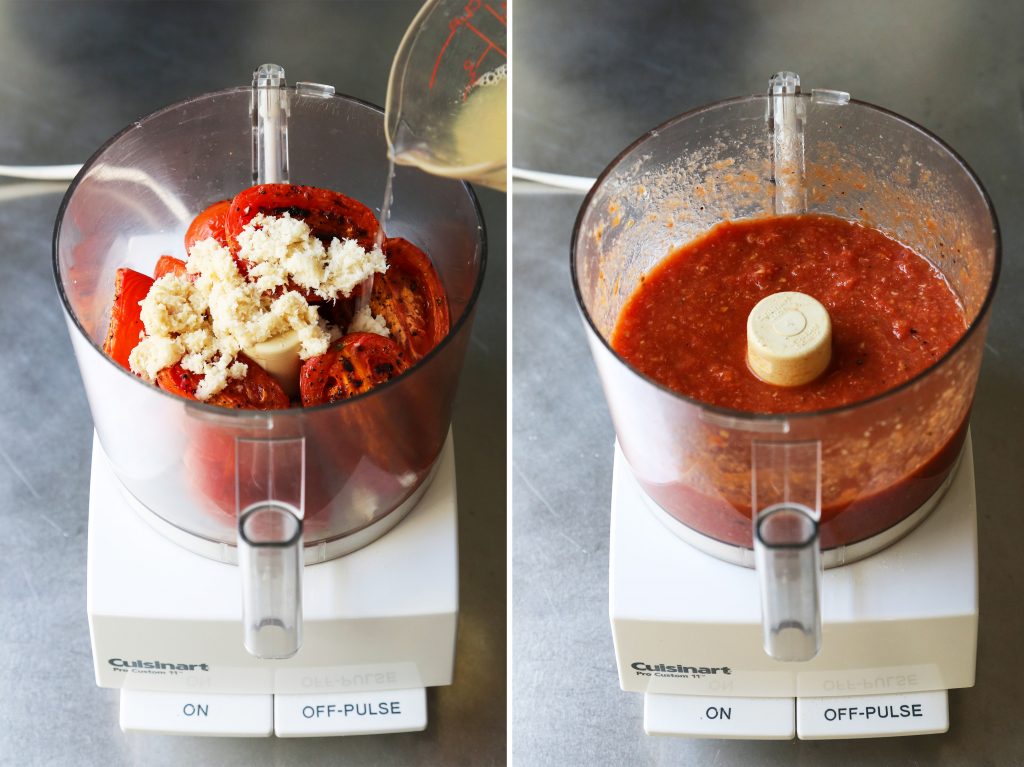 Tomato and Horseradish Cocktail Sauce
Ingredients
6

roma tomatoes, halved (or any other medium-sized tomato)

Olive oil

Kosher salt

Freshly ground black pepper

1 1/2

tablespoons

freshly grated horseradish root

1 1/2

tablespoons

bottled horseradish

2

tablespoons

freshly squeezed lemon juice

1 1/2

tablespoons

Worcestershire sauce

1

tablespoon

Tapatio or Tabasco

1

teaspoon

honey

1

pound

of cold cooked shrimp
Parsley leaves, for garnish (optional)
Instructions
Preheat broiler to high, and line a rimmed baking sheet with parchment or foil.

Place tomato halves cut side up on the prepared baking sheet. Brush the tops of each half with olive oil, and sprinkle with kosher salt and black pepper. Broil on high until soft and slightly charred in spots (10 – 15 minutes). Let cool.

Add tomatoes, grated horseradish root, bottled horseradish, lemon juice, Worcestershire, Tapatio, honey and 2 pinches of salt to a food processor. Pulse several times until the mixture is slightly smooth. There should still be some texture left. Season to taste with additional kosher salt, black pepper or lemon juice.

To serve, place a small bowl of cocktail sauce on a plate and pile cooked shrimp around. Garnish with parsley leaves.
Tried this recipe?
Tag @brandiego on Instagram so I can check it out!
39