This cake is my secret weapon.
This post may contain affiliate links.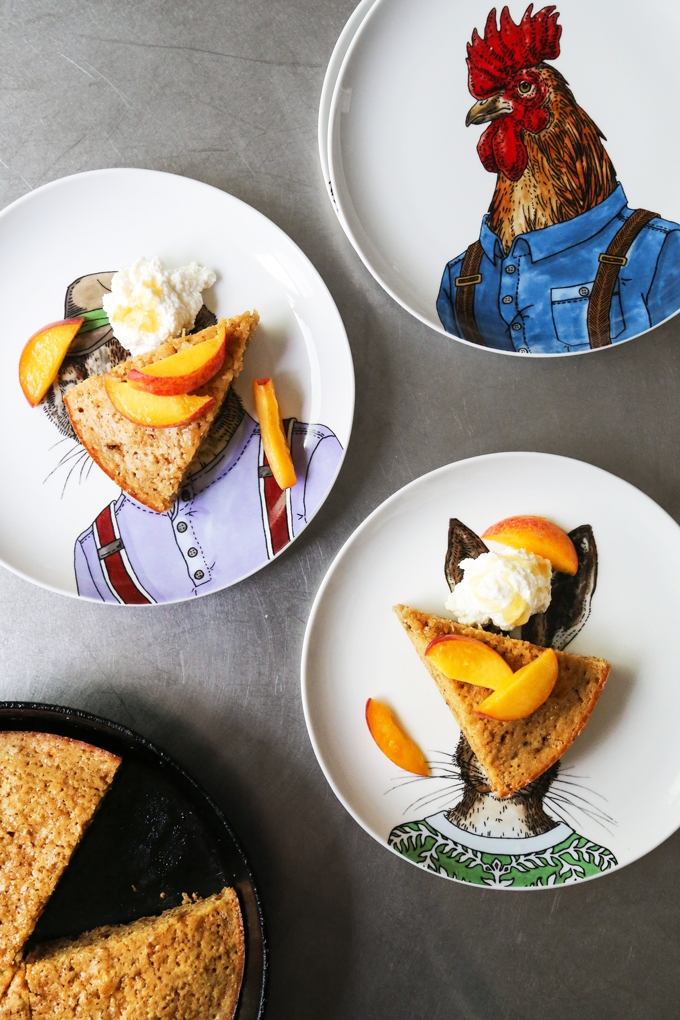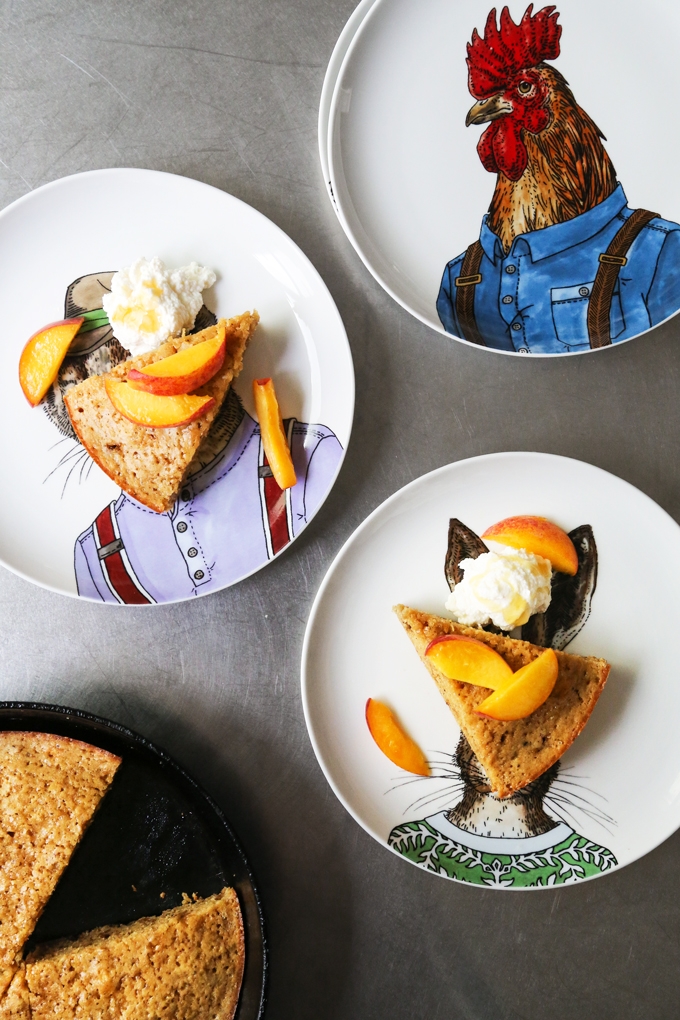 That's right, it's a secret weapon against any sweet cravings that may come along when I've got practically nothing in my refrigerator.  Made with the most basic ingredients, this Brown Butter Snacking Cake is a shining example of how, with a little technique, you can make something incredibly satisfying from just pantry and fridge staples.  Let's talk ingredients: butter, brown sugar, vanilla, flour, salt, baking powder, eggs, milk, sour cream, and turbinado sugar.  Simple, right?  The magic is the pairing of brown butter and brown sugar.
When you cook butter over a medium flame, the water in the butter evaporates, and the milk solids eventually caramelize, turning the liquid golden brown.  The resulting brown butter has a seductive, warm, nutty flavor and aroma that perfectly compliments the molasses notes of brown sugar.  Flour, baking powder, and eggs are added to the mix for structure; salt and vanilla to amp up flavor; and milk and sour cream for moisture.  A final sprinkling of turbinado sugar provides a crunchy contrast.
My Brown Butter Snacking Cake is not only tasty, it's also easy to prepare and super versatile.  After you brown the butter, this cake batter can be made in just one bowl.  No stand or hand mixers required.  I usually cook this cake in a 10″ cast iron skillet, but any baking dish would work.  I like to call this a "snacking cake," because I find myself snacking on it all day long.  A little slice with jam for breakfast, or a big slice with honey-sweetened ricotta and sliced peaches for dessert.  I've even layered it with vanilla ice cream and bourbon caramel sauce!  It pairs well with just about anything in your fridge/freezer.  Continue reading for the recipe.  I've also announced the winner of the WestRidge Beef Big Steaks package below.
If  you don't already measure flour with a scale, I urge you to start doing so.  This really helps to produce consistently delicious results when baking.  If you are just using a cup measure, the amount of flour can vary based on how packed it is.  Avoid that mess, and just use a scale 🙂
And the winner of the WestRidge Beef Big Steaks package is:
Kayte CookWatts
I'll be emailing you shortly with more details.  A big thanks to all who participated!!
Brown Butter Snacking Cake
Ingredients
1/2

cup

(1 stick) unsalted butter, plus more for greasing the pan

2/3

cup

packed light brown sugar

1/4

cup

whole milk

1/4

cup

sour cream (you can omit this and use 1/2 cup milk, but it won't be as moist)

2

eggs

1

teaspoon

vanilla extract

1 1/3

cup

(165 grams) all-purpose flour

3/4

teaspoon

fine grain sea salt

1

teaspoon

baking powder

Turbinado sugar, for sprinking
Instructions
Preheat an oven to 350°F . Place a rack in the middle of the oven. Grease a 10" cast iron skillet (or square baking dish) with butter, and set aside.

Warm butter in a small saucepan over medium heat. The butter will melt, then foam and bubble, then start to brown. You will notice little brown bits forming at the bottom of the pan. Stir frequently during this process and keep your attention on the pot. The butter can go from wonderfully brown to burnt in just a few moments. You will know the butter is done when it gives off a nutty aroma and turns a golden brown.

Add brown butter to a large bowl with brown sugar, whisking to combine. Whisk in milk, sour cream, eggs, and vanilla until smooth. Add flour, sea salt, and baking powder to the bowl, stirring just until combined. Do not overmix here.

Pour the cake batter in the prepared cast iron skillet, and cook until the top turns light golden brown, and a toothpick inserted into the center of the cake comes out clean (25 - 30 minutes).
To serve, cut the cake in wedges, and enjoy with just about anything (butter, jam, ice cream, sweetened ricotta, fresh fruit, and fruit compote to name just a few).
Tried this recipe?
Tag @brandiego on Instagram so I can check it out!
PS. I am just now realizing how much I LOVE brown butter!!
6