I'm giving away some beef today.  Are you ready for this?
This post may contain affiliate links.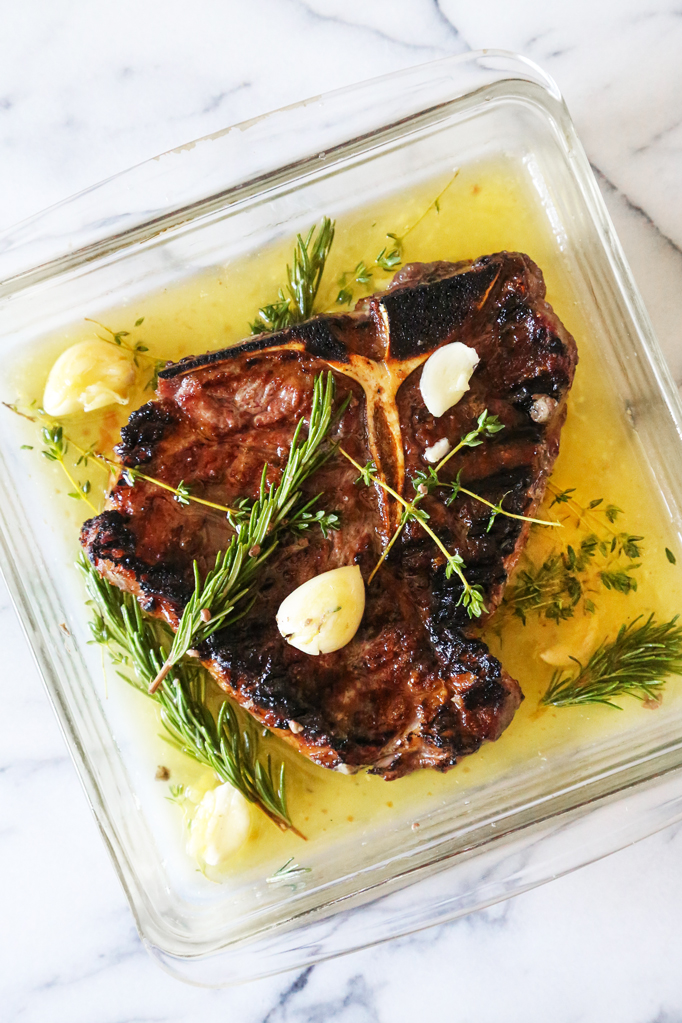 And not just any beef.  I'm giving away a WestRidge Big Steaks package, including two Boneless Ribeye Steaks, and two T-Bone Steaks.  We'll get to the giveaway details in just a bit.  First, let's talk MEAT.  WestRidge Beef specializes in high-quality, dry-aged, antibiotic-free, hormone-free beef products.  Raised outdoors in a stress-free environment, their cattle are fed only natural products like grass, grain and hay.  I'm giving you these details, because they all have a major positive impact on flavor.  I got to sample a number of different steaks from WestRidge, and they are all so, so delicious.
This recipe for Grilled Dry-Aged Steak features two of WestRidge's beautiful t-bones.  These steaks are dry-aged for 21 days, concentrating the flavor (as a result of moisture loss), tenderizing the meat, and adding rich notes of nuttiness and umami.  The dry-aging process also modifies the aroma of the steak, amping up the beefiness while adding a funky note similar to blue cheese.  I should also mention that these steaks are reddish-brown, rather than the bright, vibrant red you see with supermarket steaks.
Seasoned simply with flaky sea salt, these dry-aged t-bones are quickly seared on a screaming hot grill, adding savory flavors of caramelization, smoke and char.  The steaks then rest for 10 minutes in a golden butter bath infused with garlic, rosemary and thyme.  I need to tell you that these are some of the best damn steak I've ever had.  Tender, juicy and incredibly flavorful.  Once you learn this technique, you'll want to cook all of your steaks this way moving forward.  Continue reading for the recipe plus a WestRidge Beef giveaway.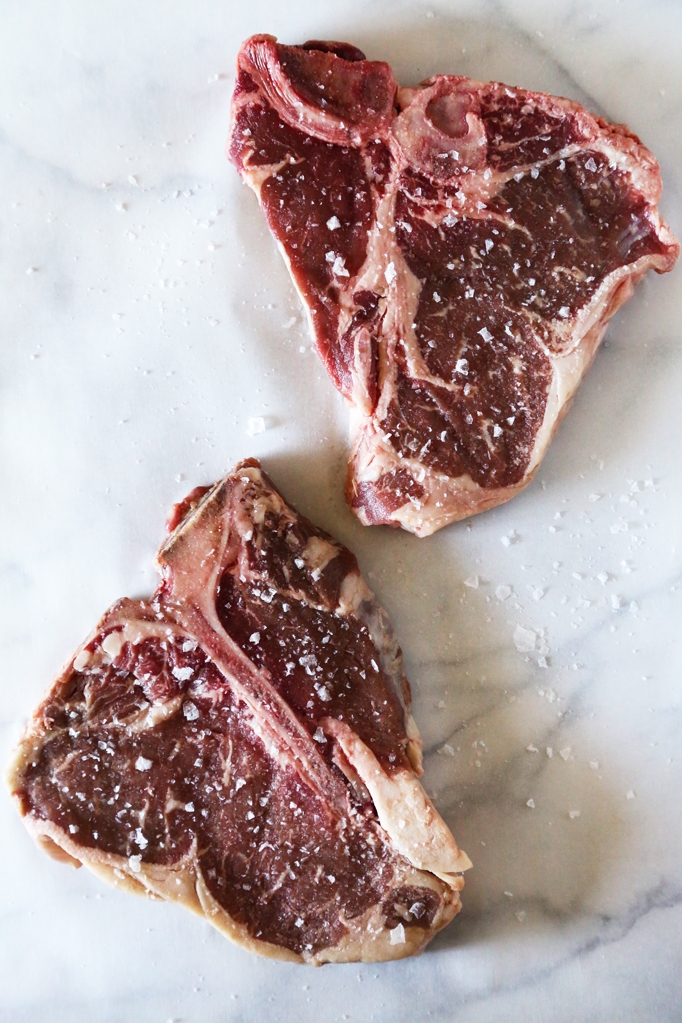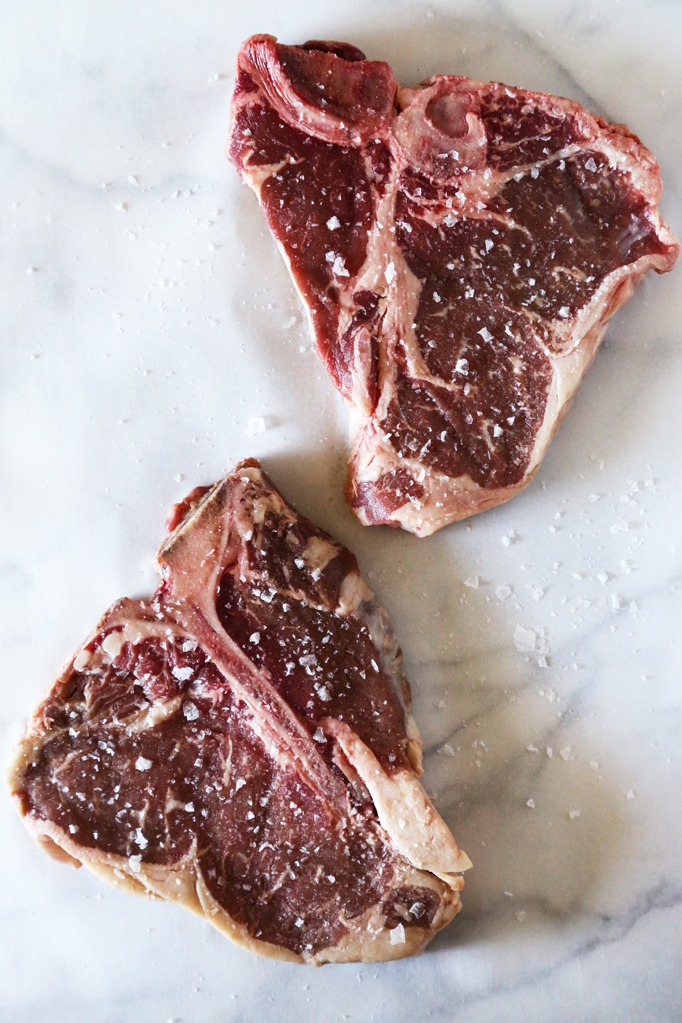 WestRidge Beef graciously provided me with a number of steaks to sample and test out.  They also gave me one WestRidge Big Steaks package to give away to Kitchen Konfidence readers, plus an exclusive coupon code if you'd like to buy any of these tasty steaks in the future.  The WestRidge Big Steaks package includes two (14-16 oz) Boneless Ribeye Steaks and two (16-18 oz) T-Bone Steaks ($139 value!).  Enter to win here: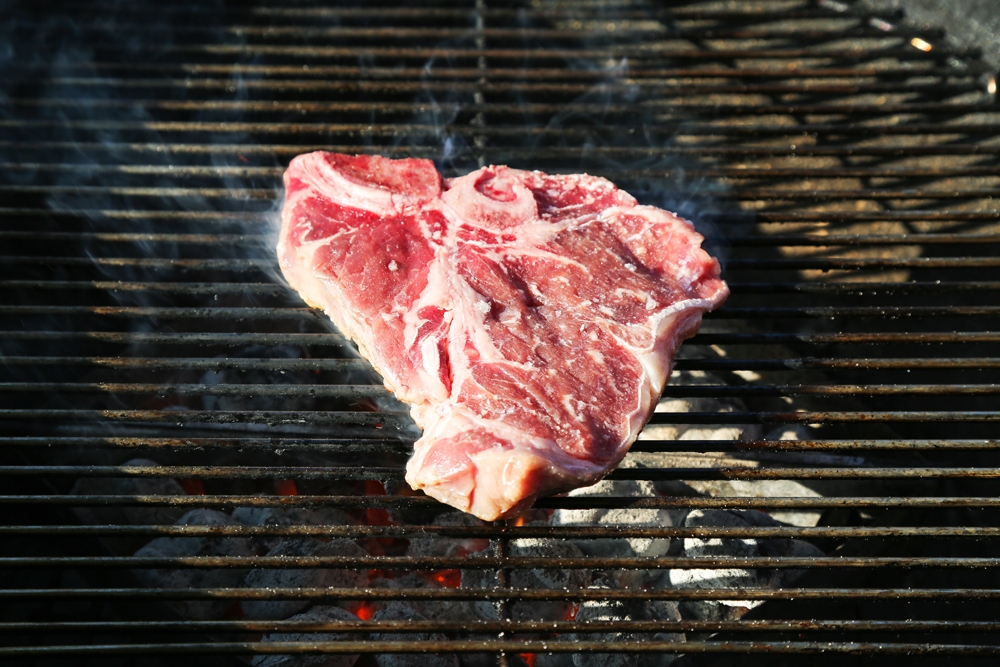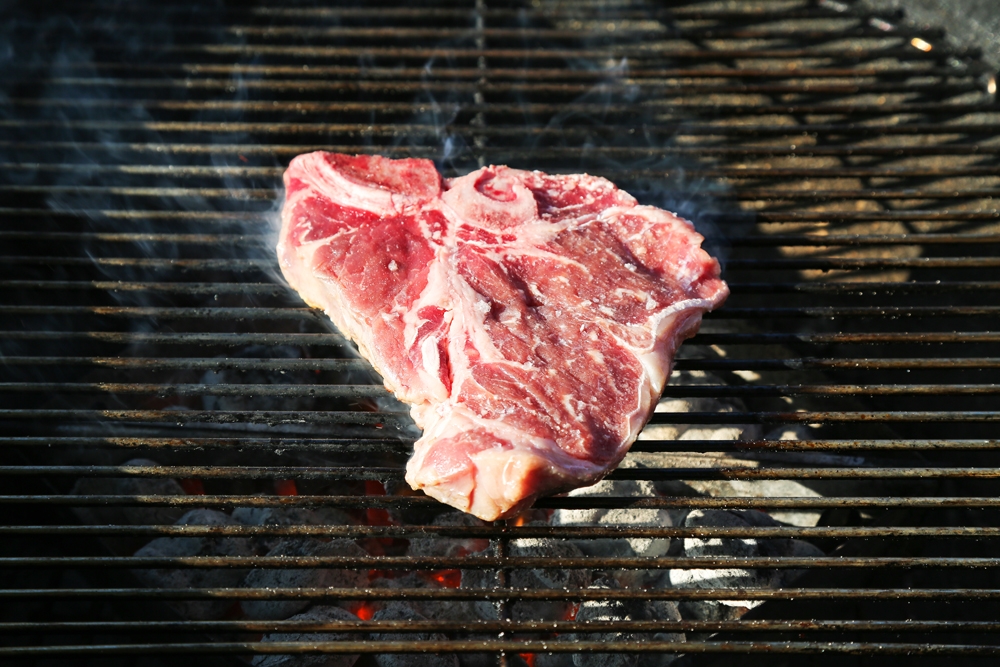 If you'd like to get 15% off of any WestRidge Beef steak, roast or ground beef purchase $50 or more, simply use this exclusive coupon code: kk-jj2014 during checkout between now and July 31, 2014.  You'll  need to create an account with WestRidge first to utilize the code.  This coupon code is not valid on gift cards or soup/stock cuts of meat.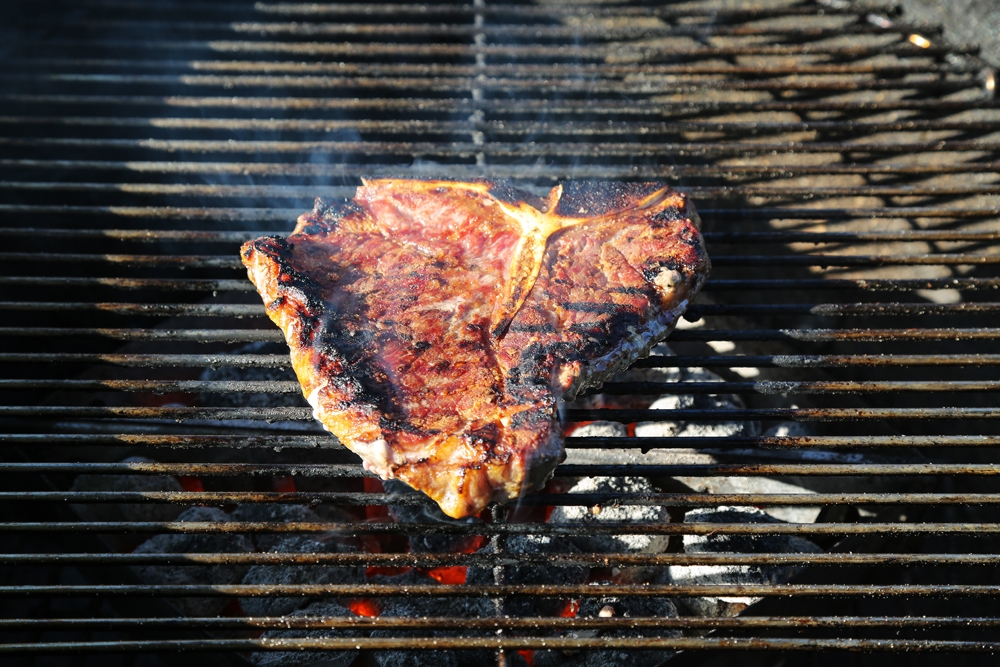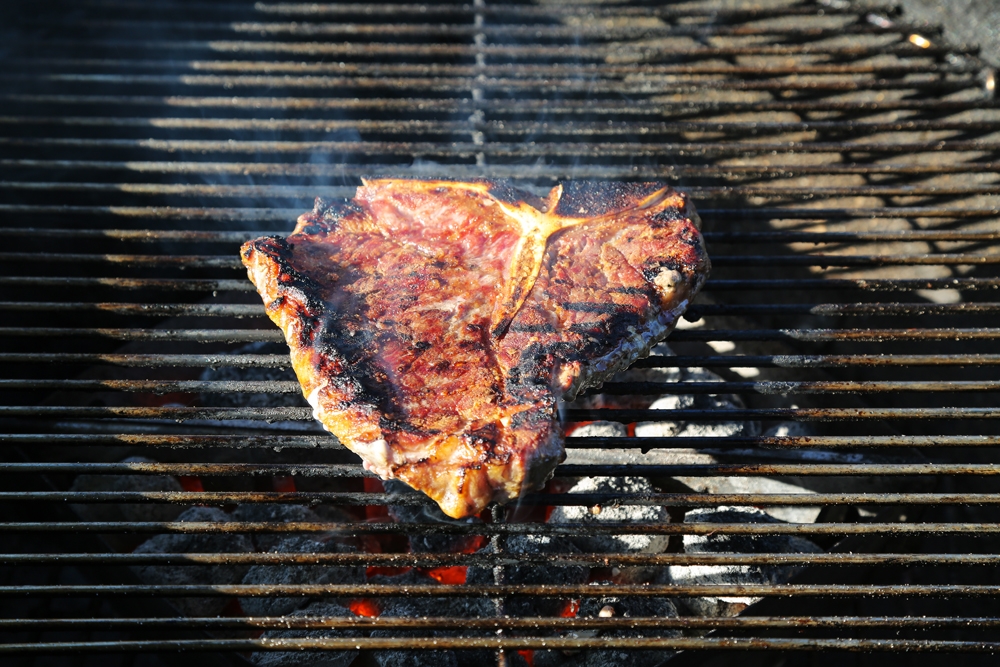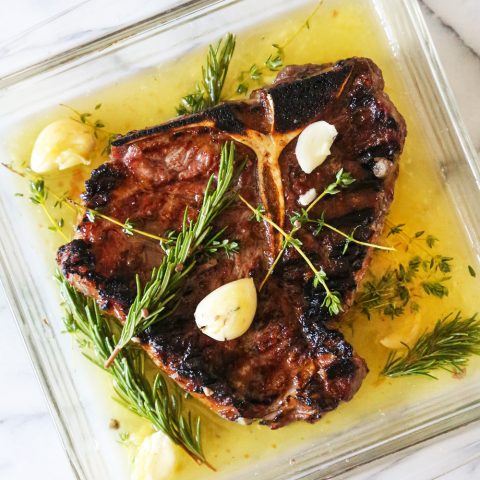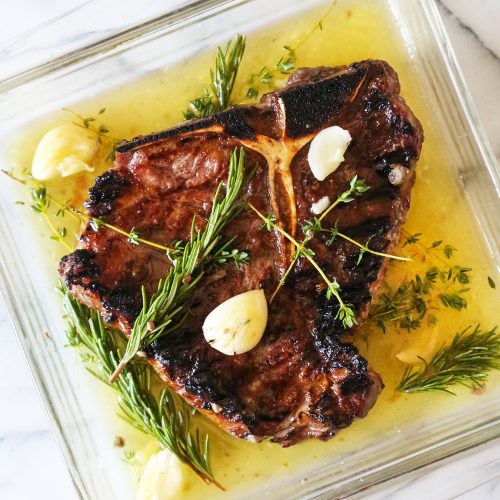 Grilled Dry-Aged Steak
Ingredients
Flaky sea salt (kosher salt works well too)

4 - 5

small sprigs of rosemary

10

sprigs thyme

5

garlic cloves, smashed

Canola or vegetable oil, for the grill grate

Freshly ground black pepper
Instructions
Take WestRidge Beef Dry-Aged T-Bone Steaks from the fridge, and season generously with flaky sea salt. Let the steaks come to room temperature while you prepare the grill. Place clarified butter in a baking dish with rosemary, thyme and garlic. Use a square baking dish for just 1 steak or a larger rectangular dish for 2. Set aside.

Prepare an outdoor grill (charcoal or gas) to high heat. Let the grill grate preheat for 15 minutes, and clean and oil it just before cooking. Sear steaks over high heat for 2 - 3 minutes until slightly charred. Flip the steak and continue to cook until the internal temperature reaches 120°F for rare, 130°F for medium-rare, and 140°F for medium ( 2 - 3 minutes more). Immediately transfer the steaks to the clarified butter bath, and let rest for 10 minutes. Spoon some of the butter, garlic and herbs over top each steak.

Take the steaks from the butter bath, shake off any garlic or herbs, and blot off any excess butter. Season to taste with freshly ground black pepper and flaky sea salt.
Tried this recipe?
Tag @brandiego on Instagram so I can check it out!
I partnered with WestRidge Beef on this article.  All thoughts, opinions and recipes shared in this article are my own.
86