I'm bringing the freshness today.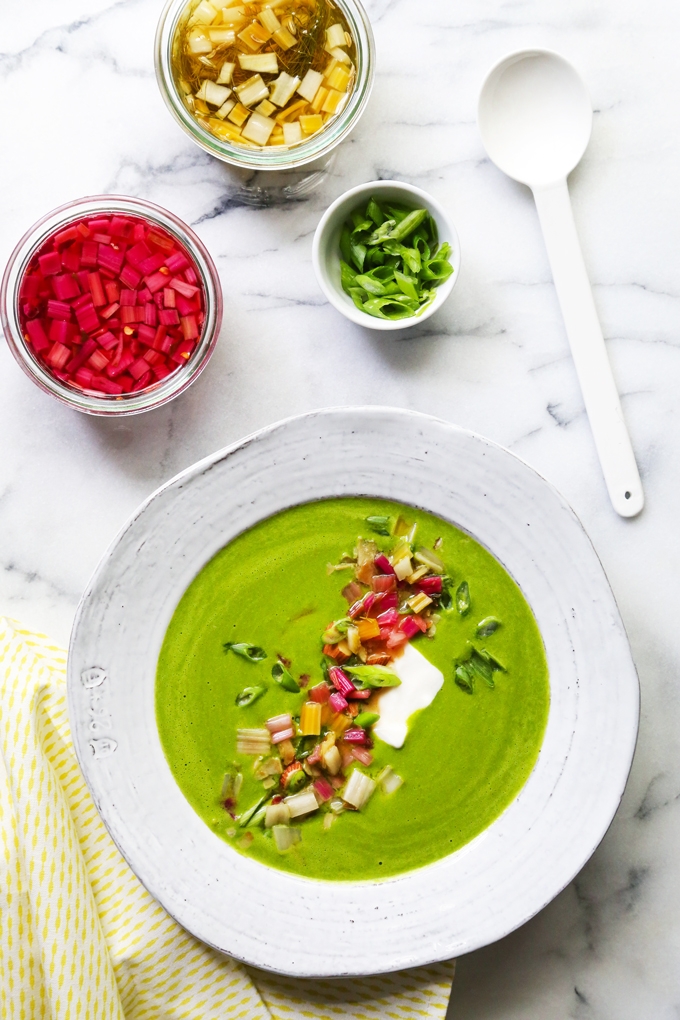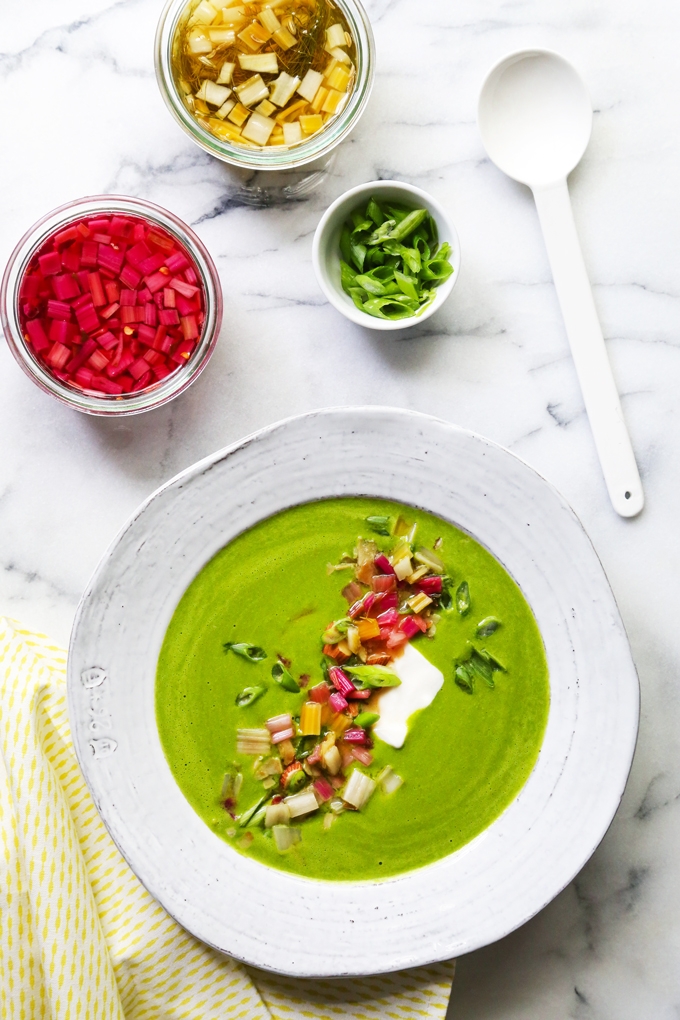 Freshness in the form of a vibrant green Rainbow Chard Soup made with ingredients found in my Specialty Produce Farmer's Market Box (FMB).  Several weeks ago, I started picking up a FMB at SP, and I've really been loving the variety of fresh goodies found within.  Specialty Produce, a local wholesale distributor, stocks many of the restaurants around town with beautiful, high-quality produce.  Some of their products are imported, while others come from farms in the area.  They also open up their warehouse from 8am – 5pm to individuals.  This is where I get almost all of my produce.  Here's a list of the produce found in my most-recent FMB:
White Corn – Black Sheep Produce
Heirloom Mix Eggplant – Weiser Family Farms
Fennel – Rutiz Farms
White Scallions – McGrath Family Farms
Peewee Mix Fingerling Potatoes – Weiser Family Farms
Baby Mix Beets – Black Sheep Produce
Rainbow Chard – Lakeside
Strawberries – Be Wise Ranch
Broccoli – Lakeside
Jalapeno – Coke Farms
When I first saw the contents of the box, I immediately started thinking of soup ideas, and with San Diego LGBT Pride happening in just a few weeks, I decided to focus on the rainbow chard.  This soup recipe starts with chopped fennel sauteed with scallions, garlic and jalapeño.  Water and coconut milk are added along with chopped rainbow chard leaves.  Once the leaves turn tender, everything is blended until silky smooth.  I like to add a handful of spinach to the mix just before blending to amp up the green flavor and color.  The soup is finished with a a dollop of Greek yogurt, toasted almonds, coconut flakes, sliced scallion greens, and freshly pickled rainbow chard stems.  Such a bold variety of toppings may seem over-the-top, but I just love all of the contrasting flavors and textures.  Both flavorful AND healthy, this Rainbow Chard Soup is bright, fresh, and incredibly satisfying.  Continue reading for the recipe.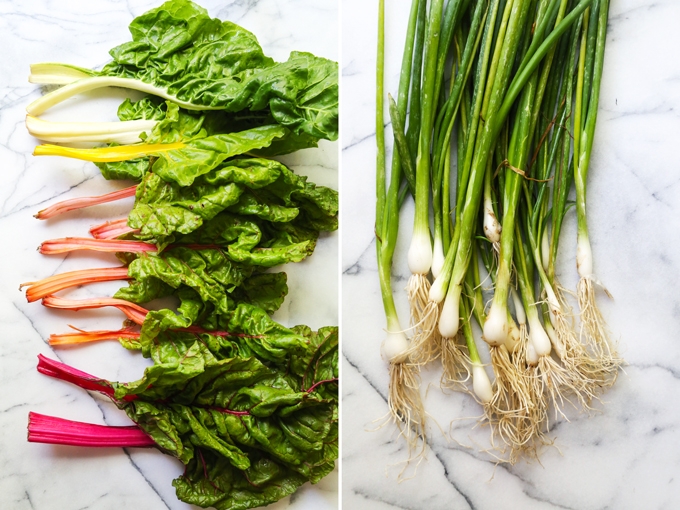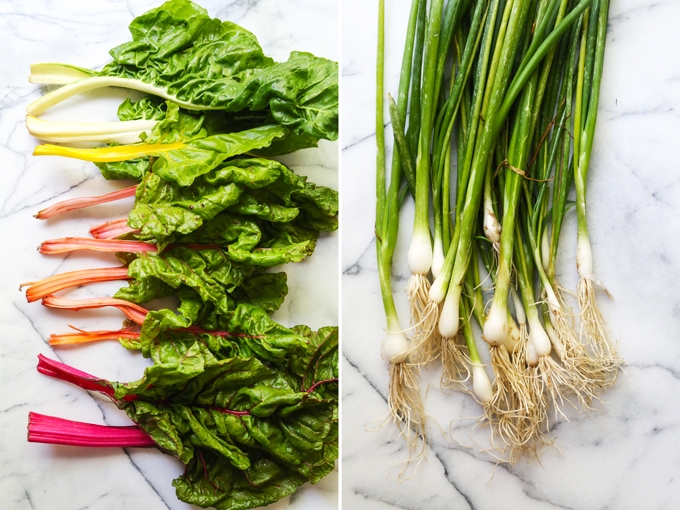 #RainbowChardPride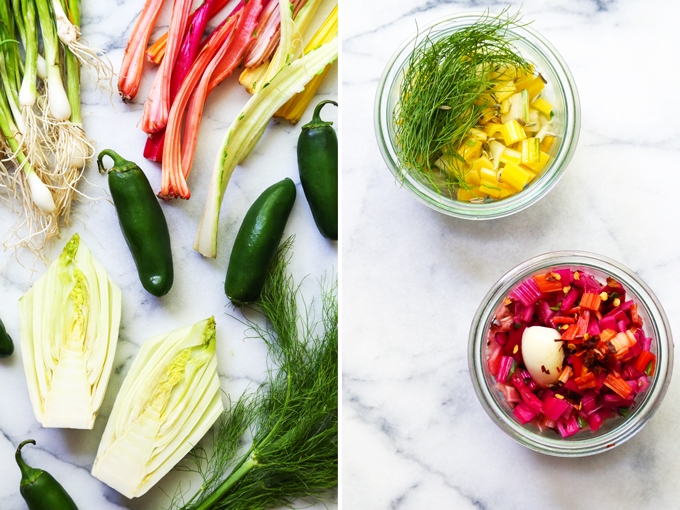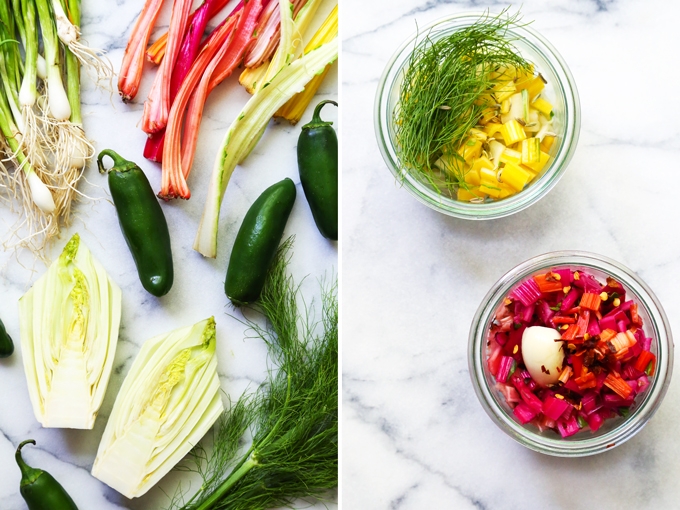 I'll have to admit that I really, really love the creativity that these FMBs have been pulling out of me.  To make use of the entire rainbow chard (root to shoot), I decided to pickle the stems with ingredients found in my pantry.  I separated the yellow and white stems from the red and pink stems to keep colors from bleeding together.  The separation of color inspired me to start playing around with flavors.  I added fennel fronds and fennel seed to the yellow and white stems to echo the flavor of the fennel in the soup.  Garlic and red chile flakes were added to the red and pink stems to reinforce the garlic and jalapeño sauteed at the start.  A simple white wine vinegar pickling liquid was poured over both varietals to finish.  Is it necessary to do all that?  No.  But I want to show you how easy it is to make quick pickles on the fly.  Plus… it's fun!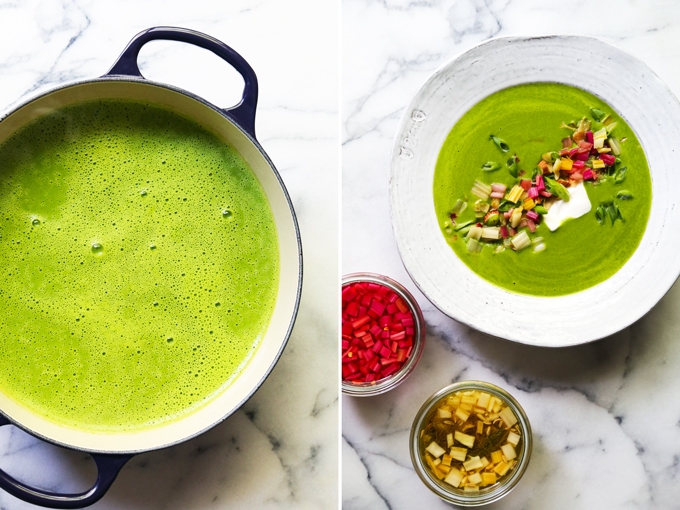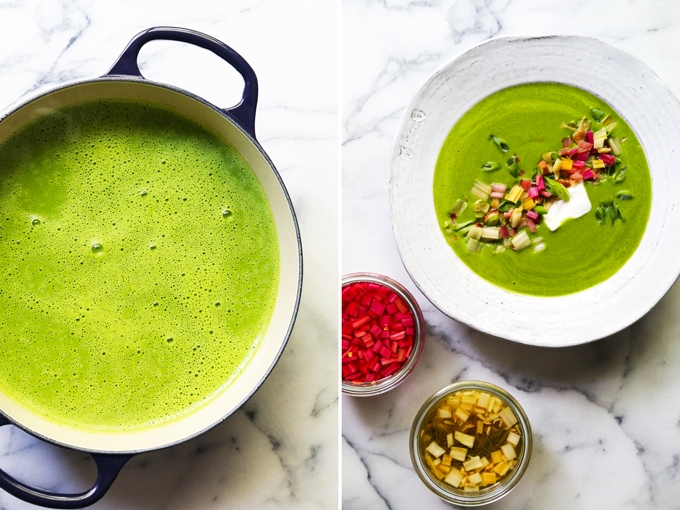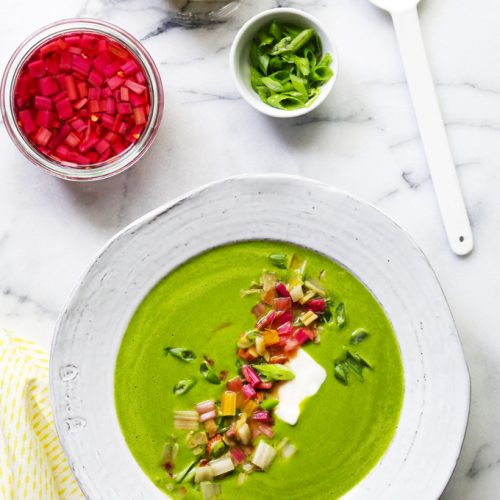 Rainbow Chard Soup
Ingredients
2

tablespoons

butter

1

fennel bulb

10

scallions, roots trimmed, white and light green parts chopped, some dark green parts reserved

2

garlic cloves, finely chopped

1/2

jalapeño, stem removed, finely chopped (I included the seeds and ribs for heat)

7

ounces

full-fat coconut milk (about 1/2 a can)

2 1/4

cups

water

1

bunch (3/4 pound) rainbow chard, stems removed and reserved, leaves chopped

1

teaspoon

kosher salt, plus more to taste

1

handful of baby spinach leaves

Lemon juice
Optional toppings: Greek yogurt (or creme fraiche or sour cream), toasted chopped almonds, toasted coconut flakes, sliced scallion greens, pickled chard stems (see recipe below)
Instructions
Trim the stalks and the root end of the fennel. Reserve some of the fennel fronds, but discard stalks and tough root. Cut the fennel bulb in half, and slice out the core. Discard core. Chop remaining fennel into 1/2-inch pieces.

Warm butter in a medium saucepan over medium heat. Add chopped fennel, scallion, garlic and jalapeño, and saute until the fennel starts to soften (about 5 minutes). Add coconut milk, and simmer for 2 minutes. Add water, rainbow chard leaves and salt, and cook until the leaves are tender (about 5 minutes).

Transfer soup to a blender with a handful of baby spinach leaves, and blend until smooth. You can add a little water if the soup is too thick. Season to taste with lemon juice (about 1/2 a lemon) and additional salt.

To serve, divide soup between 2 bowls (entree) or 4 bowls (appetizer), and top with Greek yogurt, toasted chopped almonds, toasted coconut flakes, sliced scallion greens, and pickled chard stems.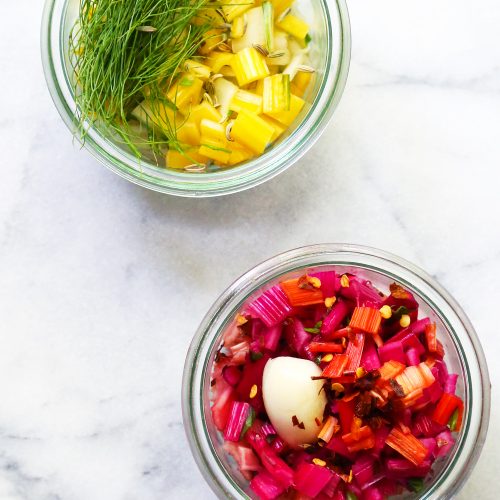 Pickled Rainbow Chard Stems
Ingredients
Stems from 1 bunch of rainbow chard, ragged ends trimmed

Flavorings: fennel, frond fennel seed, garlic, red chile flakes

1/2

cup

white wine vinegar

1/4

cup

water

1 1/2

tablespoons

kosher salt

1

tablespoon

sugar
Instructions
Cut each stem into a 1/4-inch dice, separating the white/yellow pieces and the red/pink pieces into different bowls. To the bowl with the white and yellow stems, add a few reserved fennel fronds and a small pinch of fennel seeds. To the bowl with the red and pink stems, add 1/2 a garlic clove and a small pinch of red chile flakes.

In a small saucepan, warm vinegar, water, salt and sugar, stirring to dissolve the salt and sugar. Bring the mixture to a boil, let bubble for a minute, then take off the heat. Divide the pickling liquid between the two bowls, and let stems pickle for 1 hour before serving. Store pickled chard stems covered in the refrigerator for up to 1 month.
I've been sharing other Farmer's Market Box updates on Instagram!  Here are some of my favs:
Farmer's Market Box #1

Farmer's Market Box #2

Roasted Beet and Corn Salad
Do you get a weekly Farmer's Market Box or CSA?  If so, how do you like to cook from it?  If you live in San Diego, and you'd like to order your own Specialty Produce Farmer's Market Box, check out options here.
22