Get excited. There's a #VirutalPumpkinParty going on today (with 70+ bloggers!), and I'm bringing these Yeasted Pumpkin Waffles with Candied Ginger to the table.
This post may contain affiliate links.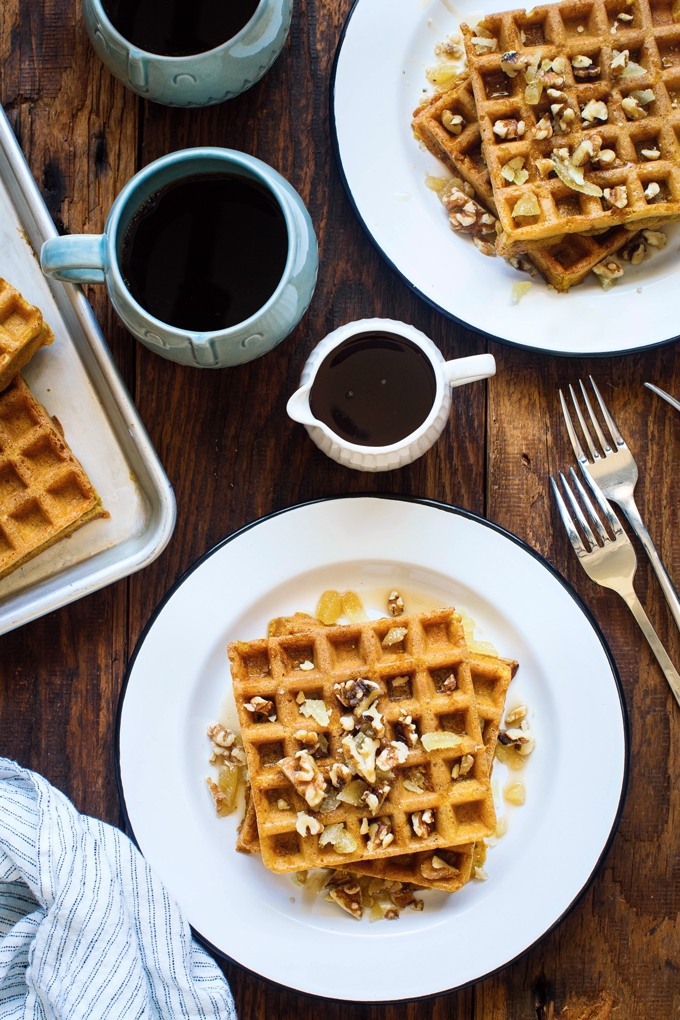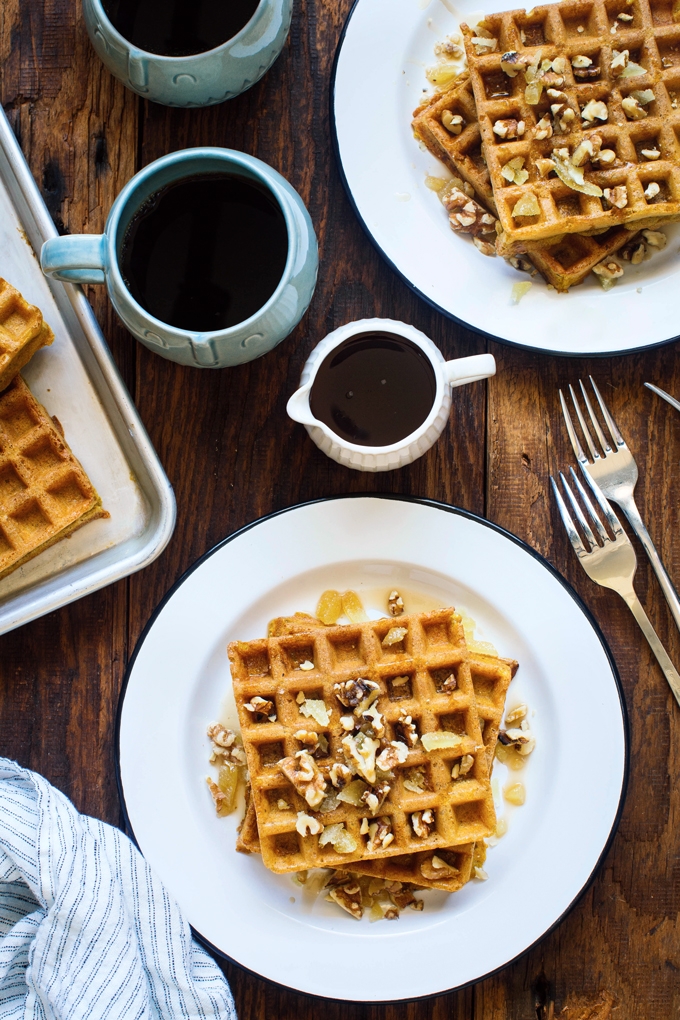 First, let's talk yeasted waffles, also known as raised or overnight waffles. I'm obsessed. A yeasted waffle is leavened with yeast instead of baking powder/soda, buttermilk or whipped egg whites.  Prepared the night before, the batter bubbles and rises as the yeast consumes sugar.  The finished waffles have a crisp, airy texture with a pleasant, somewhat sour yeast flavor.  Aside from the flavor, what I love most about yeasted waffles is the advanced preparation.  You can do all the heavy lifting the night before, and then crank out a A+ breakfast the next day with minimal effort.
Now, let's talk about these yeasted waffles.  Flavored with pumpkin puree, brown sugar, cinnamon, nutmeg, clove and ginger, my Yeasted Pumpkin Waffles with Candied Ginger are pure autumn.  I've thrown candied ginger into the mix to amp up the ginger flavor in my pumpkin spice blend.  Its mellow burn also adds some intrigue with each bite.  The waffles are finished with maple syrup and toasted walnuts for crunch.  Oh, and the AROMA!!!  You guys, the smells that waft from the iron as the waffles cook are HEAVEN.  Continue reading for the recipe plus all the other #VirtualPumpkinParty goodies.
Just this week, I was catching up on the Good Food podcast, and they shared a fascinating interview with Cindy Ott, the author of Pumpkin: The Curious History of an American Icon.  The gist of the interview is that throughout the ages, the pumpkin has always transcended itself.  In the early 19th century, when people started moving from farms into cities, the pumpkin (left behind on the farm) was a nostalgic symbol of farm life and making a living off the land.  Nowadays, you get a similar sense with pumpkin spice.  Pumpkin spice products (often pumpkin-less) bring on a sense of fall.  A sense of coziness.  Something old-fashioned.  As Americans, we often find more value in what the pumpkin represents rather than what the pumpkin actually is.
Hopefully, these pumpkin waffles plus the 60+ pumpkin recipes below will help us all love the pumpkin for what it is along with what it represents 🙂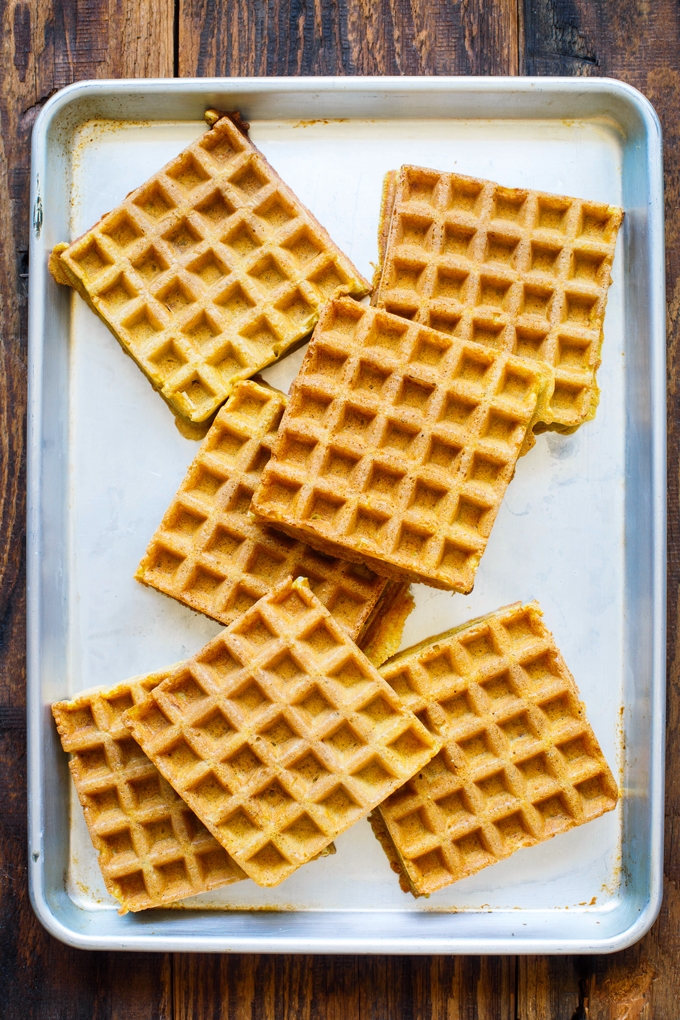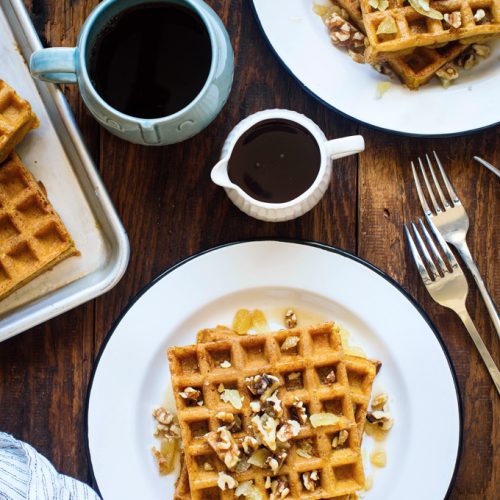 Yeasted Pumpkin Waffles with Candied Ginger
Keep in mind that you need to make this batter the night before you're planning on serving the waffles.
Ingredients
1/2

cup

warm water (between 105°F and 110°F)

2 1/4

teaspoons

active dry yeast

2 1/2

cups

all purpose flour

1/3

cup

light brown sugar

1

tablespoon

white sugar

1/2

teaspoon

fine grain sea salt

2

teaspoons

ground cinnamon

1

teaspoon

ground ginger

1/4

teaspoon

ground nutmeg

1/4

teaspoon

ground clove

2

cups

whole milk, at room temperature

1

cup

pumpkin puree

3/4

stick (6 tablespoons) butter, melted and cooled

4

large eggs, lightly beaten

1/4

teaspoon

baking powder

Nonstick cooking spray

1/4

cup

chopped crystallized ginger

plus more for sprinkling
Chopped toasted walnuts, for sprinkling
Maple syrup, for drizzling
Instructions
Combine water and yeast in a small bowl, stirring to combine. Let sit for 15 minutes.

Meanwhile, whisk together flour, sugars, salt, cinnamon, ground ginger, nutmeg, and clove in a large bowl. Once the yeast has sat for 15 minutes, whisk the milk into the dry ingredients followed by the yeast (with water), pumpkin and melted butter. Cover the bowl with plastic wrap. At this point, you can let the batter rise in the refrigerator for sweeter waffles or let rise on the counter top for more sour/yeasty waffles.

The next morning, uncover the bowl, and stir in the eggs and baking powder until smooth. Preheat a waffle iron and lightly coat the plates with nonstick spray. Scoop 1/2 cup of batter in each well*. Sprinkle 1/2 tablespoon of crystallized ginger over each well, close the waffle iron, and cook until golden brown.

Sprinkle waffles with crystallized ginger and chopped walnuts, and enjoy immediately with maple syrup. If making waffles for a crowd, prepare in batches and keep waffles warm in a 250°F oven until ready to serve.
Notes
* Waffle irons can vary greatly. The one I used here makes 4 square waffles. Adjust the batter and crystallized ginger measurements accordingly.
Tried this recipe?
Tag @brandiego on Instagram so I can check it out!
Now take a look at all of the other beauties that showed up to the #VirtualPumpkinParty:
8