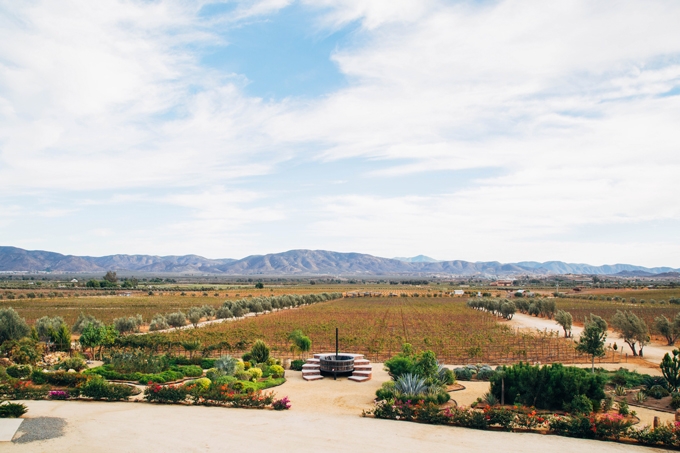 This post may contain affiliate links.
I've had this article on my to-do list since the beginning of the year, and I'm so glad that I've finally gotten around to it.  Late last year, Jorge and I spent an incredible weekend in the Valle de Guadalupe located two hours south of San Diego near Ensenada, Mexico.  Think of it as the Napa Valley of Mexico.  The area has been producing wine for over 100 years, and is responsible for 90% of the wine made in Mexico.  Surrounded by rolling, rocky mountains, the valley has an ideal climate for growing many different grape varietals.  Its expansive desert landscape is dotted with wineries, hotels and roadside farm stands where there's a big focus on local and sustainable practices.  We went to several amazing wineries and restaurants throughout the weekend, and I'm sharing highlights below along with plenty of photos!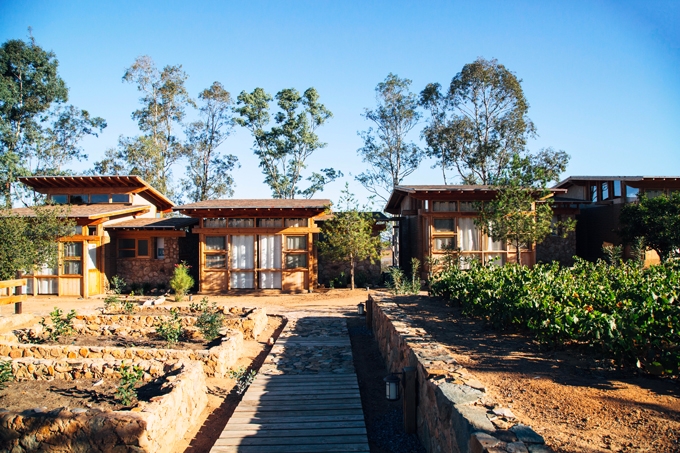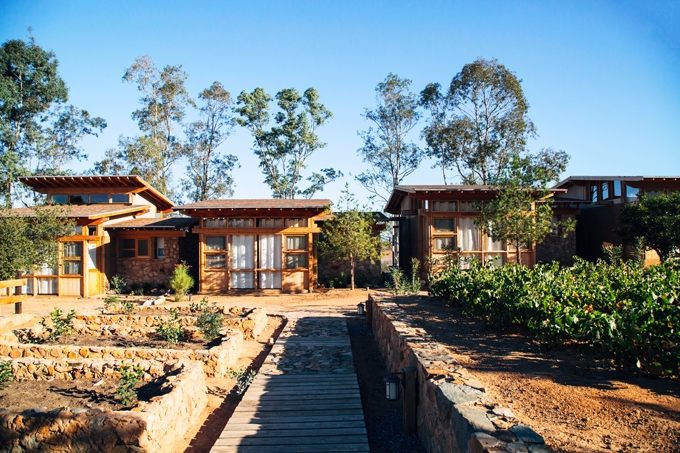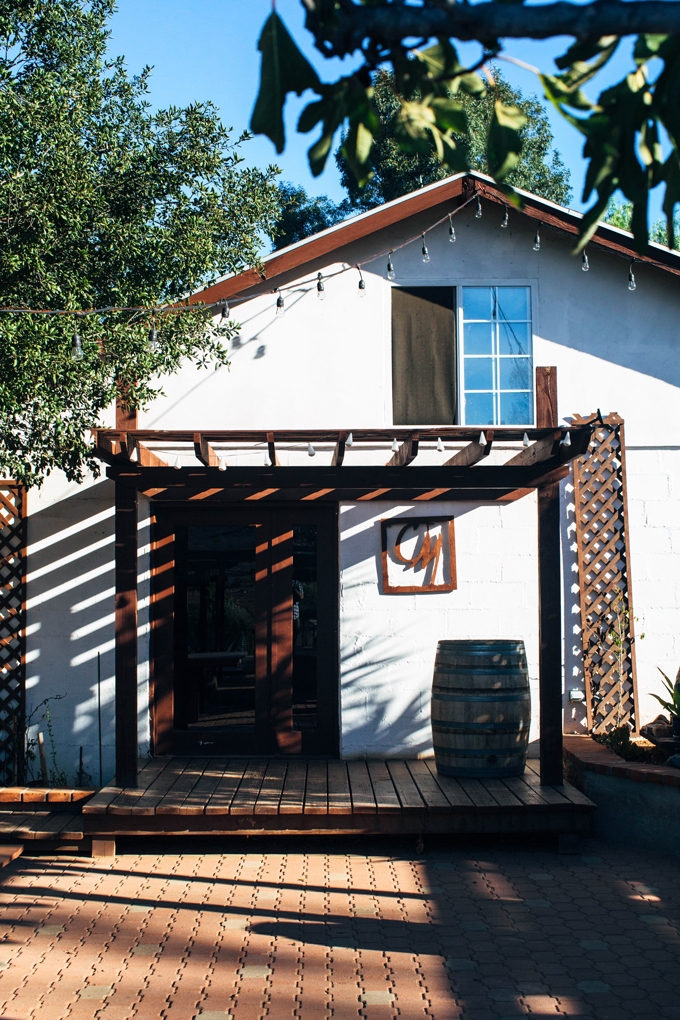 Our lodging for the weekend was provided by Casa Mayoral, a picturesque boutique hotel with just four cabins!!  Located off Route 3, this intimate locale seems remote without being too far from all the action.  The newly constructed cabins have a modern, minimalist feel to them while the property remains rustic and wild.  Each morning, the friendly staff had coffee waiting while breakfast was being made.  We enjoyed breakfast with other guests at the outdoor communal table right off the kitchen.
On Day 1, we had huevos rancheros, a fried egg sitting atop a cheesy tortilla dressed in a homemade roasted salsa.  Refried beans, warm corn tortillas and a refreshing melon agua fresca on the side.  On Day 2, we enjoyed a big plate of chilaquiles (my fav!) topped with shredded cheese and cool crema.  I just loved the sense of home the property created.  It felt like I was staying at a friend's ranch house, and their mom was cooking breakfast each morning.  That paired with the modern cottages and serene solace made for one magical stay.
The first winery we visited was Clos de Tres Cantos, and I'll have to say that this is one of the most unique wineries I've ever been to.  Designed by architect Alejandro D'Acosta, the winery is built from over 90% of materials reclaimed from the region, including concrete furniture, wine bottle walls and windows, and a series of stone pyramids.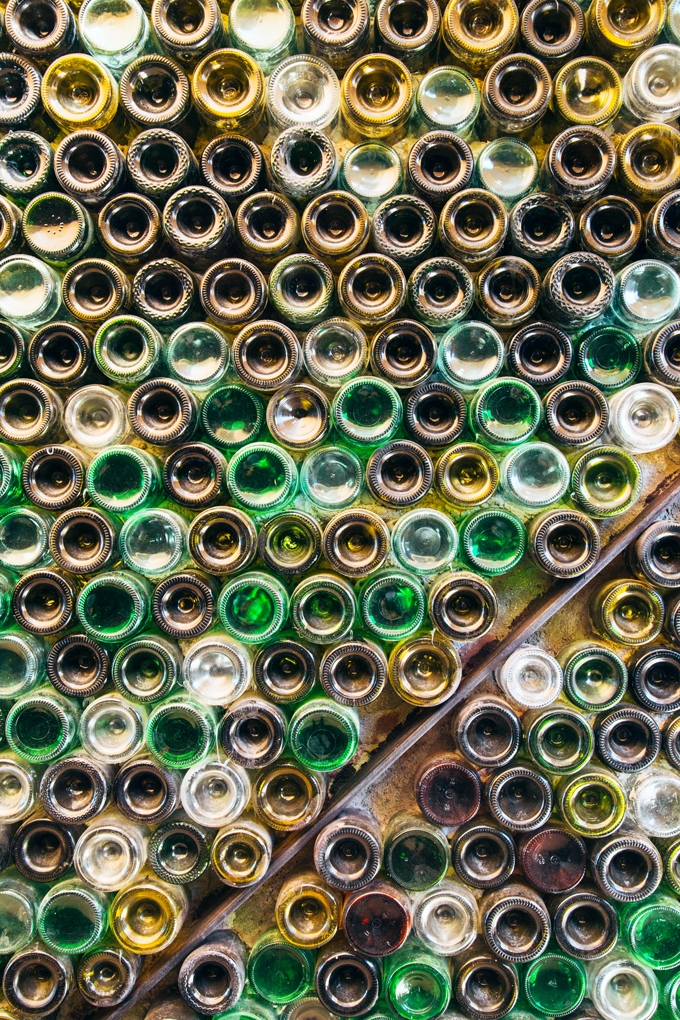 A tour of the wine cellar revealed an impressive fermentation room naturally illuminated by a colorful wall of beaming wine bottles.  After walking through a rotating secret wall, we reached a barrel aging room that seems to have grown directly from the earth and rocks below.
Aside from the incredible architecture, Clos de Tres Cantos is also producing some seriously tasty wines.  We tried the Nada (30% Tempranillo, 70% Petite Sirah), Noesis (100% Tempranillo) and Resilencia (100% Petite Sirah), each produced using sustainable practices.  I really enjoyed all three.
For lunch that day, we stopped by Fuego at the Hotel Boutique.  The entire meal was delicious, but appetizers were really outstanding.  One skillet was filled with caramelized brussels sprouts paired with garlic and micro greens.  Another brimming with charred octopus, pickled onions and sliced radishes.  The octopus was deeply spiced and perfectly tender.
Of the three wineries we visited throughout the weekend Finca La Carrodilla was my favorite (vineyard photo at the top of the post).  The rooftop garden and tasting room were just gorgeous with overflowing greenery, picturesque views, and rows of hanging string lights.  The winery also has an organic garden on property that supplies some of the restaurants in the area.
While at Finca de Carrodilla, we tried their Shiraz, Cabernet Sauvignon, Tempranillo and red wine blend.  Jorge and I particularly loved their flagship wine Sic Itur Ad Astra (translates to "this is how you get to the stars"), a blend of Cabernet Franc, Cabernet Sauvignon and Merlot.  While tasting each of these beauties, we enjoyed a board of organic baby carrots, homemade pesto and a local farmer's cheese.
Dinner that evening was at Corazon de Tierra, and unfortunately, I don't have any photos from the experience (dark lighting).  I will say that it was hands-down our favorite meal of the weekend.  Corazon de Tierra ("heart of the earth") is a modern, farm-to-table restaurant run by chef Diego Hernandez.  Our six course tasting menu consisted of fresh oysters, a salad with meringue croutons, raw yellowtail tostadas (AMAZING), a corn tamale, seared rock cod, quail and ice cream for dessert.  Each dish was complex, thoughtful and beautifully presented.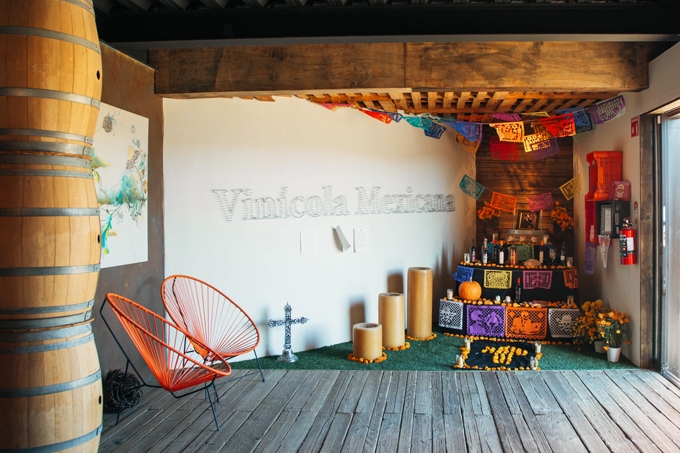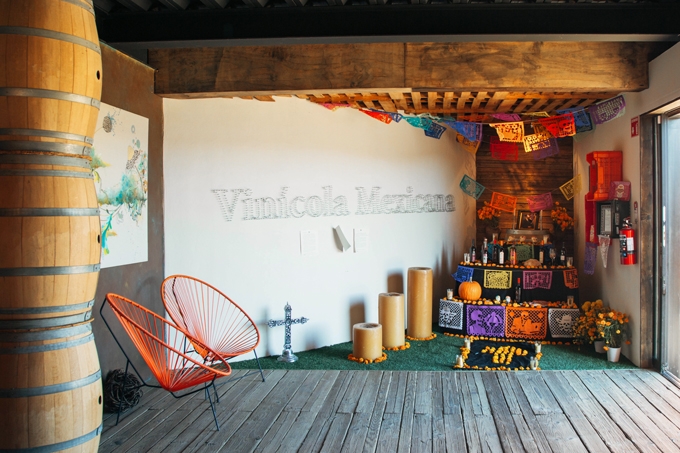 Our final stop on Sunday was La Lomita, the sister winery to Finca La Carrodilla.  Similar to other two wineries, La Lomita had a modern, artsy vibe that I really enjoyed.  Jorge and I tried a series of wines, and my favorite was the Discreto Encanto, a Tempranillo and Sirah blend.
I'm still amazed that this wine paradise is just two hours from San Diego, and I am definitely planning another trip this year to explore more of the area.
If you are a wine enthusiast in the San Diego or Los Angeles area, I would definitely recommend making the trip.  This would be a perfect summer weekend getaway!  The area is very tourist friendly, and there's a lot to do, see, eat and drink.  Valle de Guadalupe is also close to Ensenada, where you can get some incredible seafood.  If you are wondering if you can bring wine back across the border, the answer is YES!  You can bring back 1 liter of alcohol per person.
1