A rainbow made edible, this plate of rich and creamy Charred Zucchini Baba Ganoush surrounded by colorful fruits, veggies and chips tastes just as good as it looks.
This post may contain affiliate links.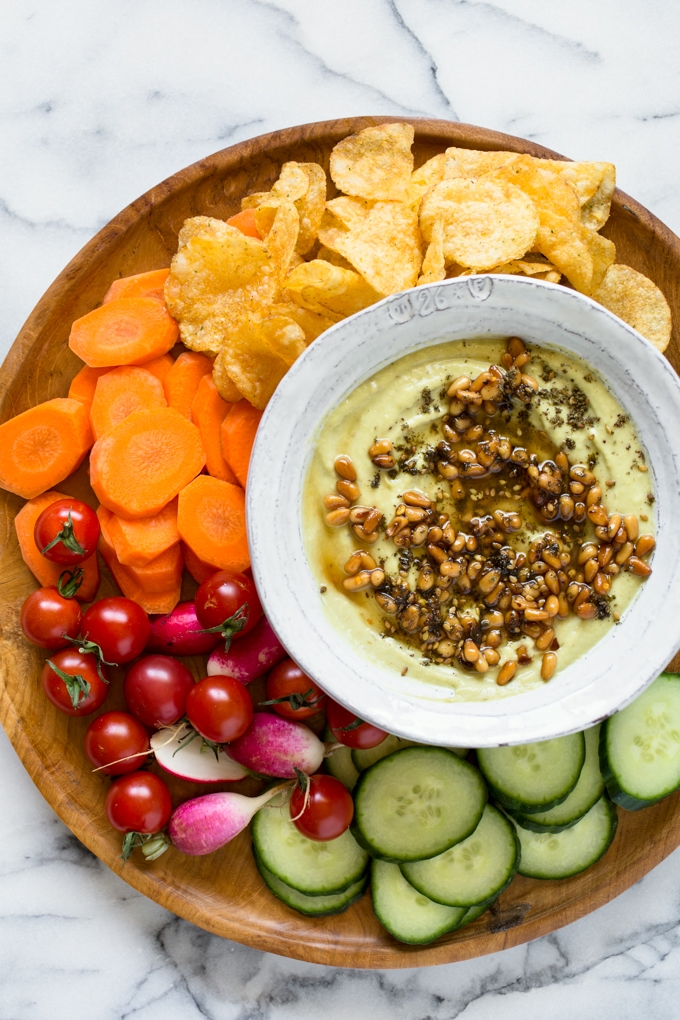 So far, I've been all about zucchini this summer. In this baba ganoush recipe, I've charred the summer squash under the broiler until jet black and crackling all around. Seriously, it's going to come out of the oven looking like a log of charcoal. Don't worry though! Hidden beneath the hideous exterior is a mess of tender squash infused with the flavor of blackened char. After a brief drain, the zucchini is blitzed with tahini, lemon, olive oil, garlic, cumin, cayenne and avocado.  The finished dip is bright and smoky with pleasant grassy note from the zucchini and avocado.
To amp up flavors even more, I've topped this Charred Zucchini Baba Ganoush with an aromatic mix of fried pine nuts and za'atar. The topping is optional, because this dip is seriously tasty on its own, but the option is there if you want to add some contrasting texture and flavor. Continue reading for the recipe plus pairing ideas!
There are many dipping possibilities available for this baba ganoush. Here are just a few suggestions:
Slices of crisp cucumber
Ripe cherry tomatoes
Carrot coins
Sticks of celery
Radishes in all different colors
Crunchy chips (Kettle Brand Jalapeño Chips pictured here)
The Kettle Brand Jalapeño Chips bring some nice additional heat to the party, but if you can't find them, the regular Kettle Brand Sea Salt Chips also pair really well. This Charred Zucchini Baba Ganoush is very smooth and creamy, so the natural kettle chips provide some welcomed contrasting crunch.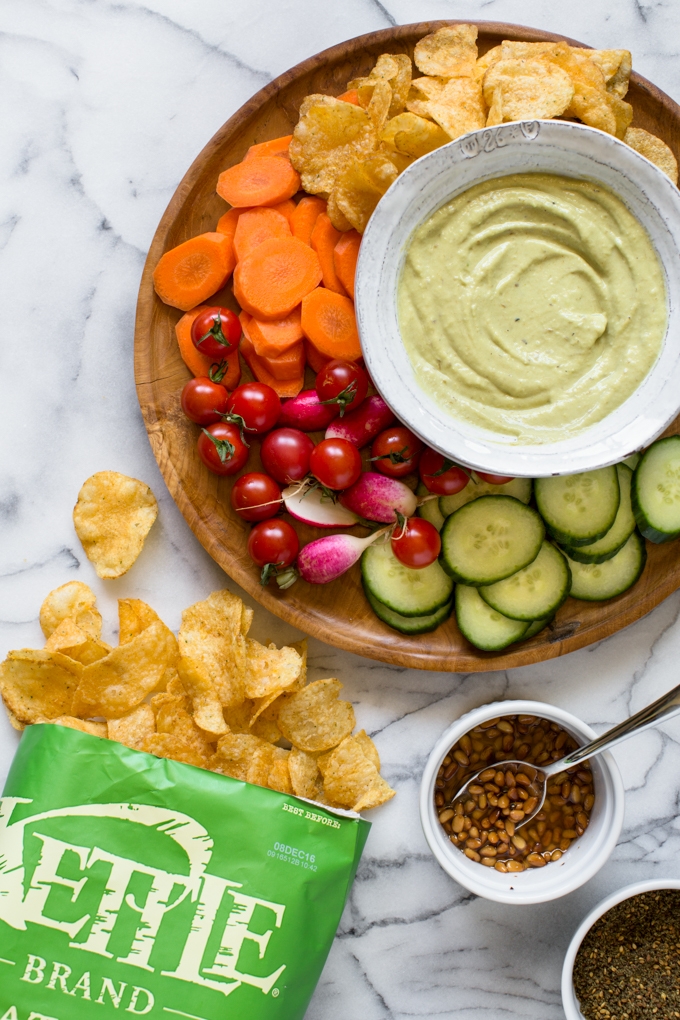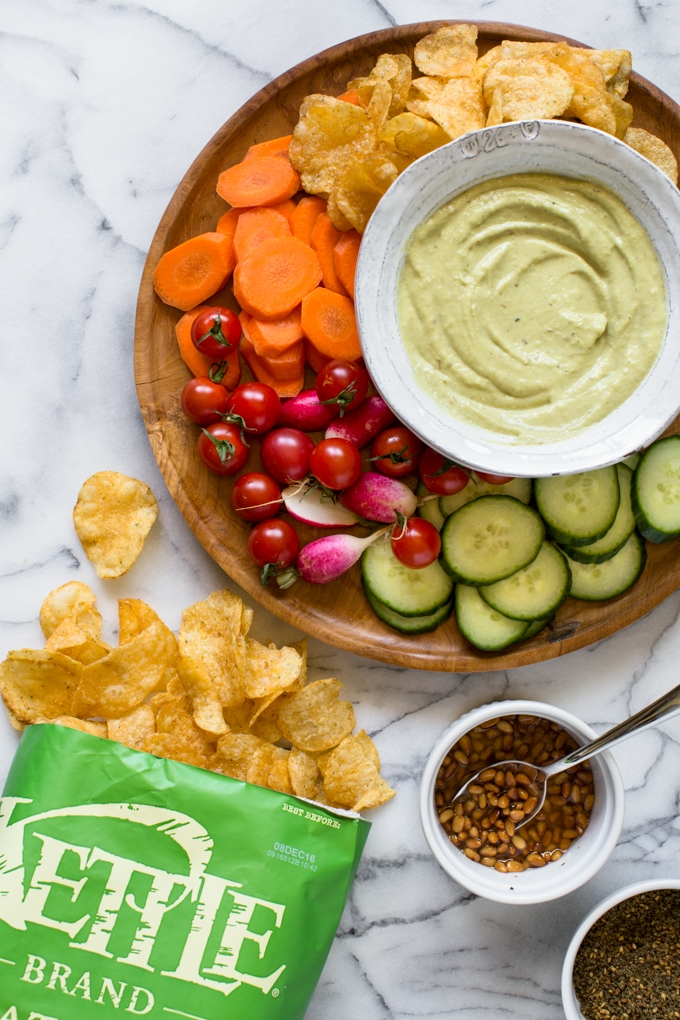 Charred Zucchini Baba Ganoush Recipe
Ingredients
For the baba ganoush:
1

zucchini

1/2

avocado, pit and peel removed

1/4

cup

tahini

1/4

teaspoon

ground cumin, preferably toasted and freshly ground

Small pinch of cayenne pepper

Kosher salt

1/4

cup

fresh lemon juice

1

tablespoons

olive oil
For the topping (optional):
1

tablespoon

olive oil

2

tablespoons

pine nuts

1

teaspoon

fresh lemon juice

Kosher salt

Small pinch of crushed red pepper flakes

Za'atar, for sprinkling

Cucumber slices, tomatoes, carrot coins and radishes, for serving
Instructions
Place zucchini on a foil-lined baking sheet, and broil on high until well-charred, turning occasionally (about 30 minutes). Once cool enough to handle, remove and discard the charred skin. Place zucchini in a strainer over a small bowl, and let drain for 20 minutes.

Add zucchini, avocado, tahini, cumin, cayenne and 1/2 teaspoon kosher salt to a food processor (I like to use this small one), pulsing a few times to combine. Add the lemon juice and olive oil, and blitz until smooth. Season to taste with additional salt.

Warm oil in a small frying pan over medium-low heat. Add the pine nuts, and cook until golden brown (3 – 5 minutes). Take the pan off the heat, then stir in lemon juice and a small pinch of each kosher salt and crushed red pepper flakes.

To serve, spoon the baba ganoush in a medium bowl, then top with pine nuts (with oil) and a sprinkling of za'atar. Place baba ganoush on a large plate surrounded by fruits, veggies and chips.
Tried this recipe?
Tag @brandiego on Instagram so I can check it out!
This post was written in partnership with Kettle Brand Chips. All thoughts, opinions and recipes are my own. Connect with Kettle Brand Chips on Facebook, Instagram and Twitter.
1