Good morning friends and Happy Tuesday!!
This post may contain affiliate links.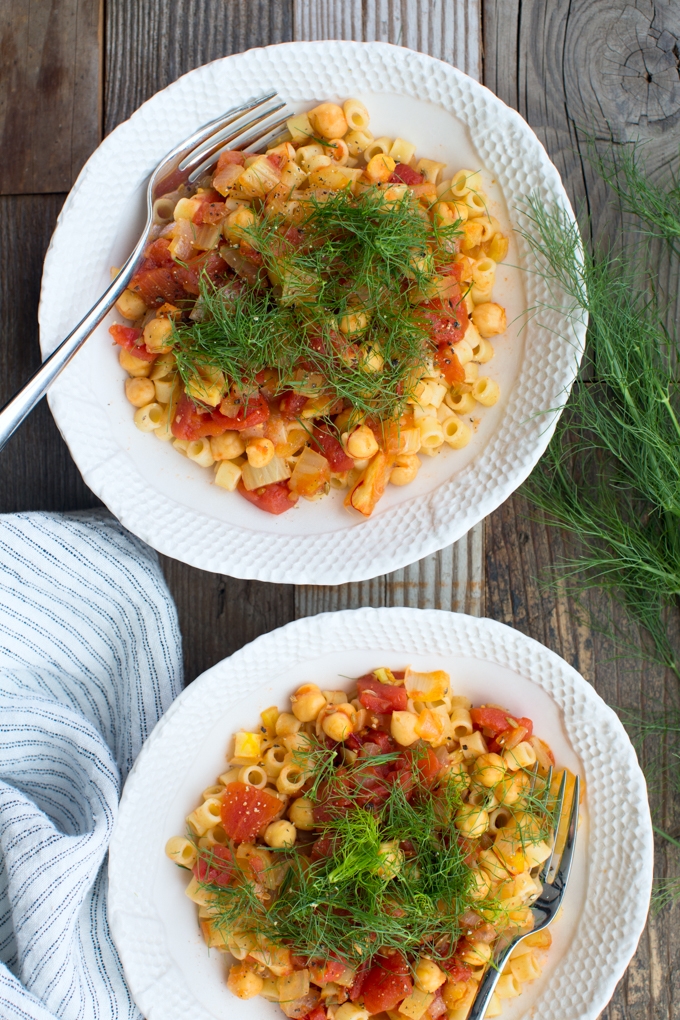 I've been on a total pasta binge recently.  Last week, I made this super creamy and delicious Baked Red Pepper Pasta.  This week, I'm switching things up and going light and fresh.  My Pasta with Chickpeas, Fennel and Saffron is a simple summer dinner that comes together in about 30 minutes.  The recipe starts with chopped onions and fennel sizzling in olive oil.  Once the aromatics are soft and tender, garlic, fennel seeds and wisps of heady saffron are stirred in and cooked until fragrant.  Finally, chickpeas and chopped tomatoes join the pot, and the sauce simmers for just 15 minutes to let the flavors blend together.  This flavor-packed sauce is spooned over a bowl of ditalini (small tube-shaped pasta), and finished with grassy fennel fronds.
The textures in this dish are super satisfying.  The sauce is hearty and rustic while the chickpeas lend an earthy creaminess.  Fennel is at the forefront flavor-wise while the saffron lends a wonderful depth of flavor.  None of the ingredients are heavy or overbearing, making this a perfect, light meal for a warm summer evening.  Continue reading for the Pasta with Chickpeas, Fennel and Saffron recipe!
I've partnered with USA Pulses & Pulse Canada on this recipe to help spread the word that 2016 is the International Year of Pulses.  Healthy, delicious and sustainable, pulses are dry chickpeas, peas, lentils and beans.  Of all the pulses, chickpeas are my favorite.  I like to brine the dried chickpeas overnight and then cook quickly in my pressure cooker.  I also like to prepare pulses in bulk, and store in the fridge, so I can enjoy easily throughout the week.  Here, creamy chickpeas pair beautifully with fennel, tomato and saffron.  As the sauce simmers, the chickpeas soak up all those gorgeous flavors.  They are also a great source of protein, so no additional meat or fish is needed here to make this a complete meal!
Pasta with Chickpeas, Fennel and Saffron Recipe
Ingredients
2

tablespoons

olive oil

1

fennel bulb, stalks and core removed, chopped (reserve fronds)

1

onion, chopped

Kosher salt

2

garlic cloves, chopped fine

1

tablespoon

fennel seeds

1

pinch

saffron threads

1

28-ounce can diced tomatoes

9

ounces

(about 1 1/2 cups cooked) chickpeas (prepared from dry*)

Freshly ground black pepper

10

ounces

ditalini or other small pasta
Instructions
Warm olive oil in a large, cast-iron pot over medium heat. Add the chopped fennel and onion along with a big pinch of salt, and cook, stirring occasionally until soft (about 5 minutes). Stir in garlic, fennel seeds and saffron, and cook until fragrant (about 1 minute). Add diced tomatoes (with all of the juices), chickpeas, 1/2 cup water, a couple pinches of salt and several turns of black pepper. Let the sauce come to a boil, reduce heat to low, and simmer partially covered for 15 minutes, stirring occasionally. Season to taste with additional salt and pepper.

While the sauce is cooking, bring a large pot of salted water to a boil. Cook ditalini to al dente, using the package instructions as a timing guide. Drain pasta.

If serving the entire amount of pasta and sauce, toss both together in a big bowl and divide between 4 to 6 bowls. If serving just a few portions, spoon pasta into individual bowls, and top with a big spoonful of sauce. Finish each bowl with a sprinkling of black pepper and chopped fennel fronds.
Notes
*I like to brine the dried chickpeas overnight and then cook quickly in my pressure cooker. You'll need 1/2 cup dried chickpeas for this recipe, but I would recommend preparing the chickpeas in bulk and then using in various dishes throughout the week. They're great with pasta or on salads. You can also blend them up into homemade hummus!
Tried this recipe?
Tag @brandiego on Instagram so I can check it out!
This post was written in partnership with USA Pulses & Pulse Canada. Thoughts, opinions and recipes are my own.  Get more info on the International Year of Pulses here.  You can also take the Pulse Pledge, a 10 week commitment to eating dry peas, lentils, beans and chickpeas to help reduce your carbon footprint.
4