Say hello to my new favorite baked pasta dish.
This post may contain affiliate links.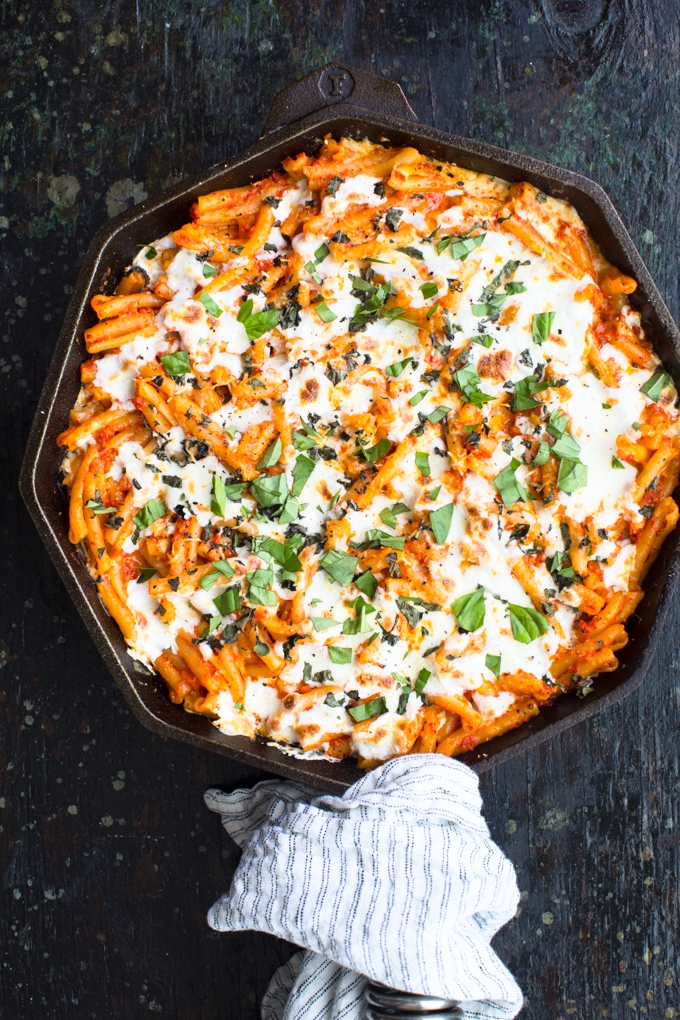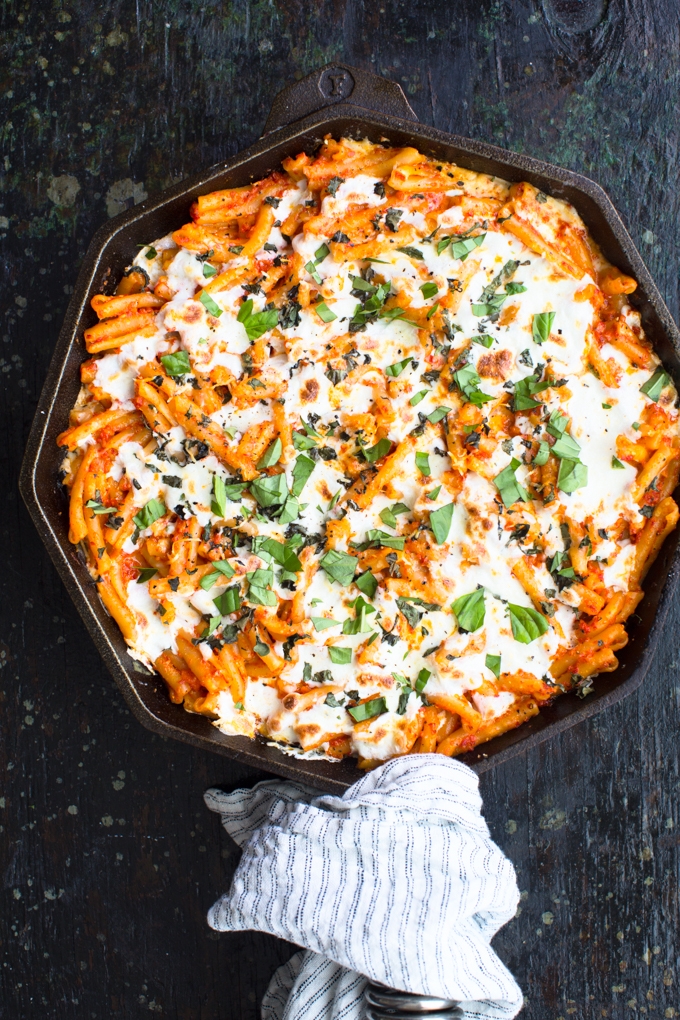 It's melty.  It's gooey.  It's creamy.  And it's packed with delicious roasted red pepper flavor.
The base of this dish is a pantry sauce that comes together in the food processor.  Jarred roasted red peppers, sun-dried tomatoes, garlic, pine nuts, Parmesan cheese and red wine vinegar are blitzed with some olive oil until a smooth and fiery red.  Cooked pasta is then tossed in the sauce and layered in a skillet with a simple Bechamel, shredded mozzarella and chopped fresh basil (from my back yard!).  The skillet spends a little time in the oven, allowing the flavors to mix and mingle while the mozz turns soft and gooey.  As the skillet emerges hot and bubbling, it's seemingly impossible to let the pasta rest for 5 minutes before digging in.  You'll be pleasantly rewarded after the brief wait though.  This dish is so damn delicious.  Continue reading for the recipe.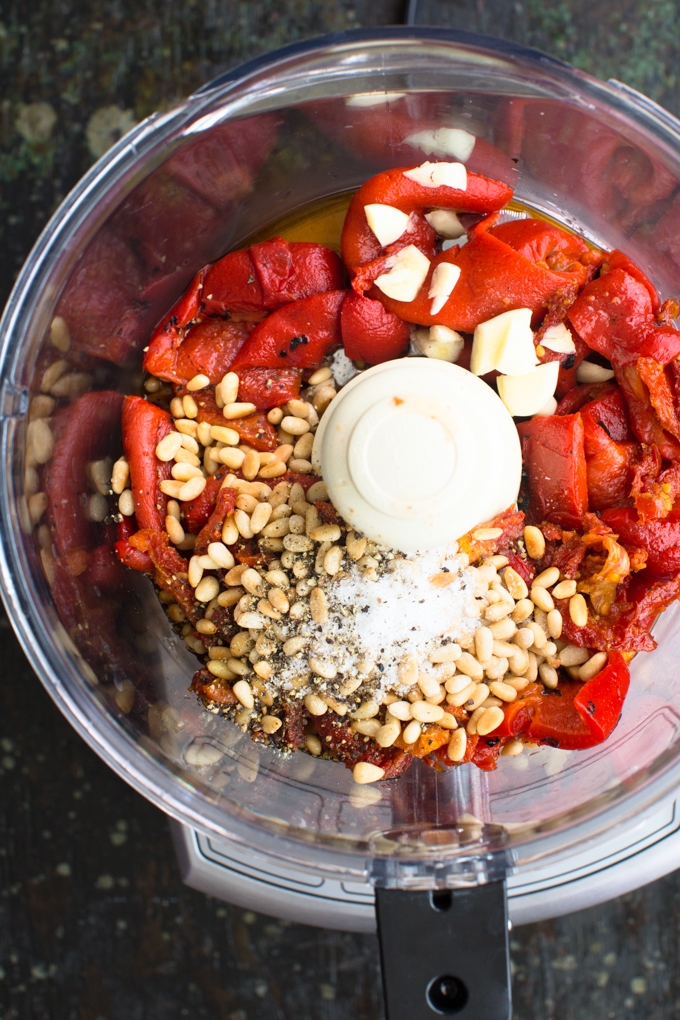 One thing I love most about this recipe is that many of the ingredients needed here are often at the ready in my pantry and fridge.  The main flavorings, roasted red peppers and sun-dried tomatoes, are both jarred.  Garlic, pasta, olive oil and red wine vinegar are always around.  I've usually got pine nuts in the fridge, but if I didn't, I would use toasted almonds or walnuts here.  Butter and Parmesan cheese are two fridge mainstays.  The only ingredients I would have to buy fresh are milk, mozzarella cheese and basil.  And right now, I've even got basil growing in the back yard!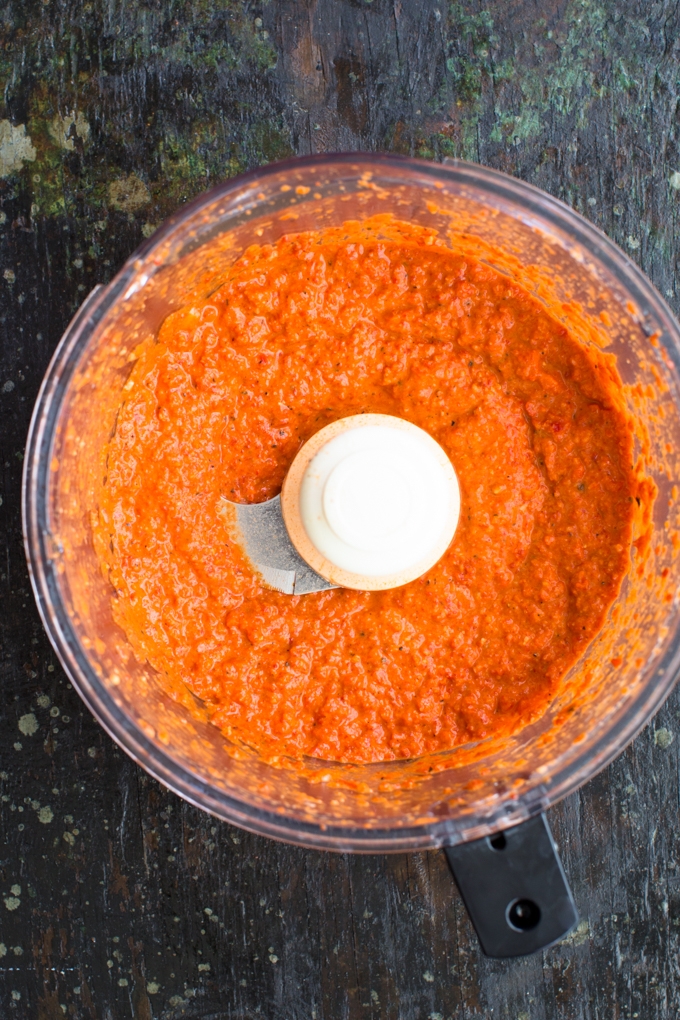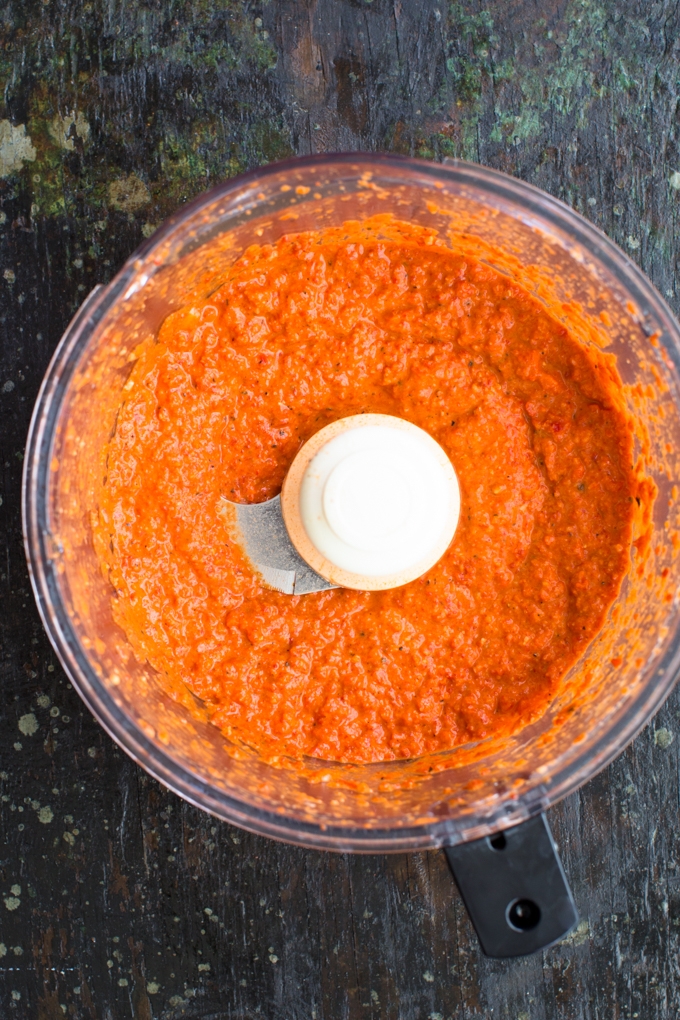 In addition to the roasted red pepper sauce, the pasta is baked with a Parmesan-infused white sauce.  The white sauce provides a creaminess throughout the dish that is hard to replicate using ricotta cheese or extra mozzarella.  White sauce (Bechamel) is very easy to make on the stovetop.  Briefly cook butter and flour in a medium saucepan until nutty and lightly golden.  Whisk in some milk and let thicken for 8 to 10 minutes.  The sauce is finished with grated Parm, nutmeg, salt and pepper.  So simple!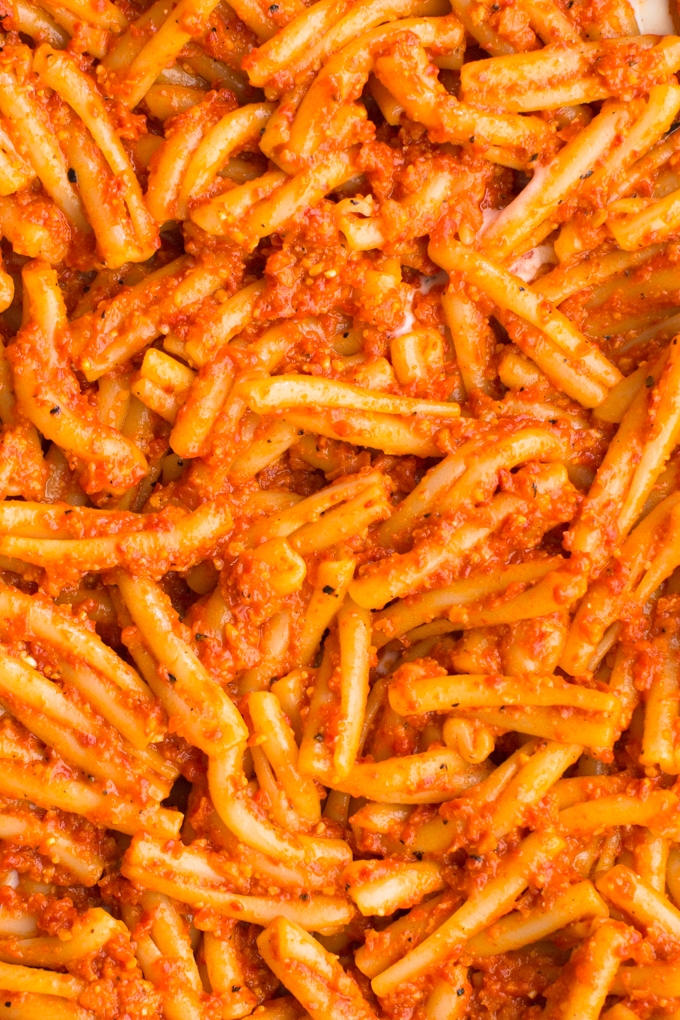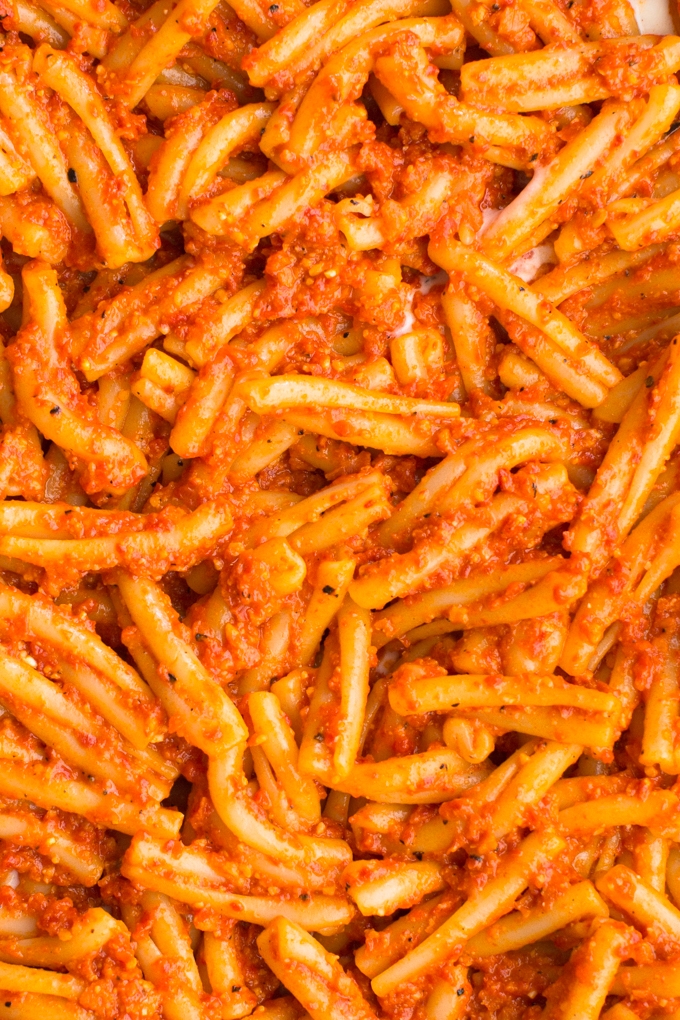 Just a quick reminder!  I'm working feverishly right now to put together an eBook by the end of the month, so I apologize in advance if I don't respond to your questions or comments right away.  Everything should be back to normal early September!  Now on to the recipe 🙂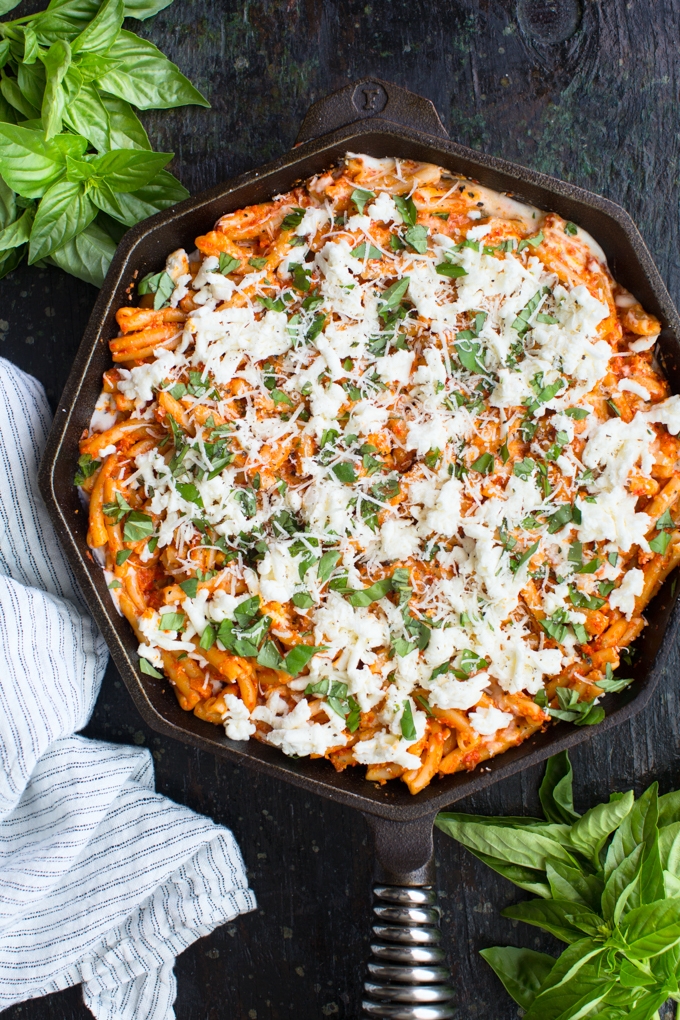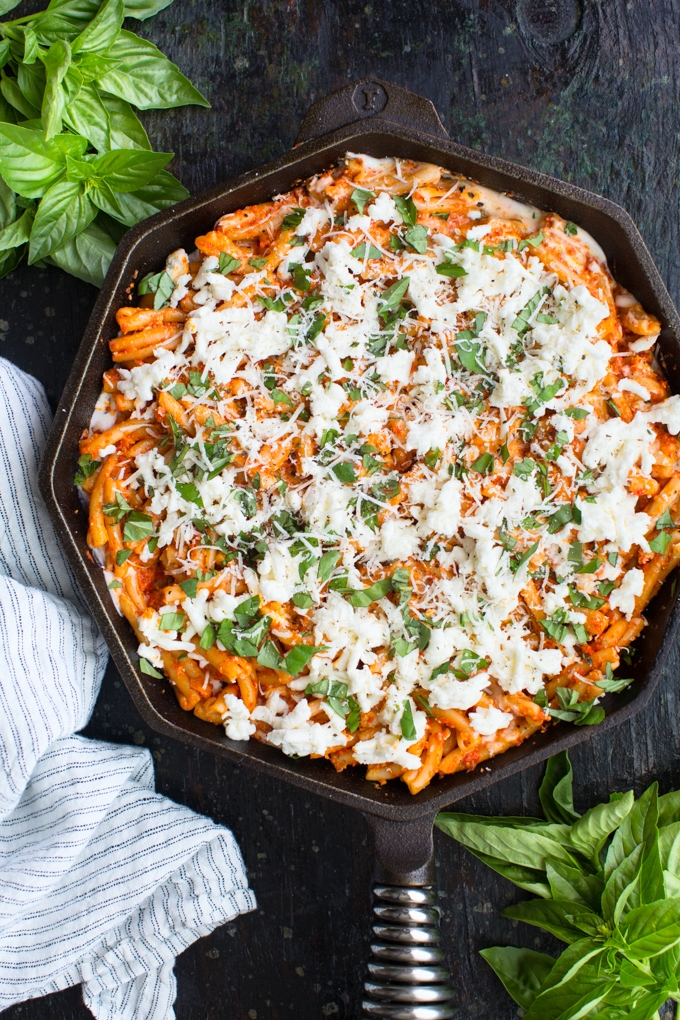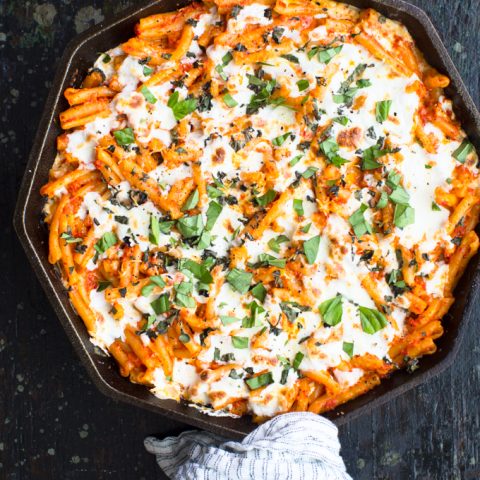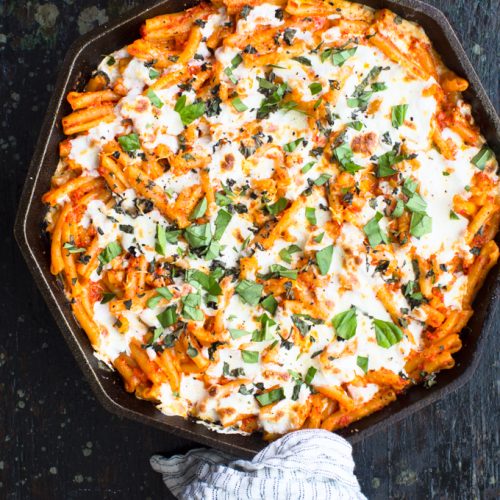 Baked Red Pepper Pasta Recipe
Roasted red pepper sauce adapted from
here
.
Ingredients
For the roasted red pepper sauce:
1

jar 16 ounces roasted red peppers, drained

1/2

cup

sun-dried tomatoes

2

garlic cloves, chopped

1/4

cup

toasted pine nuts

1/2

cup

freshly grated Parmesan cheese

2

teaspoons

red wine vinegar, plus more to taste

Kosher salt

Freshly ground black pepper

1/4

cup

extra virgin olive oil
For the white sauce:
2

tablespoons

unsalted butter

2

tablespoons

flour

2 1/4

cups

whole milk

1/4

cup

freshly grated Parmesan cheese

Small pinch grated nutmeg

Kosher salt

Freshly ground black pepper
For the baked pasta:
1

pound

dried pasta (I used casarecce here, but penne or gemelli would be good too)

8

ounces

fresh mozzarella
2 handfuls chopped basil, plus more for serving
Freshly grated Parmesan cheese, for grating
Instructions
To make the roasted red pepper sauce, combine red peppers, sun-dried tomatoes, garlic, pine nuts, Parmesan and vinegar in a food processor along with 1 teaspoon salt and several grinds of black pepper. Pulse until ingredients are chopped fine. With the food processor running, stream in olive oil to form a smooth sauce. Season to taste with additional salt, pepper and vinegar.

To make the white sauce, warm butter in a medium saucepan over medium heat until foaming. Sprinkle flour over the surface of the butter, and then stir to combine. Cook, stirring frequently, until the mixture turns light golden and takes on a nutty aroma (1 - 2 minutes). Whisk in the milk gradually, then bring to a boil. Reduce heat to medium-low and cook, stirring occasionally, until the mixture thickens to the consistency of heavy cream (8 - 10 minutes). Take the sauce off the heat, and stir in Parmesan, nutmeg, a couple pinches of salt and a few grinds of black pepper. Season to taste with more salt and pepper.

Preheat an oven to 350°F.

Bring a large pot of salted water to a boil (do this while you are cooking the white sauce). Cook the pasta until just before al dente (2 to 3 minutes shy of the package instructions). The pasta should have some good bite to it, but no crunch. Drain the pasta, but reserve a little of the cooking liquid. Return the pasta to the pot, then fold in the roasted red pepper sauce with a splash of cooking liquid. Continue folding until the pasta is well coated. Taste and season with more salt and pepper if needed.

Spoon half of the white sauce into the bottom of a 12-inch cast-iron skillet (or 9 x 13 baking dish). Top with 1/2 of the pasta, 1/2 of the mozzarella and 1/2 of the basil. Start the next layer with the remaining white sauce, then remaining pasta. Using a spoon or spatula, gently fold the pasta in a few spots to create some streaks of white sauce throughout (don't mix up the whole thing though). Top with remaining mozzarella, basil and dusting of grated Parmesan.

Bake until the cheese is melted and the sides start to bubble (about 20 minutes). Turn the broiler to high, put the skillet under the flame, then cook until golden spots start to develop on the cheese (3 to 4 minutes). Let sit for 5 minutes before serving. Enjoy with extra chopped basil, grated Parmesan and black pepper!
Notes
*This baked pasta can be prepared through Step 5 up to 1 day in advance. Cover and store in the refrigerator. When ready to bake, take the skillet from the fridge and transfer directly to the preheated oven. You'll need to bake for a little longer.
Tried this recipe?
Tag @brandiego on Instagram so I can check it out!
Here are some other Italian recipes on Kitchen Konfidence perfect for summer: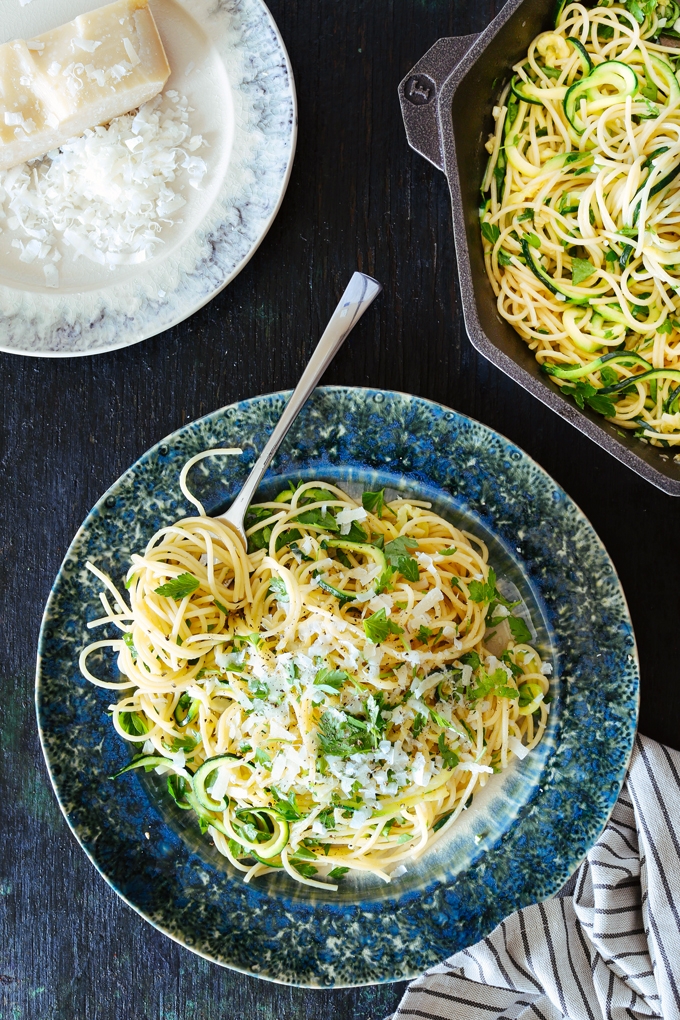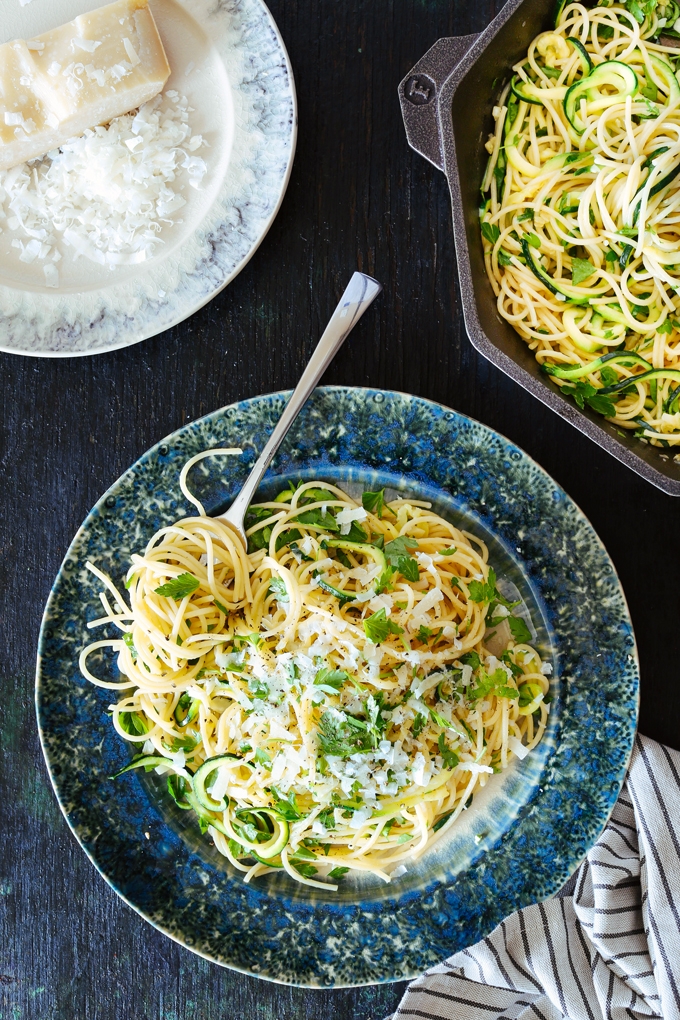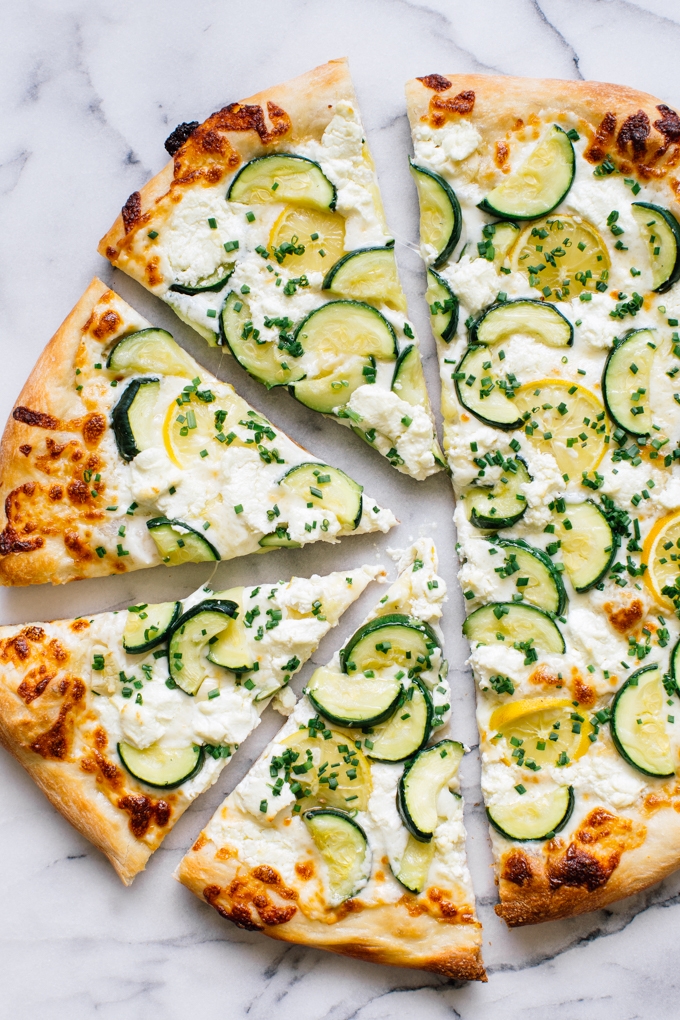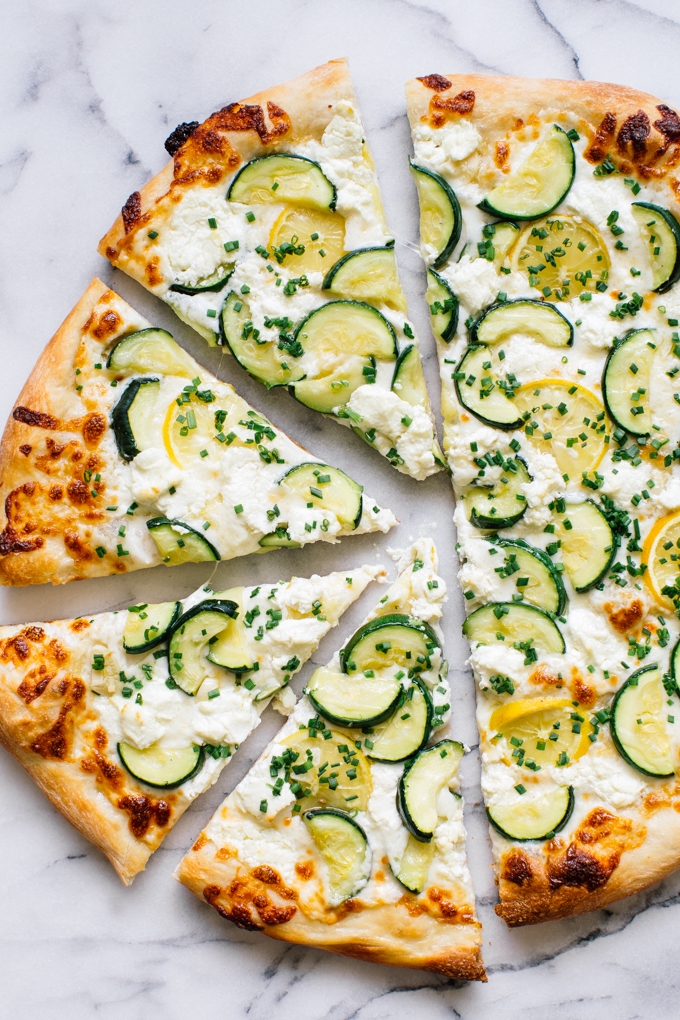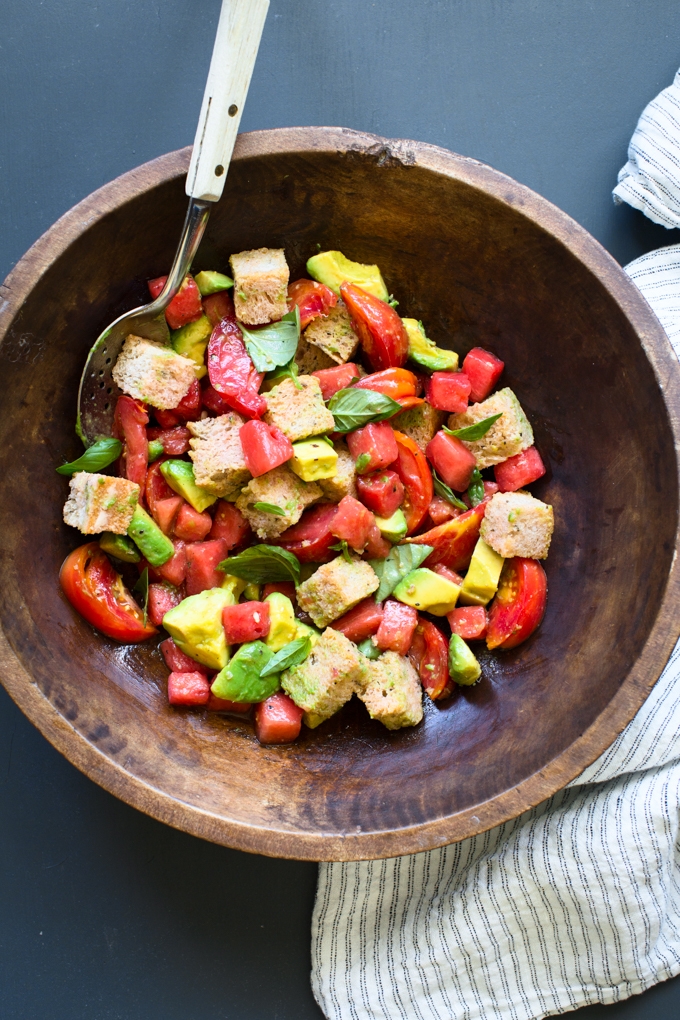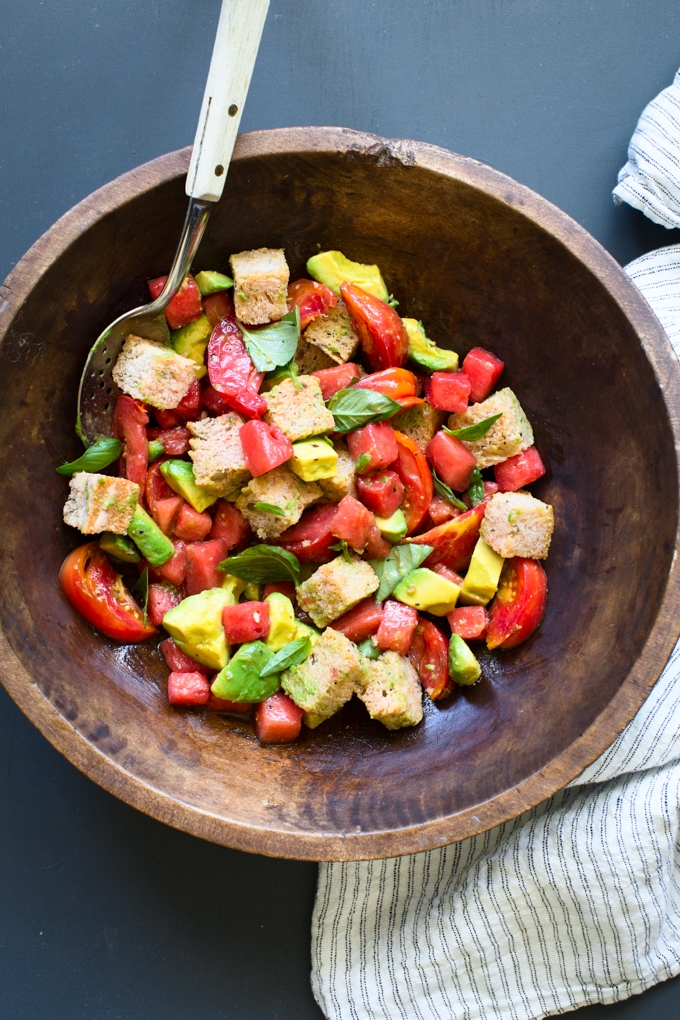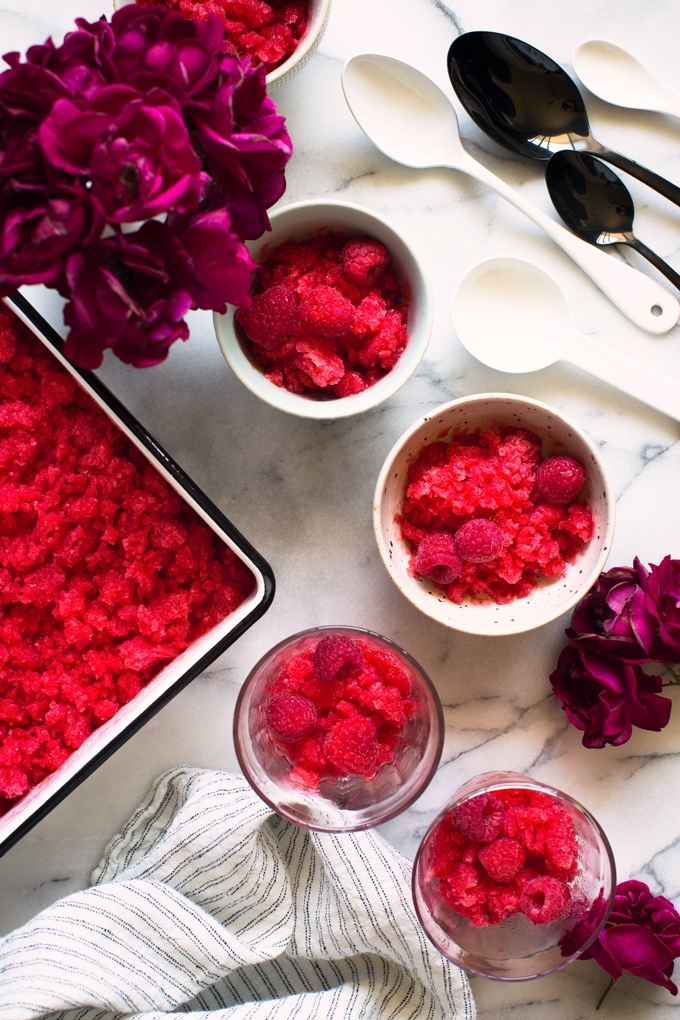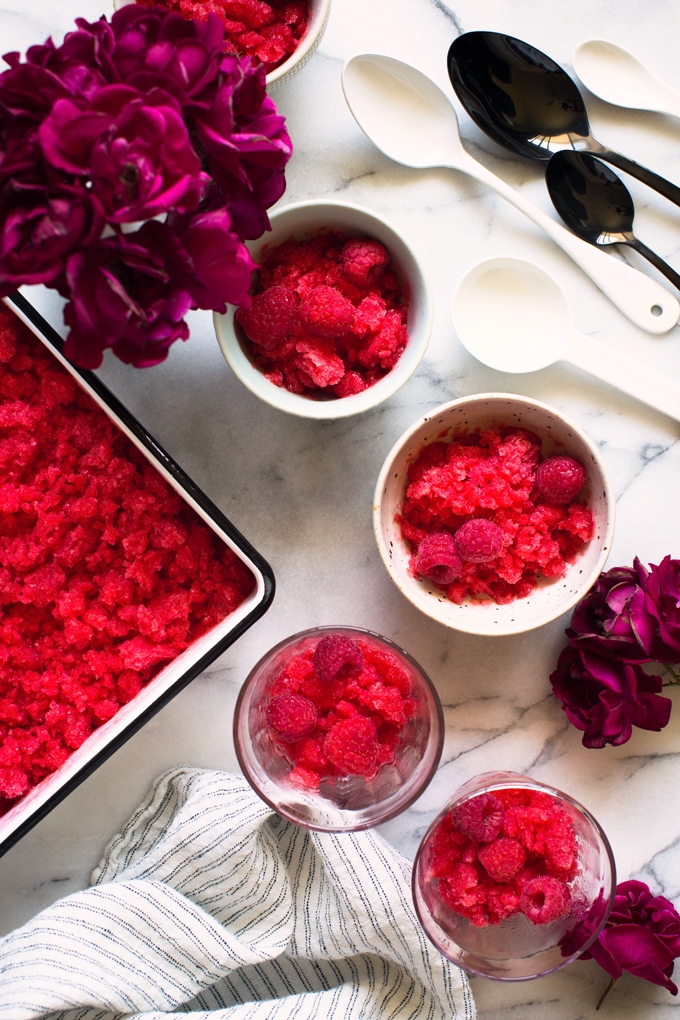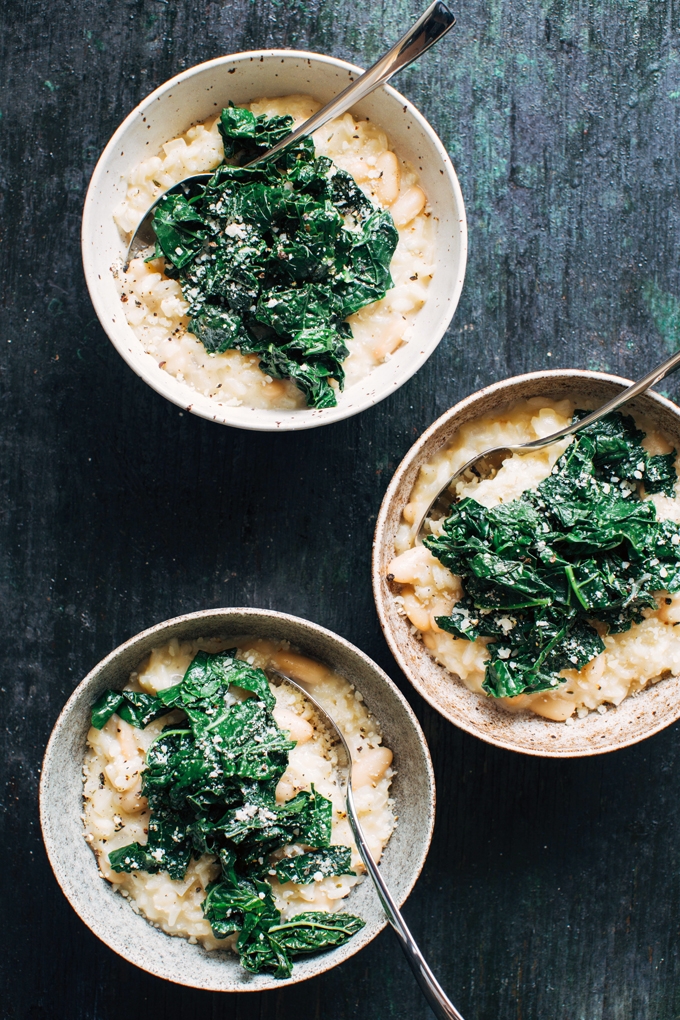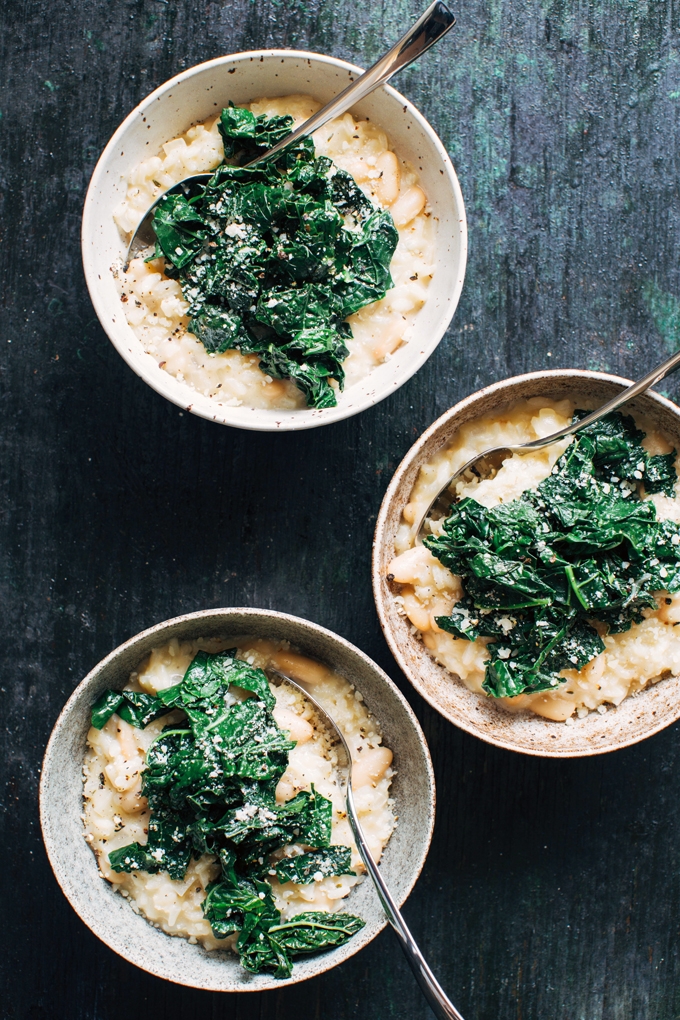 6