You guys, it's finally cooling off here in San Diego, and I'm so excited to start transitioning to those cozy fall meals.
This post may contain affiliate links.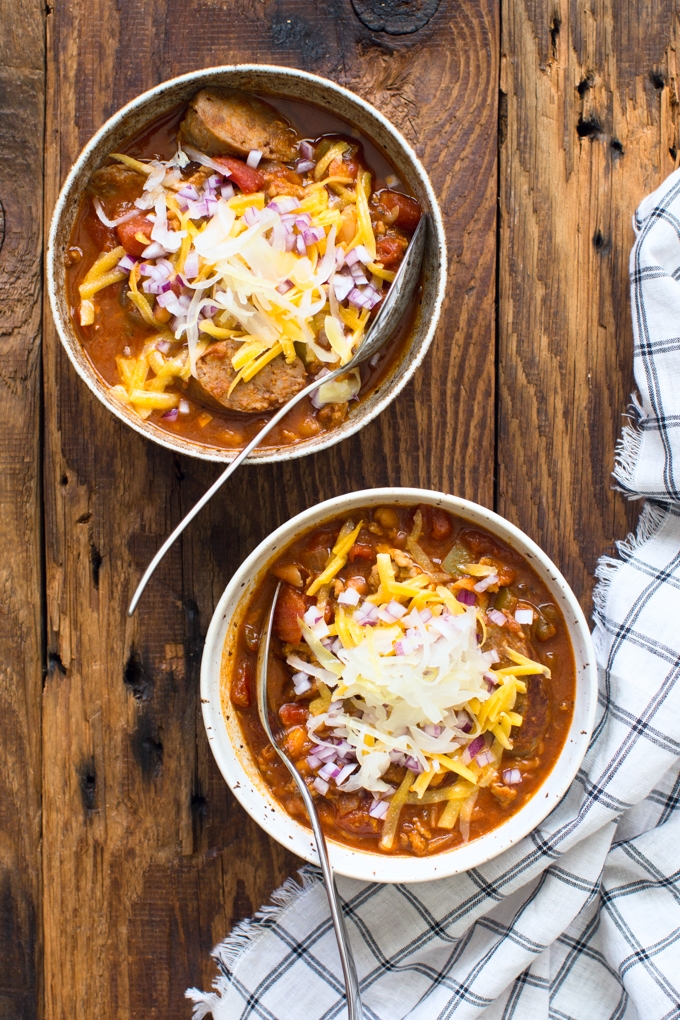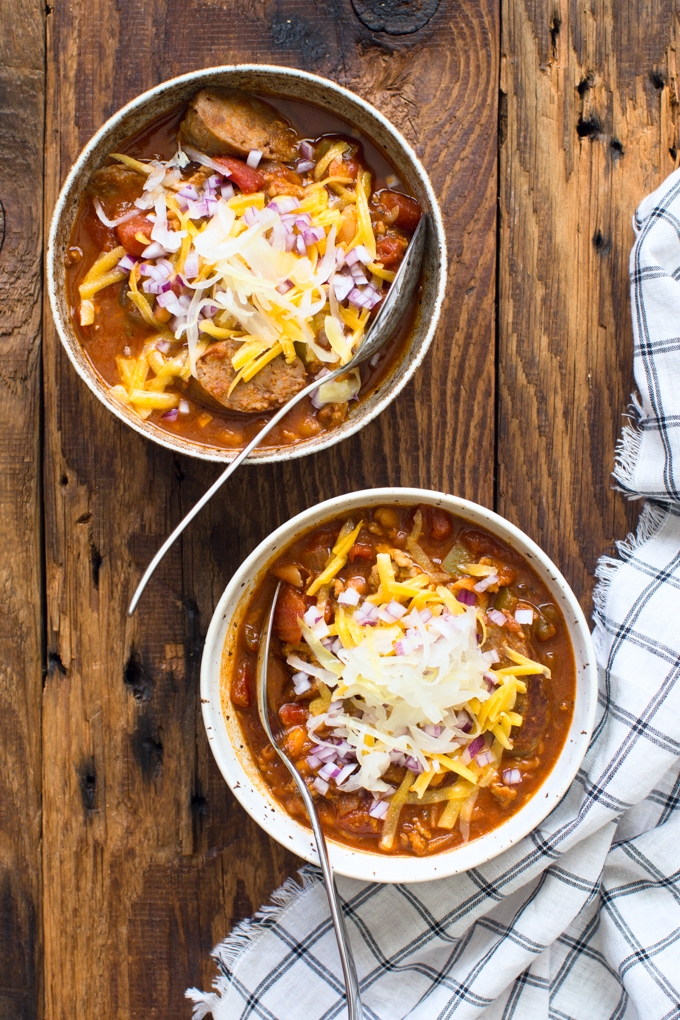 Hearty and satisfying, this Beer Brat Chili recipe is so simple to prepare and packed with rich, chile flavor.  Imagine a brat sitting in a bun, topped with chili, cheese and sauerkraut.  This soup is a similar experience (just without the bun!).  Start by cooking onion, garlic and bell pepper in olive oil until tender, then stir in ground pork.  The pork adds some good flavor and texture to the soup as it simmers.  Next, chile powder and cumin sizzle with the pork and aromatics before chopped tomatoes, tomato paste, beer, oregano and white beans are added to the mix.  Finally, beer-infused brats are grilled until golden, sliced and added to the chili during the last 30 minutes of cooking.  The soup is finished with grated cheddar, chopped red onion and a bit of tangy sauerkraut. The kraut helps to balance the richness of the soup, so don't skip it!  I could seriously eat bowl after bowl of this chili.  It's so darn good.  Continue reading for the recipe.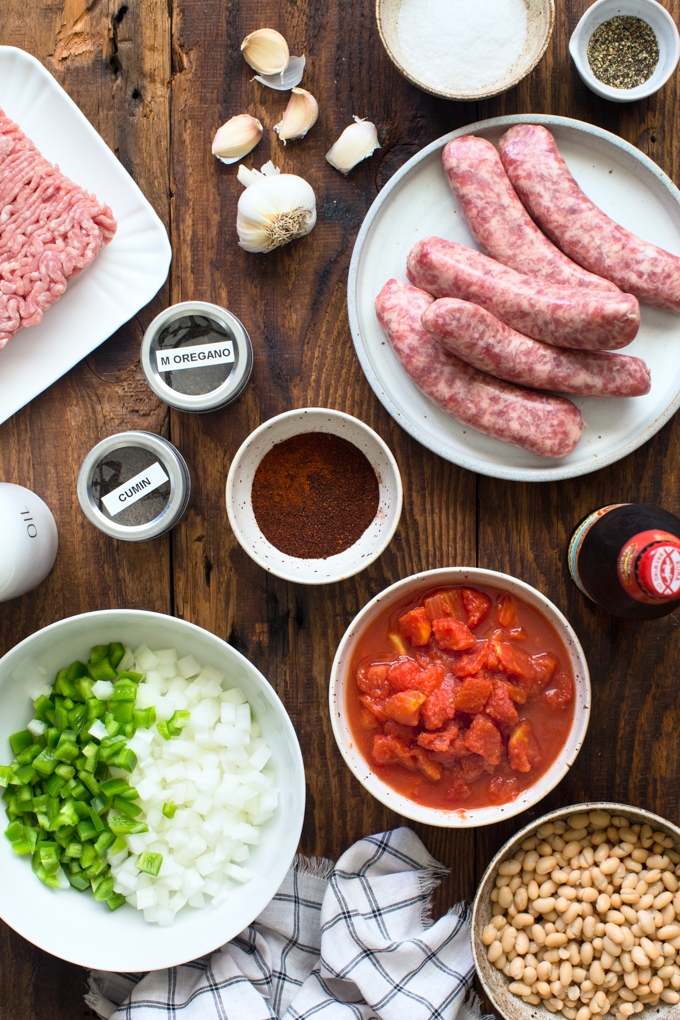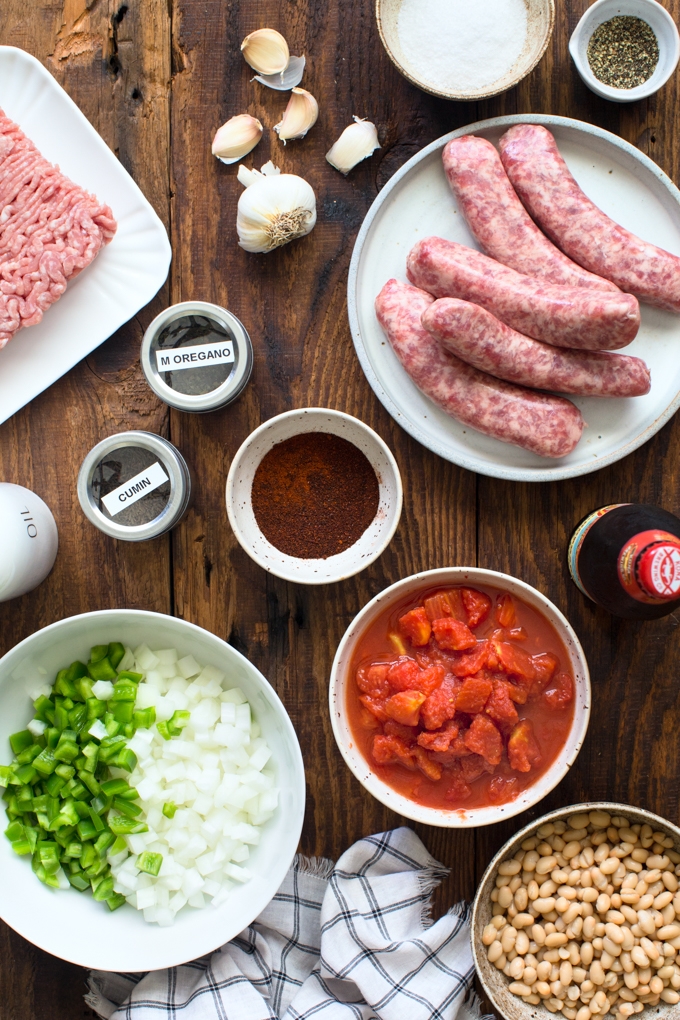 I partnered with Johnsonville on this recipe to help spread the word about their new Johnsonville Sizzling Sausage Grill.  It's a table-top grill that cooks brats (and other sausages) to golden perfection.  Simply place brats in the sausage-shaped wells straight from the fridge.  Close the lid, hit start, and in 15 minutes, you've got perfectly cooked brats!  In this chili recipe, I am using Johnsonville Beer'n Bratwurst to add another layer of beer flavor to the soup.  The brats are cooked first in the grill to get that golden flavor, then finished in the soup, so they can soak up all that chile goodness.
Hot Italian sausages are frequent add-ins to our pot of Sunday tomato sauce, so this grill will definitely get some good use.  I love how it evenly cooks the sausage all around without the use of oil!  If you want to get one of these grills for yourself, be sure to check out the link above and use the coupon code sizzle2 to get $20 off.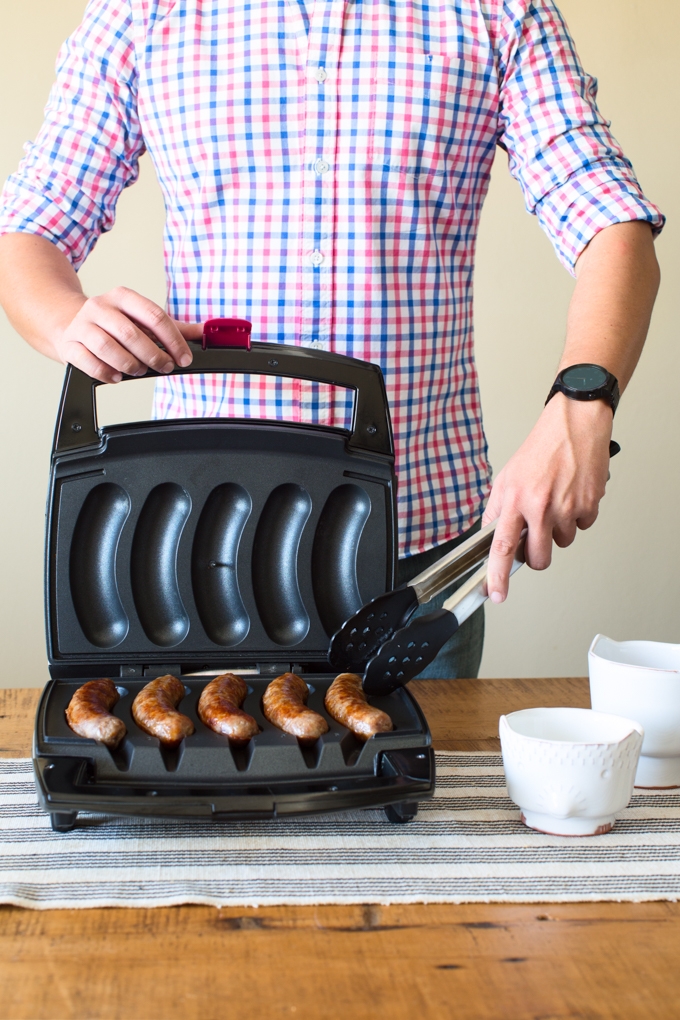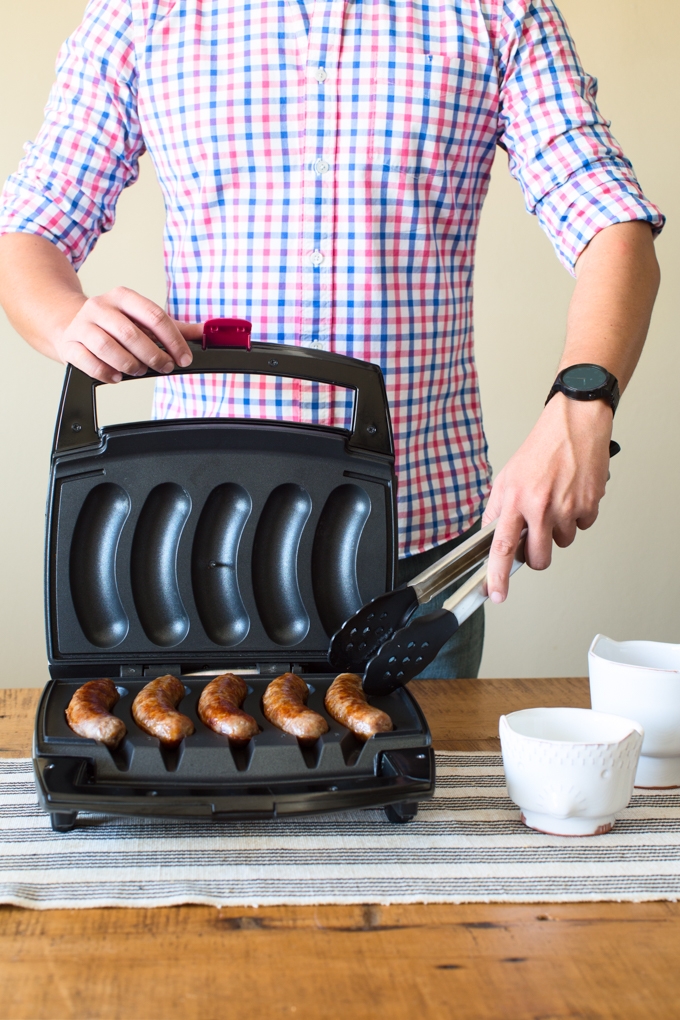 Jorge and I are not big football fans; however we LOVE Game Day food.  Chili, guac, layered dips, burgers, hot dogs, and so on!  We've been known to throw Game Day parties in the past just to enjoy the food with friends 😉  This Beer Brat Chili would be a perfect addition to any Game Day party.  I would recommend cooking it on the stove top in a cast iron pot, and then transferring it to a slow cooker to keep warm during the party.  Set out big bowls of grated cheddar, chopped onions and sauerkraut, so guests can add to taste.  The flavor of the chili is even better the next day, so you can totally prepare this in advance and just warm up right before everyone arrives.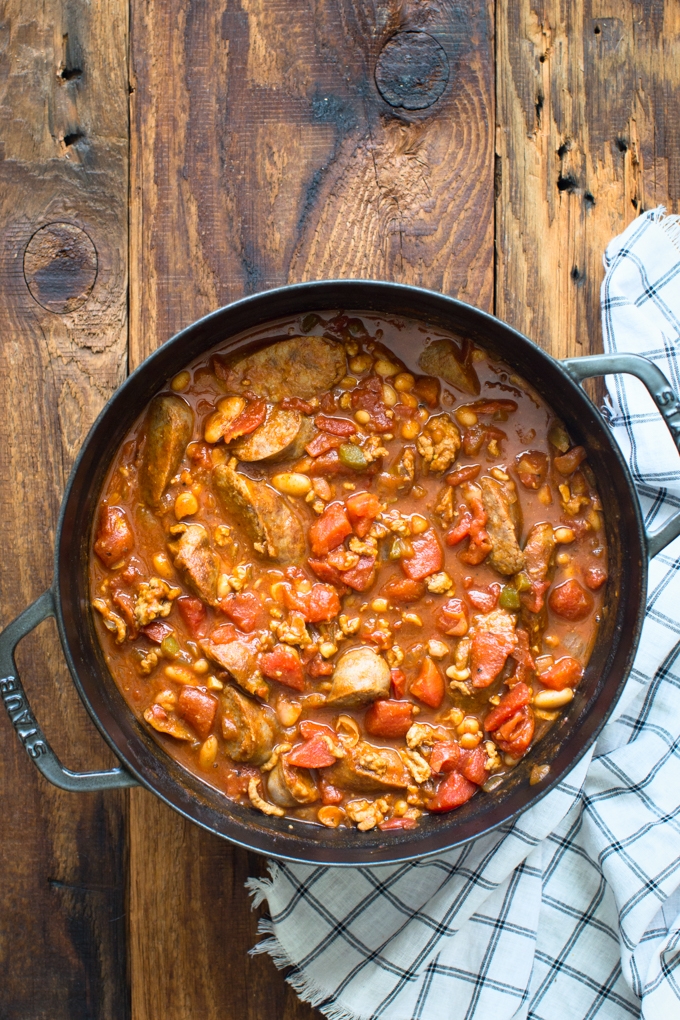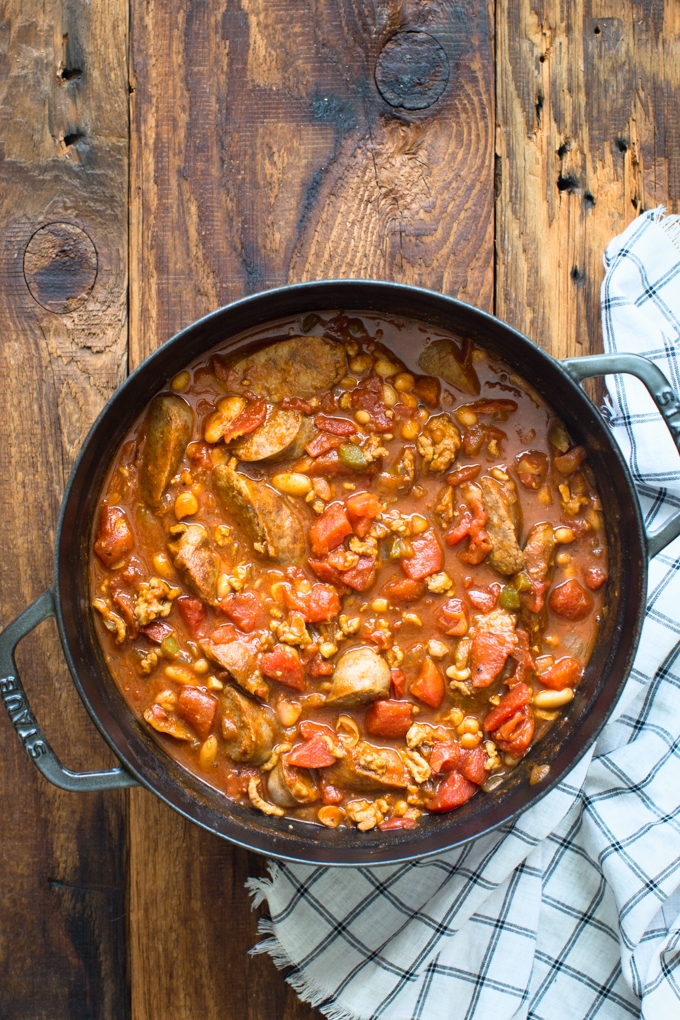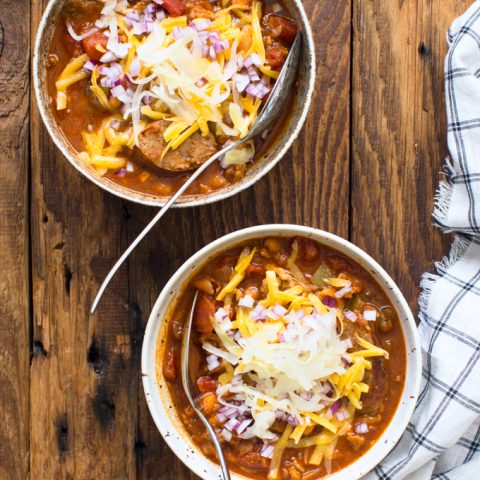 Beer Brat Chili Recipe
Ingredients
1/4

cup

extra virgin olive oil

1

medium onion, chopped (about 2 cups)

1

green bell pepper, chopped (about 1 cup)

4

garlic cloves, finely chopped

1

pound

ground pork

3

tablespoons

chili powder*

1

teaspoon

ground cumin

43

ounces

canned diced tomatoes with juices (that's 1 big can and 1 smaller can)

2 15

ounce

cans white beans, drained and rinsed

2

tablespoons

tomato paste

1

12 ounce bottle beer (use what you've got on hand)

1

teaspoon

dried oregano

1

tablespoons

kosher salt, plus more to taste

1/2

teaspoon

freshly ground black pepper

1

package (1 lb 3 oz. )

Johnsonville Beer'n Bratwurst
Toppings: shredded cheddar, chopped red onion, sauerkraut
Instructions
Warm oil in a large cast iron pot over medium-high heat. Add onion, bell pepper and garlic, and cook until the vegetables are tender but not brown (5 - 6 minutes), stirring occasionally. Add the ground pork, and cook until browned all over. I like to get all the meat in the pan, stir to combine, and then let sit for a few minutes to really get some brown color. If you continuously move the meat around, no caramelization will occur. You won't get that much dark brown color here, but even just a little bit will help with flavor.

Stir in chili powder and cumin, and cook for 2 minutes, stirring often. Add tomatoes with juices, beans, tomato paste, beer, oregano,salt and pepper. Bring the mixture to a simmer then reduce heat to low. Simmer, uncovered, for an hour.

Meanwhile, cook brats using the Johnsonville Sausage Grill. This takes about 15 minutes. Let the brats rest for 5 minutes, then cut into 3/4-inch slices. Stir in the brats into the chili during the last 30 minutes of cooking. To finish the soup, season to taste with salt.

To serve, spoon chili into soup bowls and top with shredded cheese, chopped red onion and sauerkraut.
Notes
*When making chili, I love using a mixture of chile powders to add depth of flavor. If you don't have access to these types of chile powders (or they are super expensive), you could definitely use the spice labeled "Chili Powder." Just keep in mind that chili powders usually have other things mixed in like garlic and oregano, so the end result might taste a little different.
Tried this recipe?
Tag @brandiego on Instagram so I can check it out!
This is a sponsored conversation written by me on behalf of Johnsonville. The opinions and text are all mine.
45