Don't you just love a good buttermilk waffle?  I certainly do.
This post may contain affiliate links.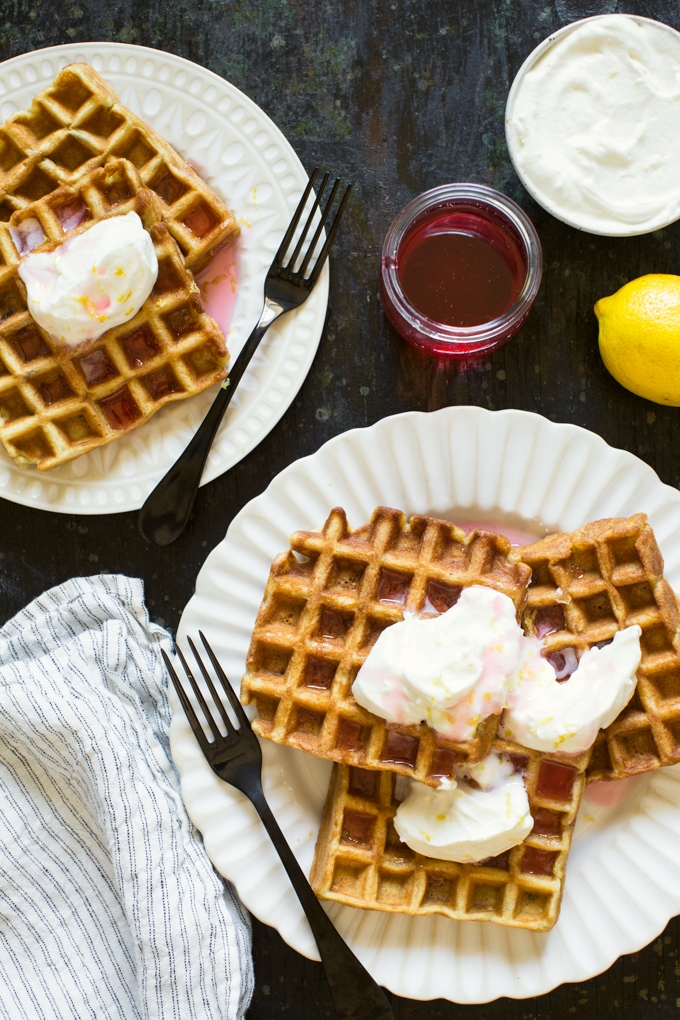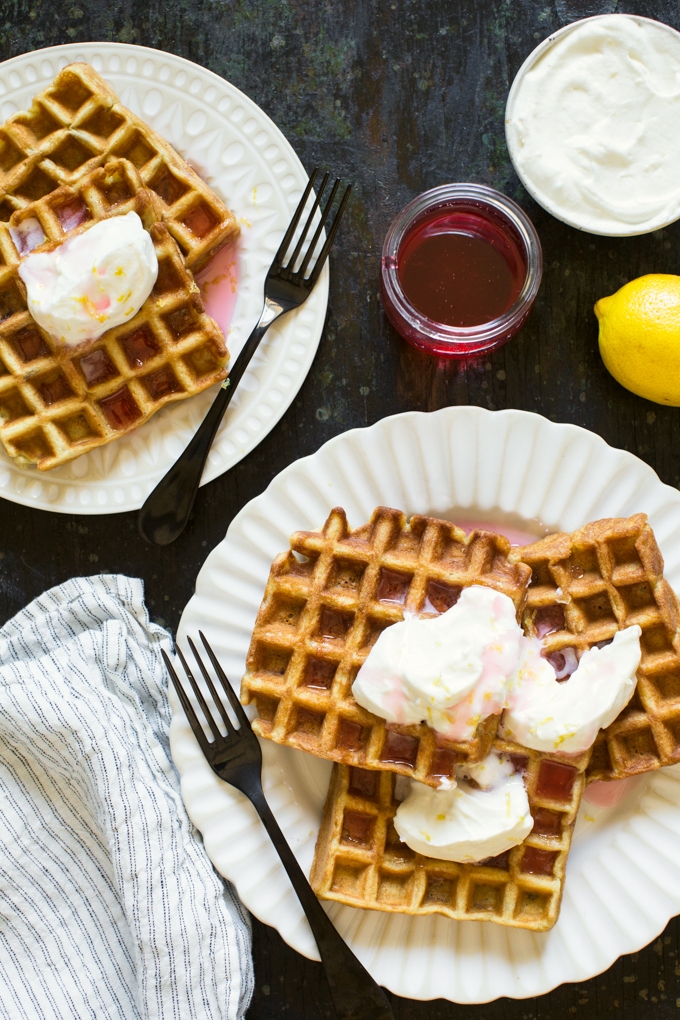 We make waffles frequently at our house, so I'm always experimenting with new flavors.  Recently I shared this spring cocktail recipe made with a strawberry rhubarb syrup, and while recipe testing, I thought to myself, "Wouldn't this syrup be perfect for breakfast too?!"  After a little additional tweaking and testing, I ended up with these Rhubarb Waffles with Lemon Whipped Cream.
The base here is a simple buttermilk waffle batter infused with butter and vanilla.  Sliced rhubarb is then cooked briefly in a mix of sugar and water.  The resulting poached rhubarb is folded into the waffle batter, and the remaining syrup is cooked down a little further until it takes on a maple syrup-like consistency.  This bubble gum-colored syrup gets drizzled over the golden waffles instead of maple syrup to add more rhubarb flavor.  The dish is finished with airy dollops of lemon-spiked whipped cream and a light dusting of lemon zest.  With each bite, you'll get a little sweet and a little tang followed by the buttery richness of the waffles. So. Darn. Tasty.  Continue reading for the recipe.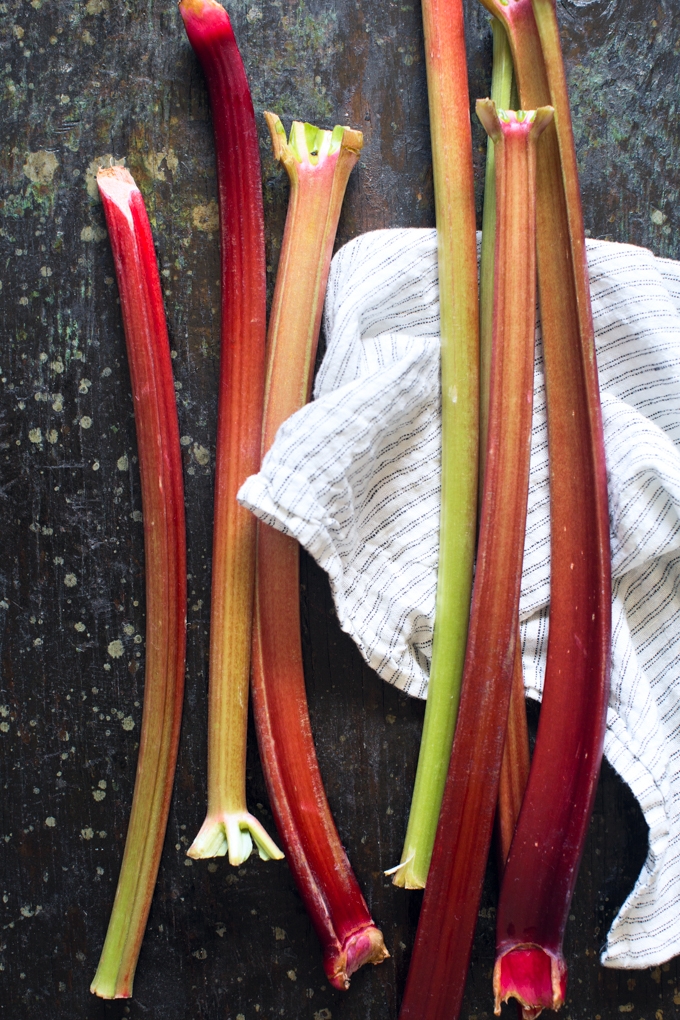 I developed this recipe in partnership with Ralphs, my go-to neighborhood grocery store here in San Diego.  I just love that they've got a great selection of seasonal produce like the rhubarb pictured above.  Ralphs also carries an awesome organic line called Simple Truth.  I like to buy Simple Truth brown eggs and flour.  Shhh.  Don't tell anyone at Ralphs that I hunt around for spotted brown eggs in all the boxes, because they're prettier in photos 😛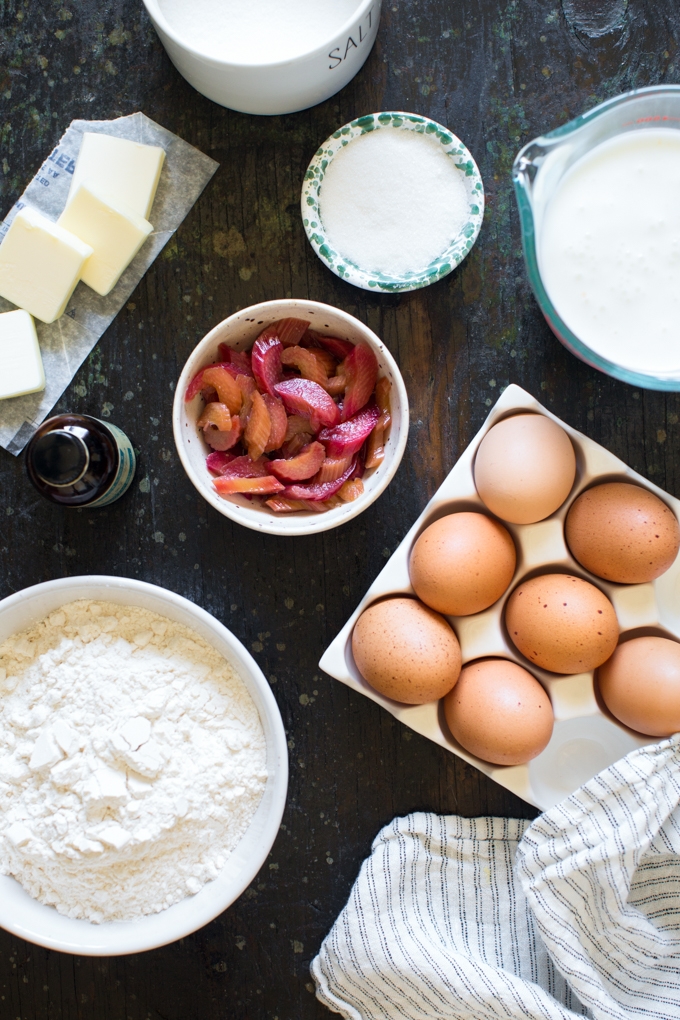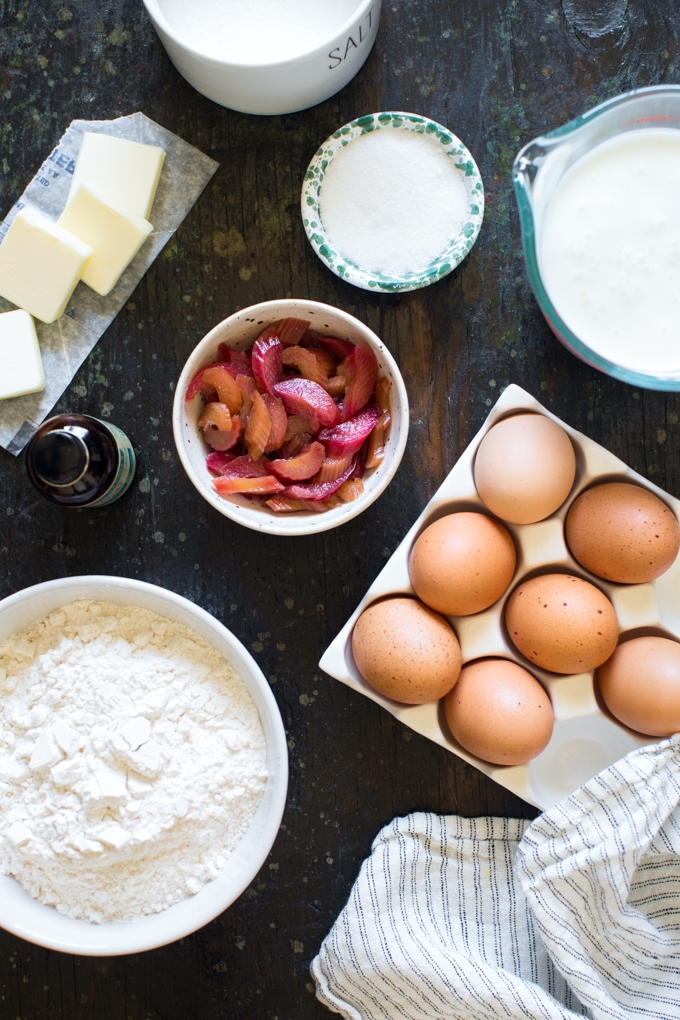 Rhubarb can often be paired with strawberry or other strong flavors, but here I really wanted to give these gorgeous red stalks the spotlight.  On its own, rhubarb has a very tart flavor with notes of berry, citrus and apple.  You really need a decent amount of sugar to balance out the sourness.  In this recipe, sliced rhubarb is cooked very gently in a simple mix of water and sugar.  You simmer it for just a moment, take the pan off the heat, and let steep for 1 hour.  This softens the rhubarb without risk of it turning to mush.  The poached rhubarb, stained various shades of red and pink, is strained and added to the waffle battle.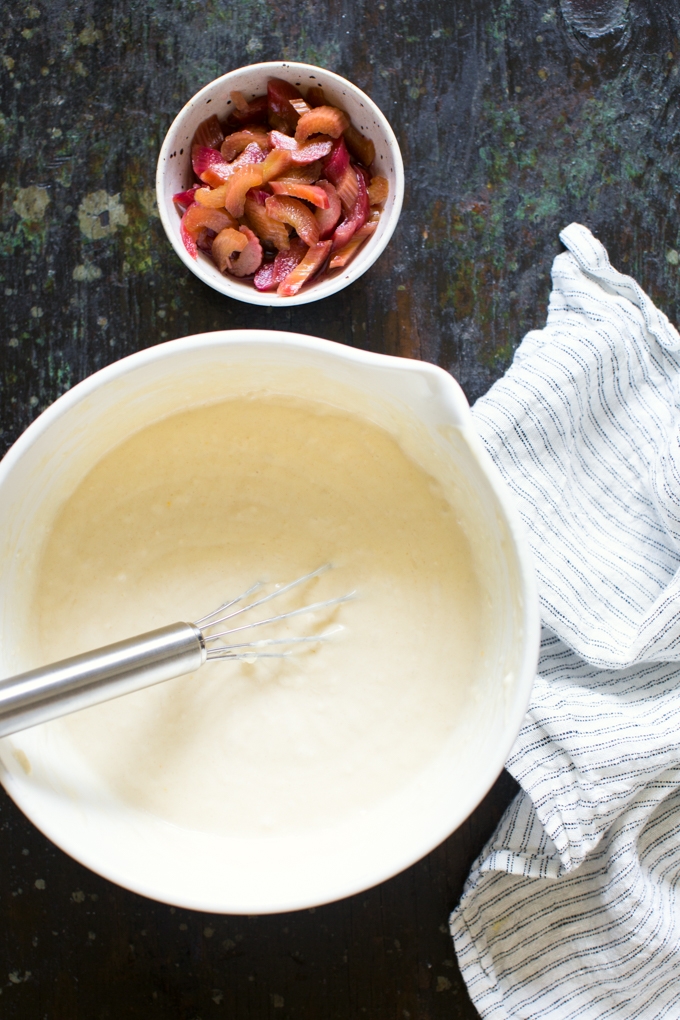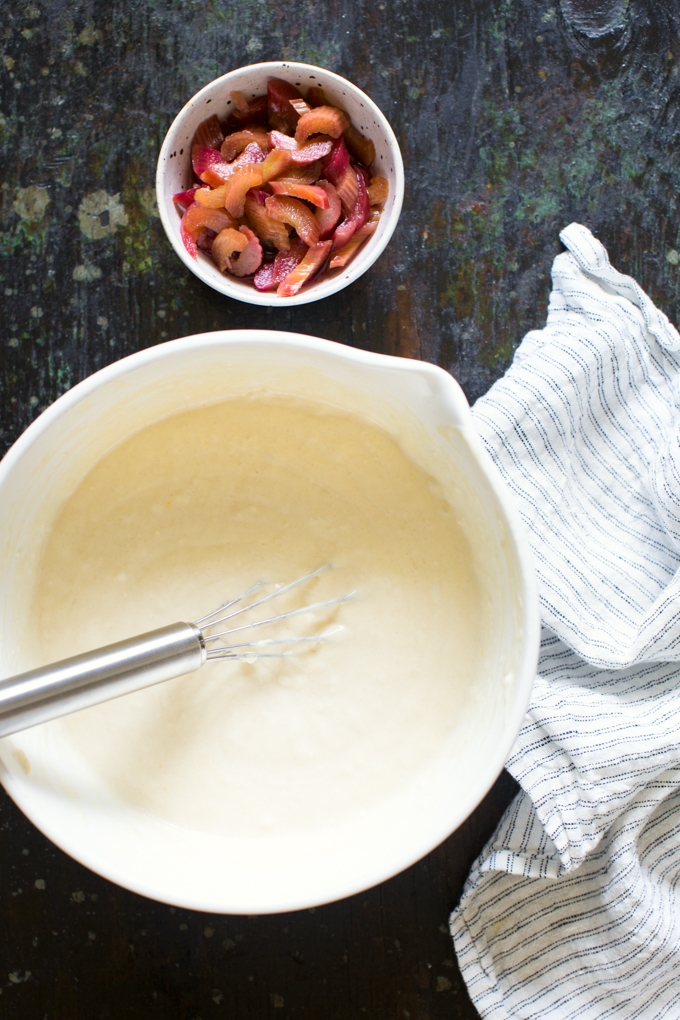 The leftover syrup then gets cooked a bit longer to thicken and reduce.  This is just one of two tasty toppings for these waffles.  The other is a whipped cream infused with sugar, lemon zest and lemon juice.  Lemon pairs well with rhubarb without overwhelming it.  The poached rhubarb, rhubarb syrup and whipped cream can be prepared up to one day in advance.  Just be sure to re-whisk the whipped cream right before serving.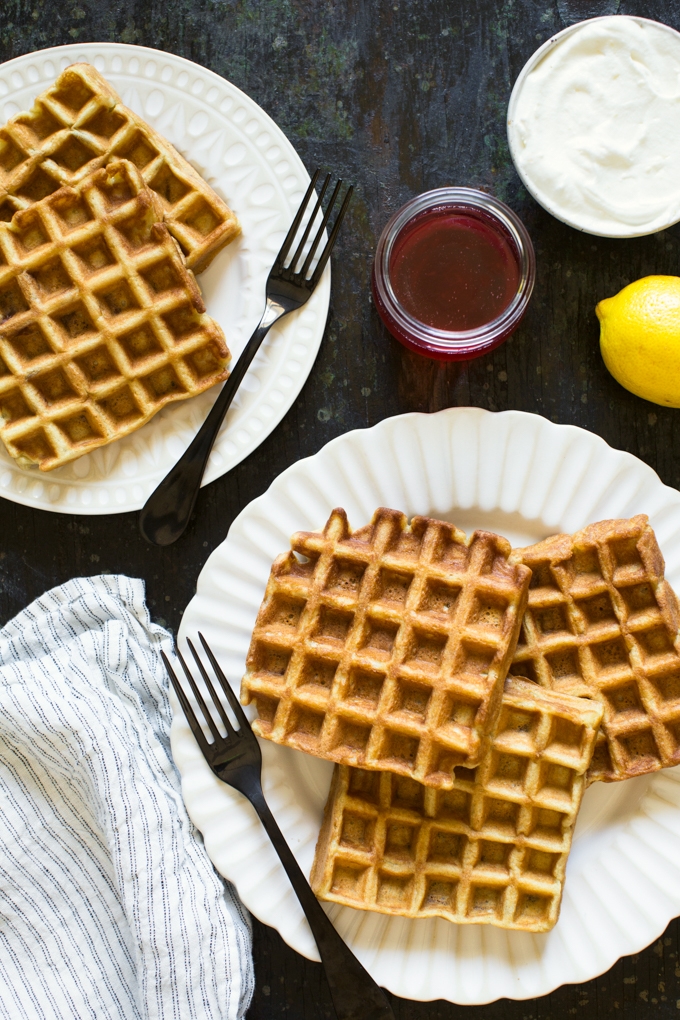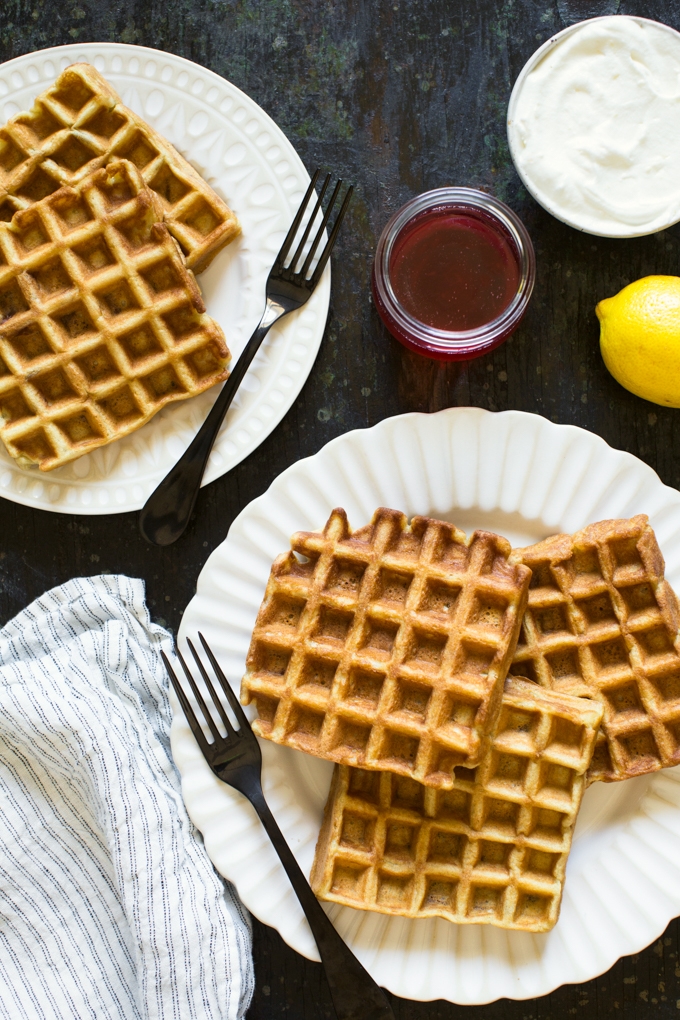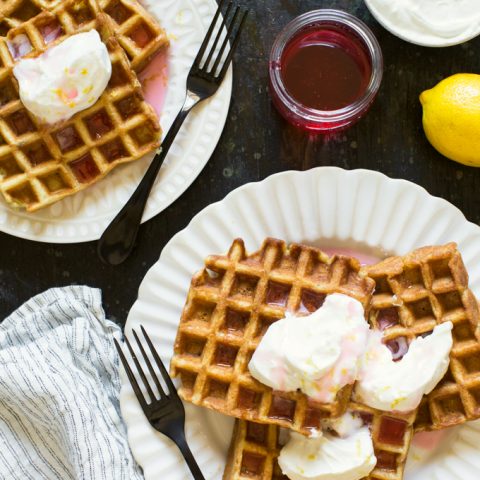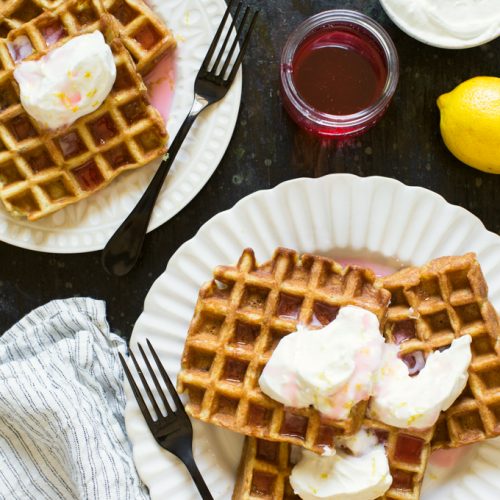 Rhubarb Waffles with Lemon Whipped Cream
Ingredients
For the waffles:
1

cup

water

1

cup

plus 2 tablespoons sugar, divided

1 1/2

cups

sliced rhubarb (from 2 - 3 stalks)

2

cups

Simple Truth Organic Flour

1 1/2

teaspoons

baking soda

1/2

teaspoon

fine grain sea salt

1 3/4

cup

shaken buttermilk, plus more as needed

2

Simple Truth Large Brown Eggs

1/2

teaspoon

vanilla extract

4

tablespoons

unsalted butter, melted and cooled, plus more for brushing
For the whipped cream:
1

cup

cold heavy cream

2

tablespoons

sugar

1

tablespoon

lemon zest (from about 2 lemons), plus more for sprinkling

2

teaspoons

lemon juice
Instructions
Bring water to a simmer in a medium saucepan over medium-high heat. Add 1 cup sugar and rhubarb, stirring to dissolve the sugar. Bring the mixture back to a simmer, bubble for 1 minute, then take off the heat. Cover and let sit for 1 hour. Using a slotted spoon, transfer the poached rhubarb to a small bowl. Return the remaining syrup to medium heat, bring to a boil, and cook until the mixture thickens to the consistency of maple syrup ( about 9 to 10 minutes). If not using immediately, store both the poached rhubarb and rhubarb syrup in the refrigerator.

While the rhubarb is resting, prepare the waffle batter. Add flour, baking soda, sea salt, and 2 tablespoon sugar to a large bowl, whisking to combine. In a medium bowl, whisk together buttermilk, eggs and vanilla. Add wet ingredients to dry ingredients, stirring just until combined (there should still be lumps). Quickly whisk in the melted butter. Let the batter rest until the rhubarb is done (at least 30 minutes).

Preheat a waffle iron according to the manufacturer's instructions. Fold poached rhubarb (and any syrup left in the bowl) into the waffle batter. Brush the top and bottom plates lightly with melted butter to keep the waffles from sticking. Scoop 1/2 cup of batter in each well*, and using a spatula, spread the batter out to the corners. Close the waffle iron, and cook until golden brown.

While the waffles are cooking, prepare the whipped cream. Add the cream, sugar, lemon zest and lemon juice to the bowl of a stand mixer fitted with the whisk attachment. Whisk on high until soft peaks form.

To serve, plate up 2 waffles, then top with rhubarb syrup, lemon whipped cream and a bit of freshly grated lemon zest.
Notes
*Waffle irons can vary greatly. The one I used here makes 4 square waffles. Adjust the batter measurements accordingly.
Tried this recipe?
Tag @brandiego on Instagram so I can check it out!
This is a sponsored conversation written by me on behalf of Kroger. The opinions and text are all mine.
9