I've been traveling a lot recently.  Everything has been wonderful, but I'll have to say that it feels good to get back to a regular schedule!
This post may contain affiliate links.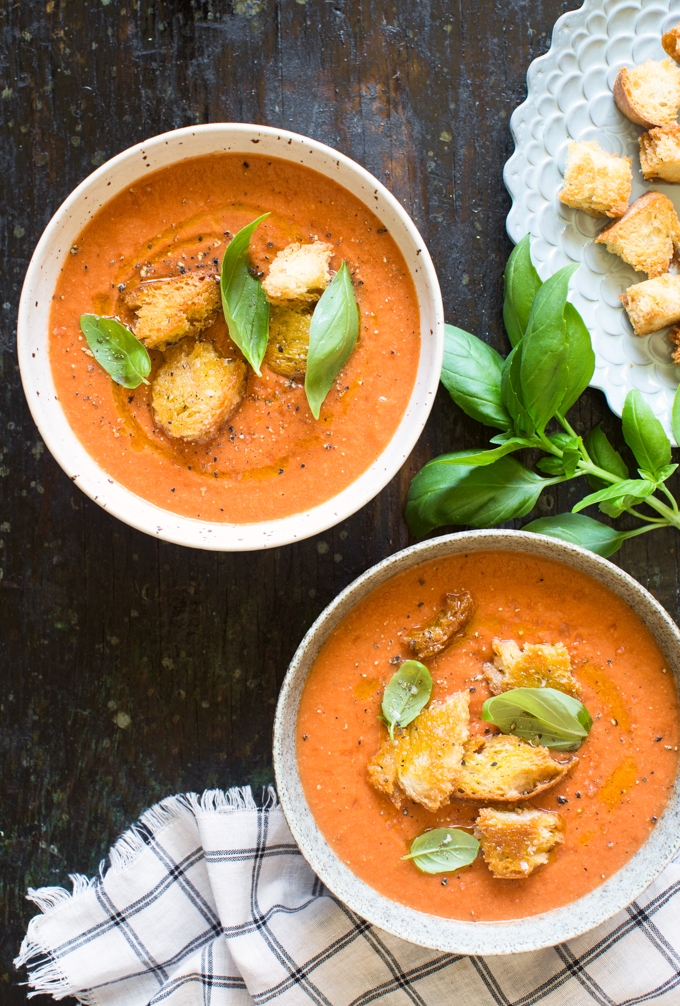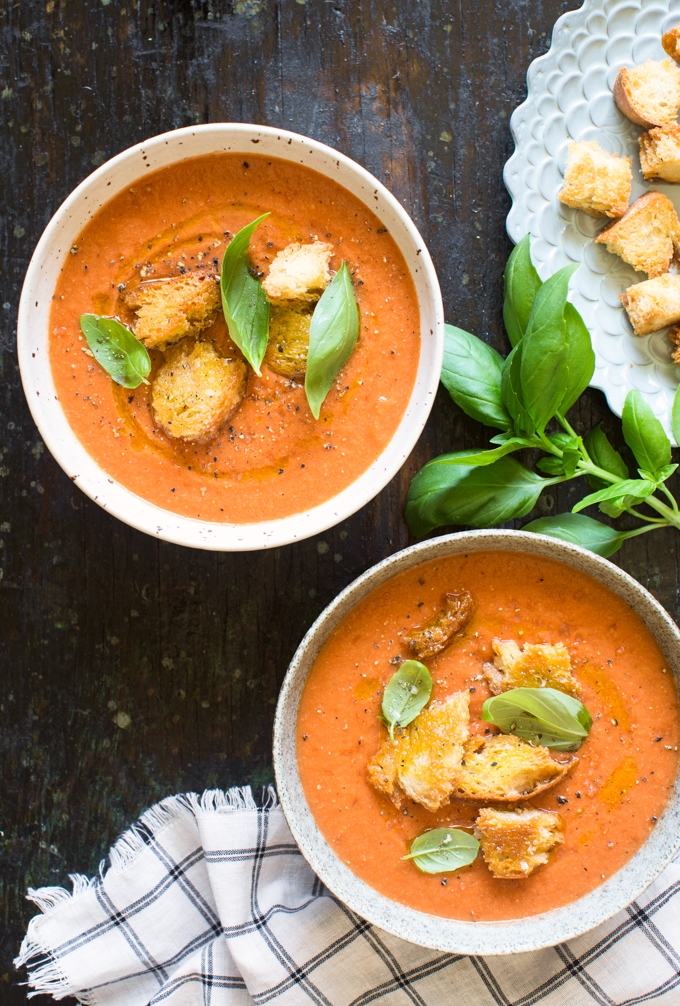 Summer produce—like tomatoes, corn, melons, berries, peppers and stone fruit—is in full swing right now, fueling my inspiration in the kitchen.  On hot evenings with ceiling fans whirring about, I've been throwing together simple dinners that require minimal effort and oven time like this Tomato and Watermelon Gazpacho recipe.  The base of this chilled soup is made of whole peeled tomatoes and juicy sweet watermelon.  The two are blended up with celery, onion, garlic, basil, red wine vinegar, olive oil and slices of French bread.  All of these ingredients are raw, so the only kitchen work here is chopping and blending!  Transfer the soup to the fridge and let chill until ready to serve.
Hued a vibrant shade of red-orange, this Tomato and Watermelon Gazpacho is finished with crunchy croutons, fresh basil leaves, olive oil and a sprinkling of flaky sea salt.  Each spoonful is fresh and light.  You'll be surprised at how much flavor this soup packs even though none of the ingredients were cooked with heat!  Enjoy this as is for lunch or pair with an effortless salad for dinner.  Continue reading for the recipe.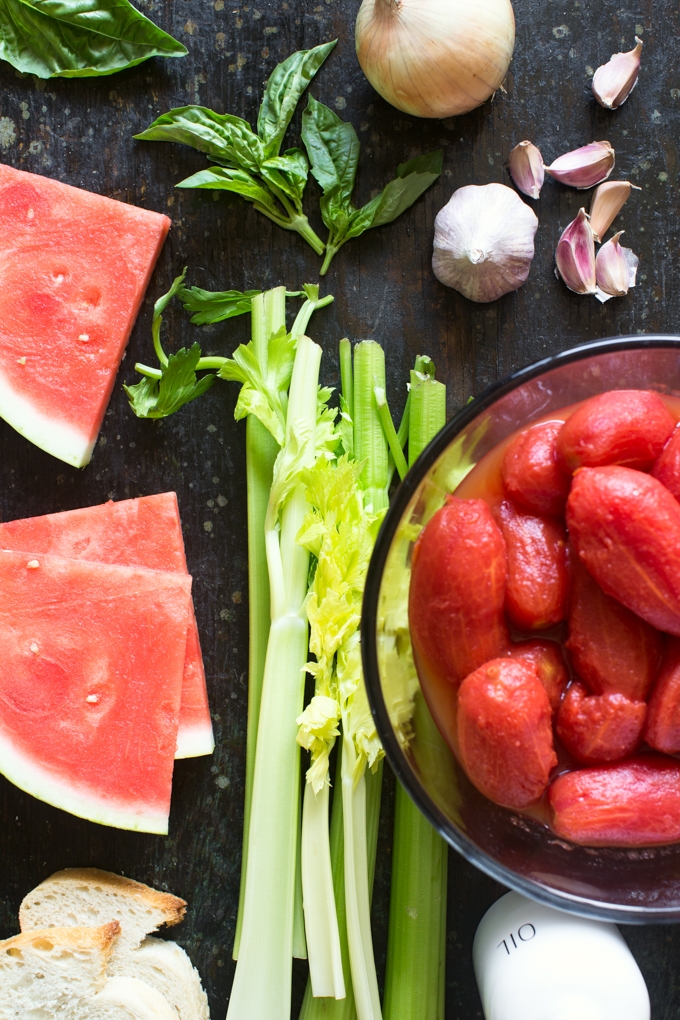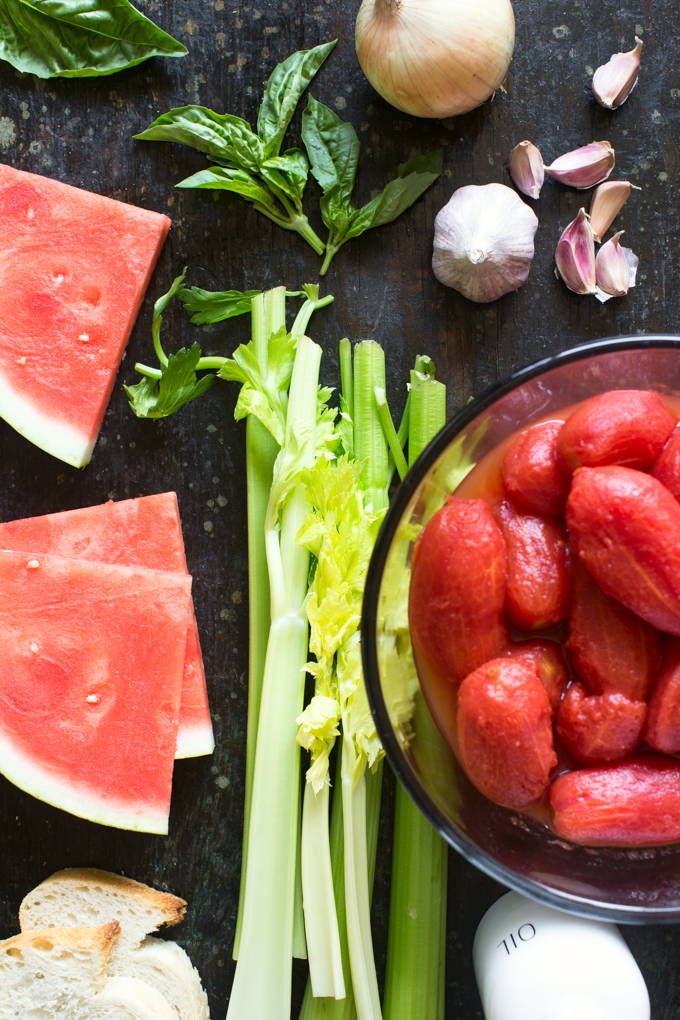 4 1/2 pounds of whole, peeled tomatoes are needed to make this recipe.  I actually used high quality canned tomatoes here, because I don't like the task of peeling tomatoes.  If you've got tomatoes overflowing in your garden, then certainly use those.  To peel tomatoes, bring a large pot of water to a boil.  Score the bottom of each tomato with an X.  Working in batches, drop the tomatoes in the boiling water, and let cook for 30 to 45 seconds.  Transfer tomatoes to an ice bath.  Once cool enough to handle, the skins should just peel right off!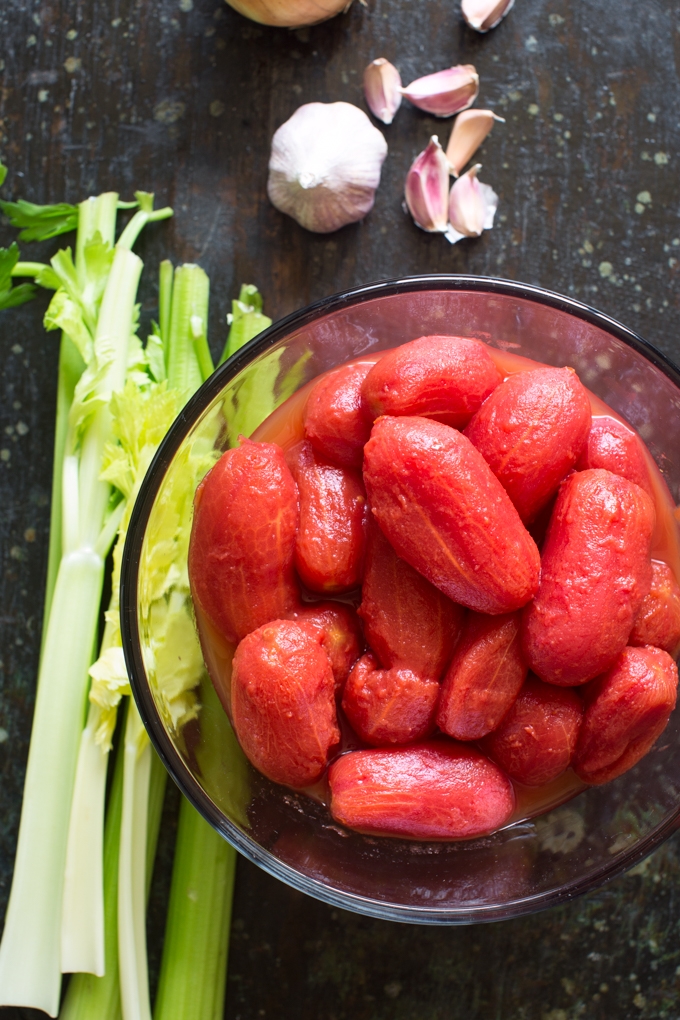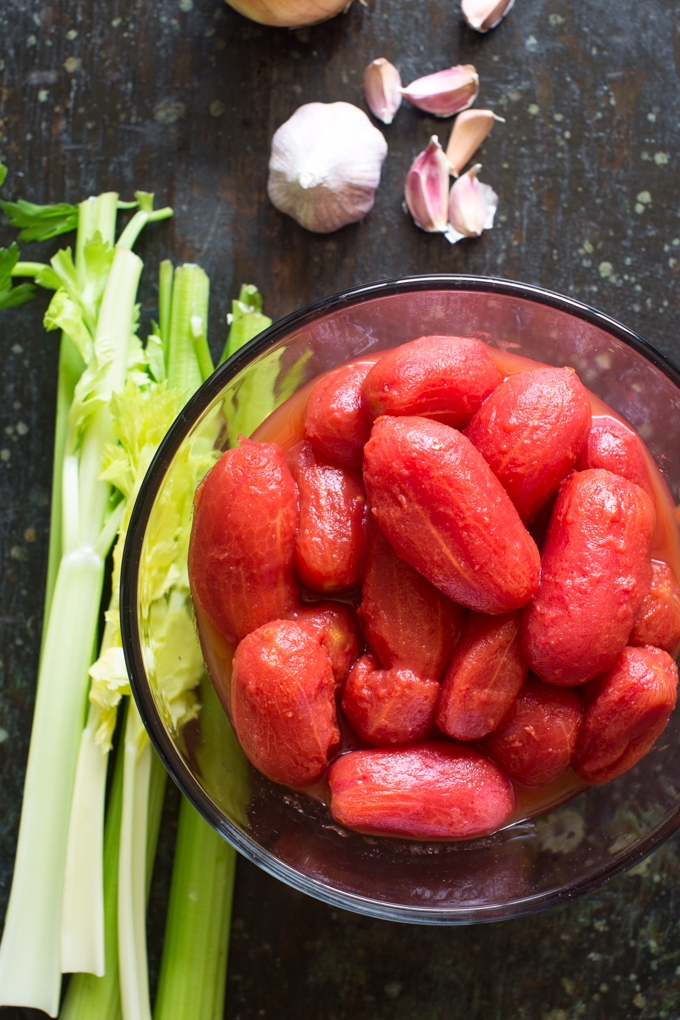 This recipe makes a lot of Tomato and Watermelon Gazpacho.  The soup will last for several days in the fridge or for a couple of months in the freezer.  If you decide to freeze the soup, be sure to taste for salt and vinegar once it thaws.  Or you could invite friends over and have a gazpacho party :)!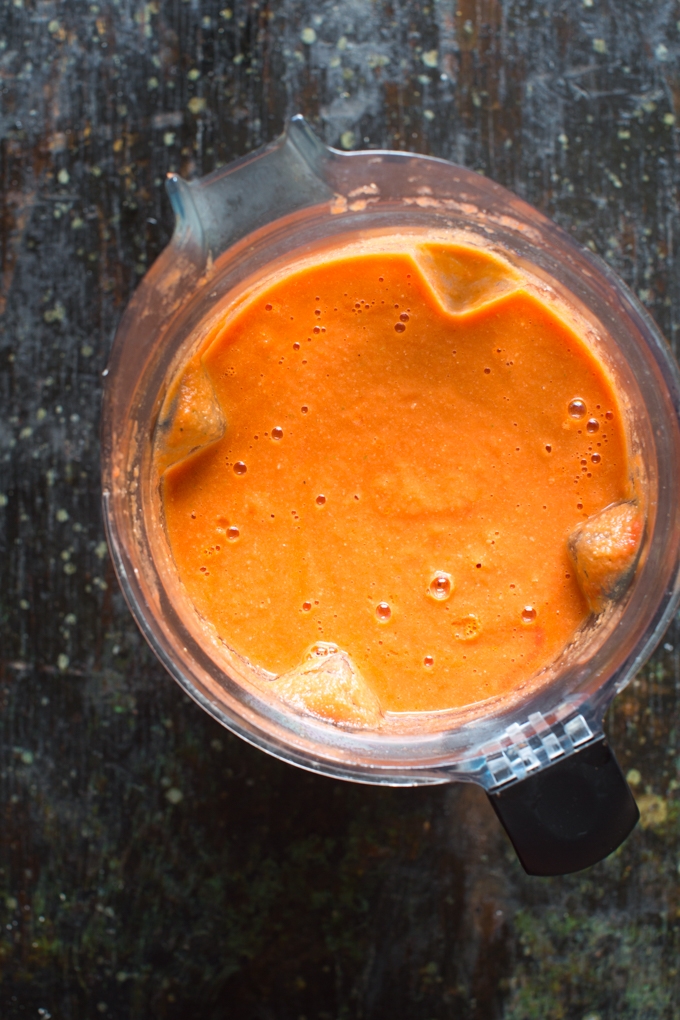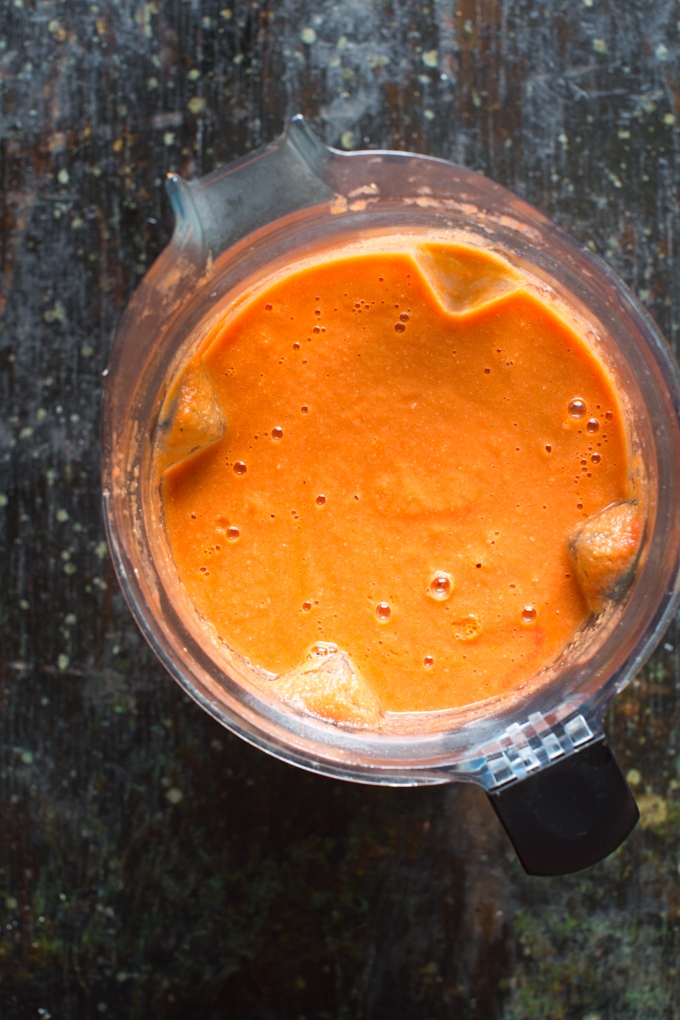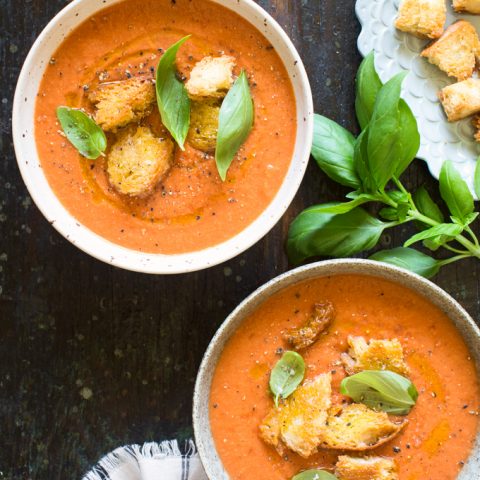 Tomato and Watermelon Gazpacho Recipe
Ingredients
For the gazpacho:
4 1/4

pounds

whole peeled tomatoes (from 4 28-ounce cans)

2 2/3

cups

seeded and diced watermelon

6

celery stalks, trimmed and finely chopped

1

small onion, peeled and finely chopped

5

garlic cloves, chopped

2 1/2

slices

(3 1/2 ounces) french bread, cubed

2/3

cup

canned tomato puree

1/2

cup

basil leaves

2

tablespoons

red wine vinegar

Scant 1 cup olive oil

Kosher salt

Freshly ground black pepper
For the croutons:
4

slices

5 ounces french bread, torn into bite-sized pieces

3

tablespoons

olive oil

Kosher salt
To finish: small basil leaves, extra virgin olive oil, flaky sea salt
Instructions
Start by preparing the soup. Working in batches if needed*, place tomatoes, watermelon, celery, onion, garlic, bread, tomato puree, basil, 1 teaspoon salt and several turns of black pepper in a blender, and blend just until smooth. With the blender going, stream in the vinegar and olive oil. Transfer to a large bowl, and store covered in the fridge until ready to serve.

To make the croutons, preheat and oven to 400°F. Add bread to a medium bowl, and toss with olive oil and a few pinches of salt. Transfer to a baking sheet, and cook, tossing occasionally, until crispy and golden (about 15 minutes). Let cool completely.

Just before serving, season gazpacho to taste with additional salt and pepper. To serve, ladle soup into bowls, then top with croutons, basil leaves, a drizzle of extra virgin olive oil and a sprinkling of flaky sea salt.
Notes
* You can make this in a big bowl with an immersion blender or in 2 batches using a regular blender (that's what I did).
Tried this recipe?
Tag @brandiego on Instagram so I can check it out!
9