Today's cocktail, prepared in partnership with Tropicana Premium Lemonade, is so darn fresh.  Just a little something I shook up to celebrate the completion of a small home project.
This post may contain affiliate links.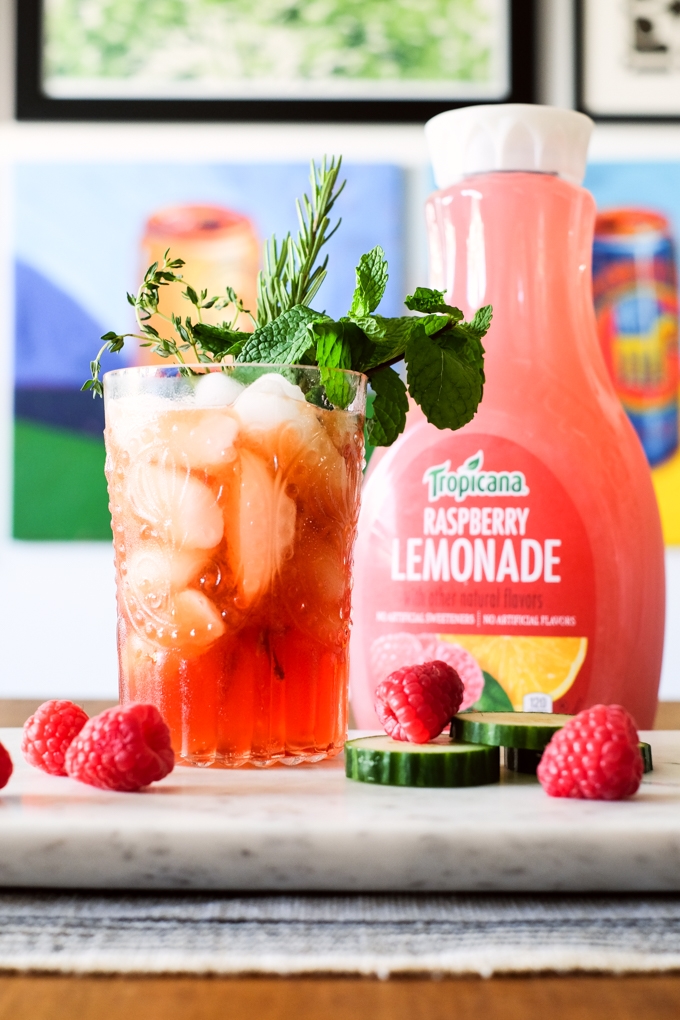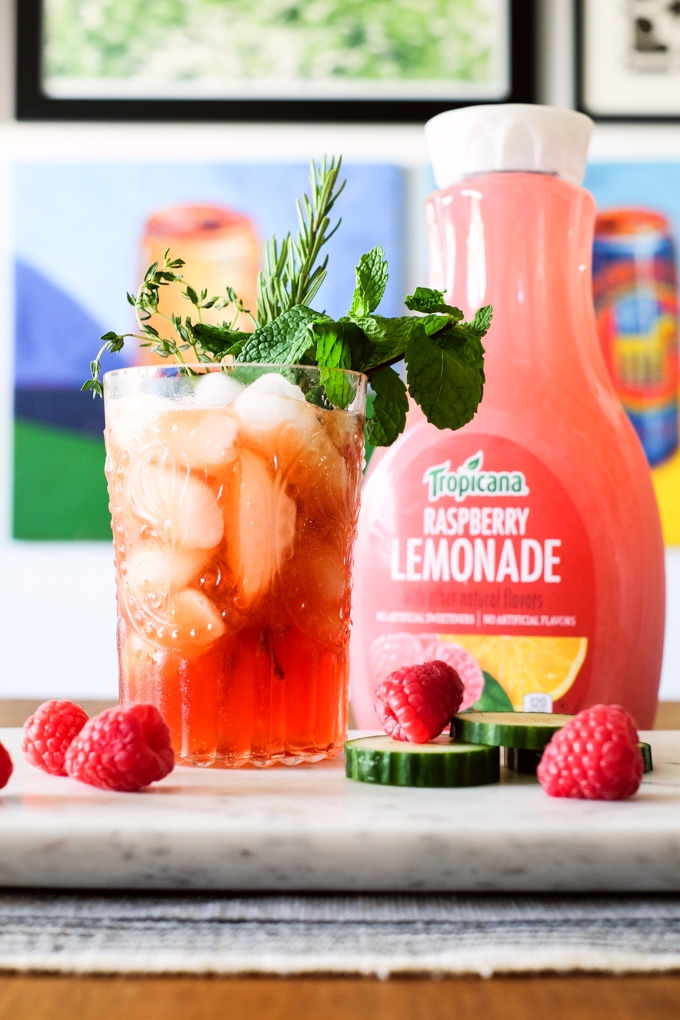 With summer's bounty coming to a close in our garden, we recently expanded and redid our backyard beds.  Jorge and I pulled up all of the leggy and overgrown garden remnants and processed them into mulch.  We then installed three new rectangular beds and filled them with a mix of fresh dirt and recycled mulch.  They're all prepped and ready to go for fall plantings!  To celebrate this small victory, Jorge and I kicked back with a couple of these Raspberry Pimm's Cups.
The Pimm's Cup is a classic British cocktail made with Pimm's No. 1 liqueur and lemonade, garnished with fruit and herbs.  It's also one of my favorite cocktails.  So crisp and refreshing.  This recipe starts with raspberries and cucumber slices muddled with just a bit of sugar.  Next, add Tropicana Premium Raspberry Lemonade, Pimm's No. 1 and lemon juice to the shaker along with ice.  Cap and shake until well-chilled.  The cocktail is finished with ginger beer and a garnish of fresh herbs.  I snipped bundles of thyme, rosemary and mint from our garden before we redid everything, so that's what I'm using here!  Continue reading for the recipe.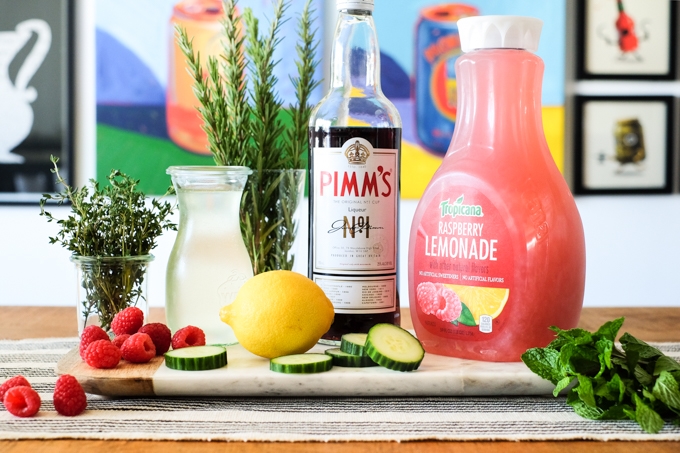 Pimm's No. 1 is a gin-based liqueur infused with herbal botanicals, caramelized orange and spices.  It pairs beautifully with fresh and fruity things.  Regular lemonade is the classic mixer, but here, I'm using Tropicana Premium Raspberry Lemonade.  Raspberries are in season for a just a bit longer, so I thought the flavor pairing would be a fun, seasonal twist.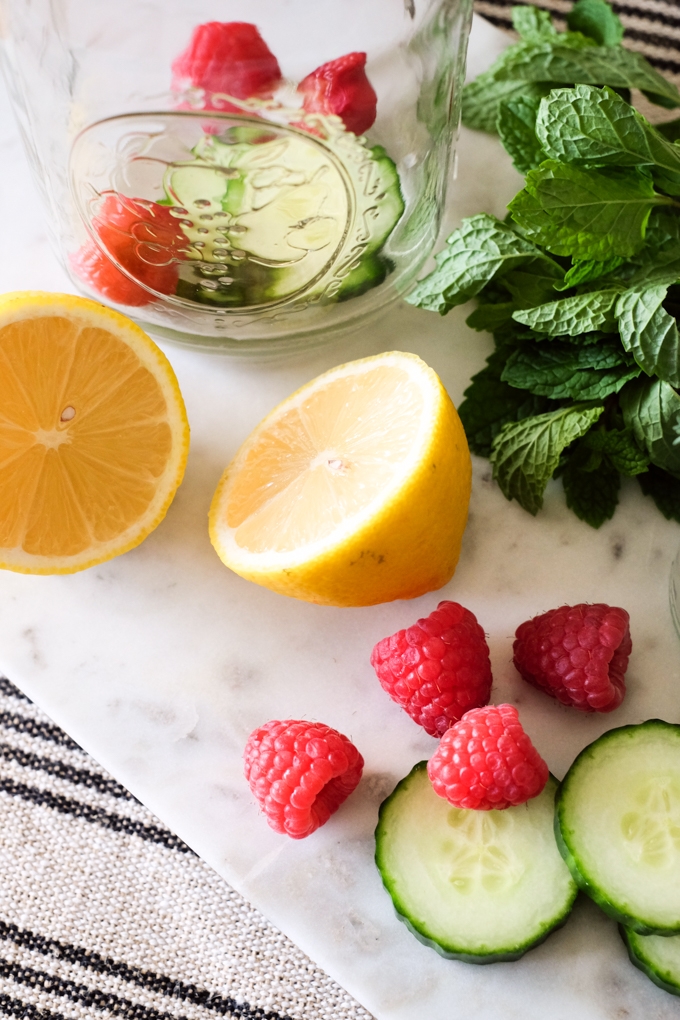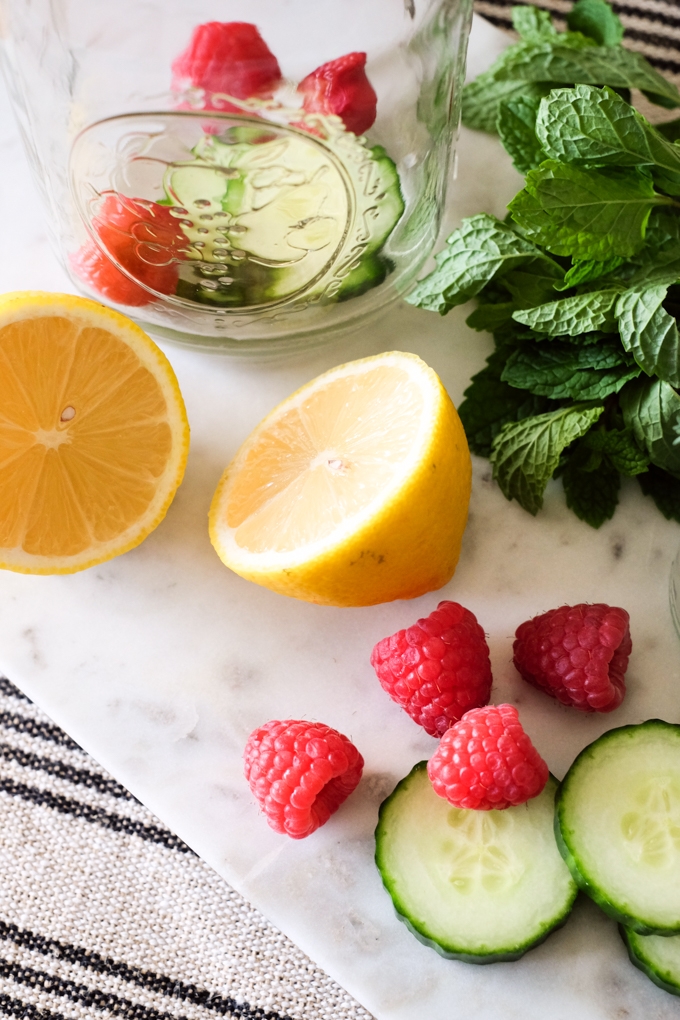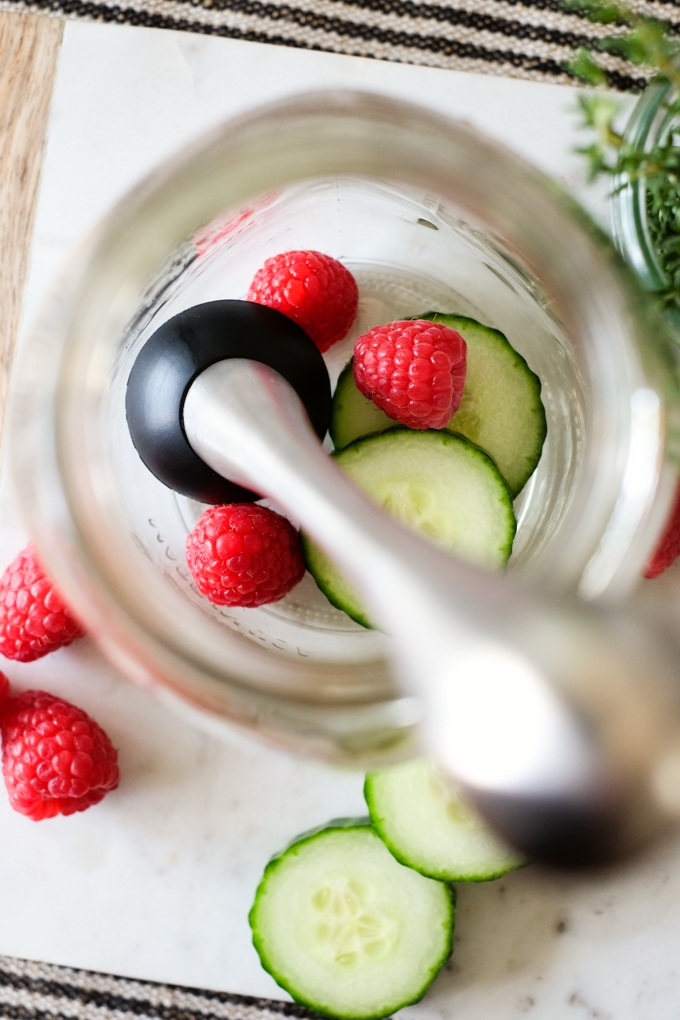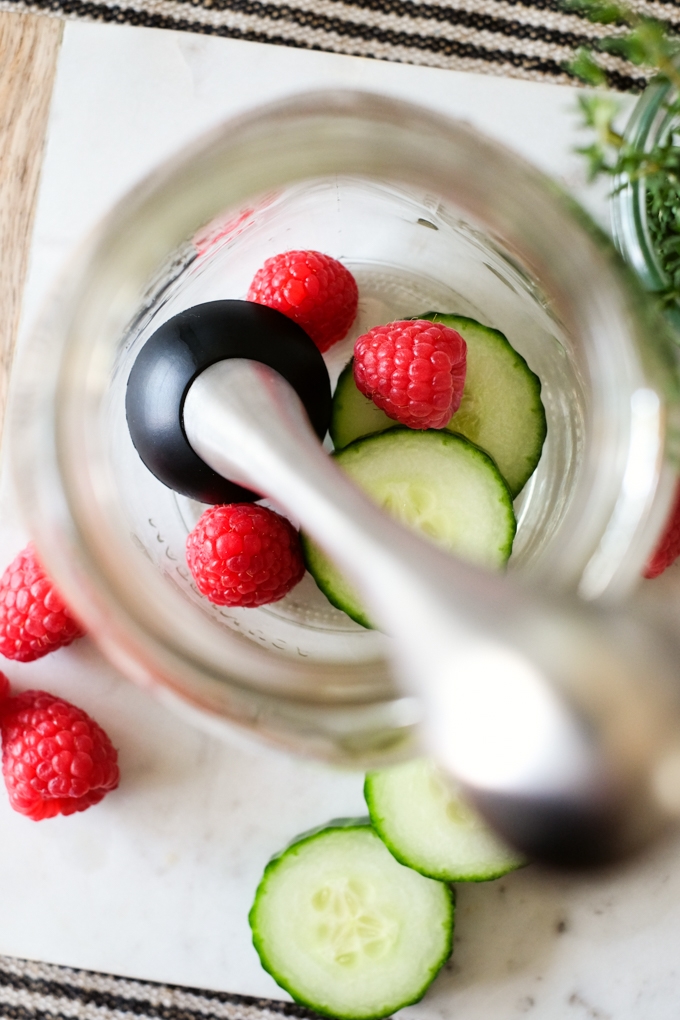 For a really impromptu cocktail, you could simply pair the Pimm's No. 1 with the Raspberry Lemonade, and garnish with any fruit or herbs you may have available.  I've added muddled cucumber, raspberry, sugar and lemon juice to the mix to amp up flavors.  Ginger beer is added at the end to lift the texture of the drink with bubbles and fizz.  Either way, the pairing is so tasty!  And it's so easy to keep a bottle of Tropicana Lemonade in the fridge to mix one of these up whenever a celebration is in order.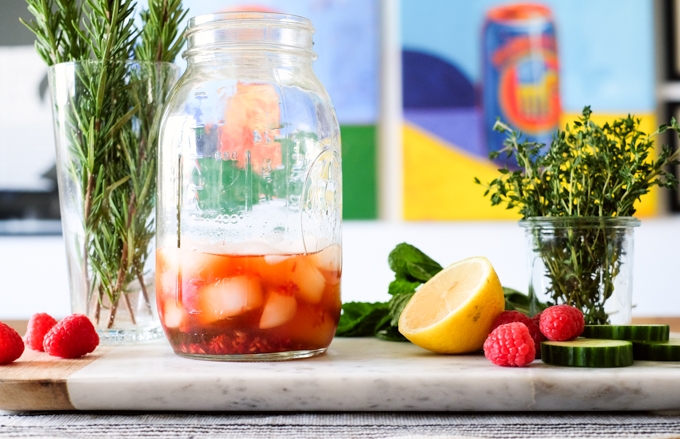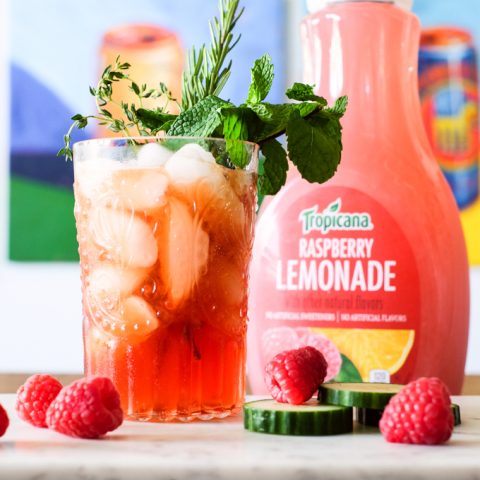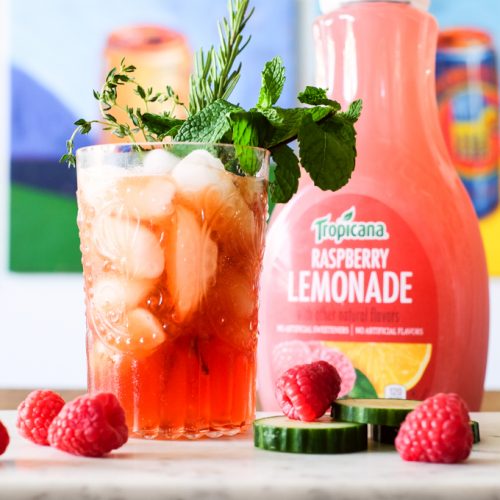 Raspberry Pimm's Cup Recipe
Ingredients
2

slices

English cucumber

3

raspberries

1/4

teaspoon

sugar

1 1/2

ounces

Pimm's No. 1 liqueur

3/4

ounce

Tropicana Premium Raspberry Lemonade

1/2

ounce

fresh lemon juice

Ginger beer, to top (about 1 1/2 to 2 ounces)
Garnishes: thyme, rosemary and mint sprigs
Instructions
Place cucumber slices, raspberries and sugar in a cocktail shaker, and muddle (gently smash) to release juices. Add Pimm's, raspberry lemonade, lemon juice and ice. Cap and shake until well-chilled. Double strain into an ice filled glass. Top off with ginger beer, stirring gently to combine. Flavors should be fresh and bright.

To finish, garnish the drink with sprigs of thyme, rosemary and mint.
Tried this recipe?
Tag @brandiego on Instagram so I can check it out!
This post was written in partnership with Tropicana.  All thoughts, opinions and recipes are my own.  Connect with Tropicana on Instagram and Facebook.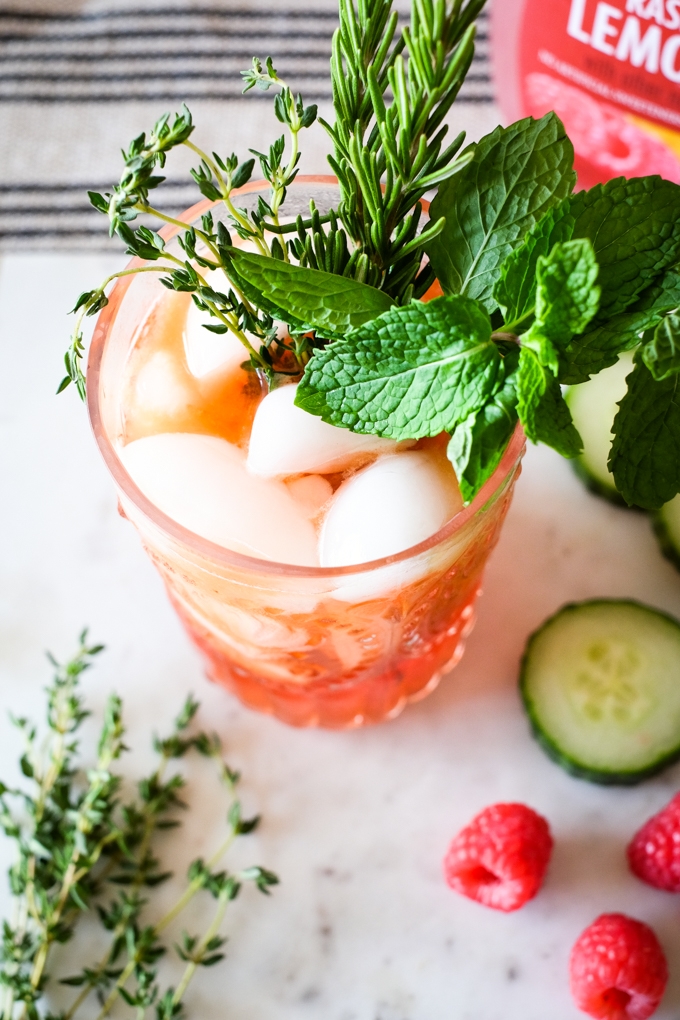 8