You guys.  Just take a look at this crusty, golden loaf topped with a molten flow of of sharp cheddar and bits of roasted jalapeño.  It's savory, spicy and so easy to make at home!
This post may contain affiliate links.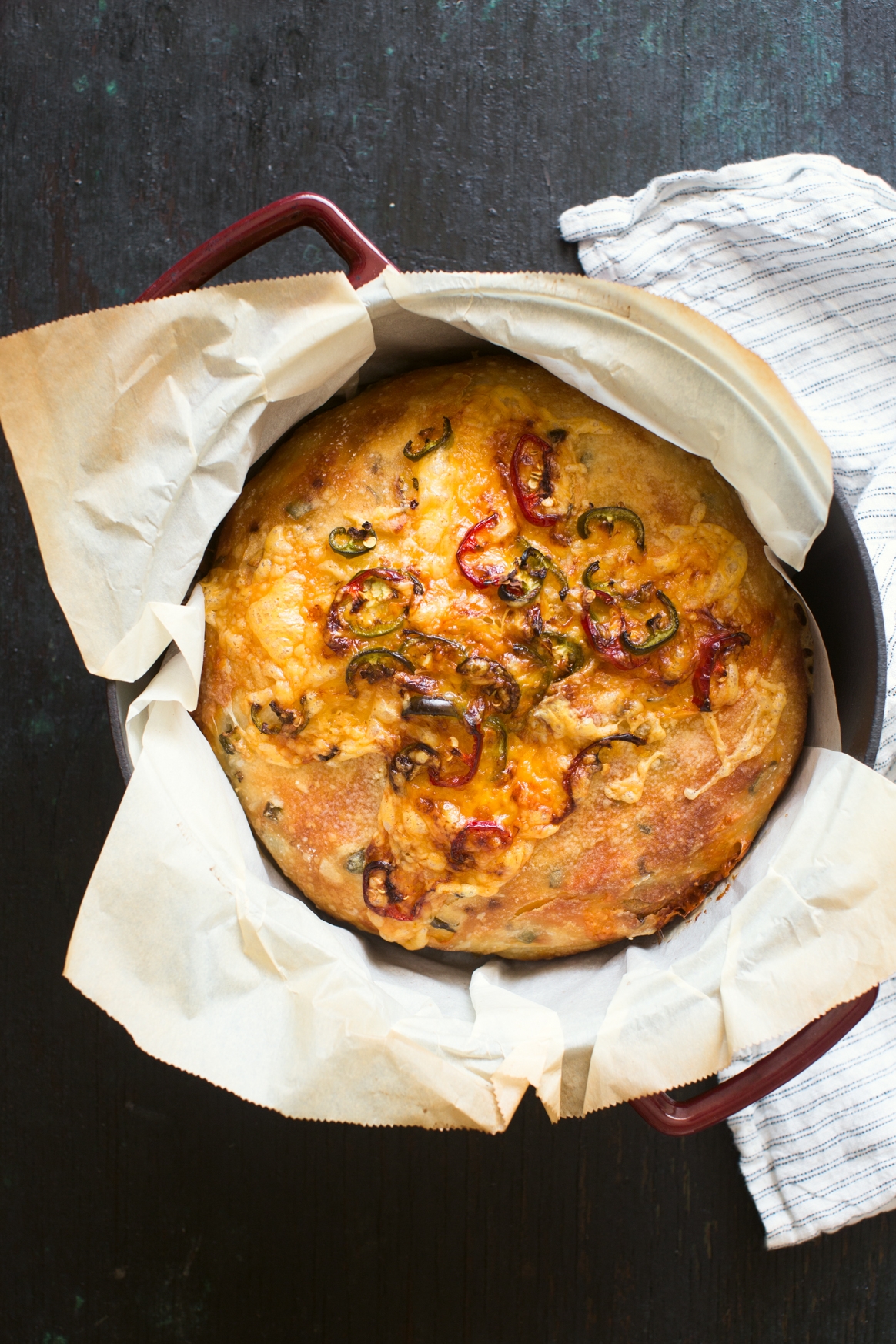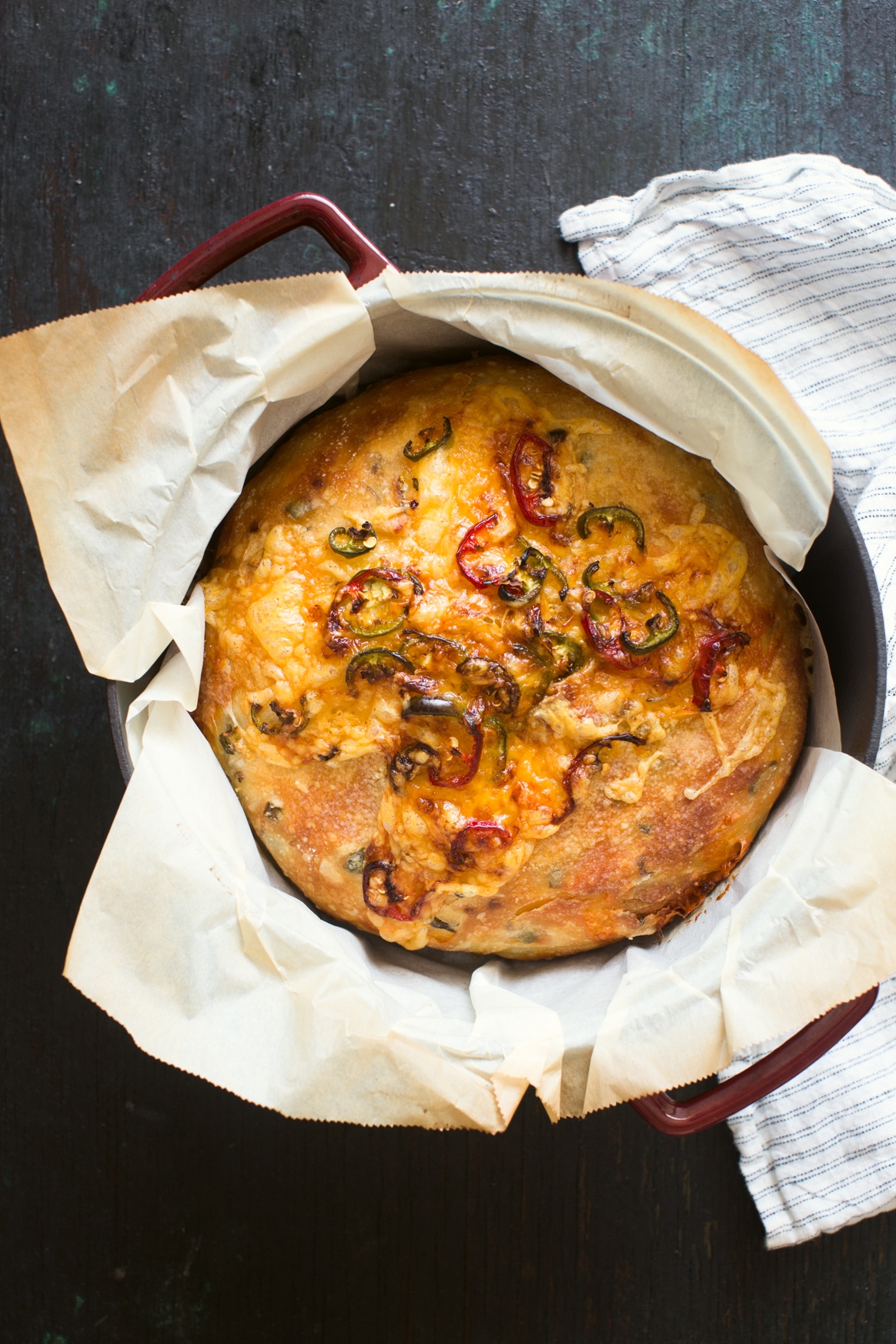 This Cheddar Jalapeño No Knead Bread recipe—prepared in partnership with Bob's Red Mill—is a simple variation on the bread I make all the time at home.  You start by mixing up some flour, salt and yeast in a large bowl.  Then you stir in beer, water and vinegar until a shaggy dough forms.  The dough sits at room temperature for 18 to 24 hours, giving it plenty of time to develop flavor.  Next, you reshape the dough on a floured surface to redistribute all the bubbles that formed during the long rest.  While reshaping, you'll fold in bits of sharp cheddar and fresh jalapeño.  The dough rests for a final 2 hours before it bakes off in the oven.  During the last 30 minutes of the bake, the bread is sprinkled with more cheddar and jalapeño, creating a mouth-water topping that shows off the flavorings within.  You simply must give this a try.  So.  Yum.  Continue reading for the recipe.
I've been making bread at home a lot recently, so I decided to pick up a bag of Bob's Red Mill Artisan Bread Flour and give it a try.  Bread flour has a higher protein content compared to all-purpose flour.  This allows for more gluten development, resulting in a denser, chewier texture.  The Artisan Bread Flour works perfectly in this recipe, because it provides the extra structure needed to support the sharp cheddar and jalapeño.  I just love how my breads have been turning out using this flour!!
I've made the base no knead bread recipe plenty of times over the years, but sometimes I like to get fancy and add flavorings.  The bounty of fresh jalapeños that I harvested from my garden was the inspiration for this cheddar jalapeño variant.  If you leave jalapeños on the vine long enough they will turn red.  That's why I've got chiles in green, red and colors in between!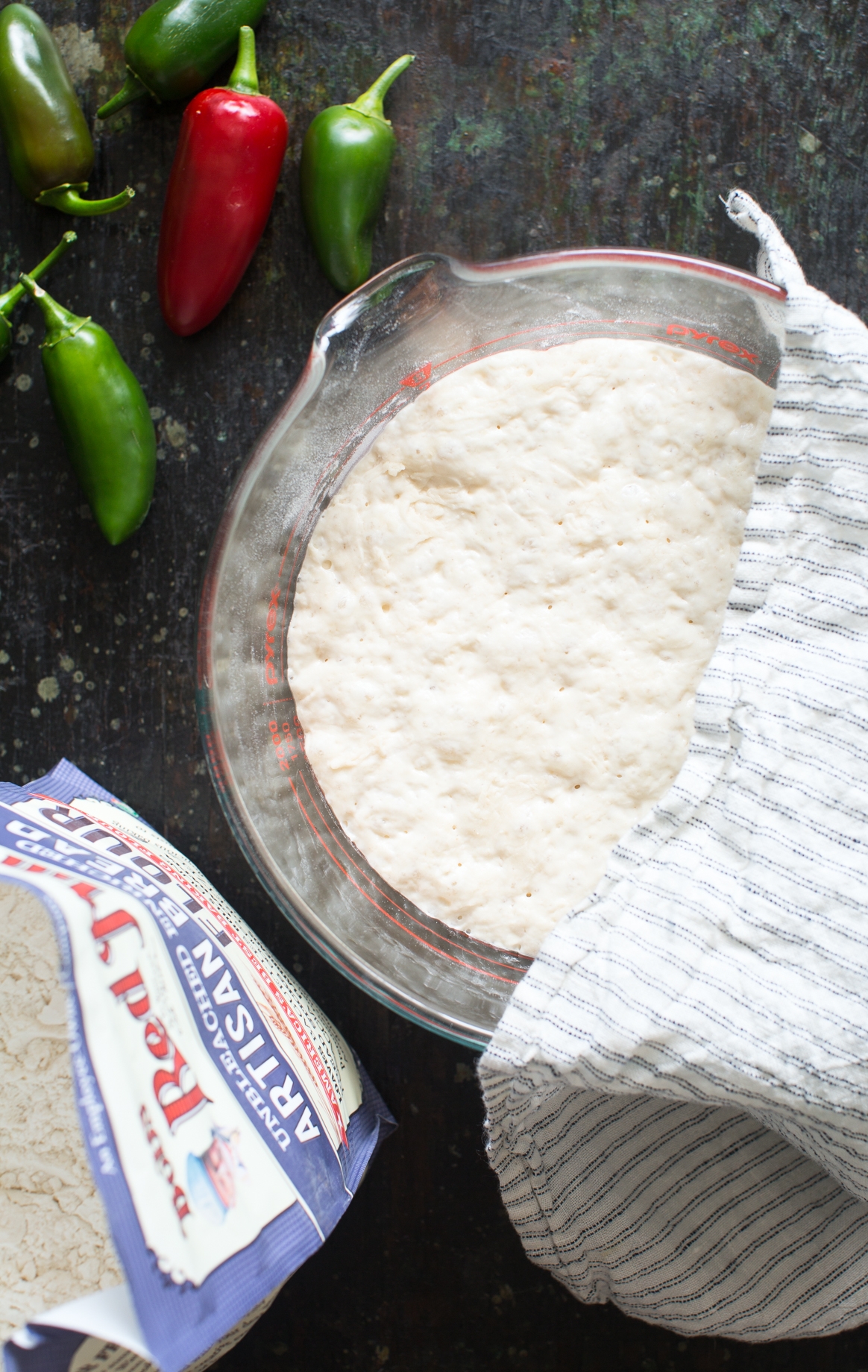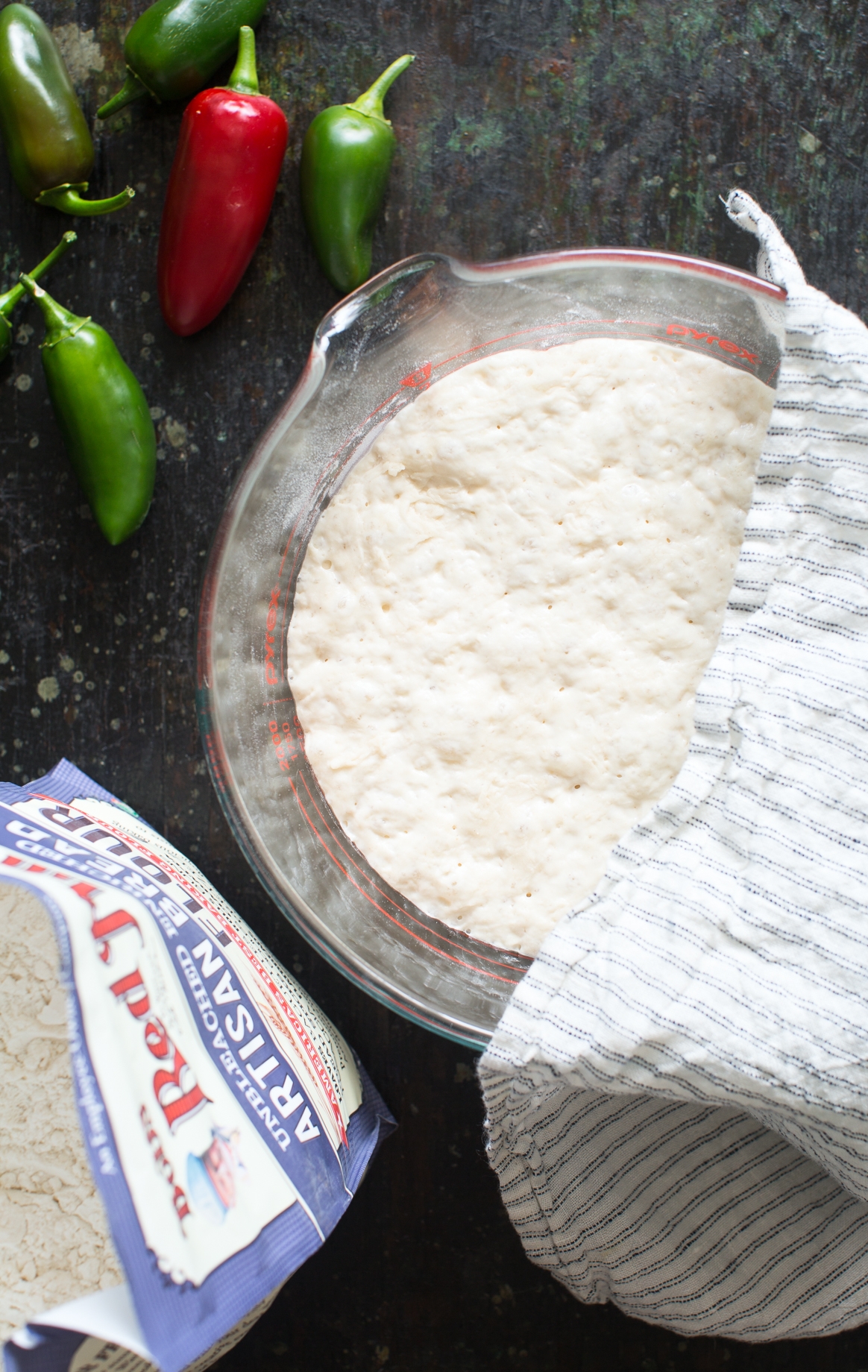 Making bread at home can seem like a daunting task, but I urge you to just give this a try.  This method is fairly hands off.  The most you'll have to do is shape the loaf after it rises.  No special equipment is needed; however, you will need a 4 to 5 quart cast iron pot (with a lid).  Cooking the loaf in a cast iron pot will give you that golden, crackly crust that all the bakery loaves have.  I'm always surprised when I pull the finished loaf of the oven.  I think to myself, "Damn, I made that?!" 😀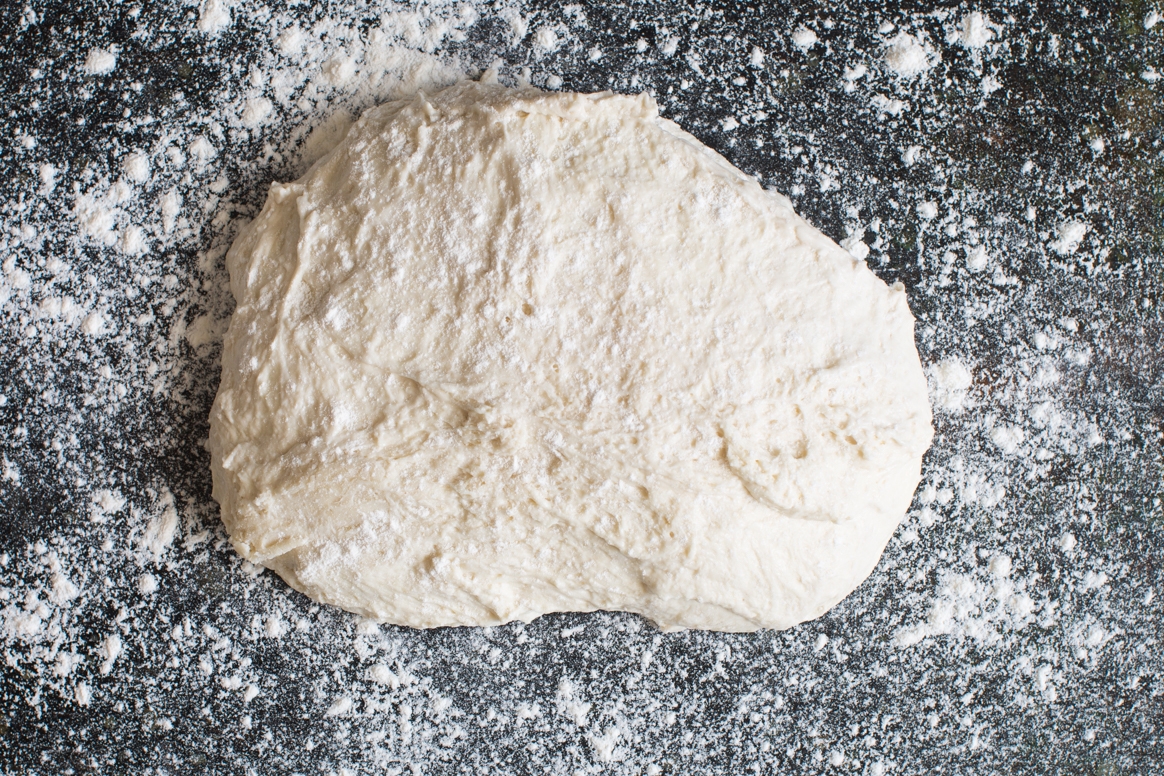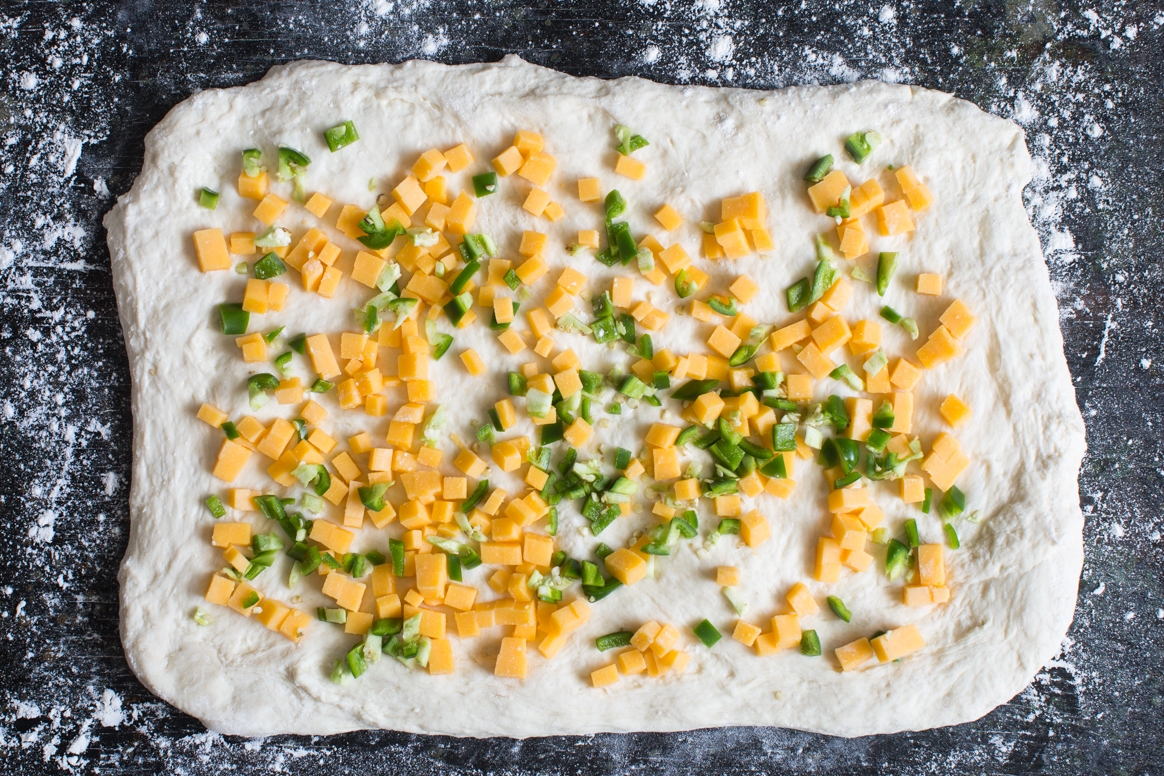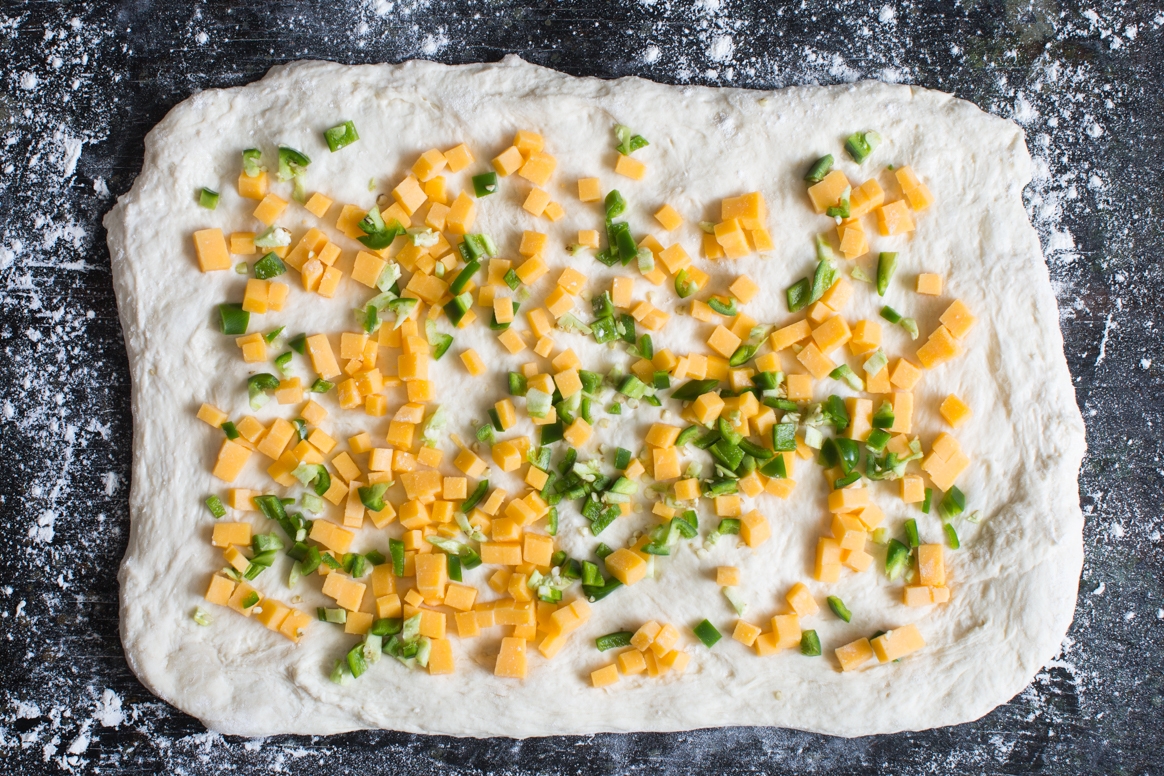 I would highly recommend using extra sharp cheddar in the recipe, so the flavor really comes through in the finished loaf.  Also, make sure you add in bits of fresh jalapeño-not pickled jalapeños.
Jorge and I have been toasting up this bread and enjoying it with butter and smoked salt.  We've also used it in turkey club sandwiches stacked high with plenty of bacon.  OH, and it's a dream as a base for avocado toast.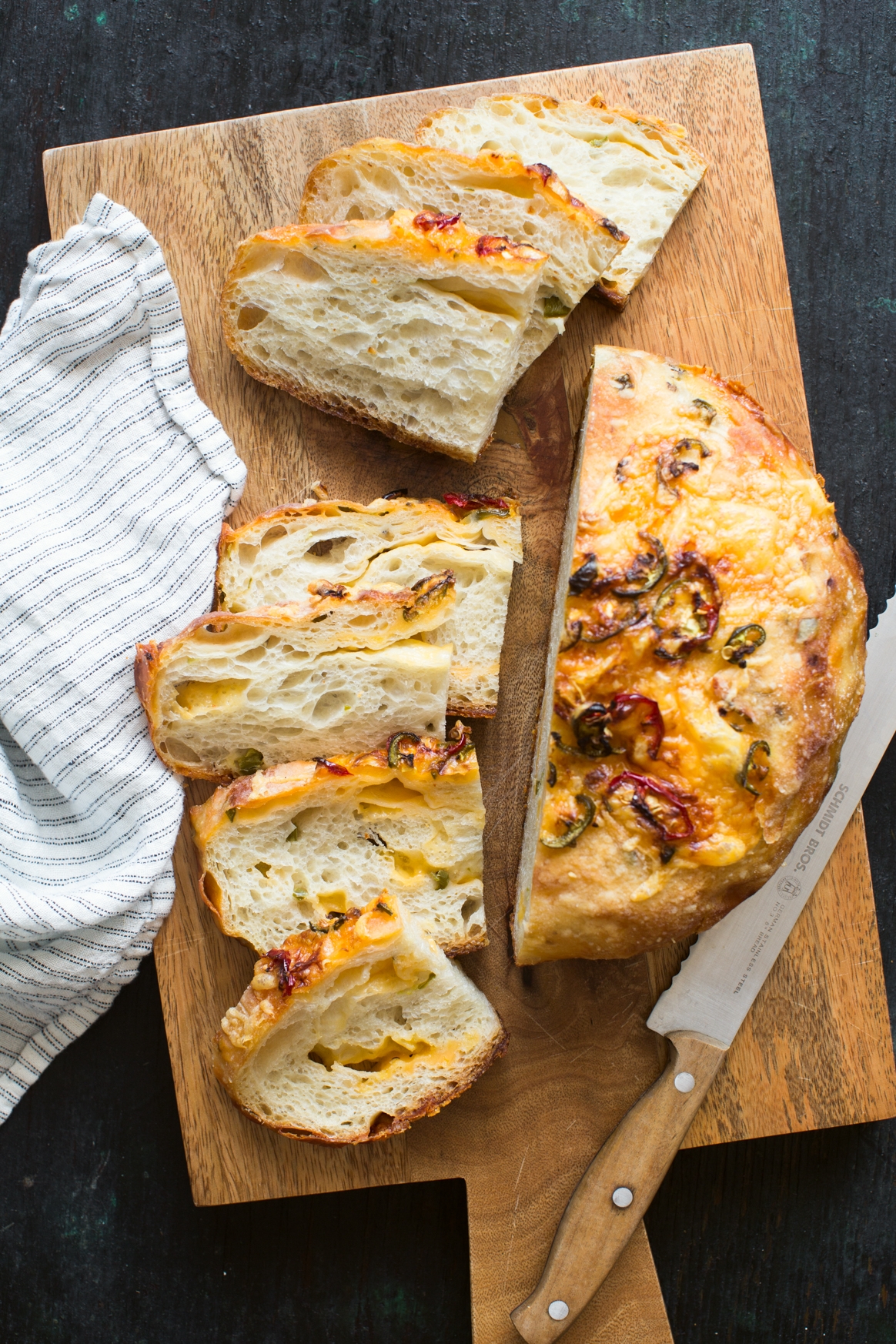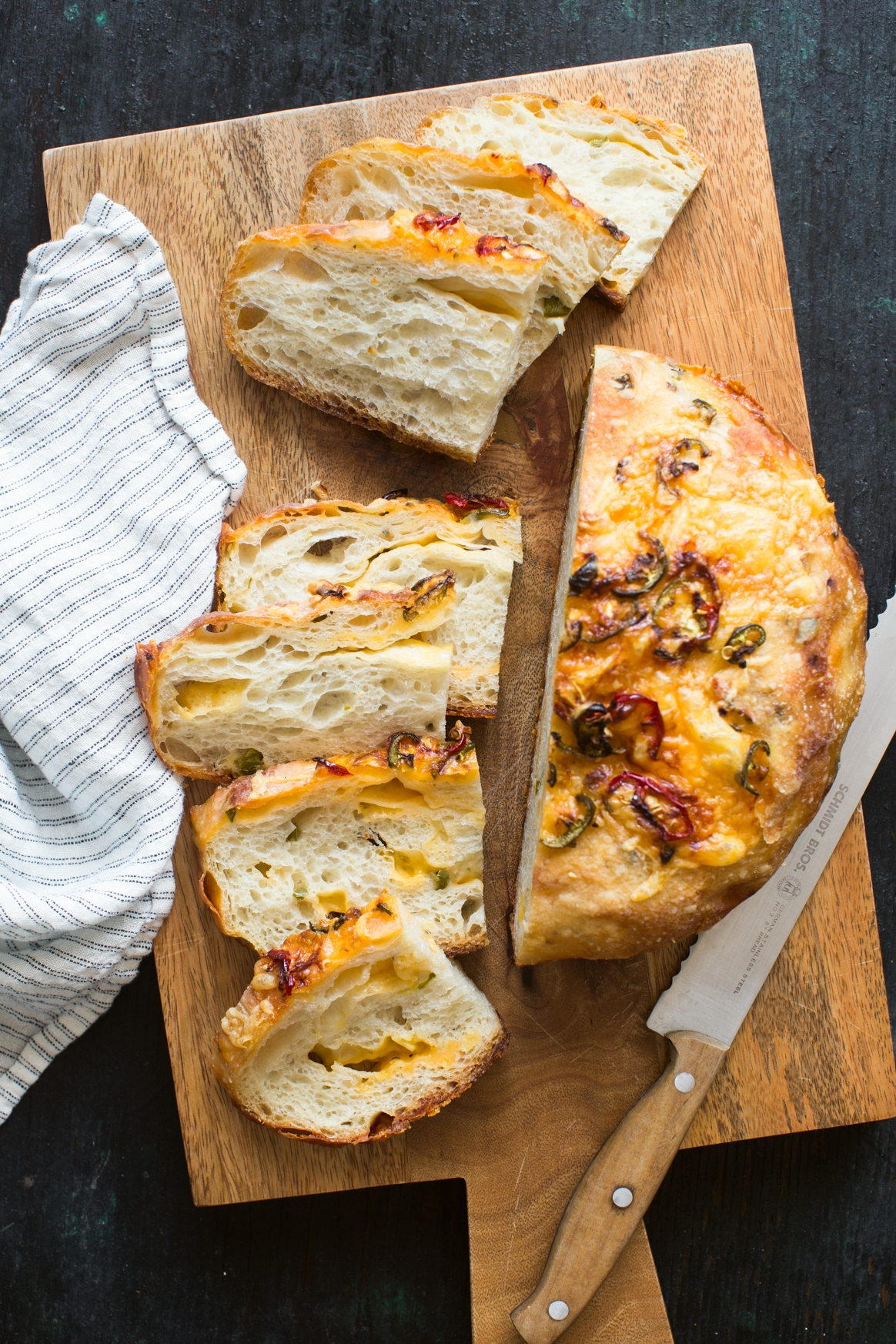 Cheddar Jalapeño No Knead Bread Recipe
Instructions
In a 2 quart Pyrex measuring bowl or large bowl, combine flour, yeast and salt. Pour vinegar, beer and water over the dry ingredients, then, using a fork, mix thoroughly until a shaggy dough forms. Cover the bowl tightly with plastic wrap, and let sit at room temperature for 18 - 24 hours. The dough should rise to the 7 cup mark on the bowl.

Scrape the dough onto a lightly floured work surface and sprinkle with a little extra flour. Using your hands, gently pat the dough into a rectangle approximately 10" wide by 8" high. Sprinkle with flour as needed if the dough is sticking. Distribute 1/2 of the diced cheddar and jalapeño over the surface of the dough. Gently fold the dough over itself like folding a letter. Turn 90 degrees, gently pat to a rectangle, distribute remaining cheddar and jalapeño, and fold again. Then shape the dough into a ball by pulling edges into middle. Place dough in the center of a large sheet of parchment paper, then lift and lower into a 4-quart cast-iron dutch oven. Cover loosely with plastic wrap, and let rise for 2 hours.

Set an oven rack to the middle position. Uncover the dough sprinkle the surface with a little flour, and using a sharp knife, make 2 slits across the top of the dough in an X shape about 1/2-inch deep. Cover the pot with its lid, and place in the cold oven. Heat the oven to 425°F, and when this temperature has been reached, let cook for 30 minutes. After the 30 minutes have elapsed, carefully remove the lid, sprinkle the toppings evenly over the loaf and continue to bake until the loaf is a deep brown (about 30 minutes longer). Using the parchment overhang, carefully remove the bread from pot, then transfer to a wire rack and let cool completely (about 2 hours).
Tried this recipe?
Tag @brandiego on Instagram so I can check it out!
This post was written in partnership with Bob's Red Mill. Thoughts, opinions and recipes are my own.
78