My Garden Grape Focaccia recipe—sponsored by Grapes from California—pairs a bounty of sweet, spicy and savory toppings with golden, olive oil-laced focaccia. You guys, this bread is so delish.
This post may contain affiliate links.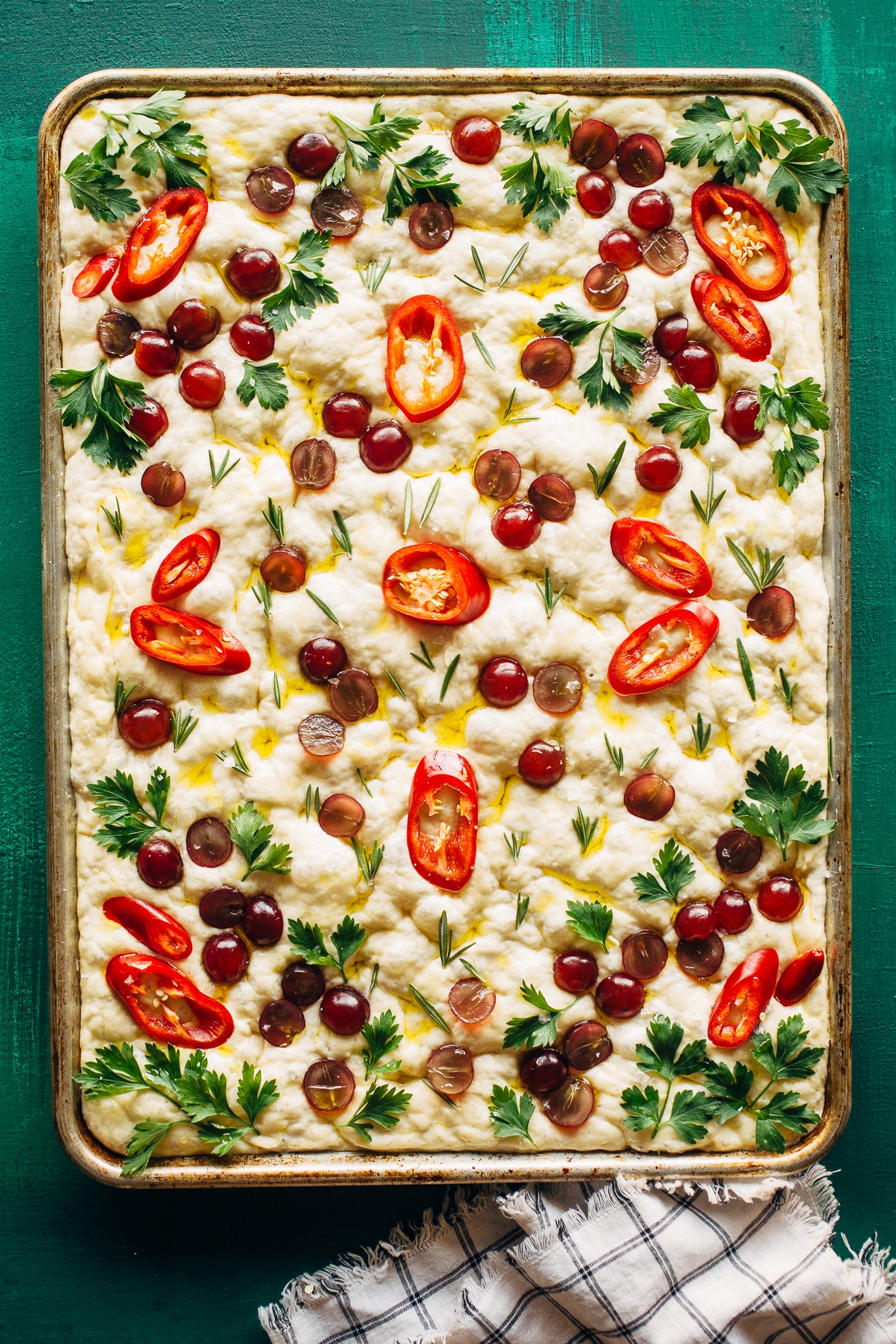 Several years ago, I went to Tuscany with some food blogger friends, and one afternoon, we had a lovely lunch with an Italian family on an olive farm. One of the dishes I remember the most from that lunch was the grape schiacciata, a tuscan version of focaccia topped with grapes from the harvest season.
I really enjoyed the pairing of grapes and bread, but I felt there was some room for improvement. The bread didn't have any salt (it's a Tuscan thing) and grapes had seeds. Luckily, these are two easy issues to fix!
Here, my no knead focaccia is infused with plenty of salt and olive oil. The toppings include sliced red chiles, fresh rosemary, Italian parsley and California red grapes. Each bite is golden and crunchy, but you'll get a little variation in flavors depending on the toppings. Continue reading for the recipe.
California grapes are a favorite at our house, and they're a heart-healthy snack we like to enjoy either after lunch or before dinner. We typically have either red, green or black table grapes in the fridge (and sometimes a mix!). Check out more recipes and add grapes to your cart today!
In this recipe, I'm using red seedless grapes in particular, because I love the color they add to the top of the focaccia. The purplish-red hue of the grapes looks so pretty next to the vibrant red of the Fresno chile and the greens of the herbs. And when you're making a Garden Focaccia, aesthetics really matter!
In addition to their pretty color, the red Californian grapes also provide a lovely sweetness to the bread. I just love that with some bites, you'll get grapes and herbs, other bites might just be chile and some bites might have a bit of everything. The variety really makes eating this focaccia exciting!
You can enjoy this focaccia as is or dip it in a mix of olive oil and balsamic vinegar. It's also delicious with creamier cheeses like brie and goat. I love to make sandwiches with big sections of the focaccia. Recently, I made a focaccia sandwich with fresh mozzarella, roasted red peppers, pesto and arugula. *chef's kiss*
If you're looking to learn more about Garden Focaccia's in general, check out my article here.  For this version in particular, one thing to keep in mind is that grapes are a wet ingredient, so you need to be a little careful with placement.  You can have them scattered about the focaccia, but try to avoid making any big clusters.  A big grouping of grapes can weigh down dough and the area around will not brown.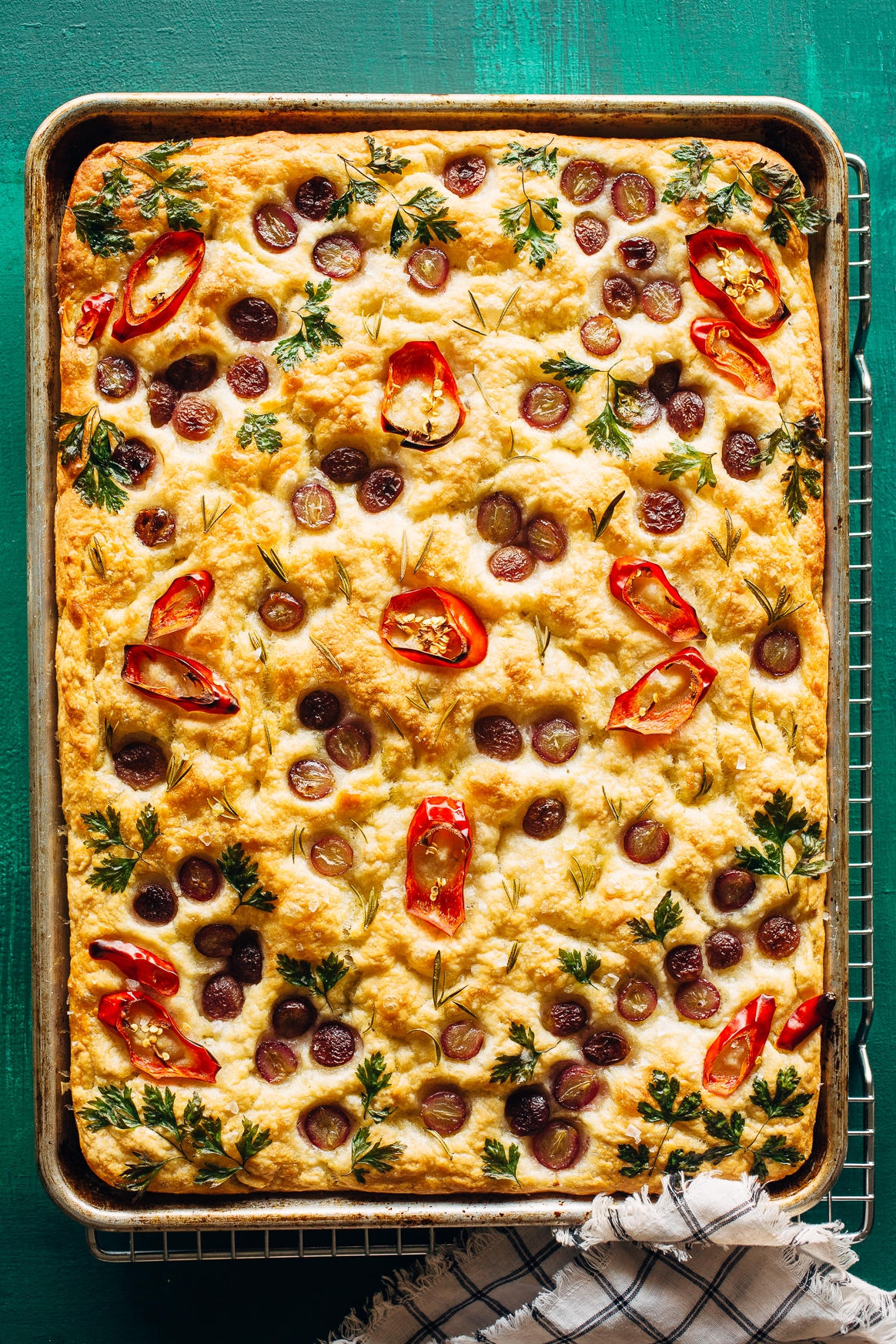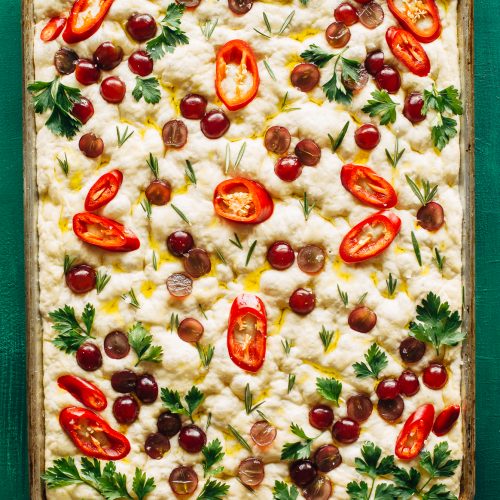 Garden Grape Focaccia Recipe
Ingredients
2 1/4

teaspoons

active dry yeast (I used SAF yeast)

2

teaspoons

honey

2 1/2

cups

lukewarm water (between 95°F and 105°F)

5

cups

(625 grams) all purpose flour

5

teaspoons

kosher salt (I used diamond crystal kosher salt here)

5 to 6

tablespoons

extra virgin olive oil

Unsalted butter, for greasing the pan

Flaky sea salt, for topping
Garden Toppings: halved red California seedless grapes, sliced red chiles, rosemary needles, Italian parsley leaves
Instructions
Add yeast, honey and water to a medium bowl, whisking to combine. Let sit for 5 minutes. Add flour and salt, then mix using a rubber spatula until a shaggy dough forms. Pour 4 tablespoons olive oil in a large bowl, then scrape the dough into the center of the bowl. Cover and let rest in the fridge for 24 hours.

Generously butter a baking sheet, then brush 1 tablespoon olive oil around the pan. Keeping the dough in the bowl, fold the furthest edge of the dough to the center. Turn the bowl 1/4 and then fold the next edge to the center. Repeat this 2 more times (so 4 folds total). Flip the dough over in the bowl (so the seam side is down), then transfer to the center of the prepared baking sheet (don't stretch it at this point). Pour any excess oil over the dough. Let the dough rise, uncovered, until doubled in size (2 to 3 hours). While the dough is rising a second time, prepare any toppings (halve the grapes, pick the rosemary needles, pick the parsley leaves, slice the chiles).

Preheat an oven to 450°F and place a rack in the middle setting. Lightly oil your hands and dimple the focaccia all over using your finger tips. If the dough has not expanded to the edges of the baking sheet, coax it to the edges while you are dimpling. Sprinkle the top evenly with sea salt.

To decorate, arrange grapes, chiles and herbs on the surface of the focaccia. You don't want to place too many grapes in a cluster, because they'll weigh down the dough too much. Also, make sure any leaves are sticking to the surface (if not they'll burn). You don't want to cover the entire surface, so make sure you leave some areas blank. Work carefully and quickly while doing this. Drizzle a little olive oil over any of the blank spots (where just the dough is showing).

Bake until the focaccia is puffed and golden (20 – 30 minutes). Transfer to a cooling rack and let sit for 5 minutes. This focaccia is best enjoyed warm on the day you bake it (depending on toppings). Wrap any leftovers in parchment and store at room temperature for up to 3 days. Toppings like kale leaves and herbs will get soft over time, so warm up the focaccia in an oven before serving.
Tried this recipe?
Tag @brandiego on Instagram so I can check it out!
This post has been sponsored by Grapes From California. All thoughts and opinions are my own. Check out more recipes and add grapes to your cart today!
24