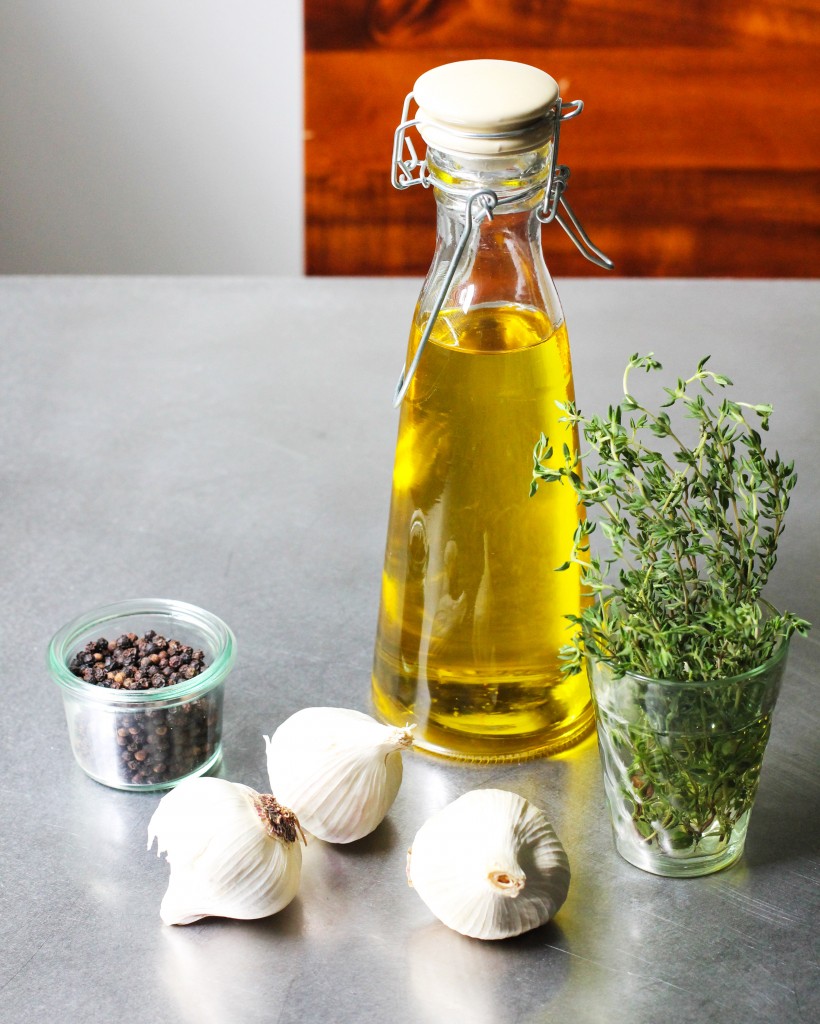 I've got a quick and easy recipe for you today:  Roasted Garlic Oil.  I started making garlic oil several years ago after watching a number of Nigella Express episodes.  That's the series where she starts every. single. savory recipe with garlic oil and scissor-snipped scallion.  Although this seemingly forced simplicity bothered me at first (I don't mind chopping garlic and onions), I decided to give garlic oil a try, because hey, I love the Nigella.  I mean really.  I could watch her all day long.
My garlic oil experimentation had simple beginnings.  Simmer some garlic in olive oil for a short time, steep, strain, done!  Over the years, I've tweaked my process, amping up the flavor with toasted black peppercorns and fresh thyme.  I also upped the cooking time and temperature to avoid that whole botulism thing.  The resulting Roasted Garlic Oil is incredibly fragrant and flavorful.
If a recipe calls for chopped/minced garlic, I still like to use chopped/minced garlic.  This infused oil comes in handy when my time is short, and I am looking to add a subtle garlic flavor to my recipe.  For example, I'll often use this Roasted Garlic Oil when I'm cooking eggs in the morning.  Even I couldn't imagine chopping garlic at 6am.  I also like to use this oil in a vinaigrette quickly shaken up before work.  Add 2 tablespoons Roasted Garlic Oil to a jar with a scant tablespoon of sherry vinegar, a dab of Dijon, 2 pinches of salt and lots of black pepper.  Cap, shake, done.  But really, you could use this oil in any way you'd like.  So simple.  So versatile.  Continue reading for the recipe (plus an animated gif!).