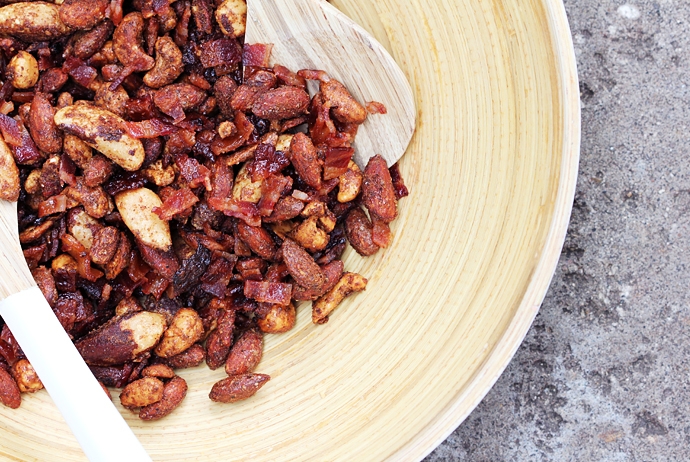 This post may contain affiliate links.
Here is another recipe from my recent live demonstration at west elm.  Mixed nuts are sprinkled with sugar, garam masala, cumin, cinnamon, allspice, clove and cayenne pepper then roasted till golden and fragrant.  Tossed with drool-inducing sugared bacon, these spiced mixed nuts are an utterly addicting sweet-savory snack.  This is one recipe you just have to make.
Before we get to the recipe, I want to share some behind-the-scenes details of the event.  The hours leading up to the demonstration seemed much like an adrenaline pumping Top Chef Challenge.  At the start of the day, I actually envisioned Padma saying "4 courses, 60 diners, $x00, 8 hours… GO!"  Minor prep was done the evening before; however, most of the food was prepared the day of to ensure maximum tastiness.  Between bouts of stirring, roasting and sautéing, I managed to send out a flurry of behind-the-scenes tweets (@brandiego) and even spend some time with my videographer.  With all of the multitasking going on, it was a miracle that nothing got burned!  I just hope that I don't look like hell on the video, as I did my interviews after cooking for 7 hours (hair and makeup professionals not in the budget).  With the help of my sous chefs (aka my amazing friends) and some serious planning (lists galore), I was able to successfully complete this challenge on time and achieve results that well exceeded my expectations.  I am going to stop there, but please check back over the next week for more stories from the event.  Continue reading for the recipe.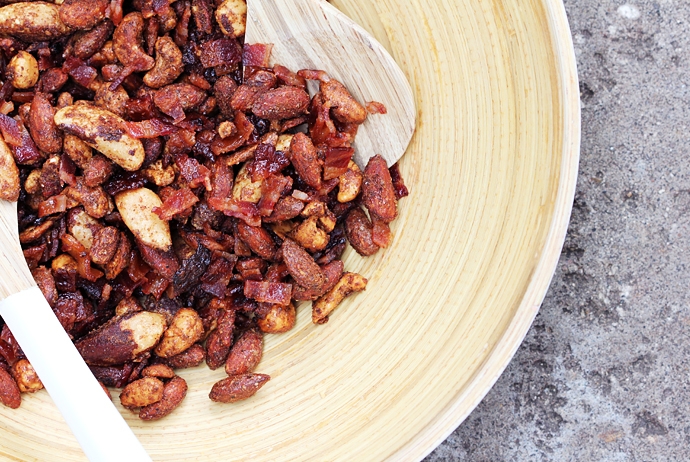 Spiced Mixed Nuts with Sugared Bacon
Ingredients
2

cups

roasted, unsalted mixed nuts

1 1/2

tablespoons

egg white, beaten slightly

2

tablespoons

sugar

1

teaspoon

garam masala

3/4

teaspoon

cumin

1/8

teaspoon

cinnamon

1/8

teaspoon

ground allspice

Pinch

of ground clove

1/2

teaspoon

kosher salt

1/2

teaspoon

cayenne pepper

3/4

pound

sliced bacon

1/2

cup

light brown sugar
Instructions
Preheat oven to 325°F. Place mixed nuts in a large bowl. Add egg white, then toss, coating nuts evenly. Add sugar, garam masala, cumin, cinnamon, allspice, clove, kosher salt and cayenne pepper, tossing to combine.

Spread nuts evenly on a rimmed baking sheet. Roast until nuts are nicely browned and very fragrant, stirring frequently to break up any clumps (about 12 to 15 minutes). Immediately transfer nuts to a clean bowl. Break up any clumps while nuts are still warm, then set aside.

Increase oven to 350°F. Line a rimmed baking sheet with foil and coat lightly with nonstick spray. Arrange bacon in a single layer on the baking sheet. Sprinkle a thin layer of brown sugar over the bacon. Using your hands, spread the brown sugar evenly over the slices. Flip the slices over and coat the other side in the same manner. Bake until crisp and dark golden (about 20 to 25 minutes).

Transfer bacon to a wire rack to cool. Once cooled and firm, chop bacon into small, bite-sized pieces and toss with nuts.
Tried this recipe?
Tag @brandiego on Instagram so I can check it out!
2