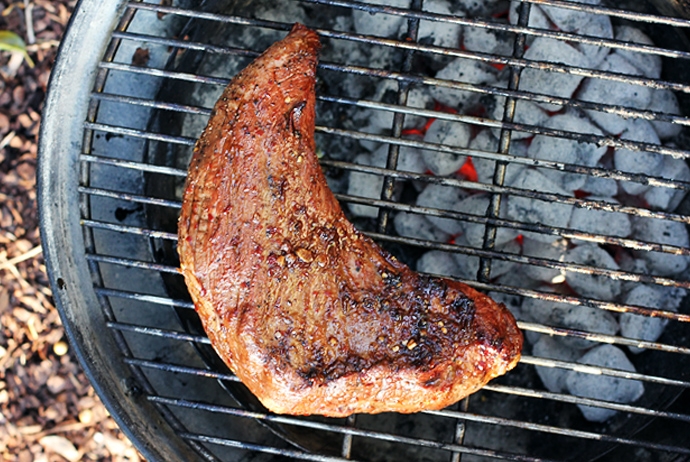 This post may contain affiliate links.
Each year in San Diego, we experience two unpleasant phenomena know as Gray May and June Gloom.  Those of us living close to the coast are subjected to an almost constant cloud cover generated by the Pacific Ocean.  I'm not sure why the cover is more prominent during these two months, but it's definitely annoying.  Even though this year's dreariness was not as bad as previous years, I still found myself a bit more sluggish in the mornings, and yearning for a beautiful sunset to gaze at in the evenings.
As July approaches, the days seem to be clearing up with rays of sunshine warding off the drainbows.  This past weekend, I decided to take advantage of one of these sunny days by firing up the grill and making this Beer Marinated Tri-Tip.  Full flavored beef tri-tip is marinated in a bold blend of dark beer, pomegranate molasses, garlic and crushed red pepper.  The finished steak has the most incredible crust just packed with savory, mouthwatering flavor.  The perfect accompaniment to this tri-tip?  Crispy, salty housemade oven fries.  Yum.  Continue reading for the recipes.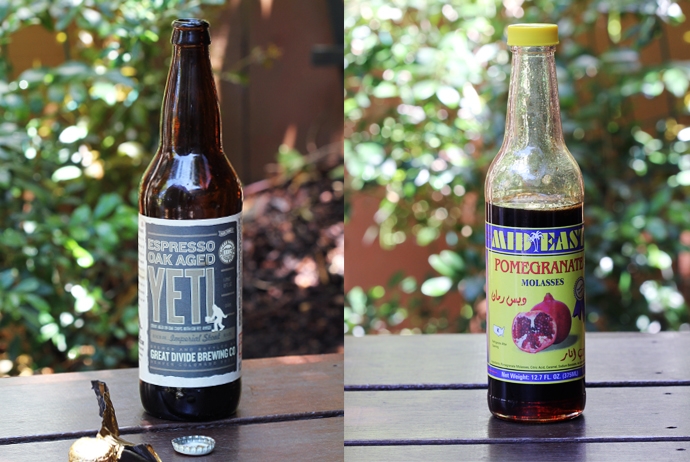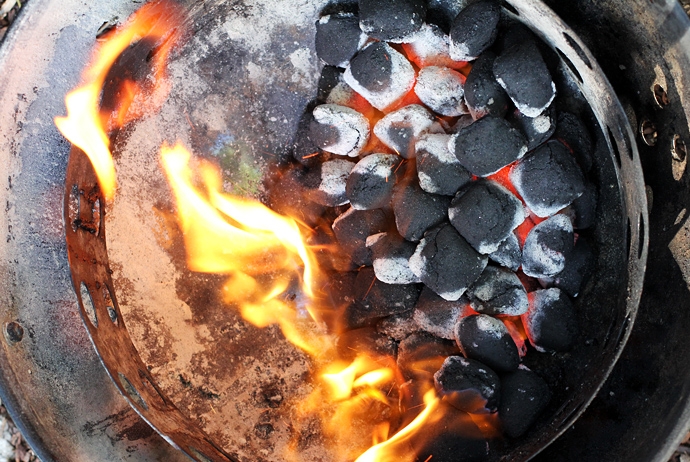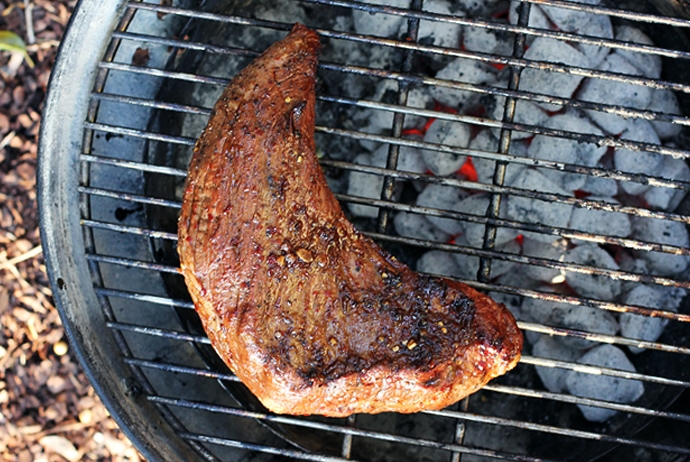 Beer Marinated Tri-Tip
Ingredients
12

ounces

dark beer (I used a fancy Espresso Porter, but Guinness would also work really well here)

1/3

cup

pomegranate molasses

4

large garlic cloves, chopped

2

teaspoons

crushed red pepper flake

2 1/2

pounds

tri-tip, trimmed of excess fat

Kosher salt

Freshly ground black pepper
Instructions
Add beer, pomegranate molasses, garlic and red pepper flake to a large bowl, stirring to combine. Submerge tri-tip into the marinade. Cover and refrigerate overnight. Flip tri-tip in the marinade halfway through the waiting period (in the morning).

If you are using a charcoal grill, be sure to spread your briquettes into a slope. Half of the grill will be used for direct cooking (to get a nice crust on the outside) and the other half will be used for indirect cooking (to fully cook the meat without burning it).

About 30 minutes before you plan on putting the tri-tip on the grill, take the meat out of the refrigerator. Remove the tri-tip from the marinade and set aside to bring to room temperature. Pour the marinade into a small, heavy bottom pot and bring to a boil over medium-high heat. Reduce the heat to low and simmer until the mixture has reduce by half (you can simply simmer the sauce until you are ready to use it - see below).

Season the steak generously with kosher salt and freshly ground black pepper. Once the tri-tip has come to room temperature, place it on the hottest part of the grill. Cook for 5 minutes on each side, then move to the cooler part of the grill. Baste with reduced marinade. Cover and cook until thermometer inserted into the thickest part of the beef reaches 135°F (for medium-rare), turning occasionally and basting with marinade (15 - 30 minutes depending on the thickness of your tri-tip).

Transfer the meat to a cutting board and let stand for 5 minutes. Slice across the grain and serve immediately.
Tried this recipe?
Tag @brandiego on Instagram so I can check it out!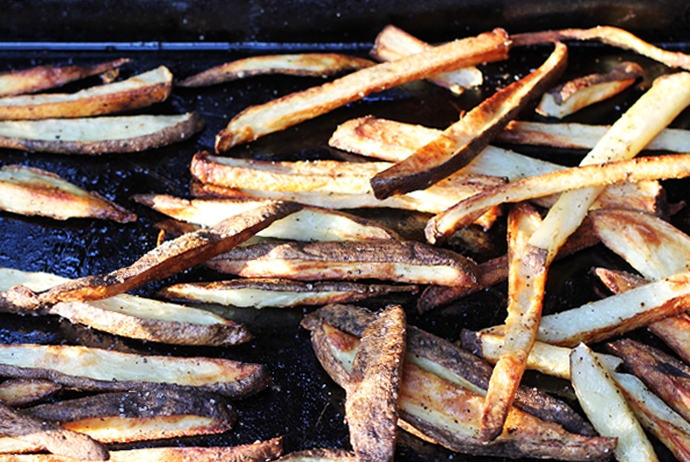 Housemade Fries
Ingredients
Russet potatoes

Extra virgin olive oil

Kosher salt

Freshly ground black pepper
Instructions
Preheat oven to 375°F.  If your oven has a convection option, use it.

Prepare 1 potato per person.  Cut potato in half then cut each half into three slices widthwise.  Cut each slice into even-sized fries lengthwise.  Place fries in a large bowl and toss with a drizzle of extra virgin olive oil, a few pinches of kosher salt and many turns of freshly ground black pepper.  The fries should be coated in oil, but not swimming in oil.

Transfer fries from the bowl to a baking sheet.  Do not crowd the baking sheet.  If you find you have too many fries for one sheet, use two baking sheets.  Season with additional kosher salt and back pepper if needed (sometimes the seasonings get left in the bowl).

Bake until golden brown and crispy (35 - 45 minutes depending on if you are using convention or not), turning the fries occasionally.
Tried this recipe?
Tag @brandiego on Instagram so I can check it out!
44