This post may contain affiliate links.
Catering a wedding is one endeavor I never thought I'd be doing this year.  However, earlier in the year, one of my friends asked me to prepare bites for the appetizer hour of her wedding.  The theme?  Mexican.  Beaming from ear to ear, I gladly accepted for several reasons.  First, who could resist helping a friend out on such a special day.  I just love preparing food for friends on any regular day of the week, so cooking for such a grand occasion only seems natural to me.  Second, I thoroughly enjoy a good challenge.  Preparing 5 options for 140 guests will be no easy task.  However, with a plan and timeline already in place, I am confident that I can prepare each dish to my standards (and the couple's standards as well!).  Finally, as you all may know, I heart both cooking and eating Mexican food.  These Spiced Jicama, Cucumber and Mango Skewers are just 1 of the 5 appetizer bites I will be preparing for my friend's wedding.  Continue reading for the recipe.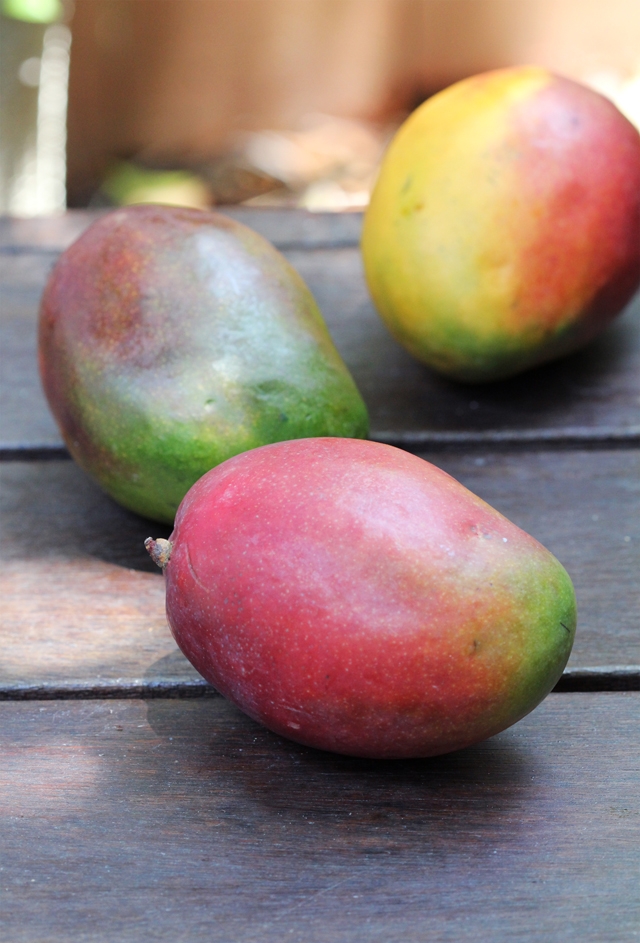 Spiced with chile powder and sea salt, these fruit skewers are a crisp, refreshing snack that come together in a snap.  The mango provides a sweetness to the bite while the cucumber lends a green, grassy note.  Jicama, not really known for its looks, deceivingly yields a clean, crunchy flesh once peeled of its brown, tough, fibrous skin.  The flavors of the mango, cucumber and jicama are then enlivened by salt, chile and lime resulting in a well-balanced, satisfying treat.  A treat that the wedding attendees are sure to love.
On a side note, I also wanted to mention that you can now find a selection of Kitchen Konfidence creations on Gojee, a fairly new website providing an interesting, visual way to search for recipes.  I urge you to go check it out.  So much fun!  Much thanks to the Gojee team for including me on this project.
Spiced Jicama, Cucumber and Mango Skewers
Ingredients
1

small jicama, peeled and cut into 1/2-inch slices

1

hot house (or English) cucumber, cut into 1/2-inch slices

2

large mangos, peeled and cheeks cut from the pit*

3

teaspoons

chile powder

1

teaspoon

fine grain sea salt

2

limes, each cut into 8 wedges
Instructions
Using a small, round cookie cutter (mine was fluted, but any round cutter will do), cut circles from the jicama, cucumber and mangos. Thread the circles on bambo skewers or toothpicks starting with the jicama, then cucumber and finishing with the mango. Arrange skewers on a platter.

Combine chile powder and sea salt in a small bowl and mix thoroughly. Lightly sprinkle skewers with the chile-salt mixture. Place lime wedges around the platter. Serve remaining chile-salt mixture on the side.
Notes
* Mangos have a long flat pit that runs down the middle of the fruit. The flesh on either of the pit is known as the cheek (2 cheeks per mango).
Tried this recipe?
Tag @brandiego on Instagram so I can check it out!
2