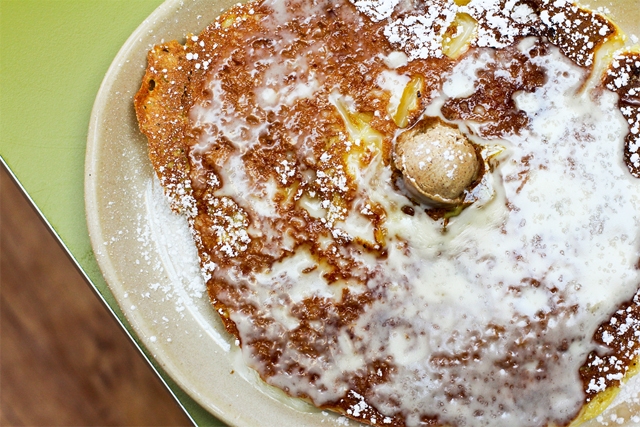 This post may contain affiliate links.
Cooking inspiration can come from many different places including the internet, cookbooks and magazines.  I also find restaurants to be a great source of inspiration.  These San Diego restaurant reviews will recount my experiences at some of my local favorites and new hotspots.  At the end of each review I'll also provide you with some takeaways that can be put to use in the kitchen.
Snooze
Pancakes $7.50 for a large, $3.00 for a small
Eggs Benedict, $6.50 for a half portion
3940 5th Avenue
Hillcrest
619-500-3344
"You have to try this new brunch place called Snooze.  It's seriously amazing.  Pancakes to die for."  A recommendation from a friend still fresh in my mind as I walked into the latest additional to the Hillcrest restaurant scene.  Bright and lofty, Snooze is a modern yet casual locale just opened in November of 2011.  As I walked behind the host to my table, I couldn't help but smile at the restaurant's playful design.  Clean lines, bolds colors and interesting textures had my eyes gleefully dancing about the space.  Sitting alone at a table for eight I eagerly browsed the menu well-knowing I was going to need some space to accommodate all of the tasty dishes I planned on ordering.  Continue reading for the rest of my experience at Snooze in San Diego.
First up was a variation on eggs benedict called Bella! Bella! Benny.  Sitting atop a crunchy slice of toasted ciabatta were layers of salty proscuitto, melted Taleggio cheese and a perfectly poached egg.  The plate was finished with scattered arugula leaves, creamy hollandaise and slashes of rich balsamic glaze.  When I was first deciding on what to order, the waiter mentioned to me that Snooze was known for their eggs benedicts.  I 100% agree with that statement.  This plate was phenom.
The peppery arugula and sweet-tart glaze cut through the richness of the hollandaise and yolk creating a perfect, harmonious bite.  After enjoying the first dish so much, I couldn't wait to dive into the three others sitting across the table.  Next up, Chilaquiles Benedict.
Featuring a small mound of chilequiles (tortillas cooked with sauce and cheese), tender carne asada (marinated, grilled beef), smoked cheddar hollandaise and fresh, fiery salsa, this dish was bold and packed with flavor.  The salsa was definitely my favorite part.  Each full order of eggs benedict comes with two stacks; however, if you are interested in trying more than one benedict, you can order two different varieties on the same plate!
After enjoying my fill of savory bites, I started in on my sweet selections.  The pancake pictured at the top is a fan favorite at Snooze.  Made with tangy buttermilk, the Pineapple Upside Down Pancake was studded with chunks of caramelize pineapple then topped with vanilla crème anglaise and cinnamon butter.  The Red-Eye Velvet Cake, a newer addition to the menu, tastes like red velvet cake topped with toasted pecans, cream cheese frosting and espresso-infused maple syrup.  I distinctly remember both pancakes being light, fluffy and utterly addicting!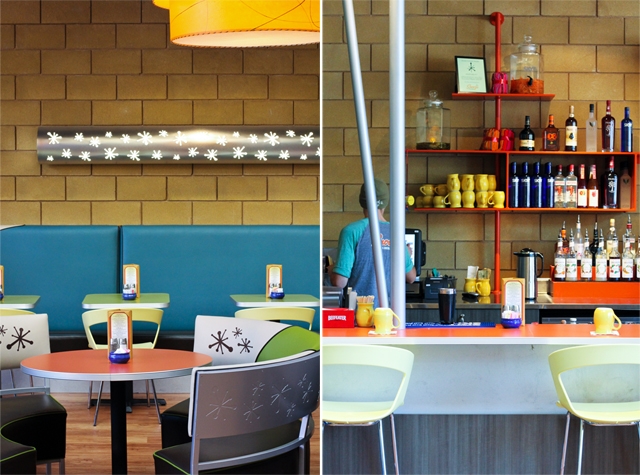 Upon finishing up my meal, I wandered around the space a bit to take some photos.  As I approached the bar, I noticed three large infusing jugs sitting up on the shelves.  Snooze definitely gets some major points in my book for making their own infusions – carrot vodka, pepper vodka and pepper tequila.  With an oversized doggy bag in hand, I made my way out of the restaurant extremely satisfied.  I will definitely be back.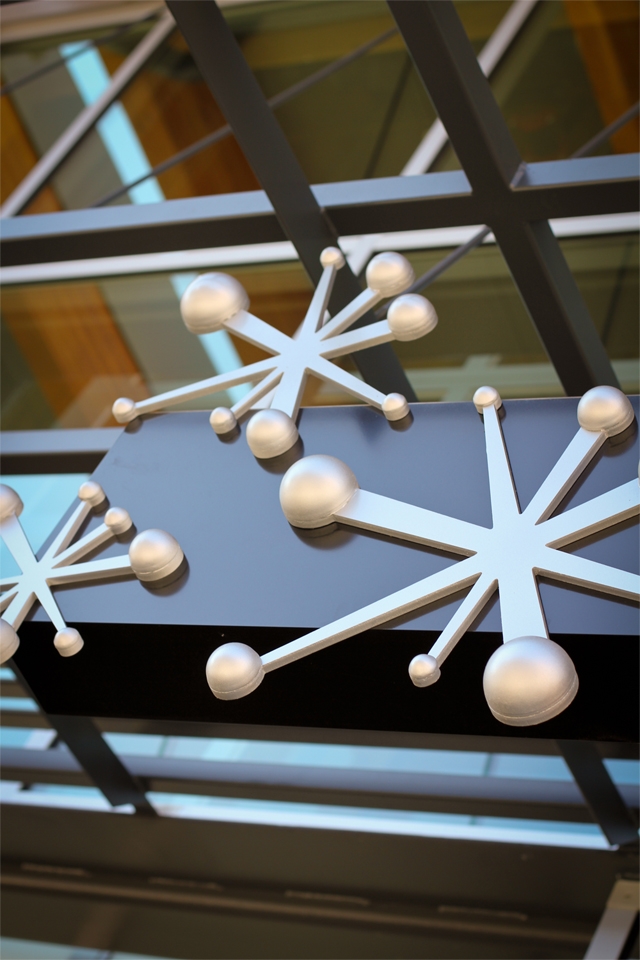 Takeaways from this restaurant experience?  First, Red Velvet Pancakes are amazing.  As I walked from the restaurant to my car, I had thoughts of a homemade version running through my head.  My Red Velvet Pancakes are similar to the one at Snooze with a bit more chocolate flavor.  Second, I really enjoyed how Snooze offered some fresh components with their benedicts to balance out the richness of the butter and eggs.  Have you been to Snooze in San Diego?  If so, what did you think?
0