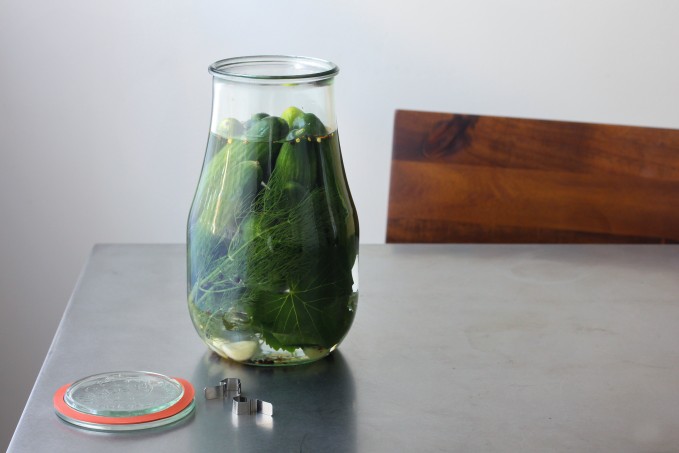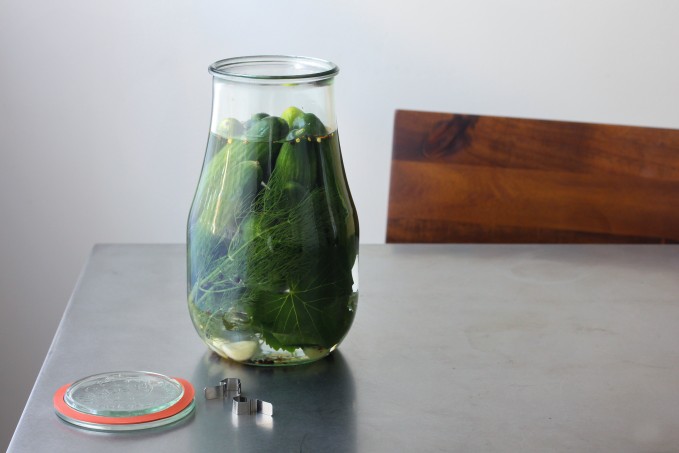 This post may contain affiliate links.
As you may already know, I love a good pickle.  So when I got an invite to do a Fermentation & Pickling workshop with the San Diego Food Bloggers, I was like "uhhh… yes, please!!"  At the workshop, Austin from the San Diego Fermenters Club showed us how to make some delicious Garlic and Dill Pickles.  After just one salty-sour bite, I knew I had to give this fermentation process a try at home.
So you may be wondering, what's the difference between fermentation and quick pickling? With the quick pickling process, fruit and vegetables are pickled using a vinegar solution.  With fermentation, fruit and veg are pickled using a brine solution (salt and water).  Both result in a delicious finished product; however, I found that these fermented pickles have a more complex flavor and an intriguing effervescence.  This is just a brief introduction to the world of fermenting.  Looking for more information?  Be sure to consult the experts.  Continue reading for the recipe.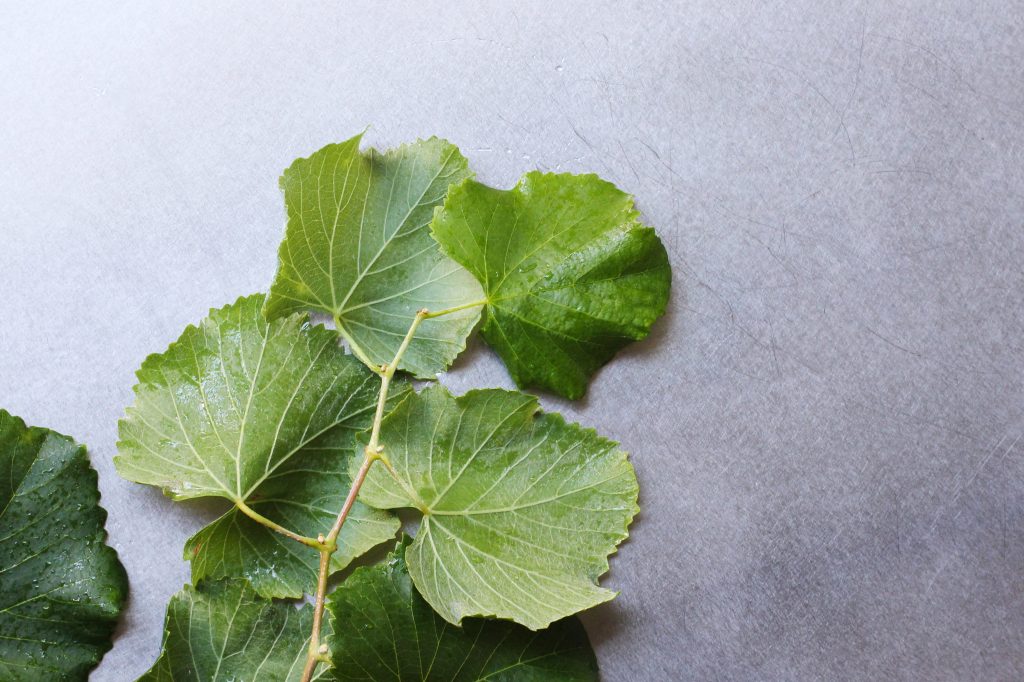 Grape (or other fruit) leaves keep your pickles crunchy!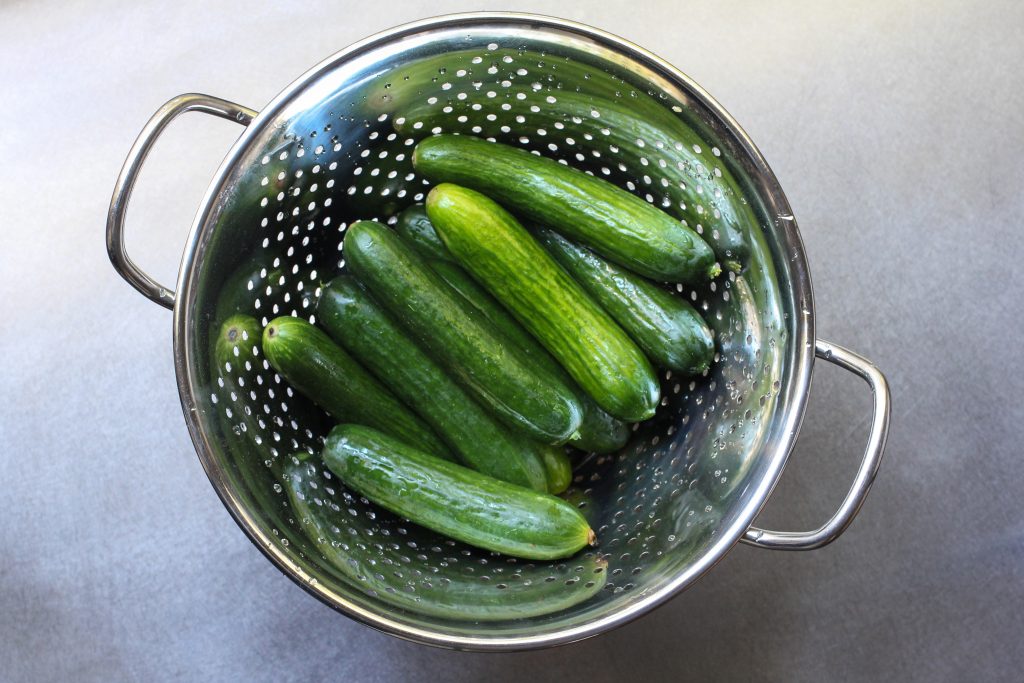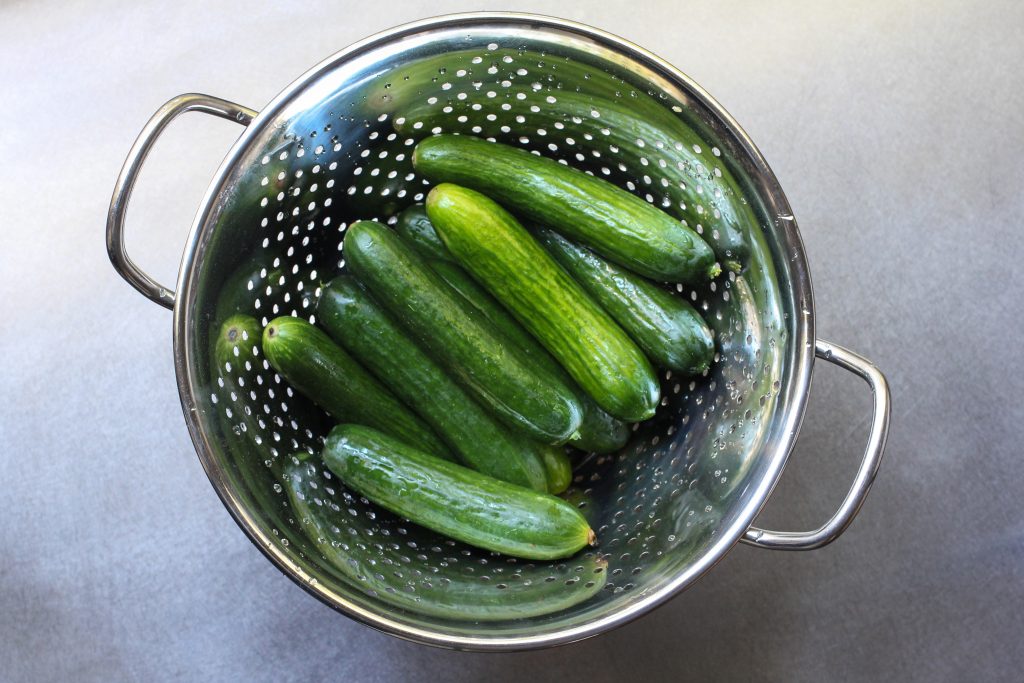 Be sure to start with organic or unwaxed produce.  If waxed produce is your only option, you'll need to go through some extra steps to get it cleaned up.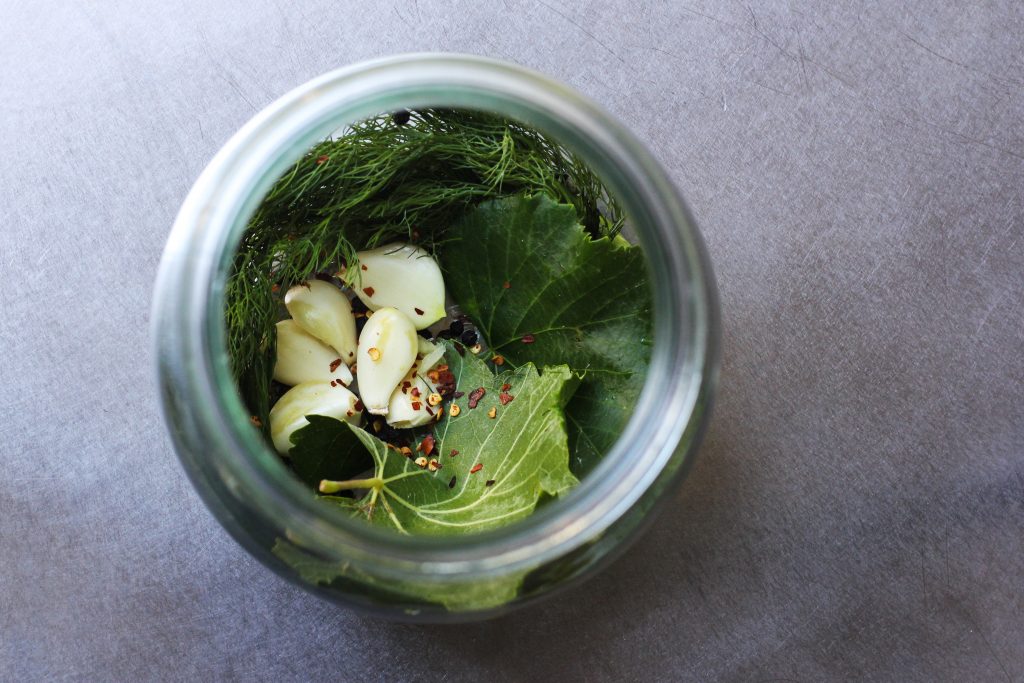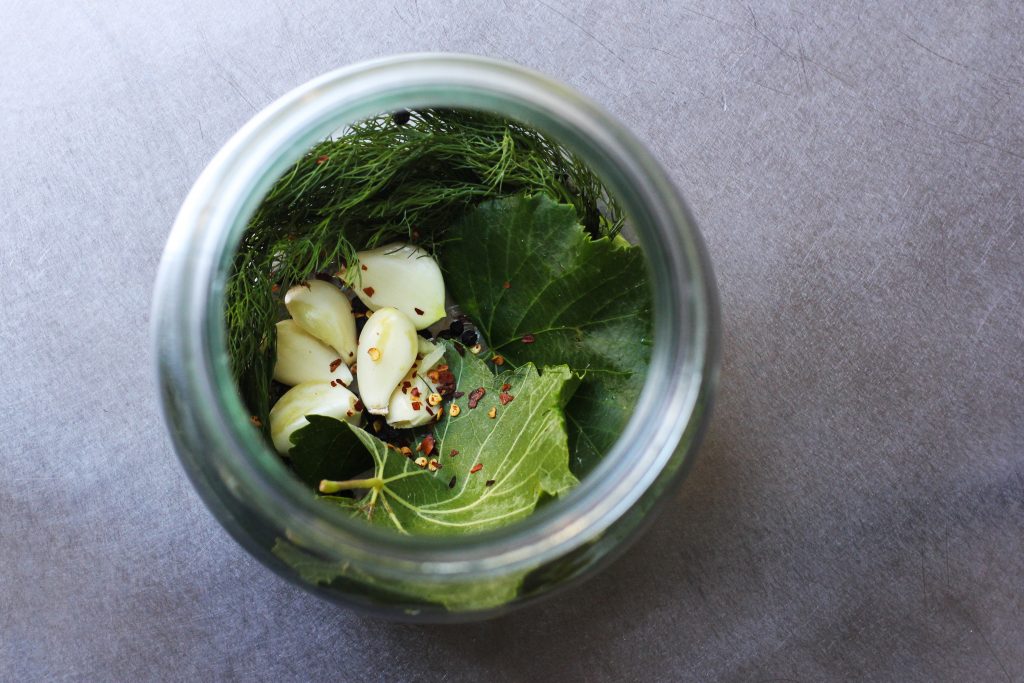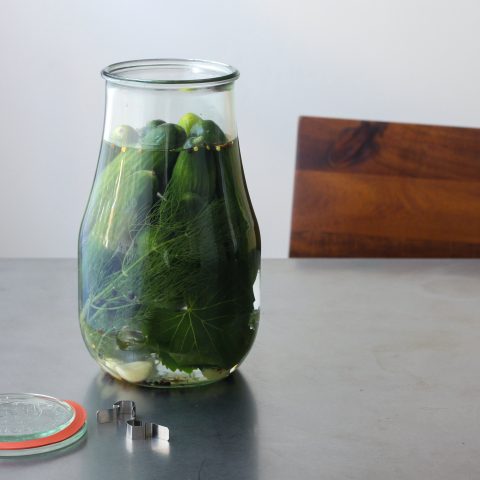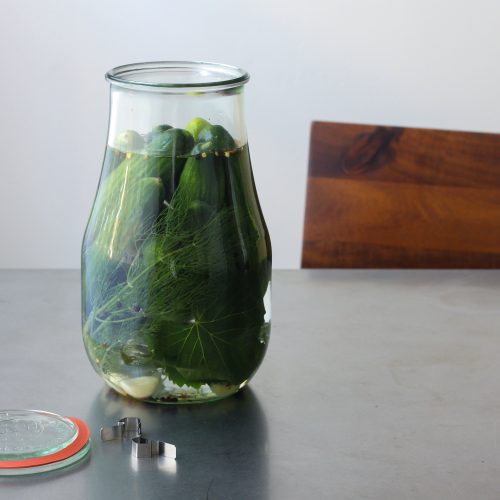 Fermented Garlic and Dill Pickles
Adapted from here.
Ingredients
2

pounds

Persian cucumbers (or other pickling cucumber)

6

cloves

garlic

6

sprigs fresh dill

A pinch of whole peppercorns

A pinch of red pepper flake (will bump this up next time, or add whole chiles)

2

grape leaves (or other fruit tree leaves, optional)

6

cups

water (filtered, bottled or distilled)

4

tablespoons

sea salt (I used coarse)
Instructions
Place cucumbers, garlic, dill, peppercorns, red pepper flakes and grape leaves in a large, clean jar.

Add water and sea salt to a large bowl with a pour spout. Whisk until sea salt dissolves into the water (this is called a brine). Pour brine into the jar with cucumbers and flavorings.

Place a plate or plastic lid in the jar to keep the contents submerged under the brine. Weigh plate or lid down with a clean bottle (or anything heavy that will fit in your jar). I used a plastic lid (from a take-out container); however, I didn't have to weigh it down. The shape of my jar held the lid securely in place. Cover the opening of the jar with a kitchen towel and secure towel with a rubber band.

Let the cucumbers ferment at room temperature until desired flavor is achieved, then store in the refrigerator. I tasted the cucumber after 5 days and then each day after. On day 7, I felt the pickles were very sour and flavorful.

As the cucumbers ferment, you'll notice some mold form on the surface of the water. This is natural. Simply spoon out and discard the mold. Also, rinse the lid and weight, and dry before returning to the jar. I did this three times during my 7 day fermentation process. If there are any residual bits of mold floating on the surface after you skim, swirl around the jar to send them into the brine. This kills off the mold. Just know, that as long as your cucumbers remain submerged in the brine, they are safe from mold ????
Tried this recipe?
Tag @brandiego on Instagram so I can check it out!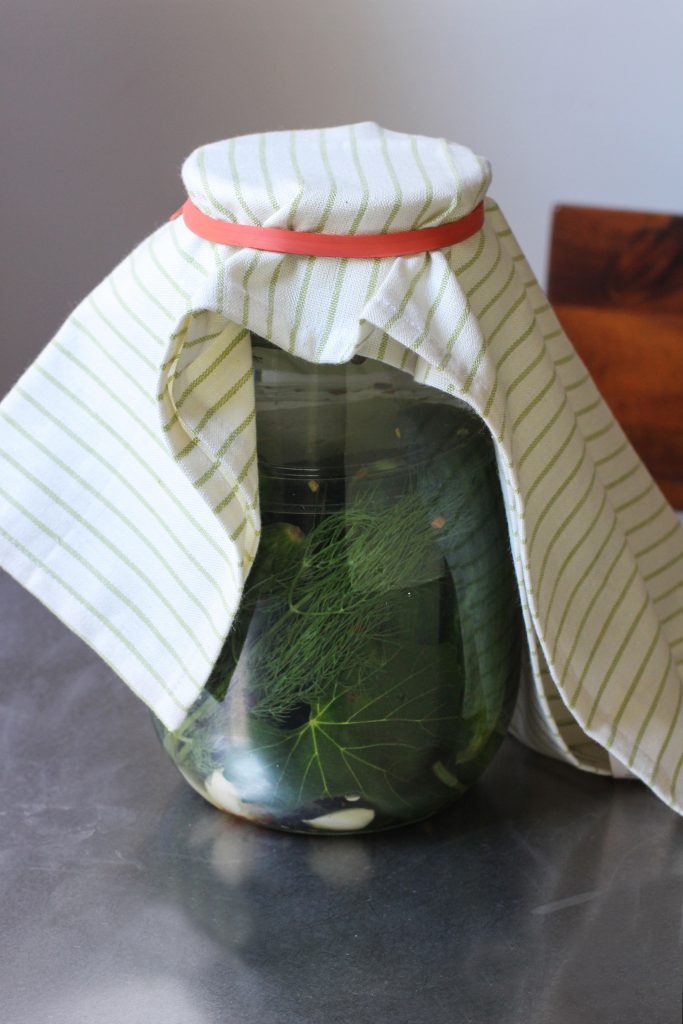 This is what my fermenting setup looked like.  Contents of the jar held beneath the surface of the brine with a plastic lid.  I then covered the mouth of the jar with a cloth napkin.
Related recipes and articles:
San Diego Fermenters Club – Recipes
Fermented Pickles vs. Regular Pickles
A Strange Brew May Be a Good Thing
10