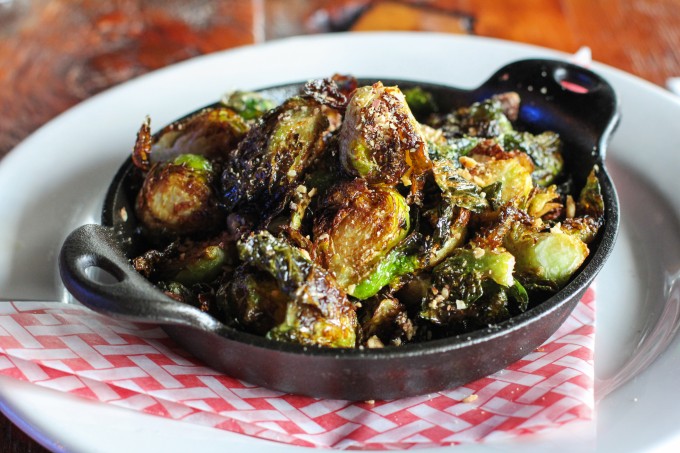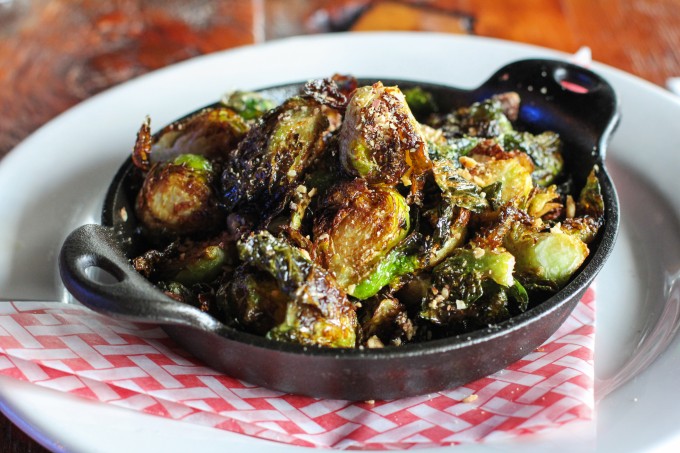 This post may contain affiliate links.
The man and I recently had a fab lunch at Brian Malarkey's Gingham*, and I just had to share the details.  Located in La Mesa (east of San Diego), Gingham is nestled amongst a series of quaint little shops and galleries.  As I strolled down La Mesa Boulevard passing windows filled with antiques and nicknacks, I just couldn't believe that a street like this even existed in La Mesa, an area I thought was fairly devoid of art and culture.  Pleasantly surprised, I continued on towards the restaurant enjoying the beaming rays of mid-afternoon sunshine.
Brian Malarkey, a finalist on Top Chef Season 3, is the Chef/Owner of a number of well-known restaurants around town including Searsucker, Burlap, Gabardine, and Herringbone.  He's also a host on The Taste (with Nigella, so jelz), and recently released a cookbook entitled Come Early, Stay Late.  Basically, dude is blowin' up.  I've met Brian on a number of occasions over the last several years, and I'll have to say that he really is a nice guy with a big personality.  His personality really shines through at each of his restaurants.  Gingham not excluded.  Continue reading for the rest of my experience (with plenty of food porn) plus a recipe for Gingham's Fried Brussels Sprouts.
A modern yet comfortable mix of metal, wood and animal, Gingham is known as the "Urban Cowboy Diner."  Sitting at a tallboy beside a large open window, Jorge and I started our meal with a couple of cocktails.  I ordered the Indian Summer, a "skinny" mix of pear vodka, fresh pressed apple and lemon.  My drink was certainly refreshing and enjoyable, but I'll have to say that I liked Jorge's better.  Made with jalapeño tequila, fresh lime and agave nectar, the Tumbleweed Margarita was almost… electric.  The first sip danced across my palate in a way that I would describe as pleasantly prickly. 

Our first appetizer (of four!), were these "B.L.T." Fries.  Over-the-top delicious, these fries were piled high with crisp kale and a mound of golden pork rubble.  Kale and bacon are a classic combination.  One that I would have never thought to serve over French fries!  Accompanied by a saucer of smoky baconnaise, this appetizer would be perfect with an ice cold beer.
I don't know about you, but I am a sucker for baked brie.  Any time I see it on a menu, I instantly have to order it.  A molten mess of cheese and rind, the brie arrived at our table in a mini cast iron skillet adorned with a crown of thin crostini.  The cheese is served with whisky onion jam.  That's right.  Sweet and creamy, this appetizer is well-balanced and addicting   Another appetizer win.
Fried pickles are something I would order frequently during the four years I went to school in Gettysburg, PA; however, these crispy golden nuggets are a rarity here in San Diego.  As soon as the plate hit the table, I immediately plucked a hot fried pickle from the bunch, plunged it into a saucer of ranch, and took a bite.  These pickles were salty and sour with a satisfying crunch.  AND… they are only $3!  In January, Gingham revamped their menu, making their food more approachable and affordable.  To be honest, I was shocked that I could get a delicious appetizer at a Malarkey restaurant for just $3!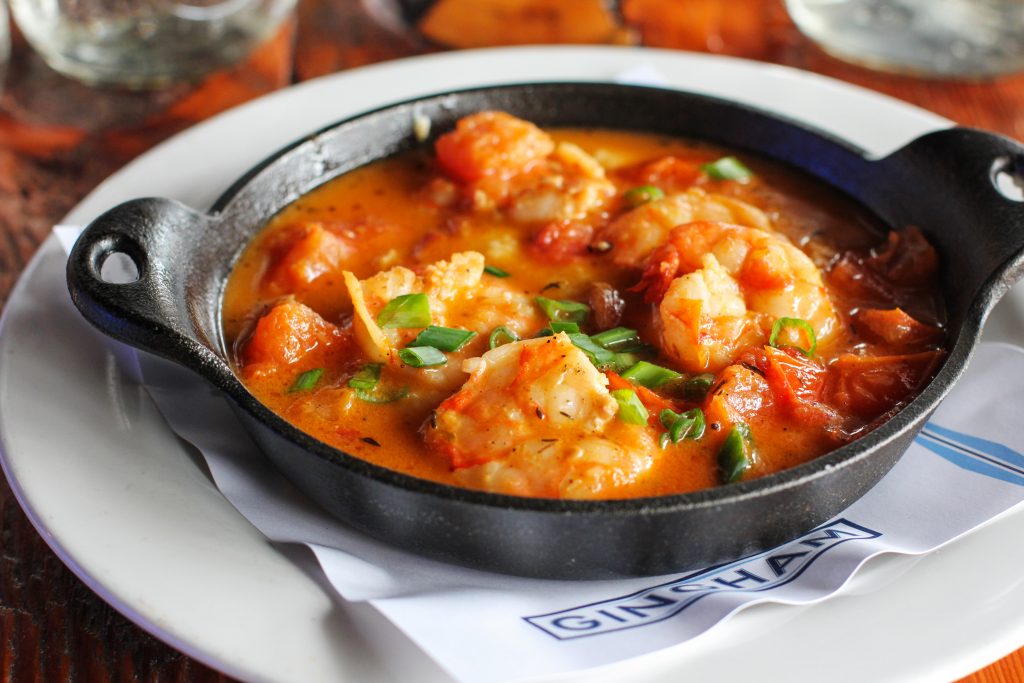 Next up was my favorite dish of the meal, Shrimp 'n' Grits.  Seriously, this appetizer is ridiculously good.  Resting on a bed of the creamiest grits I've ever had were a number of sweet, succulent shrimp drowned in a flavor-packed tomato sauce.  I couldn't stop eating this.  If you're going to Gingham for the first time, order this appetizer.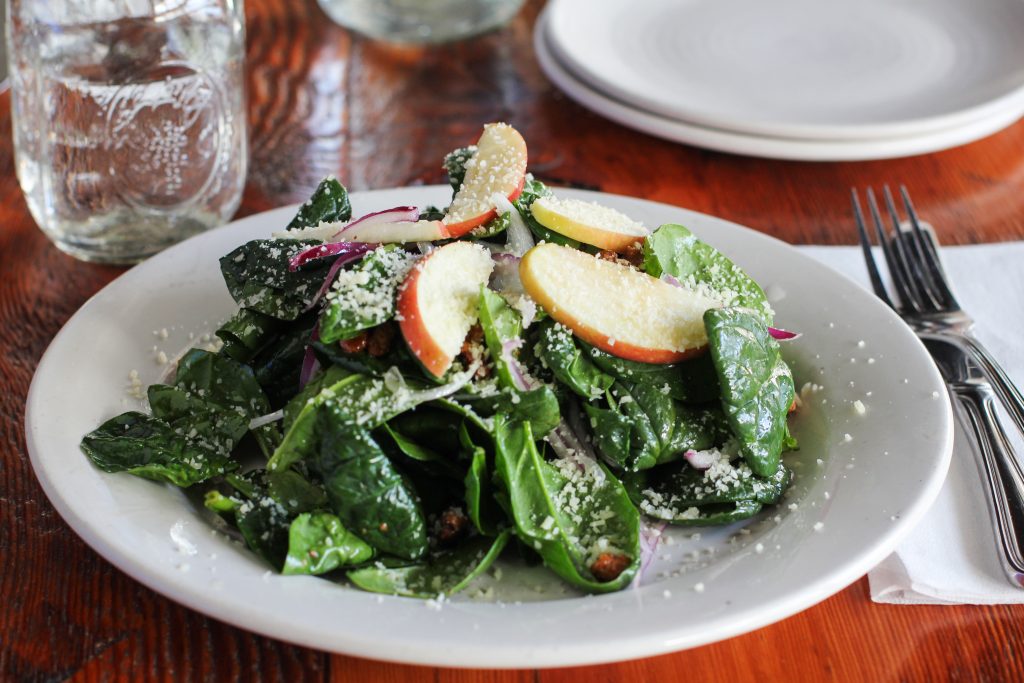 After consuming an almost inappropriate amount of rich and fried food, Jorge and I took a deviation from the decadence with this spinach salad.  Hearty greens were tossed with red onion, candied pecans, and a warm bacon vinaigrette, then topped with a pinwheel of local shaved apple and a flurry of Pecorino.  I wasn't overly impressed with this salad, but Jorge cleaned the plate.  Though I'll have to say that the candied pecans were pretty darn tasty.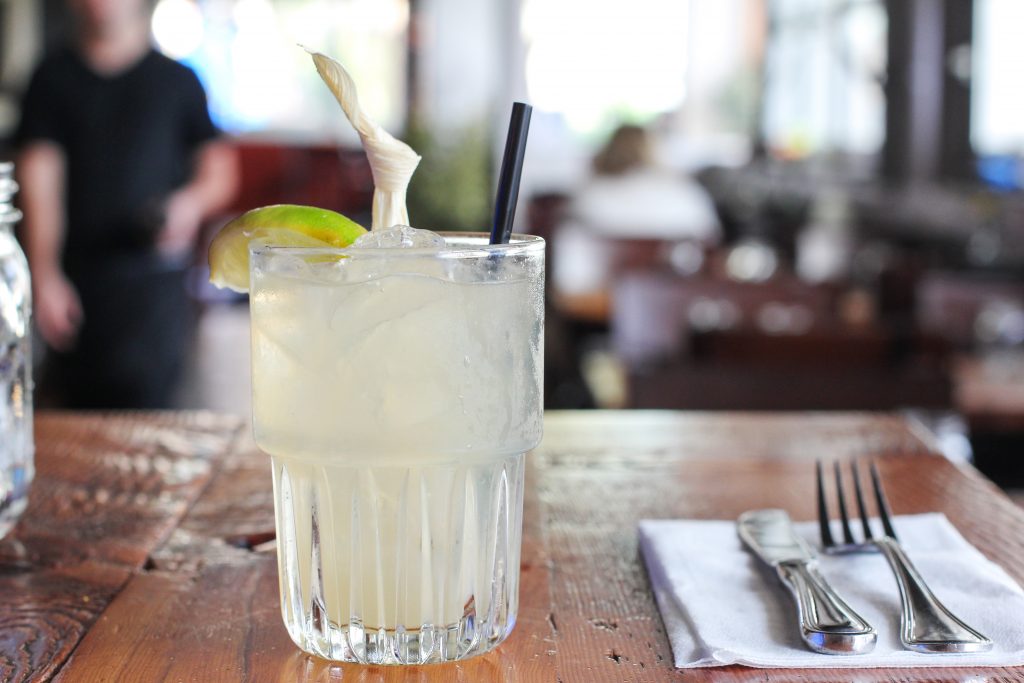 Before diving into our entrees, we tried one last cocktail for the afternoon, the Popcorn Margarita.  Being that I'm a bit obsessed with infused alcohols, I had high hopes for this drink (made with popcorn infused tequila).  Unfortunately, the margarita fell flat for me.  I tasted tequila, lime and agave, but no popcorn.  I would have loved to have tasted the popcorn infused tequila on its own.  Next time!
Now for the entrees.  Jorge and I tried the ribs and fried chicken.  Served with cole slaw and mashed potatoes, the ribs were so tender.  And I loved the citrusy BBQ sauce slathered over top.  The fried chicken (pictured below) was actually my favorite bite though.  Hidden beneath a carapace of salt and crunch was the most succulent dark chicken meat.  I devoured ever last bit of this chicken.  So yum.
In addition to cole slaw, the chicken was served with Gingham's Fried Brussels Sprouts.  As you all know, Brussels sprouts are one of my favorite things, so I was really looking forward to trying this side dish.  The verdict?  Absolutely delicious.  Golden fried Brussels sprouts are tossed with a spicy vinaigrette, then topped with chopped smoked almonds.  Dirt candy to the max, and I've got the recipe for you below.
Jorge and I finished the meal with this lemon berry bar.  I found the look of the lemon bar to be slightly off-putting, but the taste made up for it.  This light, bright dessert was exactly what we needed after finishing such a big "cowboy" eating extravaganza.  Overall, I'd have to say that I thoroughly enjoyed my meal at Gingham, and I know Jorge did as well.  With its new, more affordable menu, Gingham is one La Mesa restaurant I will surely revisit.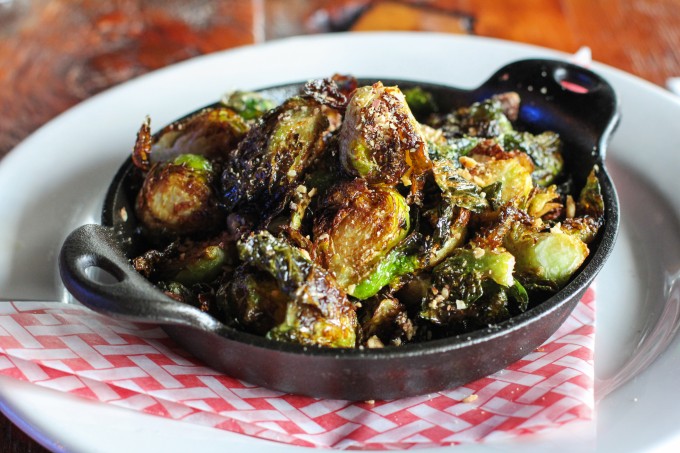 Gingham's Fried Brussels Sprouts
Ingredients
For the dressing:
1

cup

apple cider vinegar

1/2

cup

honey

2

salt-packed anchovies, rinsed and minced

1

cup

jalapeño chiles, seeded and minced

1/2

cup

fresh garlic, minced

Kosher salt and freshly ground black pepper, to taste
For the sprouts:
Canola oil, for frying

2

pounds

brussels sprouts, stems trimmed and cut in half

Finishing touches:

1/2

cup

smoked almonds, crushed

Kosher salt, to taste
Instructions
Make the dressing: In a medium bowl, whisk together all the dressing ingredients until smooth. Set aside.

Cook the brussels: In a large pan, heat oil to very hot (near smoking) and fry the brussels until crispy, about 1 to 2 minutes. (BE CAREFUL. They will pop! A splatter screen is strongly recommended.)

Drain the the brussels sprouts on paper towels, then toss them with the dressing, smoked almonds, and salt to taste.
Tried this recipe?
Tag @brandiego on Instagram so I can check it out!
A big thanks to the friendly Gingham team who graciously hosted this lunch for Jorge and me.
*Gingham has now closed its doors.
9