A couple of months ago, I had a Breakfast Pizza with Chorizo and Candied Jalapeños at The Farmer & The  Seahorse here in San Diego, and I've had it on my must-make list ever since!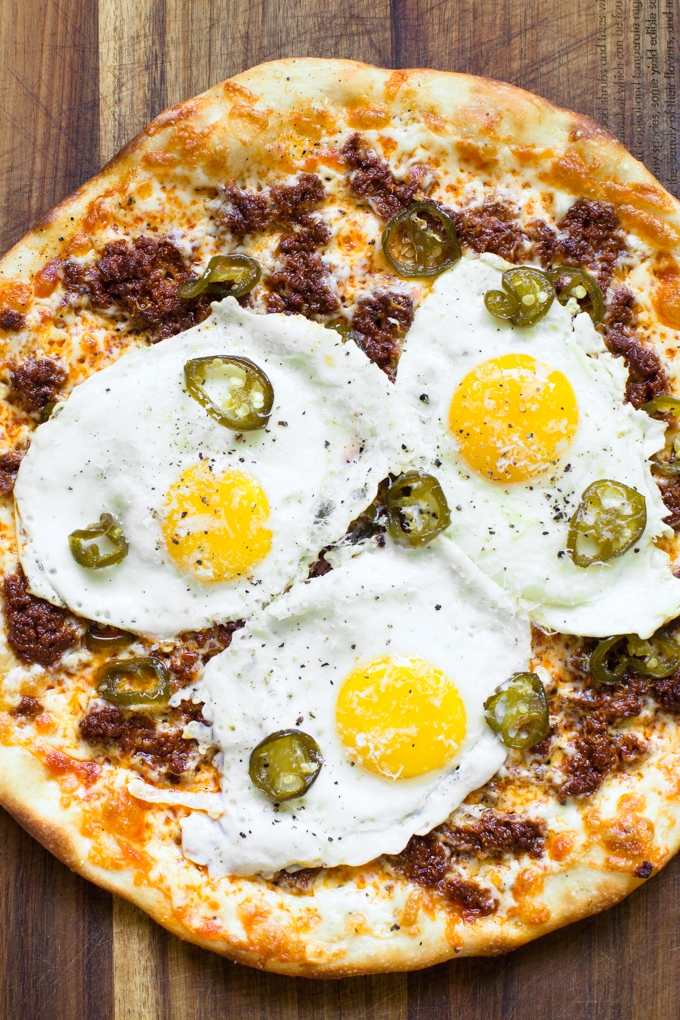 So when I saw a recipe for candied jalapeños in Rebecca Lindamood's new book, Not Your Mama's Canning Book, I knew the time was right to recreate this tasty dish.  Rebecca and I went to Tuscany last year with DaVinci Wine, and we had such a fun time.  She's so kind and knowledgable, and she even hosted an impromptu barre class to help us burn off some of the meat and cheese we'd been gorging ourselves on!  Rebecca is a true pleasure to be around, so I am more than happy to help promote her new book!  Let's talk pizza first.
Pillowy pizza dough is stretched into a thin round then topped with shredded mozzarella, cooked Mexican chorizo and grated Parmesan.  As the pizza cooks in the oven, the fat from the chorizo melts into the mozz, infusing the cheese with color and spice.  Once out of the oven, the pizza is finished with sunny side up eggs and homemade candied jalapeño slices.  Each bite packs some big bold flavor from the chorizo with pops of sweet heat from the jalapeños.  The crunchy, golden crust is perfect for mopping up all the runny egg yolk.  This pizza can be enjoyed for breakfast, brunch or dinner!  Continue reading for the recipe.