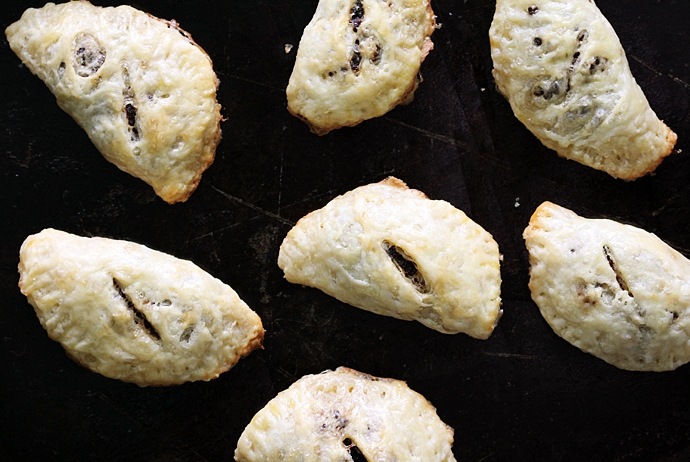 This post may contain affiliate links.
Bacon Jam Hand Pies.  Oh yes.
I recently sat in on an online food photography workshop taught by Penny De Los Santos.  One of the assignments included photographing a food truck experience.  While Penny was making photographs of Skillet (the food truck), the owner mentioned one his products, bacon jam.  Since first seeing that bacon jam, I've been dying to make a version of my own.
This recipe for Bacon Jam Hand Pies features rich, savory bacon jam encased in light, flaky pastry.  Topped with smoked sea salt, these hand pies are to. die. for.  Please note that the recipe below is quite in depth, so plan your time appropriately.  But do give this a try, you won't be sorry.  Continue reading for the recipe.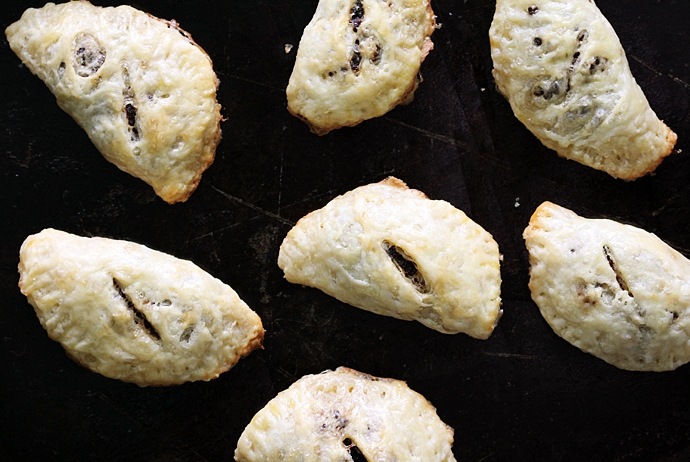 Bacon Jam Hand Pies
Ingredients
To make the bacon jam:
1

pound

smoked bacon

1

large onion, thinly sliced

5

garlic cloves, minced

3

tablespoons

brown sugar

Tabasco Sauce, to taste

1

cup

brewed coffee

1/4

cup

apple cider vinegar

1/4

cup

maple syrup

Freshly ground black pepper

1/4

teaspoon

smoked paprika

1/4

teaspoon

ground allspice

1

tablespoon

red wine vinegar
To make the pastry dough:
2 1/2

cups

all-purpose flour

1/2

teaspoon

fine grain sea salt

16

tablespoons

2 sticks unsalted butter, cut into cubes

1/2

cup

sour cream

4

teaspoons

fresh lemon juice

1/2

cup

ice water

1

egg yolk, for the egg wash

Smoked sea salt, for sprinkling
Instructions
To make the bacon jam:
In a large, heavy bottom pot, cook the bacon over medium heat, working in batches to avoid crowding the pot. Cook just until lightly brown and starting to crisp (no black spots). Set aside to cool.

Add onion and garlic to the same pot and cook until soft and translucent (about 10 – 12 minutes), stirring occasionally. While the onion is cooking, cut bacon into 1 inch strips.

Return the bacon to pot and add brown sugar, brewed coffee, apple cider vinegar and maple syrup, stirring to combine. Bring the mixture to a boil, then reduce to low and simmer uncovered for 3 hours, stirring every once in a while to prevent sticking. Stir in 1/4 cup of water every 30 minutes. After 3 hours the mixture should be thicker and have a deep, rich brown color.

Let cool for 20 minutes then transfer to a food processor. Pulse several times for a chunkier jam or pulse many times for a smoother jam. If you want to enjoy the jam sans pastry, I would recommend finishing this recipe by seasoning with the ingredients mentioned below. No additional cooking needed. If you are continuing on to make the hand pies, follow all instructions below to remove some of the fat from the jam. This will keep your hand pies from being too greasy.

Transfer to small bowl, cover and refrigerate overnight or for several hours.

Remove the bowl from the refrigerator and with a spoon, skim off most of the solidified fat found on top of the jam. Discard fat. Transfer jam to a small, heavy pot and season with several turns of black pepper, 1/4 teaspoon smoked paptrika, 1/4 teaspoon ground allspice and red wine vinegar. Season to taste with additional tabasco sauce (for more heat) and red wine vinegar (for brighten flavors). Cook on low for an additional 30 – 45 minutes until most of the liquids have evaporated. Let cool before adding to hand pies.
To make the pastry dough:
Combine flour and salt in a bowl. Place the cubed butter in a another bowl. Chill both bowls in the freezer for 1 hour. Remove the bowls from the freezer and add flour, salt and butter to a food processor. Cut the butter into the flour by pulsing the food processor. Continue pulsing until the mixture resembles coarse meal. Turn mixture out onto a work surface or silpat.

In a small bowl, whisk together sour cream, lemon juice and cold water. Form a well in the middle of your flour butter mixture. Add half of the sour cream mixture to the well. Using your fingers, mix the dry ingredients into the wet ingredients until large lumps form. Remove the large lumps and set aside. Repeat this process with the remaining liquid and flour butter mixture. Pat the lumps into a ball, cover with plastic wrap and refrigerate for 1 hour. Be sure to not overwork the dough throughout this entire process. Overworked dough = tough pastry.
To make the hand pies:
Divide the dough in half. Return one half to the refrigerator and place the other half on a lightly floured work surface or silpat. Roll out the dough to a 1/8 inch thickness. Using a 3 1/2 inch (or larger) round cookie cutter, cut circles out of the rolled dough. The amount of circles will depend on the size of your cutter. You can also reroll and cut more circles from the scraps. Transfer the circles to a baking sheet lined with parchment paper or a silpat. Chill circles in the refrigerator for about 30 minutes. While waiting, repeat the rolling, cutting and chilling process with the remaining half of dough.

Remove the chilled dough circles from the refrigerator. Prepare a small bowl of water and ice and set aside (to seal the hand pies).

Spoon 1 to 2 teaspoons of bacon jam onto one half of each circle. Dip your fingers in the cold water bowl and run them around the circumference of the dough. Fold the dough in half so the one side comes down over the filling, making a semicircle. Using a fork, press the edges of the dough together. This will seal the pies and create a nice, decorative edge. Repeat this process with remaining circles. Return the lined baking sheet to the refrigerator and chill the semicircles for another 30 minutes.

Preheat oven to 375°F. Place 1 egg yolk in a small bowl with 1 tablespoon of water. Beat to combine and set aside (for the egg wash).

Remove the chilled semicircles from the refrigerator and cut a small slit on the top side of each. Lightly brush each semicircle with the prepared egg wash and sprinkle with smoked sea salt. Bake until the hand pies are golden and slightly cracked (20 – 22 minutes). Remove the pies from the oven and let cool slightly before serving.
Tried this recipe?
Tag @brandiego on Instagram so I can check it out!
1