This post may contain affiliate links.
Each time I make jam, I'm always surprised at how tasty it turns out. As I stir the pot of bubbling fruit and sugar, I always think to myself, "Is this going to be too sweet? Or too one-dimensional?" But I've discovered a few tricks to achieve good balance and flavor. The first is to use lemon or lime to balance out the sweetness. Once your jam has reached a desired consistency, taste for sweetness. Stir in some citrus juice until you reach that perfect sweet-tart balance. It's that easy! Next, add depth of flavor with a liqueur. If you're making raspberry jam, add some Chambord. Blueberry jam? Try Limoncello. Or pair Art in the Age Rhubarb Liqueur with a batch of strawberry jam. Just 1 to 2 tablespoons of liqueur will add some major flavor to the jam.
With this Apricot Elderflower Jam, I've mixed beautifully ripe apricots with fragrant St. Germain, an elderflower liqueur. Both the apricots and liqueur have floral notes, and the marriage of the two is nothing short of heaven. Seriously. After my first taste, I gasped and exclaimed, "OMG." Make this jam now while apricots are still in season. St. Germain is a little on the pricey side, but I guarantee you will enjoy every last drop (especially mixed with champagne!). Continue reading for the recipe.
I used a special variety of apricot for this recipe called Crimson Velvet. I know that sounds a bit like a strip club, but I assure you that they are unbelievably tasty. If you live in the San Diego area, you can get them right now at Specialty Produce. If you can't find them in your area, you can certainly use regular apricots. Just make sure they are ripe.
As the jam cooks, its color transforms from yellow-gold to blushing red. It's really quite remarkable. Like a sun setting over the Pacific ocean.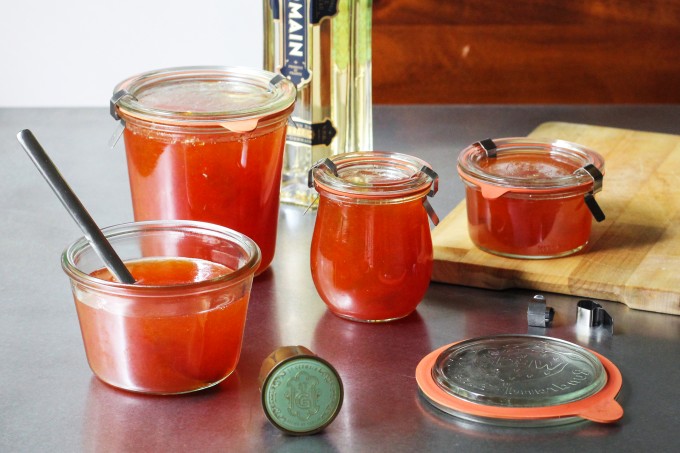 Apricot Elderflower Jam
Ingredients
2

pounds

fresh apricots, cut in half and pitted

1/2

cup

water

5

cups

sugar

1

tablespoon

freshly squeezed lemon juice, plus more to taste

1

tablespoon

St. Germain liqueur, plus more to taste
Instructions
Set 2 small plates in the freezer. These will be used later to test consistency.

Place the halved apricots and water in a large, heavy-bottomed pot over medium heat. Bring mixture to a boil, cover, and reduce heat to low. Cook the apricots until tender (timing will depend on how soft they are at the beginning).

Remove the lid and add the sugar, stirring to combine. Increase heat to medium and let the mixture violently bubble up. Eventually the bubbles will start to rise and with them a white foam. Skim off any foam that rises to the top. Once you've skimmed all foam, reduce heat to medium-low, and cook until the mixture thickens and reduces. Be sure to stir frequently to keep the bottom from burning.

To test the consistency of your jam, take one of the plates from the freezer, and spoon a small amount on the plate. Return the plate to the freezer, and wait 2 minutes. Push the chilled jam with your finger. If it starts to pile up on itself, it's done. If it seems too thin, cook the jam for 5 to 10 minutes more, and test again. This whole process took me about 35 minutes.

Once you've achieved the desired consistency, take the jam off the heat. Stir in lemon juice and St. Germain liqueur. Add additional citrus juice and liqueur to taste. I sprinkled in a bit more lemon juice and another splash of liqueur.

Transfer jam to a large, clean container (or several small containers), cover tightly, and let cool to room temperature. Store in the refrigerator for up to 1 year.
Tried this recipe?
Tag @brandiego on Instagram so I can check it out!
Related recipes and articles:
5