And the chia pudding obsession continues.
This post may contain affiliate links.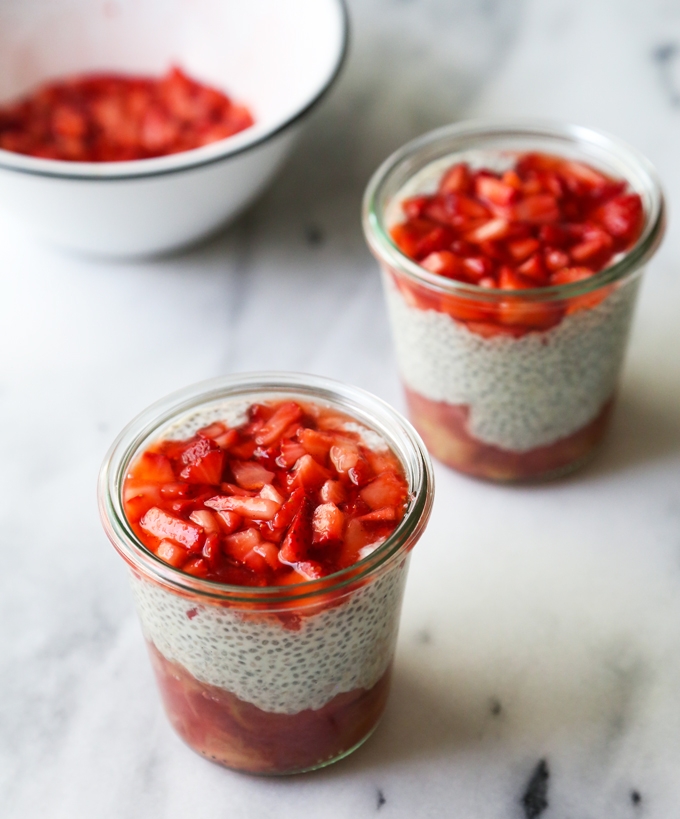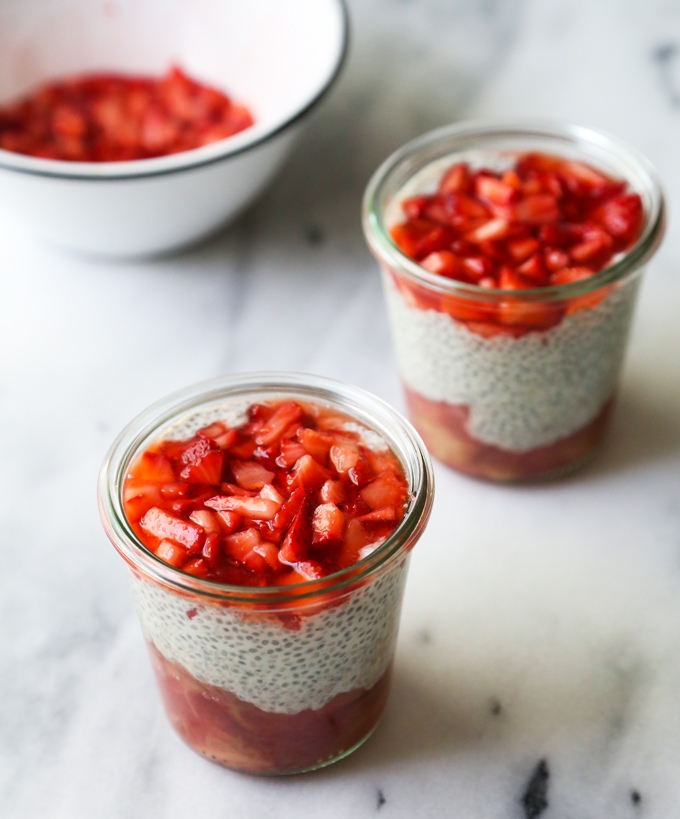 In this recipe for Strawberry Rhubarb Chia Cups, creamy lemon chia pudding is layered with sweet-tart rhubarb, and chopped strawberries infused with lemon and vanilla.  As you are eating this sweet treat, you can either mix everything together all at once, or you can leave the layers intact, allowing for a variety of tastes with each bite.  I prefer the second option.
Chia pudding is something I eat for breakfast or dessert several times a week, so I am always looking to switch up my flavor combinations.  If you are unfamiliar with chia pudding, check out my explanation here.  Often, I top chia pudding with nuts and dried fruit; however, I also like to make fresh fruit toppings with seasonal produce.  Here, I've chosen the classic combination of strawberry and rhubarb.  Both blushing beauties undergo a quick cooking process to amp up sweet-tart flavors (stewing for the rhubarb and maceration for the strawberries).  The finished pudding is so rich and delicious.  You'd hardly guess it was actually healthy for you!  Continue reading for the recipe.
When trying to infuse flavor into savory foods, the process is called marination.  When you want to do the same with sweets, it's called maceration.  Here, I've macerated strawberries with my homemade vanilla sugar, and a squeeze of fresh lemon juice.  Basically, you just toss the whole lot together, and let sit for 30 minutes.  The strawberries will release their natural juices while absorbing the flavors of lemon and vanilla.
Maceration is a great way to doctor up fruit that's not at peak ripeness.  The strawberries pictured above were a bit on the tart side, but you would never know after they've been macerated.  The process is also very forgiving.  After you've let the fruit sit for 30 minutes, you can adjust the flavors to taste, adding more sugar or lemon juice if needed.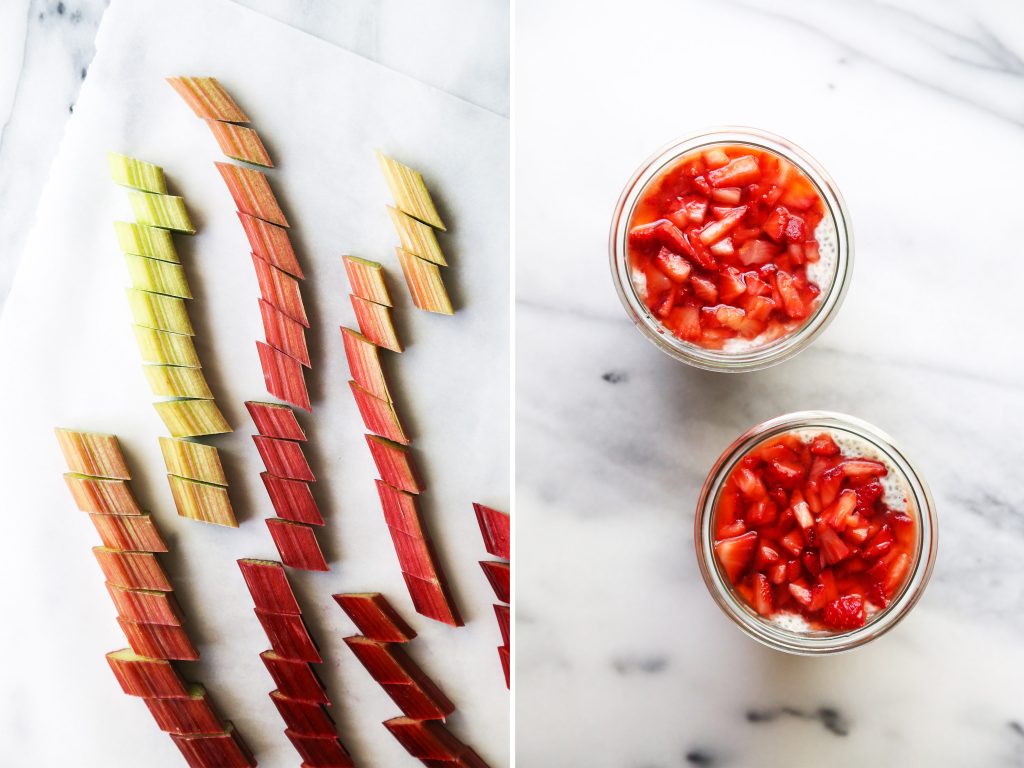 For the rhubarb, some heat is required to infuse flavor, so I opted for the stewing cooking process.  Chopped rhubarb is combined with vanilla sugar and water in saucepan, then cooked over low heat until just melting.  You really have to watch the rhubarb during this process, because the texture can go from perfection to mush in a matter of moments.  If your rhubarb goes too far though, don't worry – it'll still be a tasty mush.  Stewed rhubarb is finished with just a squeeze of lemon to brighten flavors.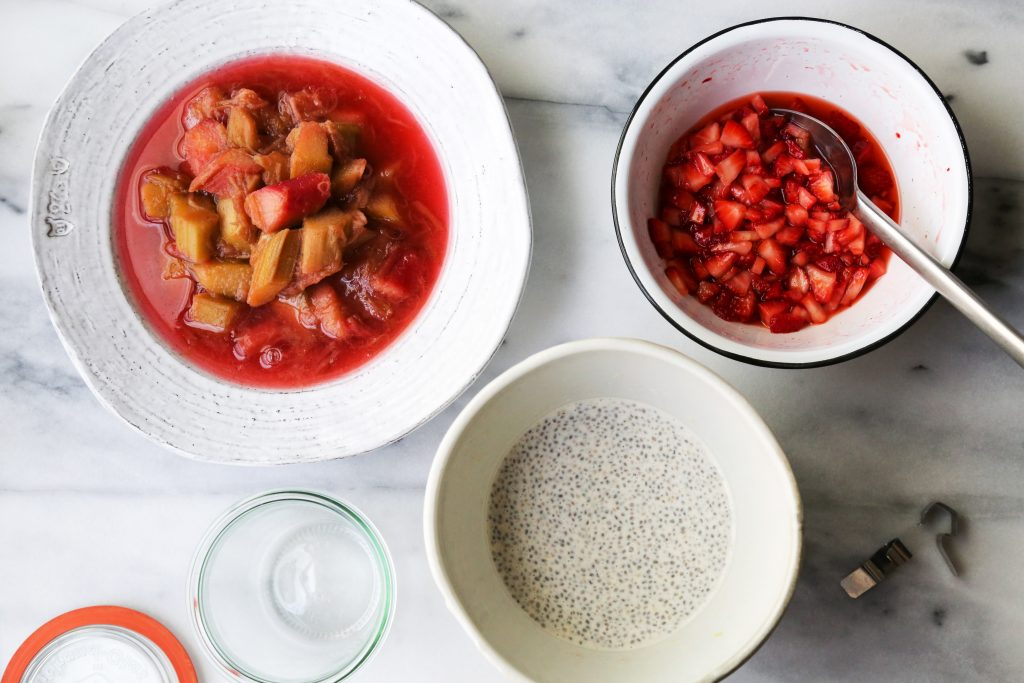 Strawberry Rhubarb Chia Cups
Ingredients
For the chia pudding:
3

tablespoons

black chia seeds

3/4

cup

almond milk (or any other milk)

1/4

cup

heavy cream (or more almond milk)

1

teaspoon

runny honey, plus more to taste

1/4

teaspoon

vanilla extract

Zest of 1 lemon

Small pinch of kosher salt
For the stewed rhubarb:
3/4

pound

rhubarb about 3 stalks, trimmed and sliced into 3/4 inch pieces

1/3

cup

water

Squeeze of lemon
For the macerated strawberries:
Instructions
Add chia seeds, almond milk, honey, vanilla, lemon zest, and kosher salt to a medium bowl, whisking to combine. Whisk 2 more times within a 10 minute period, then cover the bowl with plastic wrap, and transfer to the refrigerator. Let sit overnight (for up to 2 days).

Meanwhile make stewed rhubarb and macerated strawberries. Add rhubarb, vanilla sugar and water to a medium saucepan over medium-high heat, stirring to dissolve the sugar. Bring mixture to a boil, reduce heat to low, and simmer until rhubarb is tender but not completely falling apart (8 - 10 minutes). You'll want to stir occasionally, but be gently when you do. Once the rhubarb is cooked, gently stir in a squeeze of lemon, then taste for sweetness. If you find the mixture to be a bit on the tart side, stir in a little extra sugar. There should be a good balance of sweet and tart. Let mixture cool completely, then store covered in the refrigerator until you're ready to use it.

Add finely chopped strawberries to a small bowl with the vanilla sugar and lemon, stirring to combine. Let sit for 30 minutes, then store covered in the refrigerator until you're ready to use it.

To serve, whisk the chia seed-almond milk mixture to break up any lumps. Taste for sweetness, and add additional honey if needed. Add 2 - 3 spoonfulls of the stewed rhubarb to small jar or bowl. Top with half of the chia pudding mixture, then finish with a layer of macerated strawberries. Repeat with another small jar or bowl. You will have a little extra stewed rhubarb and macerated strawberries. Strawberry Rhubarb Chia Cups can be enjoyed immediately or store in the refrigerator for up to 2 days.
Tried this recipe?
Tag @brandiego on Instagram so I can check it out!
8