This post may contain affiliate links.
If you follow me on Instagram, I'm sure you've noticed that I've been obsessed with chia pudding recently.  Some of you may be unfamiliar with chia pudding, so let me explain the basics first.  Chia pudding is made by hydrating chia seeds in a liquid.  Yes, that's right.  The same ch-ch-ch-chia seeds from that commercial in the 80's.  After an overnight soak, the chia seeds thicken the liquid and take on a tapioca-like consistency.
So here's why I am obsessed:
This recipe doesn't require any actual cooking.  You simply need to whisk the seeds into some sort of liquid (almond milk here), and let it sit in the refrigerator overnight.  The next morning – BOOM – chia pudding.
Chia seeds are incredibly healthy.  They are rich in fiber, omega-3s, and antioxidants.  One serving of chia pudding keeps me full for most of the morning.
Chia pudding is a perfect paleo breakfast.  Yes, I am still doing that paleo thing part-time ;).
Flavor variations are limitless.  You can switch up the soaking liquid (almond milk, coconut milk, blend fruit), the sweetener (maple syrup, honey, stevia) and the toppings (fresh fruit, dried fruit, nuts, seeds, coconut, chocolate).
You can easily scale up the ingredients to make chia pudding for a crowd!
Today, I am sharing one of my favorite flavor combinations.  Chia seeds are soaked in almond milk flavored with honey, vanilla and Meyer lemon zest, then topped with flaked coconut, crystallized ginger, and toasted pistachios.  Sweet, spicy, creamy, and crunchy, this breakfast will surely start your day off with a smile.  Continue reading for the recipe.
Meyer lemons are in season now!  Get them while you can.  If you can't find Meyer lemons in your local market, you can use regular lemons instead.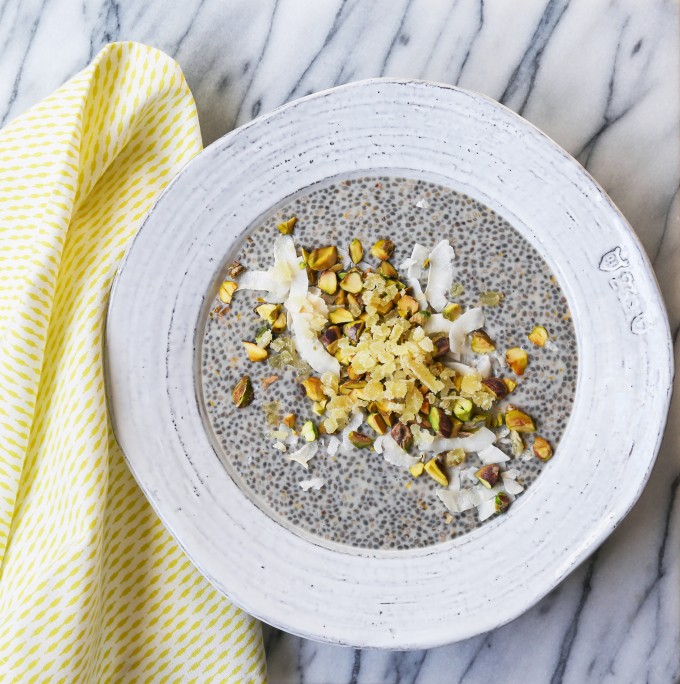 Meyer Lemon Chia Pudding
Ingredients
3

tablespoons

black chia seeds

1

cup

almond milk or any other milk

1

teaspoon

runny honey, plus more to taste

1/4

teaspoon

vanilla extract

Zest of 1 Meyer lemon

Small pinch of kosher salt

1

tablespoon

flaked coconut

1

tablespoon

toasted chopped pistachios

1

tablespoon

chopped crystallized ginger
Instructions
Add chia seeds, almond milk, honey, vanilla, Meyer lemon zest, and kosher salt to a medium bowl, whisking to combine. Whisk 2 more times within a 10 minute period, then cover the bowl with plastic wrap, and transfer to the refrigerator. Let sit overnight (for up to 2 days).

When you are ready to serve, whisk the chia seed-almond milk mixture to break up any lumps. Taste for sweetness, and add additional honey if needed (this shouldn't be too sweet). Top with flaked coconut, chopped pistachios and crystallized ginger.
Tried this recipe?
Tag @brandiego on Instagram so I can check it out!
4