This post may contain affiliate links.
I mention seasonal recipes and cooking quite often here on Kitchen Konfidence.  Cooking seasonally means you utilize ingredients in your dish that are currently in season in your area.  Some examples include berries in summer, pumpkins in fall, citrus in winter and asparagus in spring.  Ingredients can often be cheaper and more flavorful when in season.  This year, I am going to give you some insight on my favorite seasonal ingredients and a list of recipes that will help you get inspired in the kitchen.
First up: the Meyer lemon.  Native to China, Meyer lemons are a cross between a regular lemon and a mandarin orange.  They are in season from Autumn to Spring; however, I usually see them in markets here in San Diego starting in December and ending in March or April.  Enrobed in the most wonderfully fragrant skin, the flesh of a Meyer lemon is sweeter and less acidic than a regular lemon.  Try using a Meyer lemon in a recipe that normally calls for a regular lemon.  Be sure to taste for acidity though.  Meyer lemons can be quite sweet, so you may need to squeeze in some lemon or lime to add acidity.  Meyer lemons can be found at most major grocery stores, farmer's markets or even Costco!  Continue reading for a collection of 10 Meyer lemon recipes that will definitely get your creative juices flowing.
The sweetness of a Meyer lemon makes it perfect for desserts.  Utilize both the juice and zest of the Meyer to maximize the flavor.
Meyer Lemon, Vanilla Bean Cheesecake via Roost.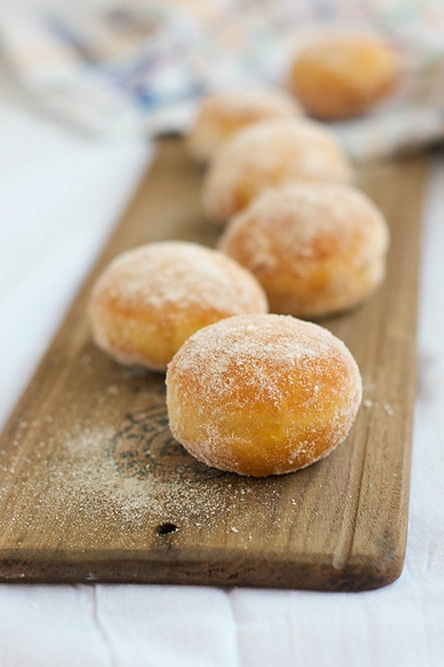 Meyer Lemon Doughnuts via Flour Child.
Meyer Lemon Curd via Kitchen Konfidence.
Meyer Lemon Cardamom Ice Cream via the LA Times.
Here are two gluten-free dessert options that feature Meyer lemons.
Meyer Lemon, Lime and Quinoa Pudding Cakes via Cannelle et Vanille.
Gluten Free Glazed Meyer Lemon Muffins filled with Slow Roasted Balsamic Red Wine Strawberry Jam via Eat the Love.
The unique, refreshing flavor of the Meyer lemon works very well in the beverage arena.  Try whipping up a Meyer Lemon Drop or this Meyer Lemonade via White on Rice Couple.
In addition to sweet applications, the Meyer lemon can also be used in savory recipes.
Mackerel with Roasted Fennel, Meyer Lemon, and Olives via Martha Stewart.
Meyer Lemon Risotto via 101 Cookbooks.
Preserved Meyer Lemons via Martha Stewart.
And if you still aren't inspired to get cooking with Meyer lemons, here is a list of 100 other things you can do with a Meyer lemon!  Enjoy 🙂
3