Today on Kitchen Konfidence, we're once again getting boozy.
This post may contain affiliate links.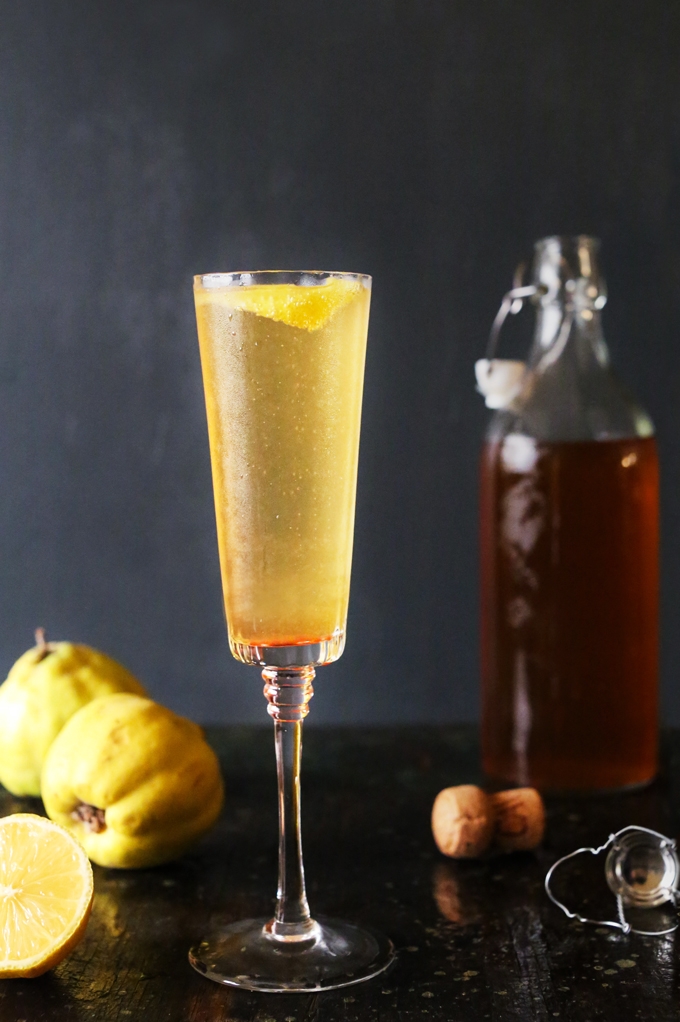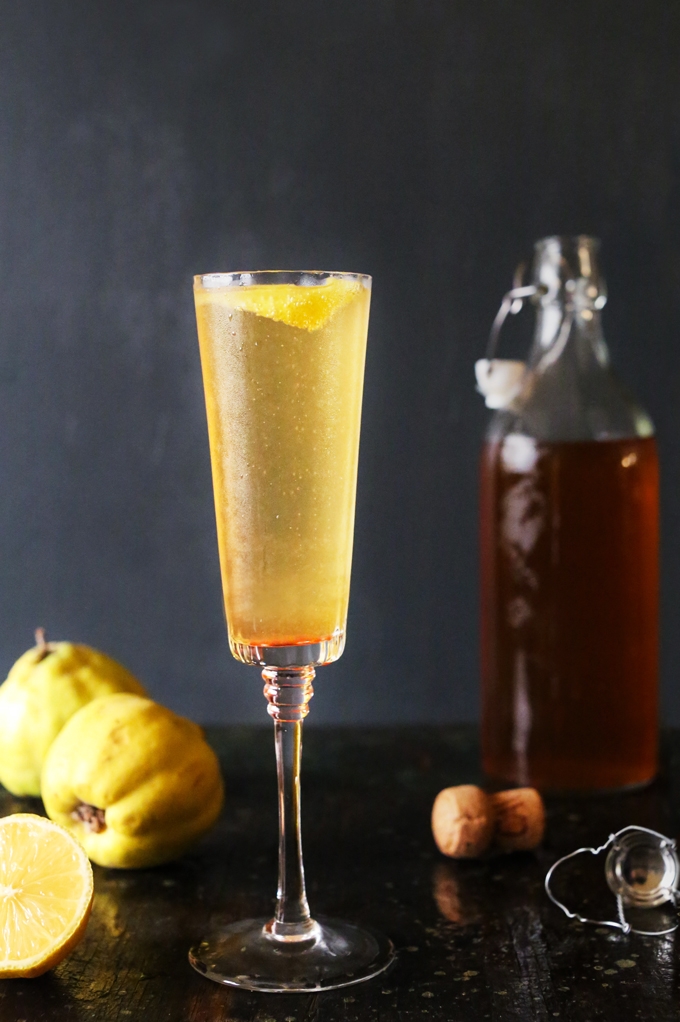 The Ginger Snap cocktail that I shared last week is for all your Holiday parties.  This Apple & Quince Sparkler is for New Year's Eve.  It's light, crisp, seasonal and 100% fabulous.  It's also the next signature cocktail in the What I Drink series, a spirited collaboration between me, Brian from A Thought For Food, and Vijay from Noshon.It.
The last time we got together, the three of us shared our go-to cocktails, including an Old Fashioned (made with Vanilla Sugar), a 1794 Cocktail, and a Blackberry Gin and Tonic.  Today, we're sharing a number of alcoholic beverages perfect for a New Year's Eve bash.  On the last night of the year, I often find myself drinking champagne or sparkling wine spiked with some sort of flavored liqueur.  Last year, it was St. Germain.  This year, it's my homemade Roasted Apple and Quince Liqueur.  Sounds fancy, but it's super simple to make.  Continue reading for the recipe plus links to Brian's and Vijay's cocktails.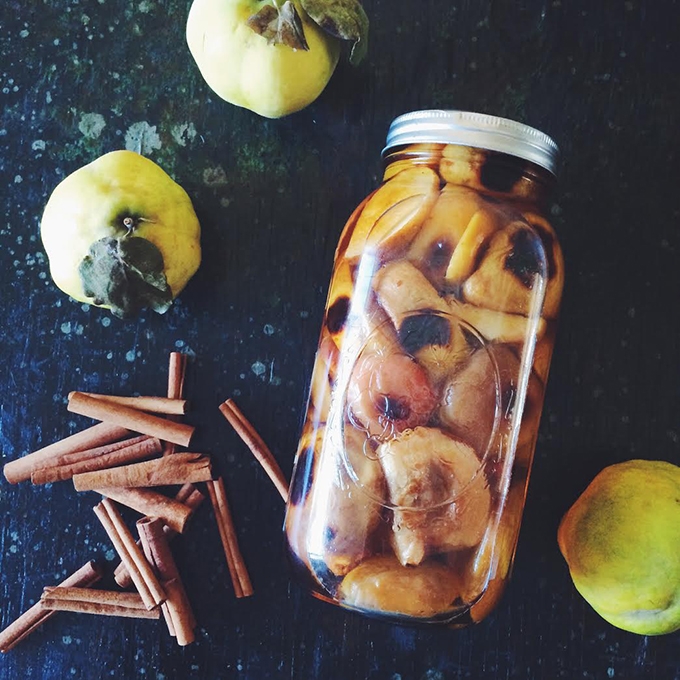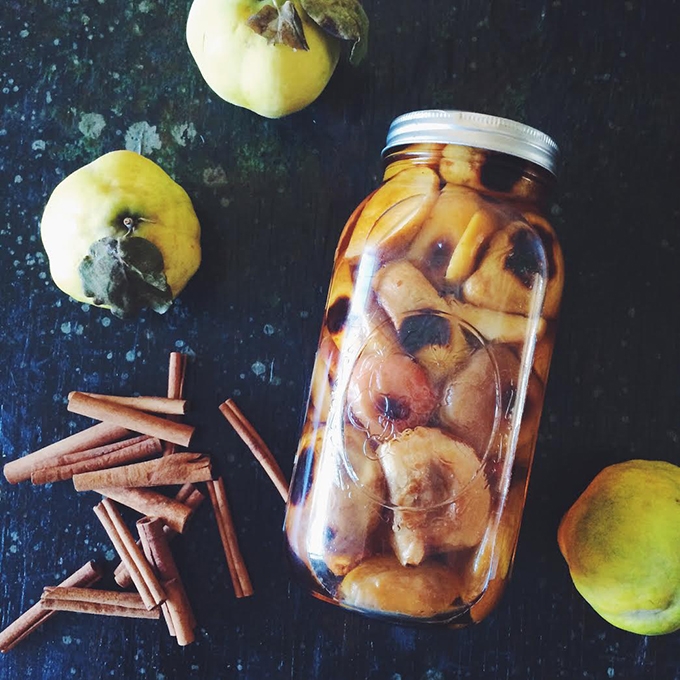 Before we get to the cocktails, let's talk about this liqueur.  To be honest, when I was first putting this liqueur together, I wasn't intending to pair it with champagne.  Or to really even feature it on the blog (the photo above is from Instagram!)!  I had some apples and quince sitting around from a Thanksgiving week Farmer's Market Box, and I wanted to use them up before they went bad.  After letting the liqueur infuse for a week and half, I took my first sip, and exclaimed "Holy Sh*t!!"  It was incredible.  Thankfully, I took some notes, so I can share the recipe with you today 🙂
The liqueur starts with cored apples and quince roasting in a hot oven.  I had organic Pink Lady apples on hand, but any ripe, fragrant apple will do.  The quince should also be ripe and fragrant.  The roasting process removes water, caramelizes sugars and concentrates flavor.  The cooked pieces of apple and quince are then transferred to a jar with warm spices, orange zest and a rich sugar syrup (2 parts sugar, 1 part water).  Brandy is added to fill the jar, and then the mixture rests at room temperature for 1 – 2 weeks.  The finished liqueur is flavored with notes of golden warmth, aromatic fruit and subtle spice.  It's pleasant chilled as-is or pairs perfectly with champagne or sparkling wine.
This Apple & Quince Sparkler is a simple mixture of the aforementioned liqueur, freshly squeezed lemon juice and brut bubbly.  It's bold yet balanced, and comes together in a snap.  You can drink these all night long without worry of over-sugaring yourself.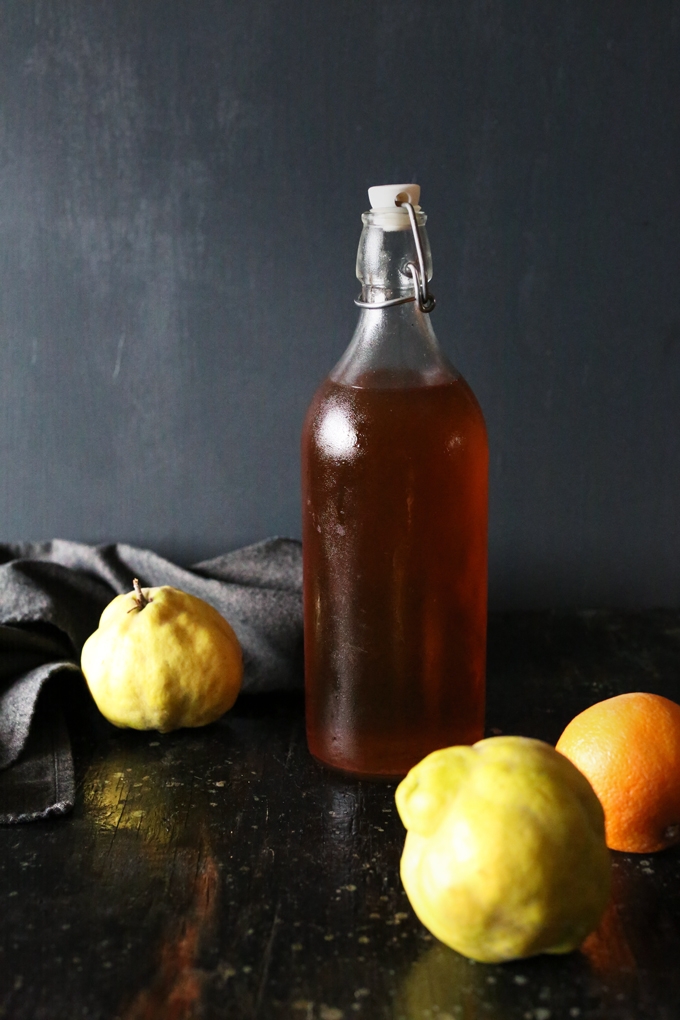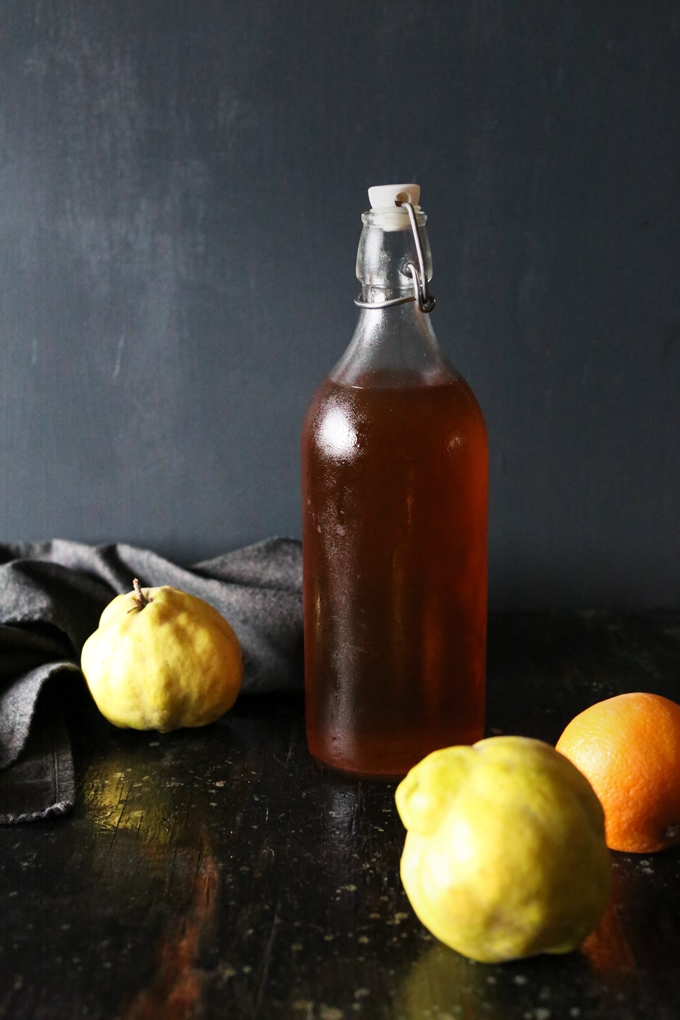 If you want to enjoy this cocktail on New Years Eve, make sure you start the Roasted Apple and Quince Liqueur in the next few days.  Enjoy!!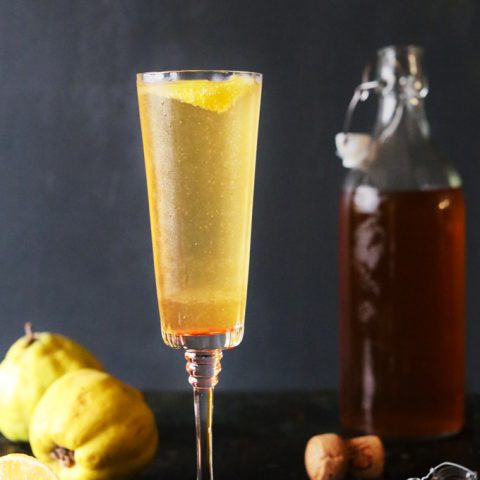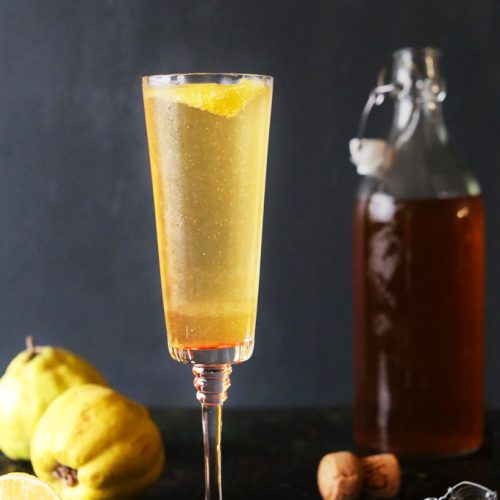 Apple & Quince Sparkler
Ingredients
1 1/2

ounces

Roasted Apple and Quince Liqueur (recipe below), well chilled

1/2

ounce

freshly squeezed lemon juice

Brut champagne or sparkling wine, well chilled

Lemon zest strip, for garnish
Instructions
Add Roasted Apple and Quince Liqueur and lemon juice to a champagne flute. Top off with champagne. Gently stir to combine. Garnish with strip of lemon zest.
Tried this recipe?
Tag @brandiego on Instagram so I can check it out!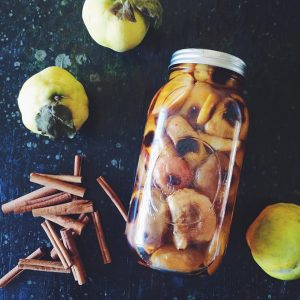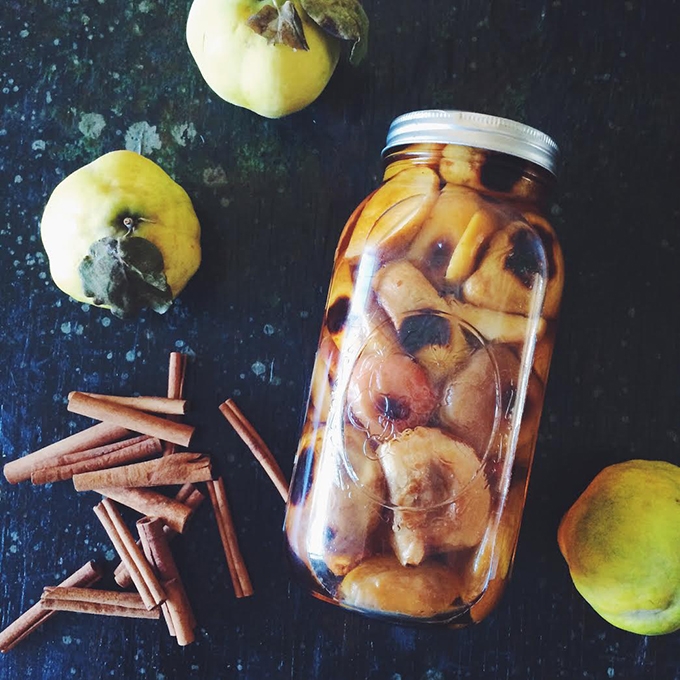 Roasted Apple and Quince Liqueur
Ingredients
3

ripe apples (such as Pink Lady, Gala, Fuji, Honeycrisp)

3

ripe quince*

2

cups

sugar

1

cup

water

2

cloves

1

cinnamon stick

2

(3-inch)

strips of orange zest

About 750 ml good quality brandy
Instructions
Preheat an oven to 375°F, and line a baking sheet with parchment paper. Core each apple and quince by first cutting off the cheeks (large segments), then the remaining smaller sides. Discard the cores. Place apple and quince pieces on the prepared baking sheet and roast until tender, fragrant, and slightly caramelized in some spots (30 - 35 minutes). Shake the pan every 15 minutes to ensure even roasting.

Meanwhile, warm sugar and water in a medium saucepan over medium-high heat, stirring until the sugar dissolves. Bring the mixture to a boil, bubble for 1 minute, then take the saucepan off the heat. This is known as a rich syrup.

Transfer the roasted apples and quince to a large mason jar (I used one that's 1500 ml / 3 pints). Add the rich syrup, cloves, cinnamon stick and orange zest. Let the mixture cool a bit, then add brandy to fill up the jar (you may not use the full 750 ml).

Let infuse at room temperature for 1 - 2 weeks (depending on the ripeness of your fruit), shaking the jar every couple of days. Start tasting at 1 week. The liqueur should be sweet with pleasant notes of apple, quince and spice. Once you are pleased with the flavor, strain into a clean jar/bottle. Discard solids. Store in the refrigerator for up to 1 month or in the freezer for up to 3 months.
Notes
* Can't find quince at the market? You can certainly use all apples here. If you go that route, I'd recommend using different varieties to get some depth of flavor. Get 6 apples total, but pick 3 different types of apples. Pears would also be nice here as well.
Tried this recipe?
Tag @brandiego on Instagram so I can check it out!
Also, be sure to check out The Cider Mill by Brian:
And Vijay's Sangre and Sand cocktail:
We hope you have a safe and happy New Year.  Cheers!
9