Happy first day of December!!  Can you even believe 2016 is almost over?!
This post may contain affiliate links.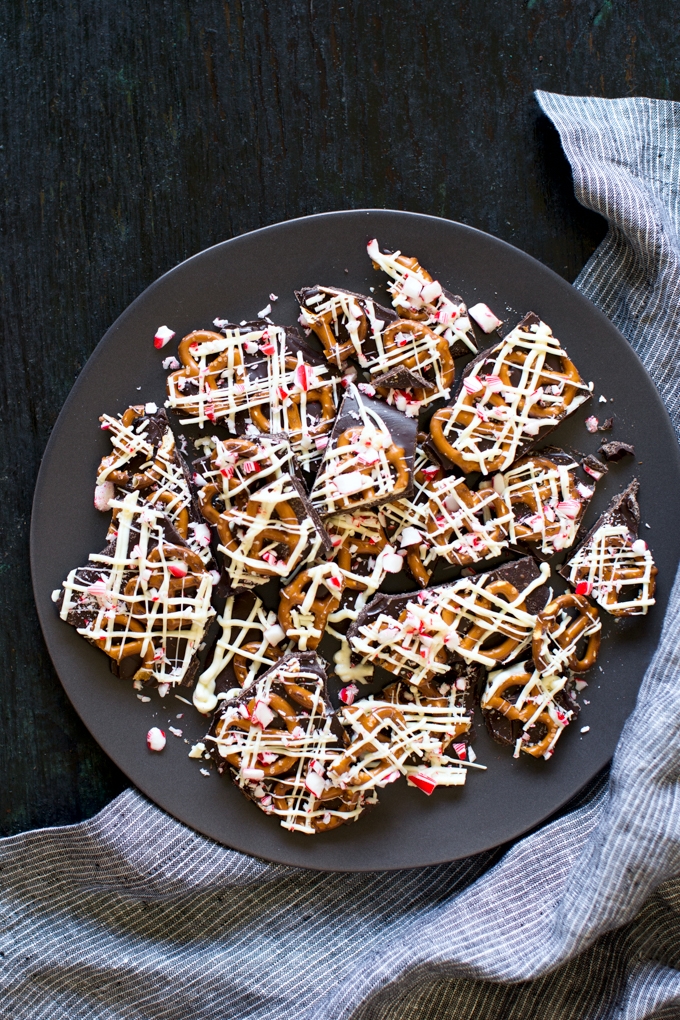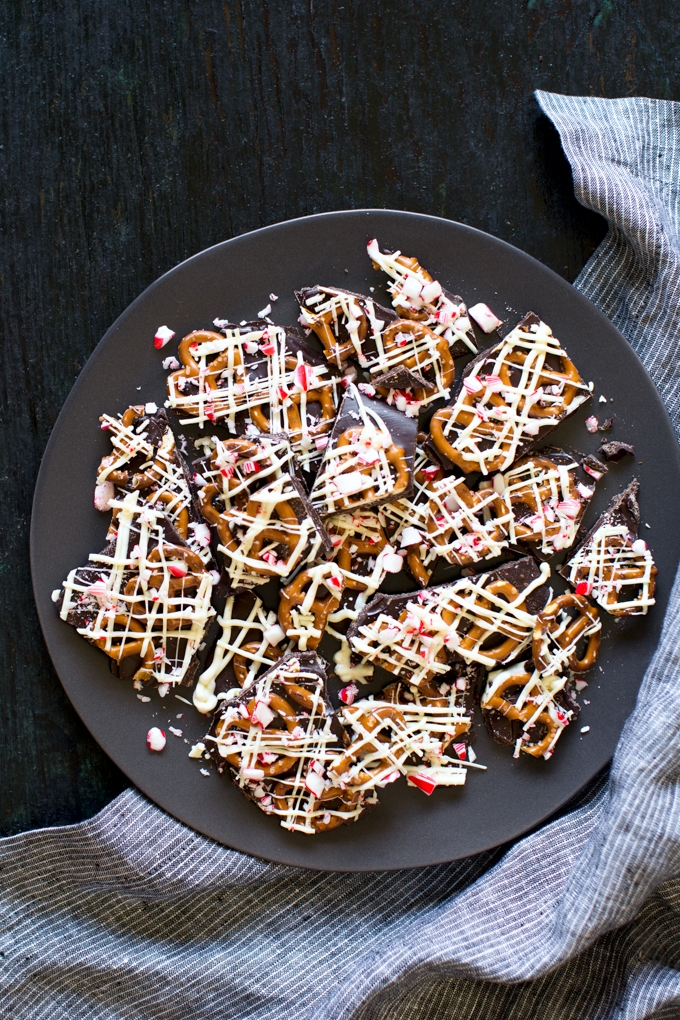 Throughout the entire month of December, I am going to be sharing a series of sweet treats with some spirited cocktails thrown in the mix.  To kick things off, I'm sharing this really easy Salted Pretzel Peppermint Bark recipe.  Peppermint bark has become a staple at my house during the Holiday season, and usually I just pick up a tin from Williams-Sonoma.  This year, I thought I'd try making it at home, and I was pleasantly surprised at the simplicity of the whole process.  You start by melting a mix of bittersweet and semisweet chocolate in the microwave.  The melted chocolate is then smoothed out on a sheet of parchment paper and topped with mini salted pretzels (my own personal twist).  Next, you melt white chocolate in the micro and stir in peppermint extract.  The white chocolate gets drizzled enthusiastically on top, and the bark is then finished with bits of crushed up candy cane.  With each bite you'll get a hit of sweet peppermint paired with the crunch of salted pretzels.  The smooth, richness of the dark chocolate comes in at the end.  This Salted Pretzel Peppermint Bark would be a festive addition to any Holiday party, and it's also a perfect homemade gift.  Continue reading for the recipe.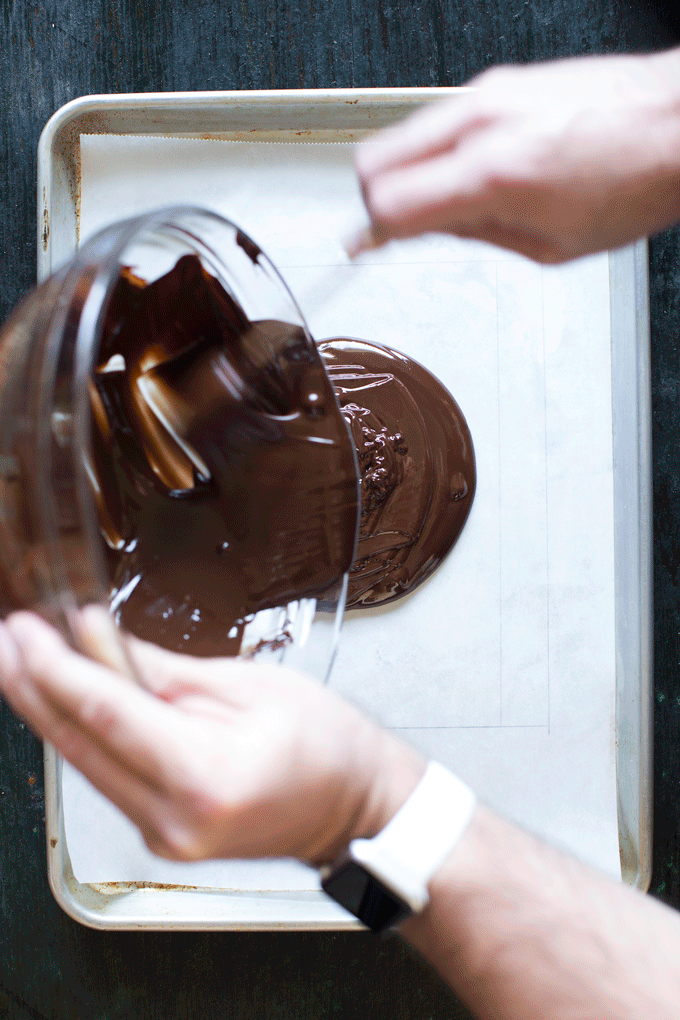 The only part of this recipe that requires a little attention is the process of melting chocolate in a microwave.  If left unattended, the chocolate can easily scorch in the micro.  Luckily the steps are easy to achieve perfectly melted chocolate:
Start with chocolate bars rather than chocolate chips.  Added stabilizers in chips can negatively affect the final product.
Place 3/4's of the chocolate in a medium glass bowl.
Microwave on high for 30 second intervals, stirring well after each 30 seconds.  Stirring is key here, because the chocolate may visibly look like it's not melting, but once you start stirring, the chocolate will smooth out.
Large amounts of chocolate can take around 1 1/2 to 2 minutes while smaller quantities can be done in 30 seconds to 1 minute.
Once the chocolate is just melted, stir in the remaining 1/4 of the chocolate.  This will immediately drop the temperature of the chocolate, and keep it from overcooking.
If the chocolate is not 100% smooth at this point, then you can heat it in the microwave for just 15 seconds, then continue stirring.
Melting chocolate this way will not give you the perfect sheen that you would get from tempering chocolate, but this method is much easier, and it still looks great.  Especially since the dark chocolate is covered with pretzels, white chocolate and candy cane bits!
Salted Pretzel Peppermint Bark Recipe
Ingredients
8

ounces

semisweet chocolate, finely chopped

8

ounces

bittersweet chocolate, finely chopped

40 - 50

small salted pretzels

8

ounces

white chocolate, finely chopped

3/4

teaspoon

peppermint extract

2

candy canes, crushed
Instructions
Line a baking sheet with parchment paper. Using a pencil, draw a 9" by 10" rectangle lengthwise in the middle of the parchment. Flip the paper over so you can see the rectangle, but the pencil won't rub off.

Place 3/4's of the semisweet and bittersweet chocolate in a medium glass bowl. Microwave on high for 30 seconds, then stir the chocolate. Microwave on high again for 30 seconds, then stir the chocolate. Continue microwaving at 30 second intervals and stirring until the chocolate is just melted. Stir in the remaining semisweet and bittersweet chocolate until smooth. Microwave for an additional 15 seconds on high if the chocolate isn't fully melting.

Pour the chocolate on to the prepared baking sheet, and gently smooth it out to fit the rectangle (doesn't have to be perfect). Cover the surface of the chocolate with even rows of pretzels (see graphic above), gently pressing them in.

Melt white chocolate using the same method above (30 seconds of cooking, then stir). The white chocolate will melt fast since it's a smaller amount. Stir in peppermint extract. Pour white chocolate into a small zip top bag, close the bag, then cut off a little bit of one of the bottom edges (an improvised piping bag). Drizzle the white chocolate back and forth over the pretzels in a criss-cross pattern. You will have leftover white chocolate (great in coffee!). Finish by sprinkling the surface of the bark evenly with crushed candy cane (you'll have leftover here too).

Let the bark sit at room temperature for at least 2 hours, so the chocolate can firm up. Using a sharp knife, carefully cut the bark into pieces. Don't use your hands or excess force here, because the pretzels will break free from the chocolate. Store in an airtight container at room temperature for up to 2 weeks.
Tried this recipe?
Tag @brandiego on Instagram so I can check it out!
Here are some other festive dessert recipes on Kitchen Konfidence: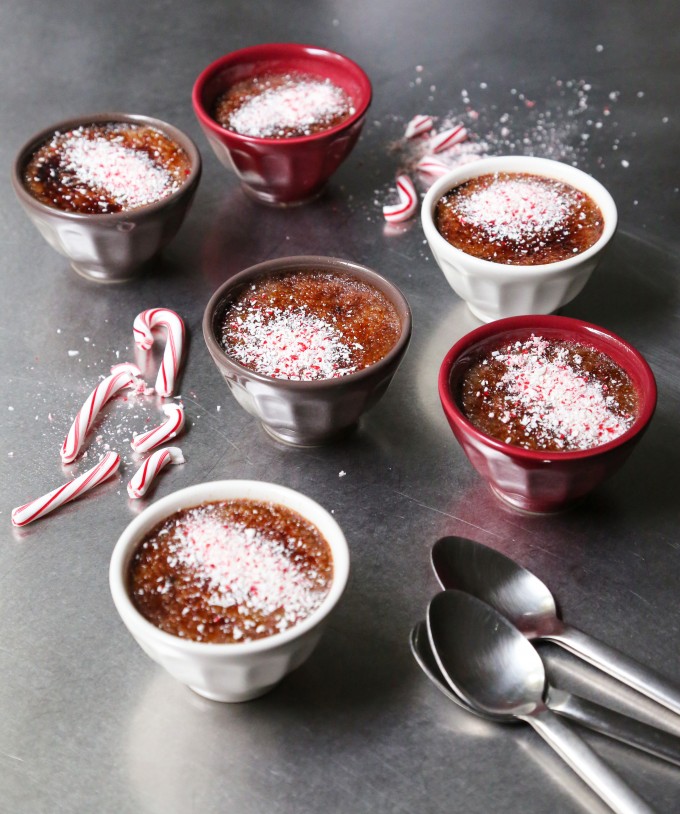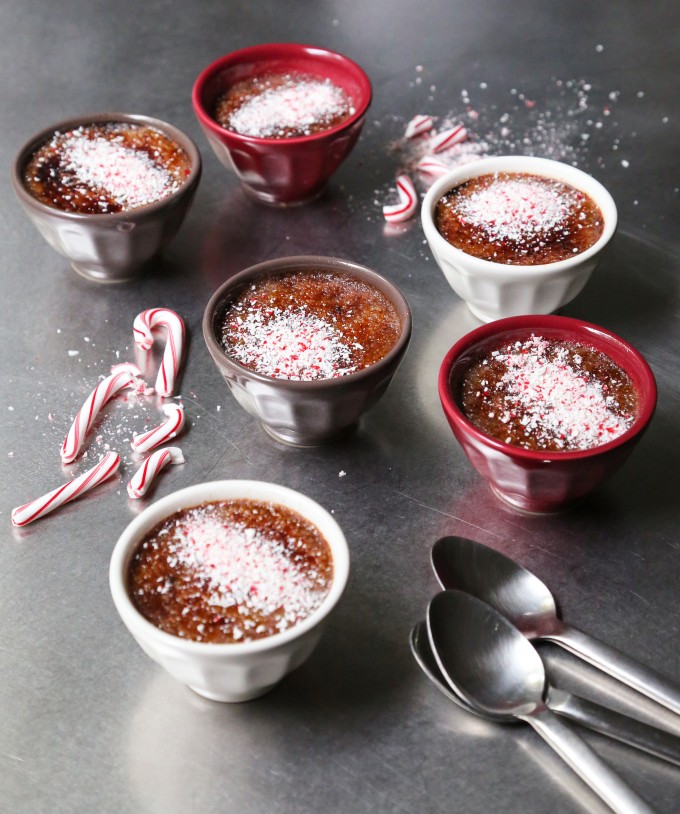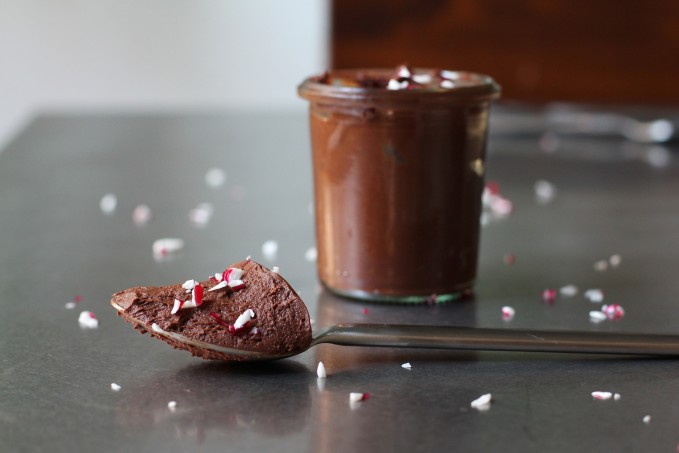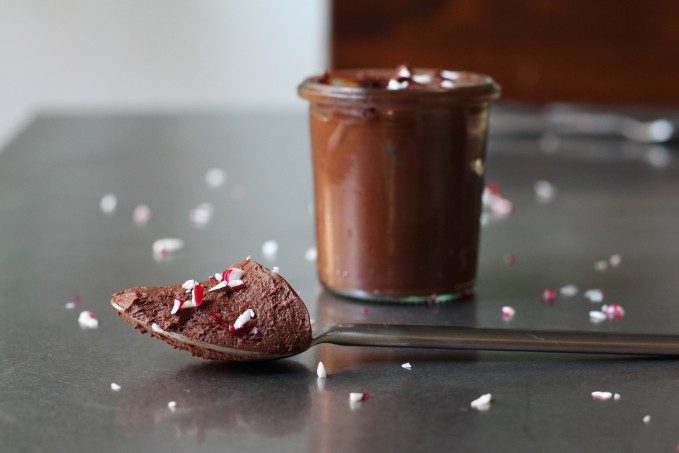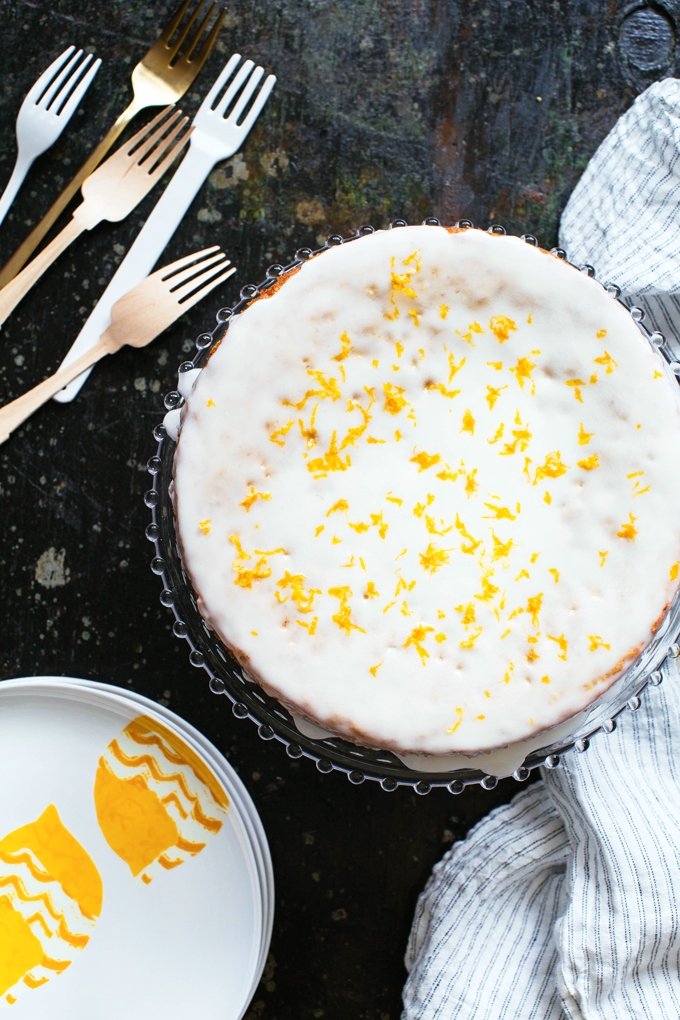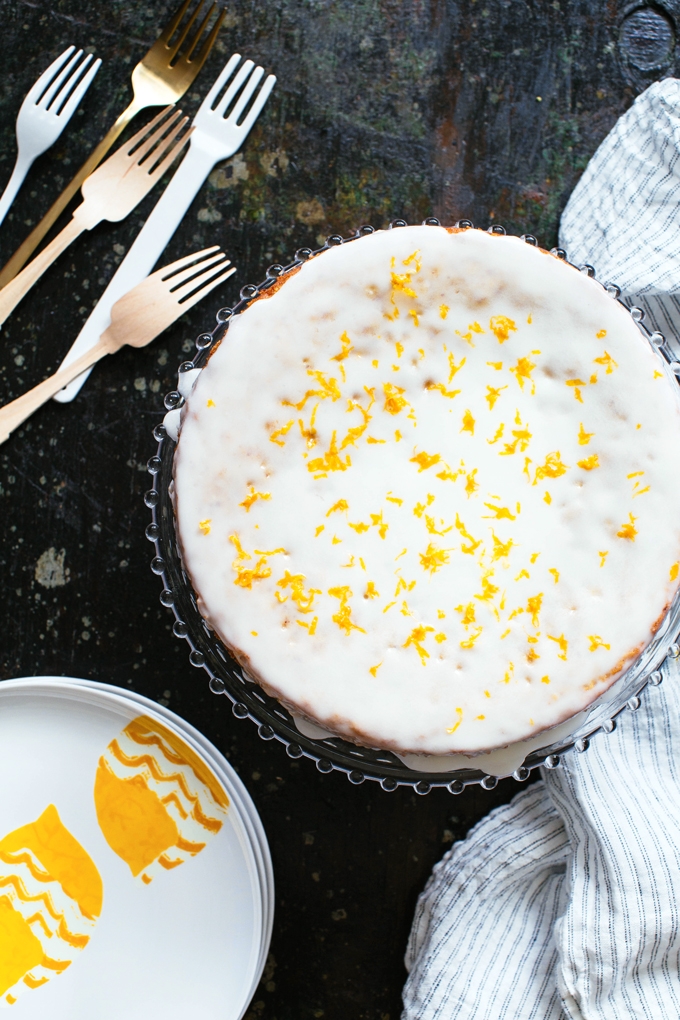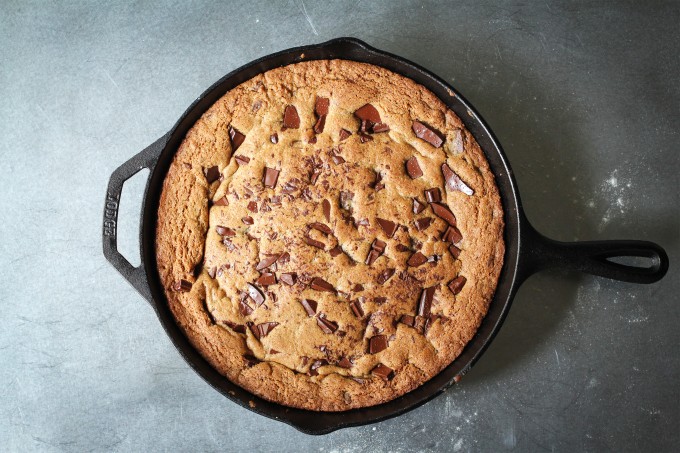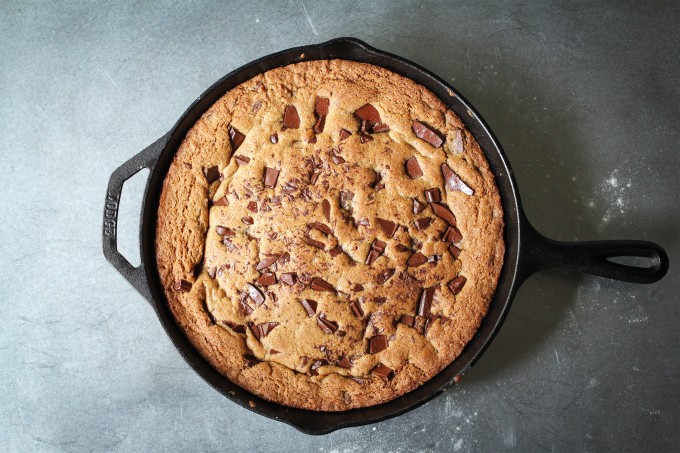 4