If you're a fan of curried chicken salad, then you are absolutely going to love this recipe.
This post may contain affiliate links.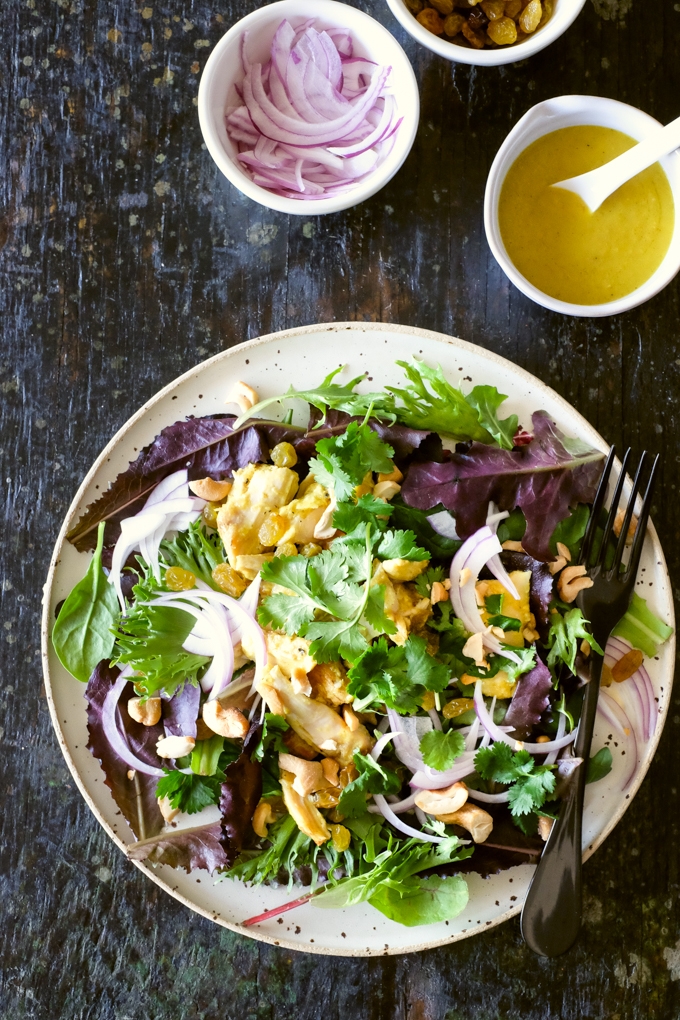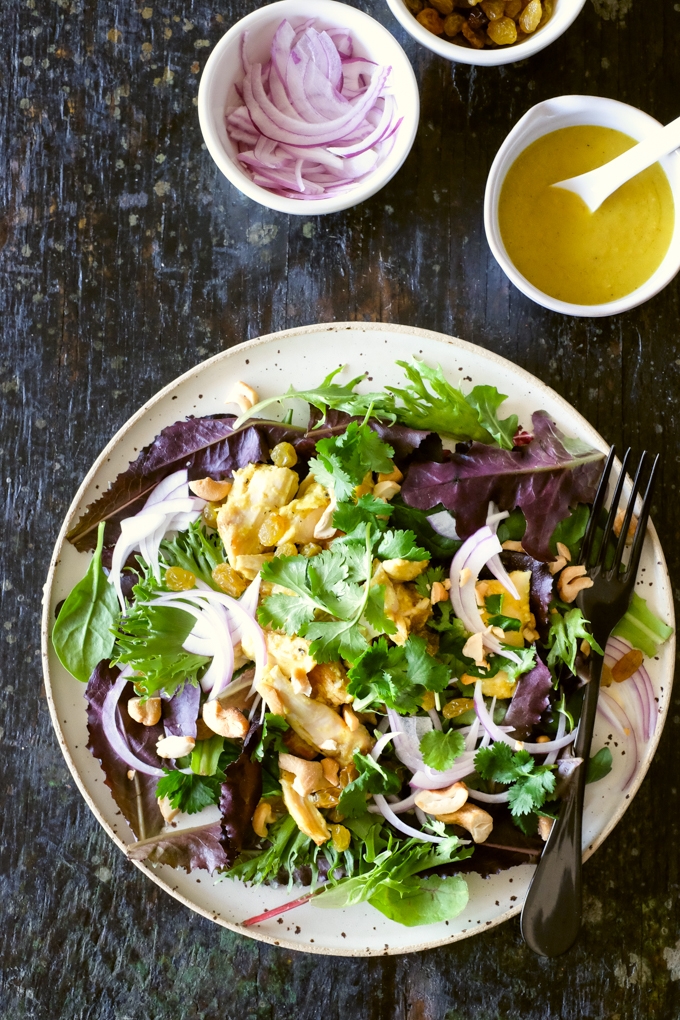 For the past 4 years, Jorge and I have smoked a turkey for Thanksgiving using a regular charcoal grill.  Results are stellar, but the process is far from hands-off.  Well, the good people over at Char-Broil recently sent me this Deluxe Digital Electric Smoker, and I'll have to say, it makes smoking so easy.  Simply place meat (or fish, or fruit or whatever) on the racks, add wood chips, set a temp/time, and walk away!  The unit will regulate the heat source to maintain an even temperature, and one box of wood chips will last up to 10 to 12 hours!  You can cook by setting a time or by internal temperature (measured with an attached probe).  And the smoker even comes with a remote, so you can monitor temperature and time from inside the house.  I'm not an expert at smoking, but the chicken I smoked for this recipe came out tender and juicy with a mouthwatering smoky flavor.  So simple!   Continue reading for some shots of the smoker plus a flavor-packed recipe from one of my new favorite San Diego restaurants.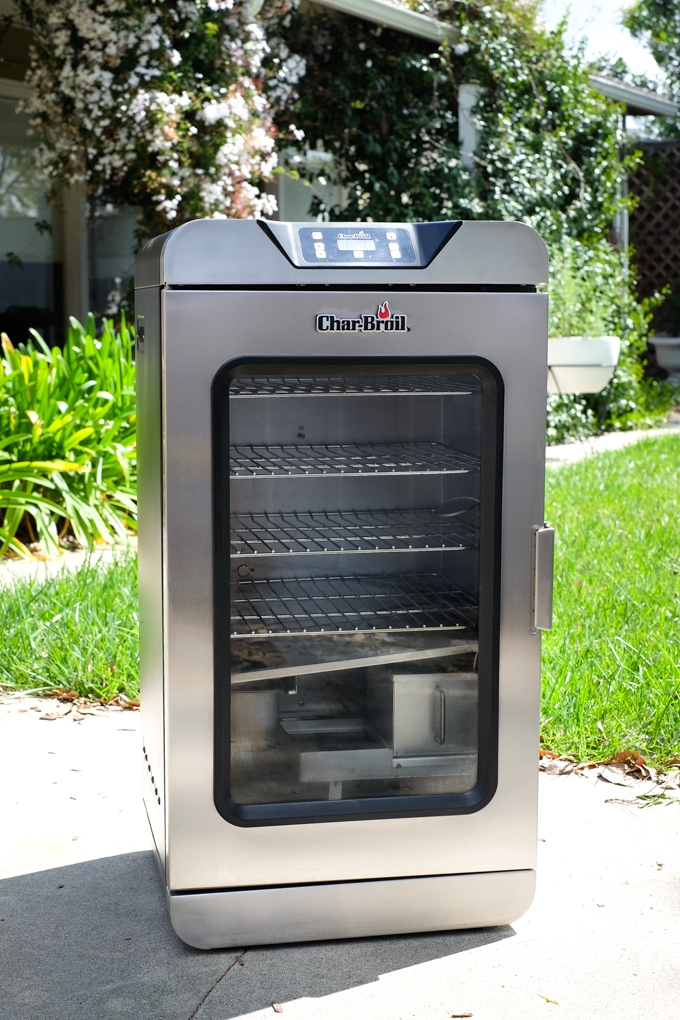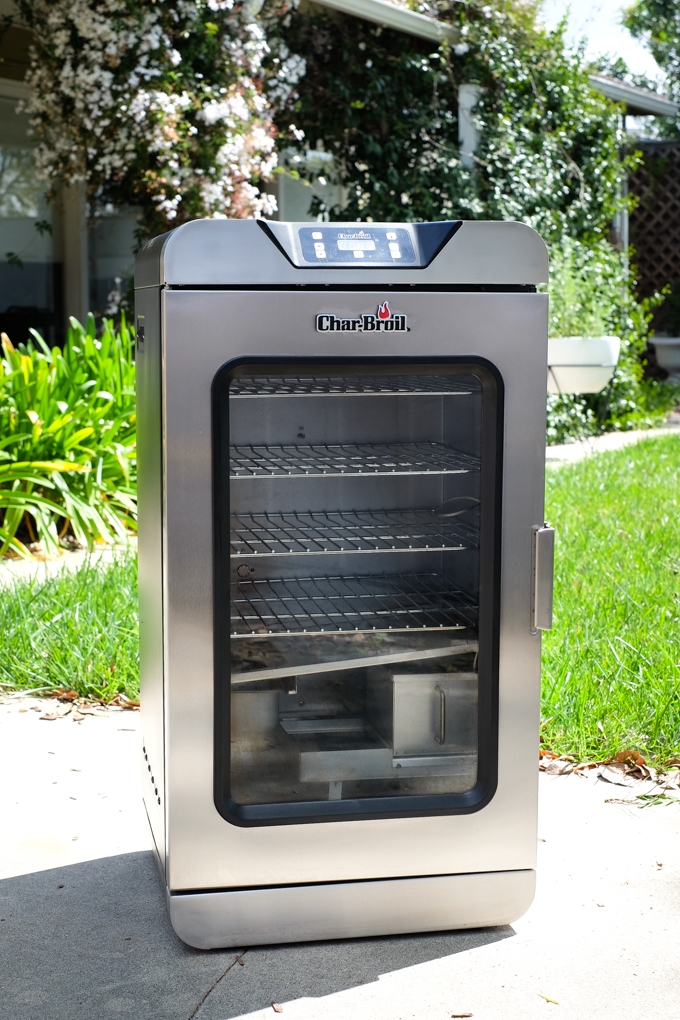 Here's the smoker.  It's kind of like a wine fridge, but hot and filled with smoke and meat.  There are even wheels on the back, so I could move the unit around my backyard to get a good photo!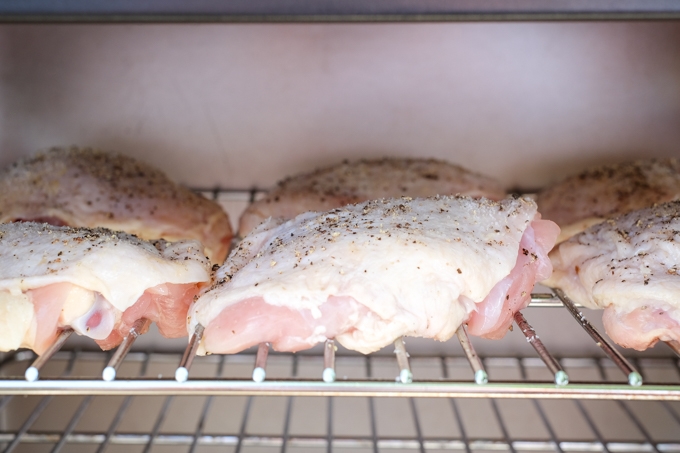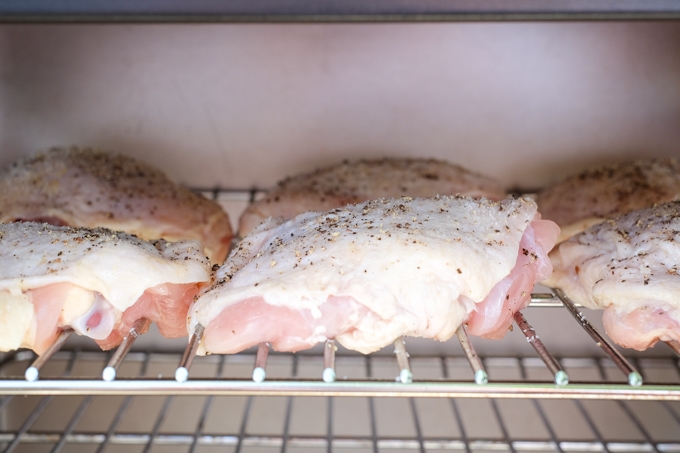 Chicken thighs, seasoned with salt and pepper, sit directly on the racks.  I smoked these guys for 2 hours at 225°F, using hickory wood chips.  And here's how they came out: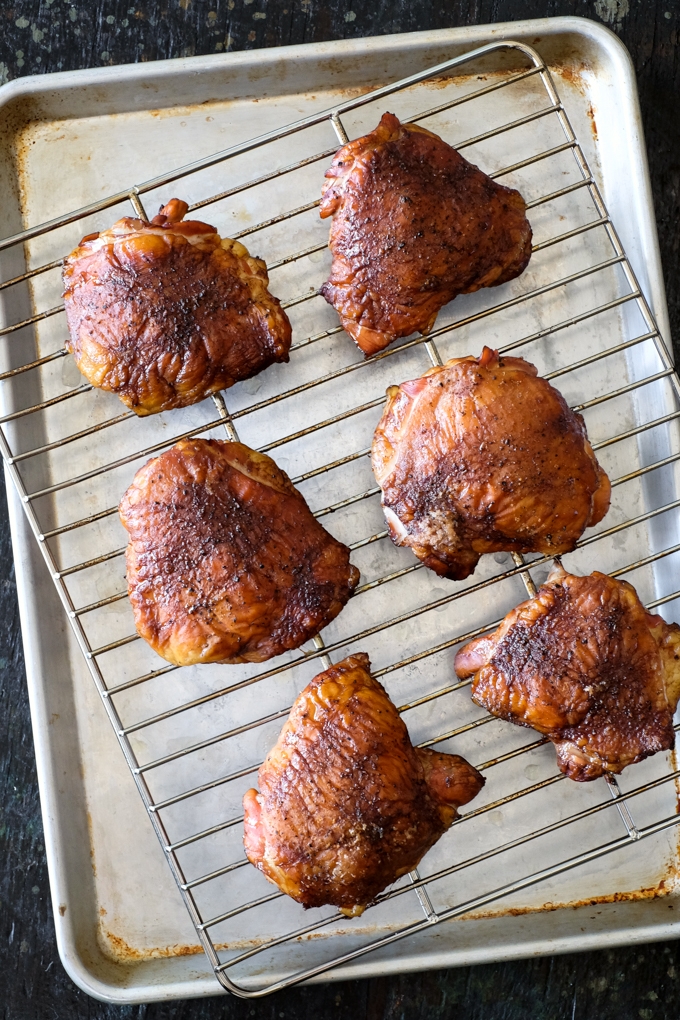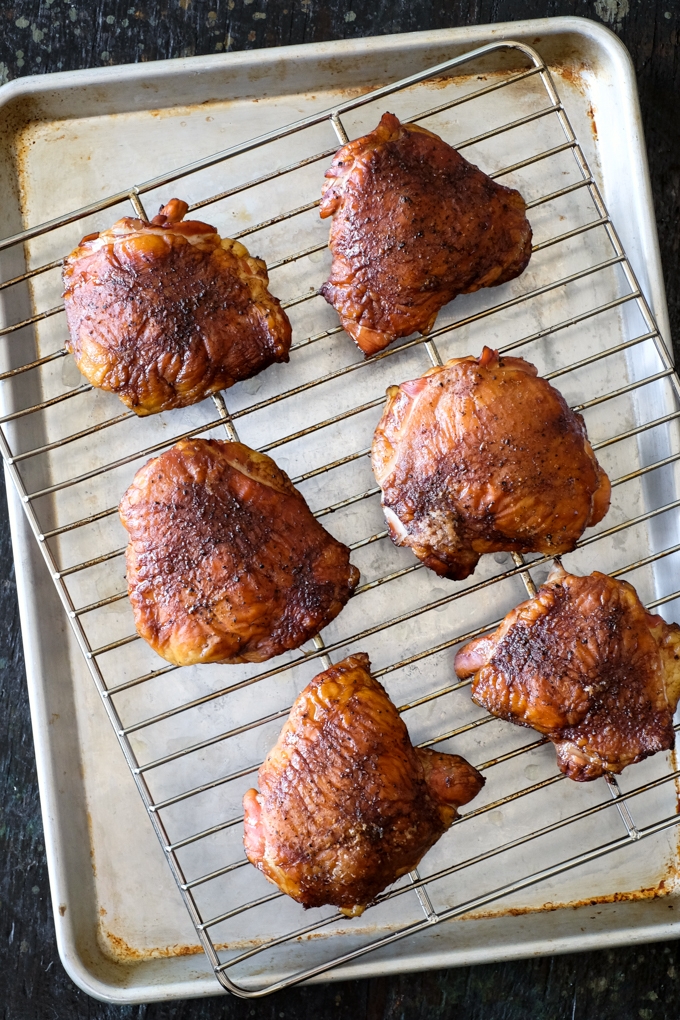 Golden and glistening, these smoked thighs are so savory and succulent.  I would recommend preparing extra to enjoy as is, in a soup or salad, like the one below.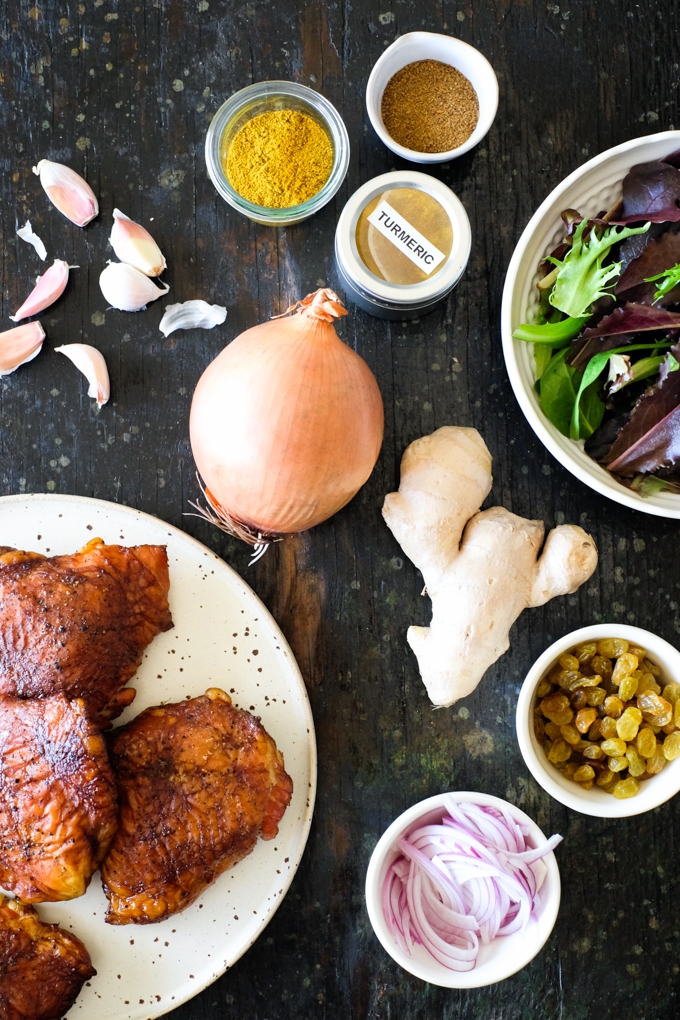 Herb & Eatery, the latest restaurant by Chef Brian Malarkey, is one of my new favorite casual spots in San Diego.  I had my first lunch there a few months ago, and I was blown away by their Smoked Curried Chicken Salad.  Thankfully, Brian shared his recipe.
The recipe starts with onions, garlic and ginger sizzling in hot olive oil.  Ground cumin, turmeric and curry powder are tossed into the mix, and cooked just until fragrant.  The golden aromatics are then blended with vinegar and olive oil to form a vinaigrette that's used to dress the smoked chicken and the greens.  No mayo here!  Finished with sliced red onion, golden raisins, cilantro and chopped cashews, this curried chicken salad is bright, punchy and 100% delicious.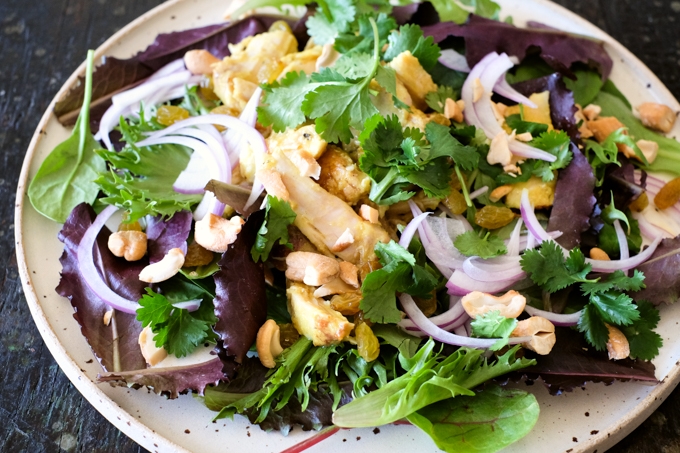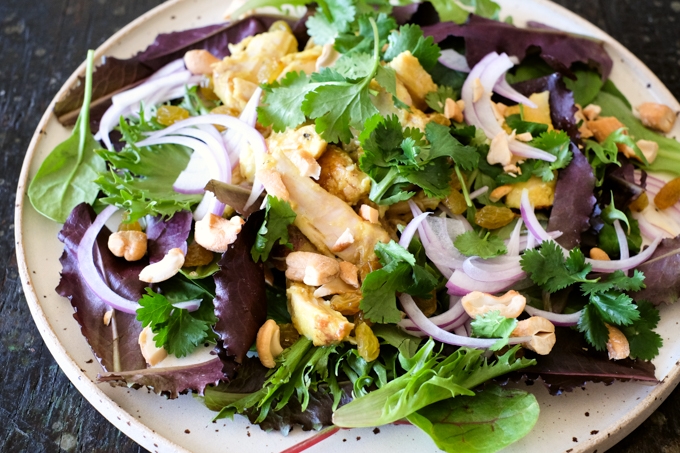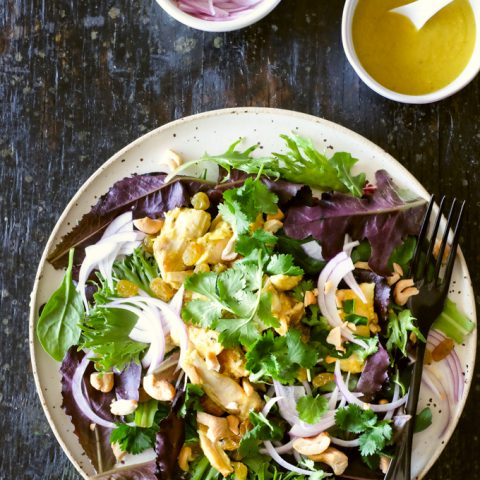 Smoked Curried Chicken Salad
Ingredients
2

pounds

bone-in, skin-on chicken thighs (about 4 large thighs)

Kosher salt

Freshly ground black pepper

1

tablespoon

+ 2/3 cup olive oil, divided

1/2

yellow onion, diced

1

garlic clove, minced

2 1/2

tablespoons

minced fresh ginger

1

teaspoon

curry powder

1/2

teaspoon

ground cumin

1/2

teaspoon

ground turmeric

1/3

cup

white vinegar

Spring mix or other tender lettuce

Golden raisins

Sliced red onion

Chopped toasted cashews

Cilantro leaves
Instructions
Fill 1/4 of the smoker box with hickory wood chips, and preheat to 225°F. Season chicken thighs all over with salt and pepper. Place thighs directly on the top rack of the smoker. Smoke for about 2 hours or until the internal temperature reaches 165°F. Let rest for 5 minutes. Remove the chicken skin, and pull the chicken into bite-sized pieces. Set aside.

While the chicken is cooking, prepare the vinaigrette. Warm 1 tablespoon olive oil in a large skillet over medium heat. Add the onion, garlic, ginger and a pinch of salt, and cook, stirring occasionally, until soft (about 5 minutes). Add the spices, and cook, stirring frequently, for 1 minute. Transfer aromatics to a blender with vinegar, and blend until smooth. With the blender running, add 2/3 cup olive oil in a slow stream to form the vinaigrette. Season to taste with salt.

Place pulled chicken in a medium bowl, and add several spoonfuls of the vinaigrette. Toss to combine. The chicken should be well-coated in the sauce, but not drowning in it. Season to taste with additional salt.

To serve, place a handful of salad greens on a plate. Place 1/4 of the chicken salad on top of the greens. Top with a sprinkling of raisins, red onion, cashews and cilantro leaves. Finish with a drizzle of vinaigrette*. Serve additional vinaigrette on the side.
Notes
*At the restaurant, Brian dresses his greens in a citrus vinaigrette. To keep things simple here, I decided to use the curry vinaigrette for both chicken and greens.
Tried this recipe?
Tag @brandiego on Instagram so I can check it out!
This post was written in partnership with Char-Broil. All thoughts and opinions are my own. Recipe provided by Brian Malarkey and Herb & Eatery, and adapted by me.
5