Christmas is almost here you guys!!  Are you ready for it??
This post may contain affiliate links.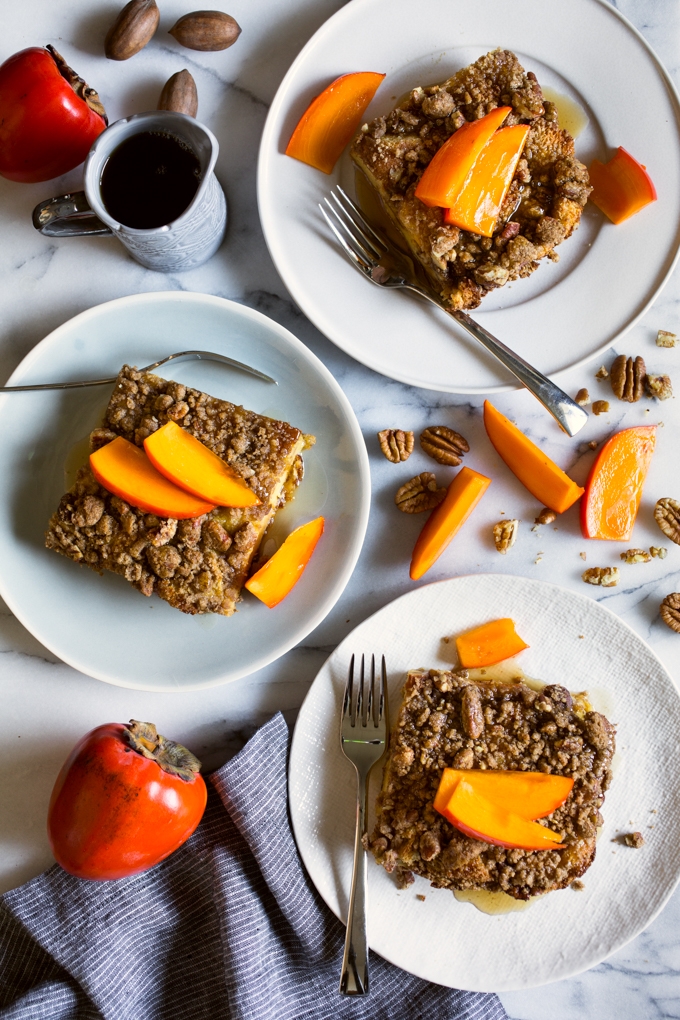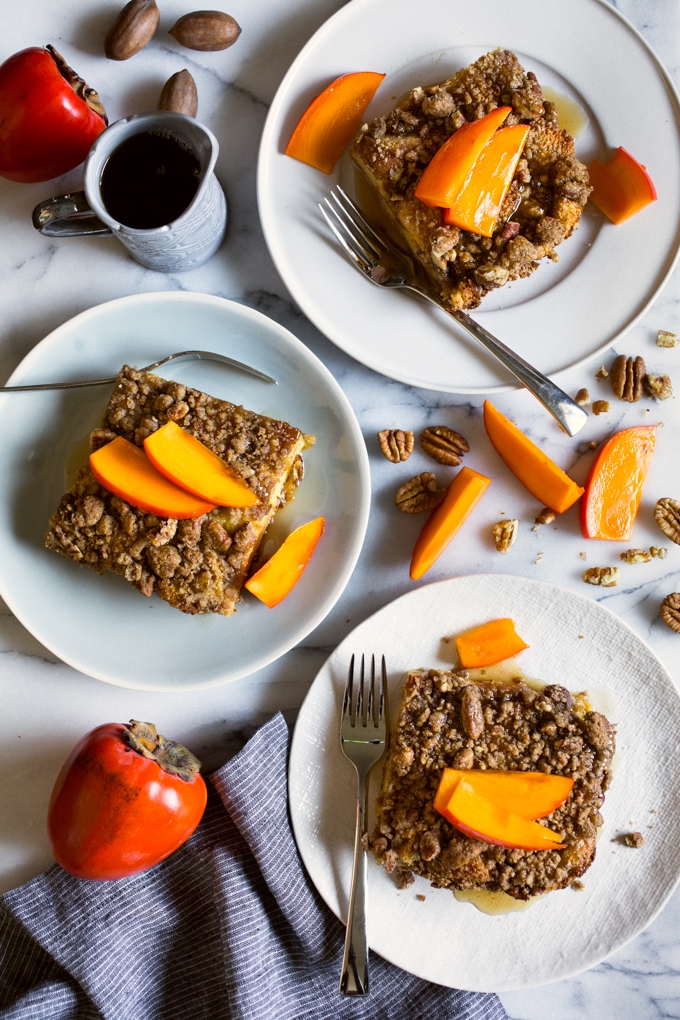 Today's recipe—prepared in partnership with the American Pecan Council—is a perfect treat for Christmas morning.  My Breakfast Bread Pudding starts with buttery cubes of golden brioche doused in a rich mix of milk, heavy cream, eggs, sugar, vanilla and bourbon.  The bread sits for at least two hours to soak up all that custardy goodness before getting topped with a rustic crumble made with flour, sugar, butter, pecans, cinnamon and salt.  After 45 minutes in the oven, the bread pudding is light and silky while the tasty rubble on top turns crisp and golden.  Finish the dish with fresh fruit (sliced persimmons shown here) and a drizzle of maple syrup.  This is a special dish that couldn't be easier to prepare.  Continue reading for the recipe!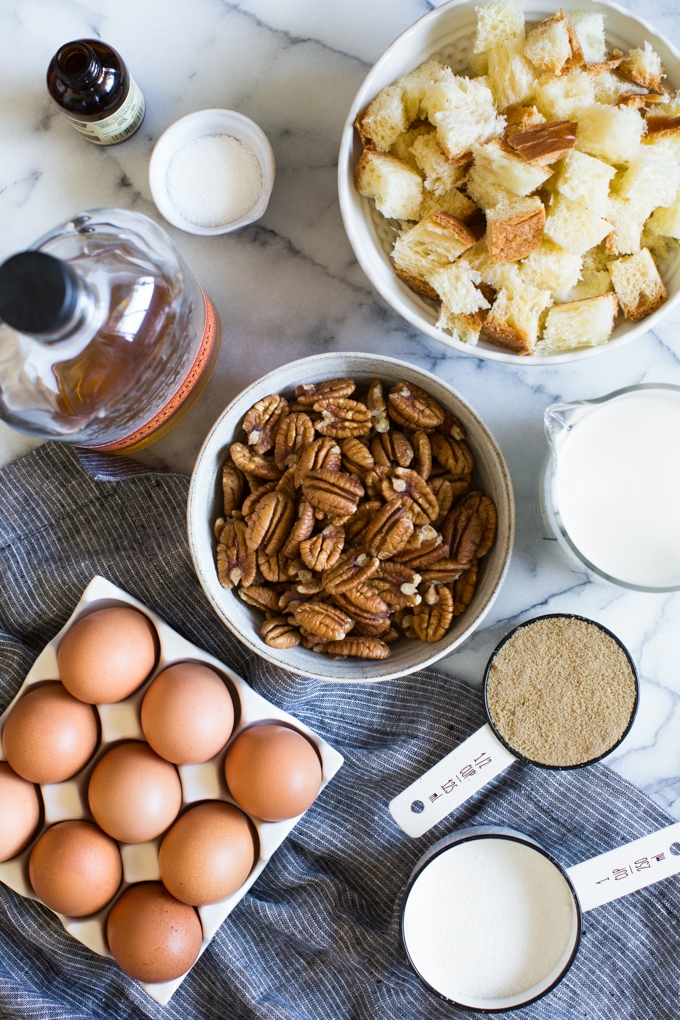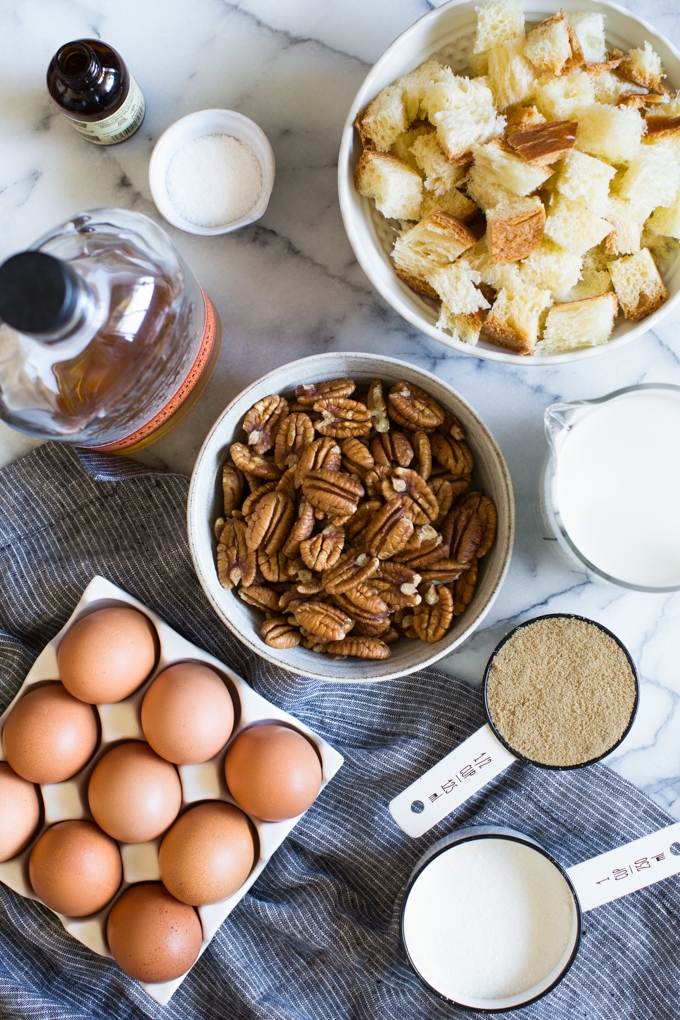 Pecans are one of my favorite nuts (check out all of my pecan recipes here!).  We've always got a bag of them in our fridge ready for our morning oatmeal or an impromptu batch of chocolate chip cookies.  I just love the smoky, caramely, mapley thing they've got going on.  Especially when toasted in the oven for a bit!  They're also really good for you.  Pecans contain "good" fats, protein and fiber, along with important minerals like zinc, copper and manganese.
In this recipe, toasted pecans are added to the bread right before soaking to infuse some extra flavor into the pudding.  More pecans are then added to the crumble for extra crunch.  Be sure to store extra pecans in an airtight container in the fridge or freezer for maximum freshness!  They'll keep for about nine months in the refrigerator and up to two years in the freezer.  Pecans can be thawed and frozen repeatedly during the two-year freezing period without loss of flavor or texture.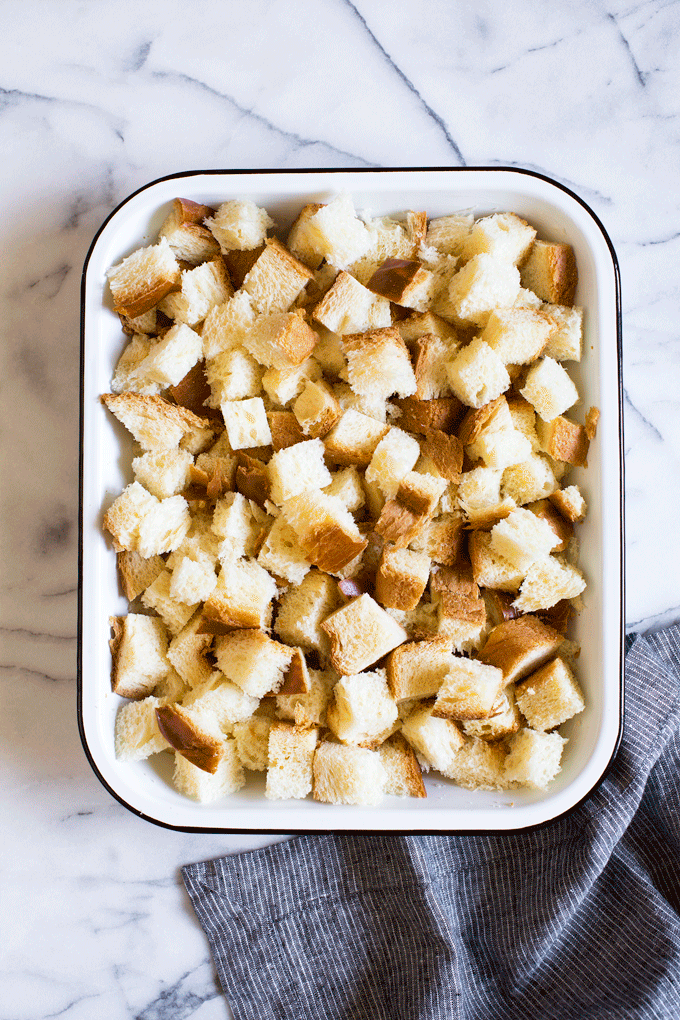 This recipe does require at least 2 hours of rest time, so keep that in mind!  Luckily, you can prepare the bread pudding the night before, and add the crumble just before baking.  That way, you can have a special breakfast ready on Christmas with minimal work during the morning hours.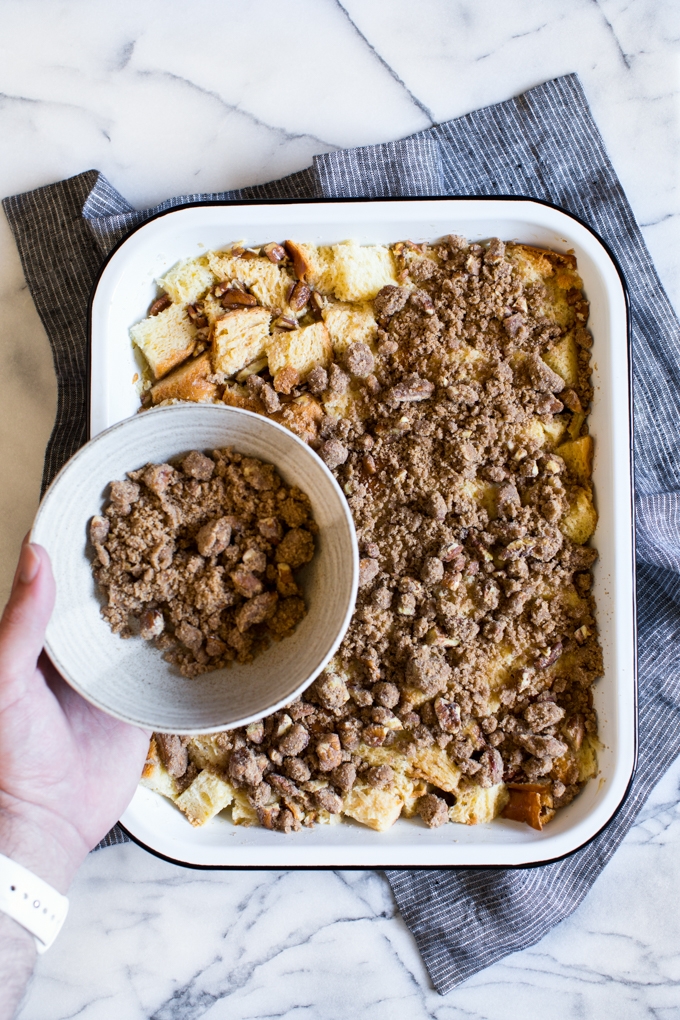 The persimmons featured here are a special varietal that I found at Specialty Produce, a local produce wholesaler.  They're hachiya persimmons that have been ripened from the inside out, so you get the wonderful flavor of the hachiyas with a texture more similar to fuyu persimmons.  They were labeled as "magic" persimmons, and I'll have to say, they truly are.  If you don't live in the San Diego area, then you can certainly use regular fuyu persimmons here.  Any berries would be fantastic as well, and peaches would be perfect during the summer months.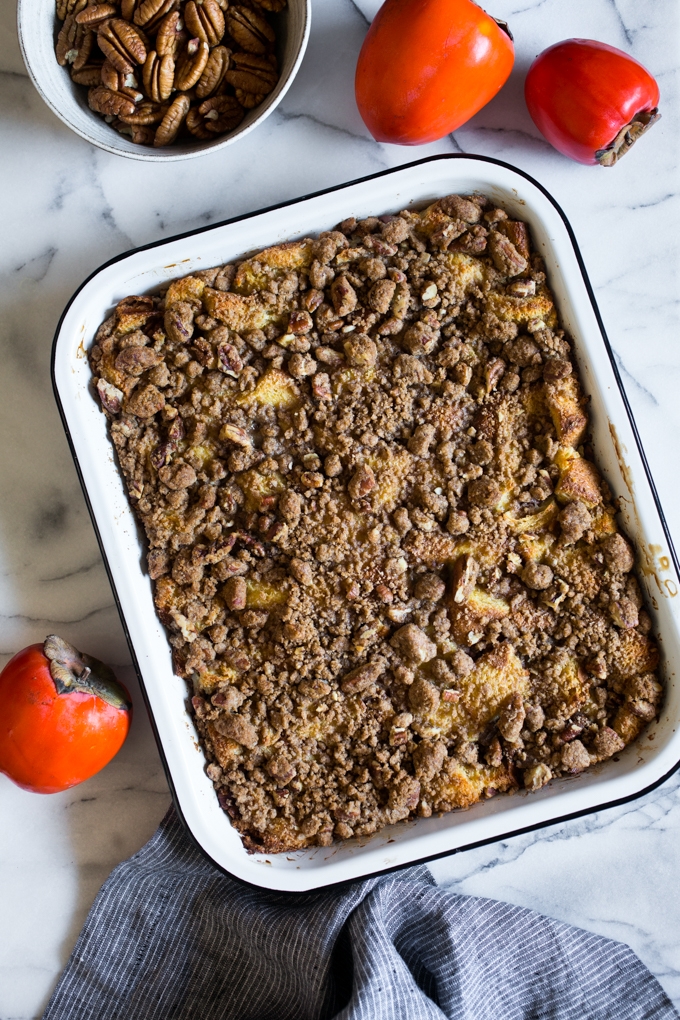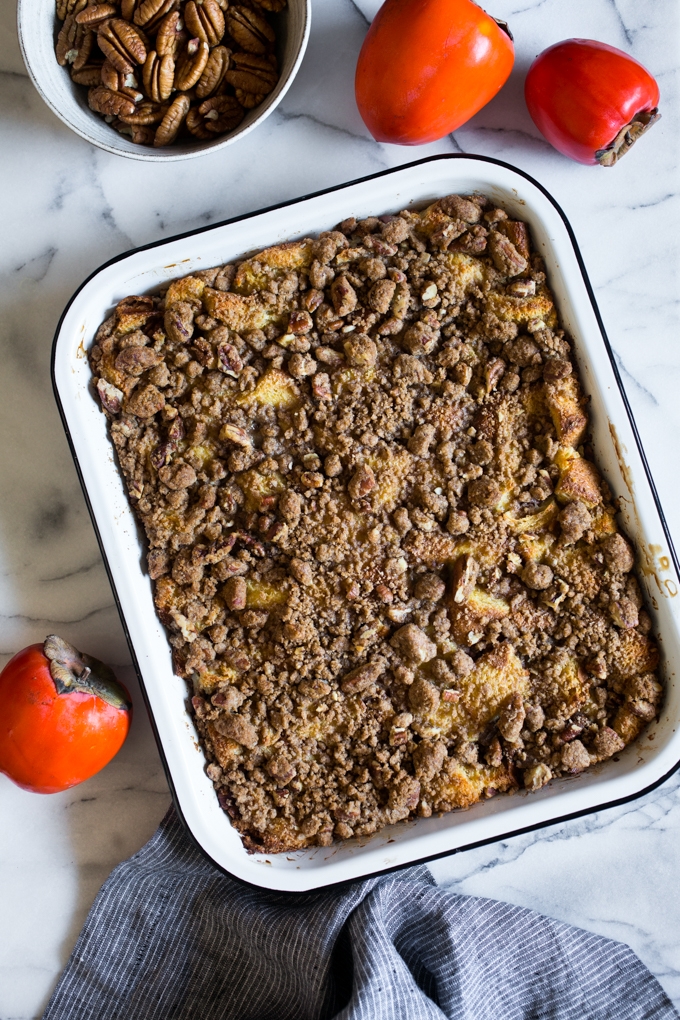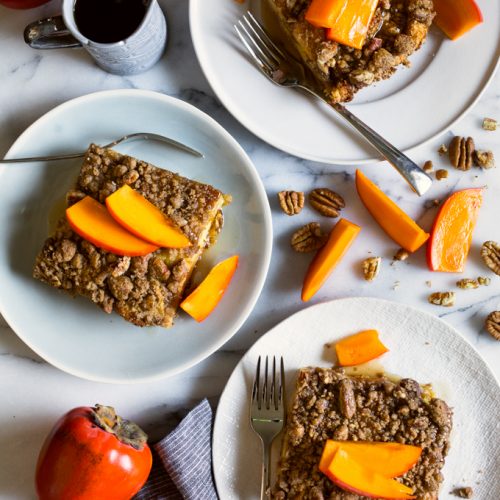 Breakfast Bread Pudding with Pecan Crumble Topping
Ingredients
For the bread pudding:
Unsalted butter (about 1/2 tablespoon), for greasing the pan

1

pound

brioche bread, cut into 3/4-inch cubes

8

eggs

2

cups

milk

1/2

cup

heavy cream

1/2

cup

sugar

1/2

cup

packed light brown sugar

1

tablespoon

vanilla extract

2

tablespoons

good bourbon

Pinch

of fine grain sea salt

1/2

cup

chopped pecans, toasted
For the crumble topping:
1/2

cup

flour

1/2

cup

chopped pecans

1/2

cup

packed dark brown sugar

1

teaspoon

cinnamon

1/4

teaspoon

fine grain sea salt

3

tablespoons

unsalted butter, at room temperature
Sliced persimmons, for serving
Instructions
Lightly butter a 9-by-13 baking dish, then place cubes of brioche in the baking dish in an even layer.

In a large bowl, whisk together eggs, milk, heavy cream, sugars, vanilla, bourbon and a pinch of sea salt. Sprinkle toasted pecans over the brioche, then pour the custard evenly all over the bread. Gently press the bread down into the liquid. Cover and let sit in the fridge for at least 2 hours (or up to overnight).

Once you are ready to bake the bread pudding, take the baking dish out of the fridge and preheat an oven to 350°F. Meanwhile, prepare the crumble. Add flour, pecans dark brown sugar, cinnamon, salt and butter to a medium bowl, and using your fingertips, rub ingredients together until evenly combined and clumps start to form. Sprinkle the surface of the bread evenly with the crumbs. Bake until the bread pudding is puffy and the top is golden (45 minutes to an hour). Let cool for a few moments before serving.

To serve, cut squares of warm bread pudding, and place on small plates. Top with sliced persimmons and maple syrup. Enjoy immediately!
Tried this recipe?
Tag @brandiego on Instagram so I can check it out!
This post was written in partnership with The American Pecan Council.  All thoughts, opinions and recipes are my own.  Connect with The American Pecan Council on Instagram and Facebook.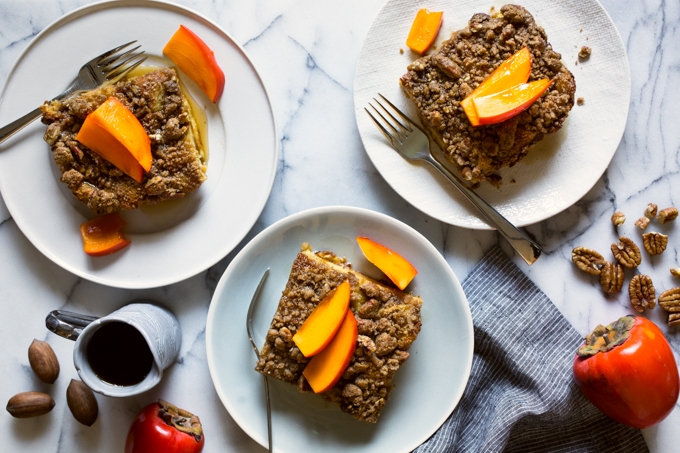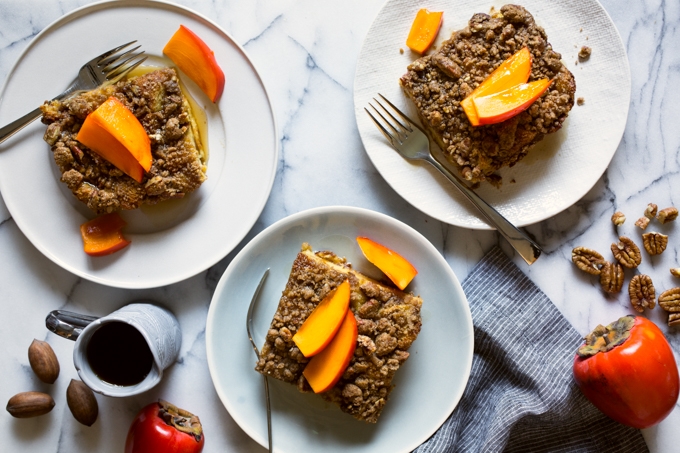 Happy Holidays from Brandon, Jorge, TiVo and Federico!
11