Oh you guys, this Sourdough Waffles recipe is so delicious. But first, let me fill you in on a little back story.
This post may contain affiliate links.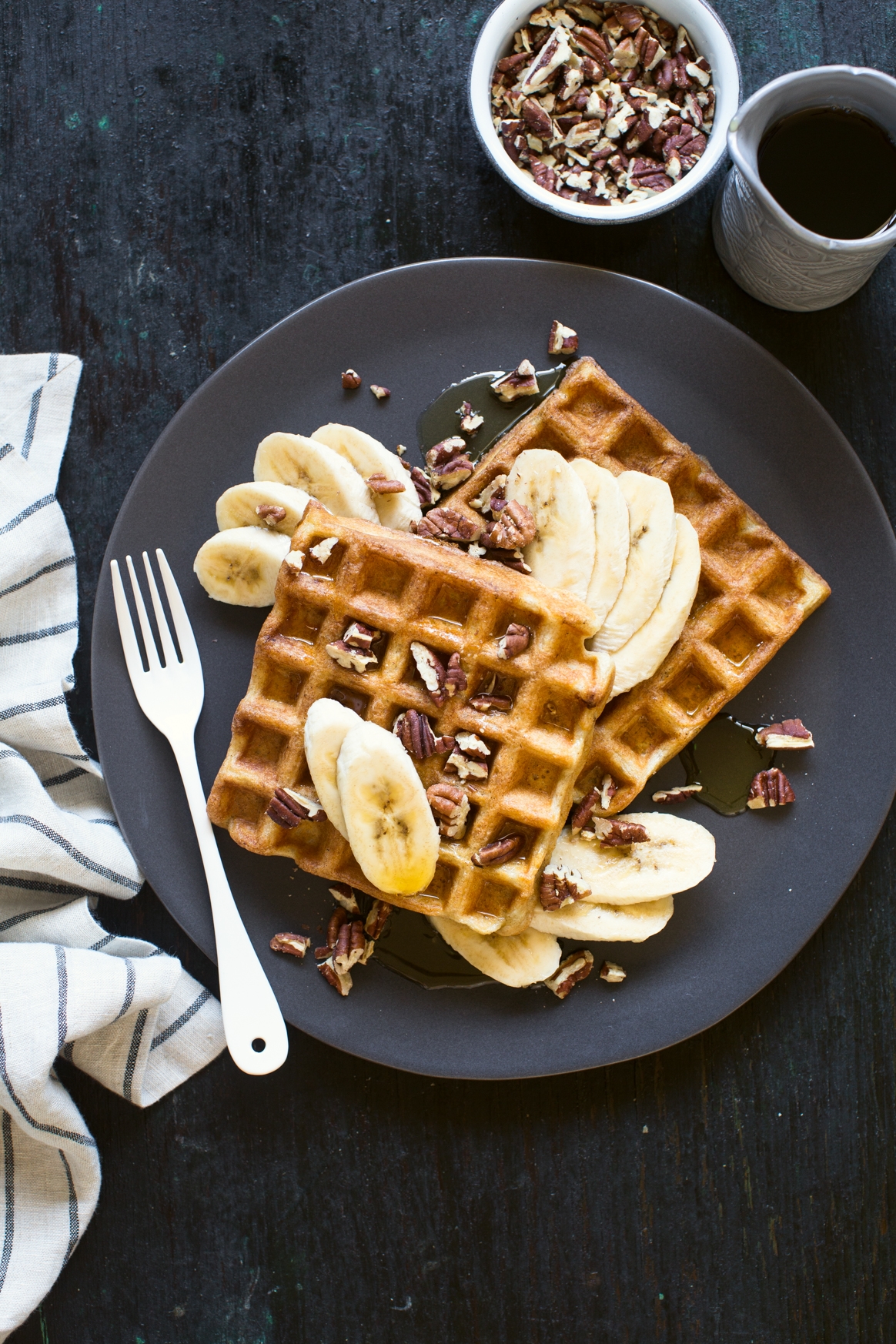 Many, many years ago, I tried making sourdough starter from scratch and after several weeks of feeding and nurturing, the starter never reached its full potential. Defeated, I threw that starter in the trash, and put my sourdough dreams on hold.
Fast forward to 2018 where I decided that I would tackle this challenge again.  My homemade starter, a simple mix of flour and water, started out strong and bubbly.  But as the weeks went on, it seemed like it was slowly dying.  In a fit of frustration, I also gave up on that starter.
This year, I finally broke down and just purchased a live sourdough starter on Amazon. Part of me really wanted to develop my own, but tbh, I'm not even mad about it right now, because this. starter. is. awesome!! With just a few days of feeding, Carrie Breadshaw (yes, I named my starter), was at full strength and producing some gorgeous loaves of sourdough.
These Brown Butter Sourdough Waffles are one way I like to use up the starter that gets discarded during a feeding. More about that below.
The process of feeding a sourdough starter looks like this:
Discard a portion of the current sourdough starter.
Stir in equal weights of flour and water.
Cover and let sit at room temperature (or in the fridge for longer-term storage)
You discard part of the starter, because you really don't need too much to make sourdough bread. If you continue feeding without discarding, you would have waaay to much starter on hand.
So far, my favorite way to use up the sourdough starter discard, is to make a batch of these Brown Butter Sourdough Waffles. Yeasted waffles are a favorite at our house, and these sourdough waffles are similar (but better!).
Infused with vanilla, cinnamon and nutty brown butter, these waffles are golden and crispy on the outside and light and bubbly within. Each bite is rich and tangy. They are certainly delicious on their own, but I like to top them with sliced bananas, toasted pecans and maple syrup.
One of the best things about this recipe, is that most of the batter is prepared the night before. You just have to mix in a few things the next morning and preheat a waffle iron, then bam, you've got a "fancy" breakfast on the table with minimal effort!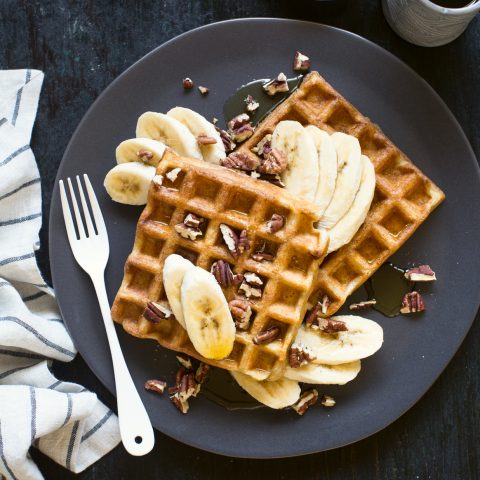 Brown Butter Sourdough Waffles
Recipe adapted from here.
Ingredients
1

cup

(240 grams) unfed/discard sourdough starter*

1

cup

all purpose flour

1

cup

shaken buttermilk

1

tablespoon

packed light brown sugar

1/4

cup

(1/2 stick) unsalted butter

1

egg

1

teaspoon

baking soda

1/2

teaspoon

ground cinnamon

1/2

teaspoon

vanilla extract

1/2

teaspoon

fine grain sea salt
Sliced bananas, for serving
Chopped toasted pecans, for serving
Instructions
Add starter, flour, buttermilk and brown sugar to a large bowl, whisking to combine. Cover and let rest at room temperature overnight.

The next morning, cook butter in a small saucepan over medium heat until the butter turns a deep golden brown color (about 5 minutes). Set aside to cool.

Add egg, baking soda, cinnamon, vanilla, salt and cooled brown butter to the bowl with the starter-flour mixture, whisking just until smooth.

Preheat a waffle iron according to the manufacturer's instructions. Brush the top and bottom plates lightly with melted butter to keep the waffles from sticking. Scoop 1/2 cup of batter in each well**, and using a spatula, spread the batter out to the corners. Close the waffle iron, and cook until golden brown.

To serve, plate up waffles and top with sliced bananas, chopped toasted pecans and maple syrup.
Notes
*This is the portion of the starter that you would normally throw away before a feeding.
**Waffle irons can vary greatly. The one I used here makes 4 square waffles. Adjust the batter measurements accordingly.
Tried this recipe?
Tag @brandiego on Instagram so I can check it out!
If you've got a sourdough starter, I'd love to hear some of the ways you like to use up the discard in the comments below. Also, do you have a name for your starter :D?
25