I don't know about you guys, but my April has been buuuuusy!  Between travel, taxes and the hype surrounding the Game of Thrones season premiere, I am ready for a lazy weekend.  Preferably one that starts with a stack of these Cinnamon Pancakes with Autumn Glory apples and Meyer Lemon Whipped Cream.
This post may contain affiliate links.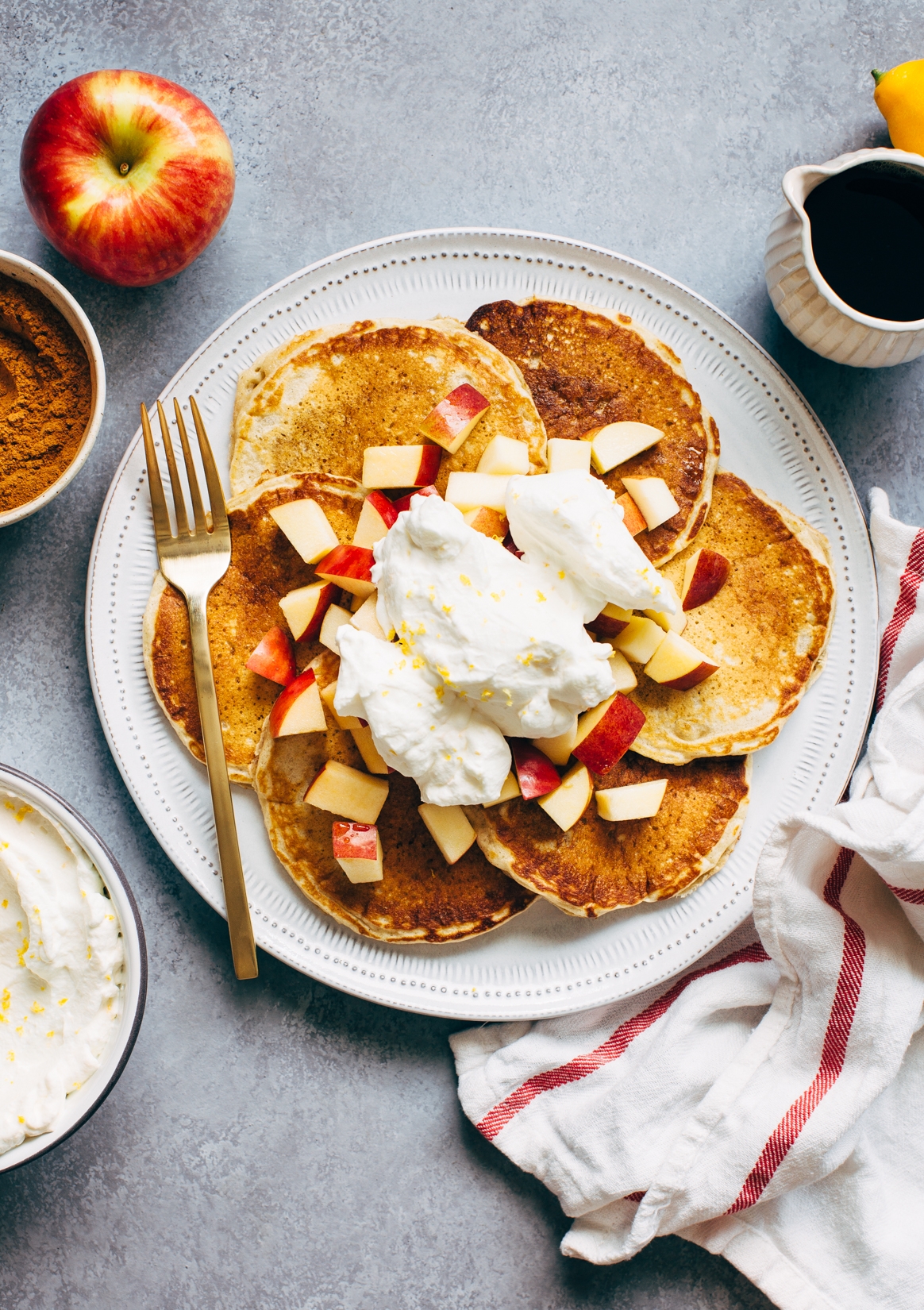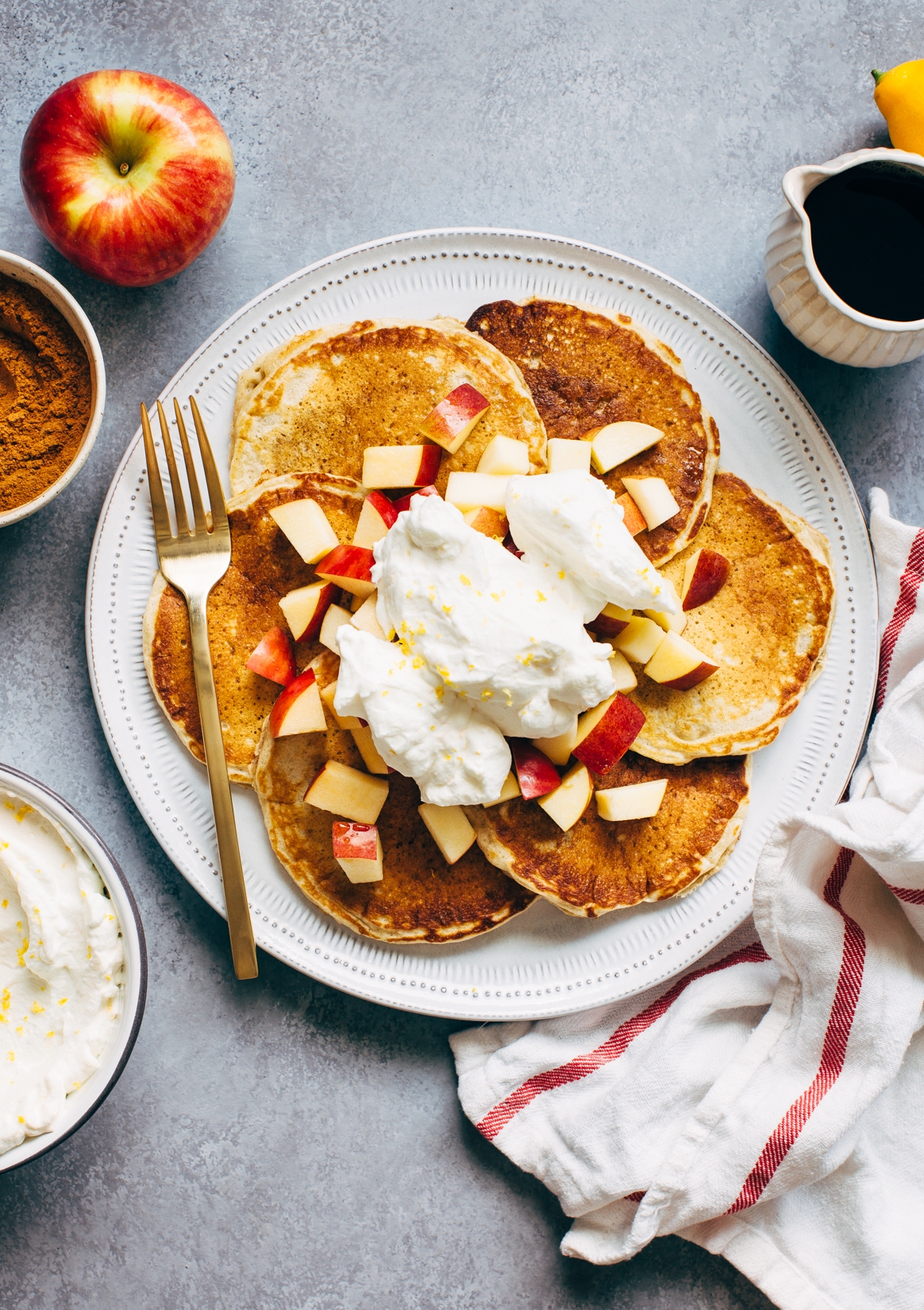 This recipe, sponsored by Autumn Glory apples, starts with a simple pancake batter infused with buttermilk, sea salt, cinnamon and vanilla. The buttermilk provides a tanginess to the pancakes while making them tender and fluffy. There's enough cinnamon in the batter to add warmth without overwhelming. The real magic is in the toppings.

Autumn Glory apples, in season from November to April, are a crisp, sweet apple with notes of cinnamon and caramel.  They're delicious on their own, but here I'm using them as a pancake topping along with honey and Meyer lemon whipped cream.  These pancakes are light, sweet and perfect for spring. Continue reading for the recipe.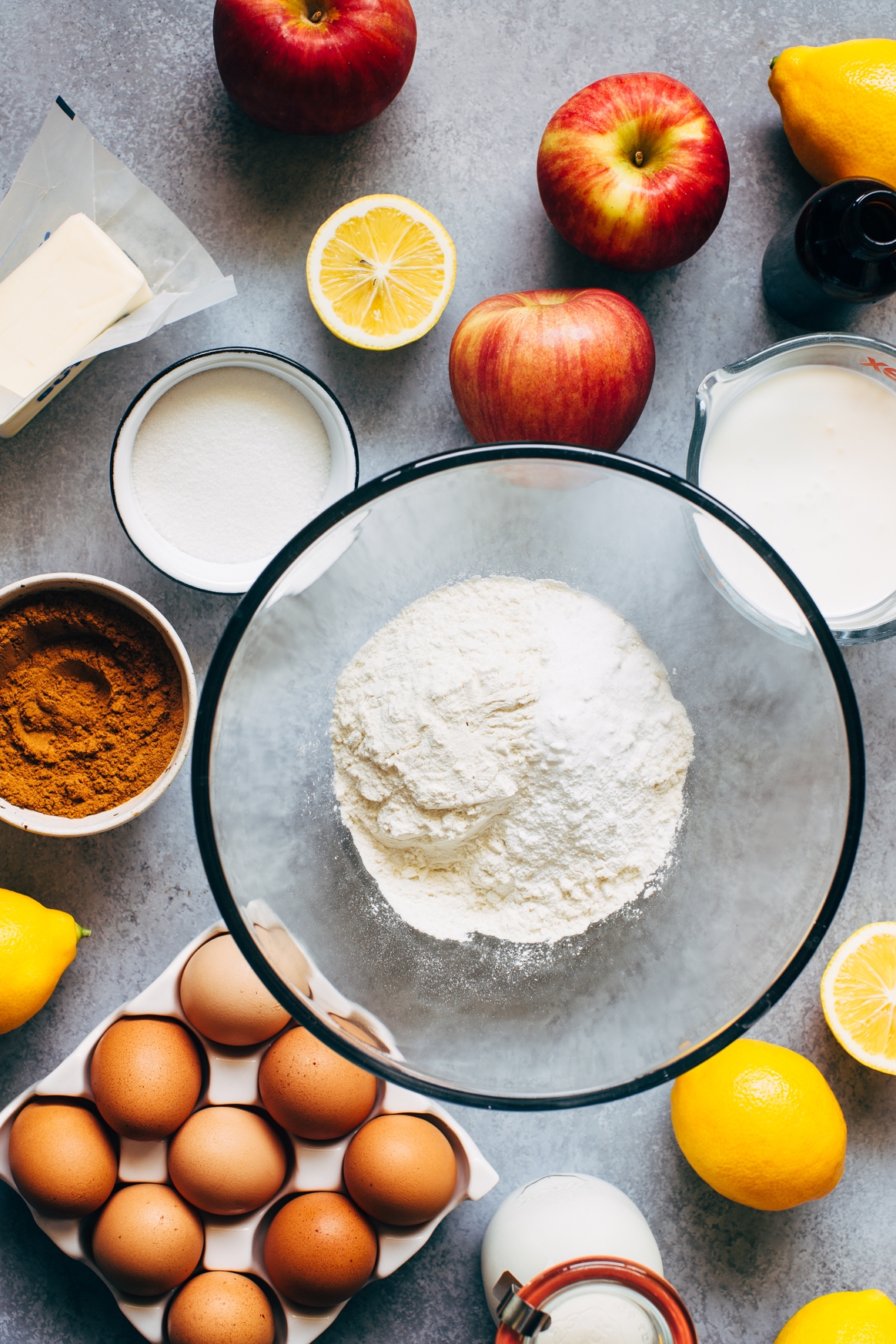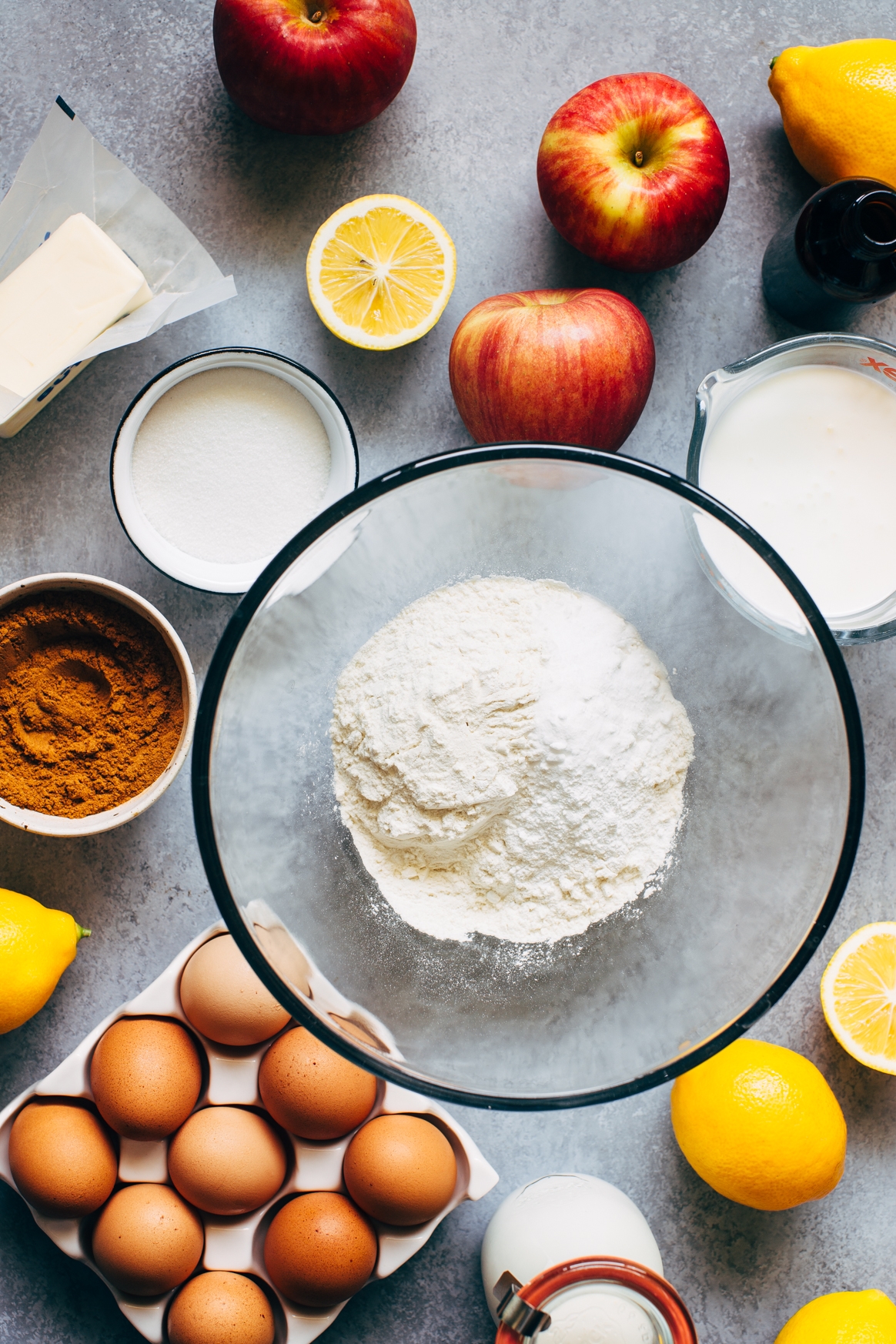 Autumn Glory apples are a cross between Fuji and Golden Delicious apples.  They're mainly on the sweet side with just a bit of acidity. During the fall months, they would be perfect in pies and crumbles or paired with sage and pork.  For spring, I wanted to pair these red beauties with something lighter: Meyer lemons.
Meyer lemons are in season right now and they've got a wonderful lemon-orange flavor.  To make Meyer lemon whipped cream, simple whip together heavy cream, sugar, Meyer lemon zest and juice.  Flecked with bits of yellow, the cream is bright, airy and packed with Meyer lemon flavor. And it's perfect with Autumn Glory apples!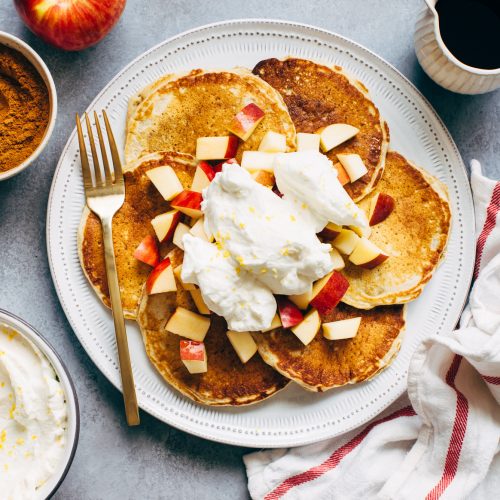 Cinnamon Pancakes with Apples and Meyer Lemon Whipped Cream
Ingredients
For the pancakes:
2

cups

all purpose flour

3

tablespoons

sugar

1 1/2

teaspoons

baking powder

1 1/2

teaspoons

baking soda

1

teaspoon

ground cinnamon

1

teaspoon

fine grain sea salt

2 1/2

cups

well-shaken buttermilk

2

eggs

1

teaspoon

good vanilla extract

4

tablespoons

unsalted butter, melted and cooled (plus more for the skillet)
For the whipped cream:
1

cup

cold heavy cream

2

tablespoons

sugar

1

tablespoon

Meyer lemon zest (from about 2 lemons), plus more for sprinkling

2

teaspoons

meyer lemon juice
Chopped Autumn Glory apples, for serving
Honey or maple syrup, for serving
Instructions
Add flour, sugar, baking powder, baking soda, cinnamon and sea salt to a large bowl, whisking to combine. In a medium bowl, whisk together buttermilk, eggs and vanilla. Pour the wet ingredients into the dry ingredients, and mix just until combined (you'll still see a few lumps). Fold in the melted butter. If you've got the time, let the batter rest for 30 minutes.

While the batter is resting, preheat a cast-iron skillet over medium-high heat or an electric griddle to 375°F. Brush the skillet lightly with melted butter. Using a ladle, pour pools of batter on the hot skillet. I can get 3 pancakes on a 12-inch skillet or 6 on a rectangular electric skillet. Adjust the size of your pancakes based on taste (I like mine not too small, but not too big). When the pancakes have bubbles on top and are slightly dry around the edges, about 1 to 2 minutes, flip over. Cook on the other side for an additional minute, until golden. Repeat with the remaining batter. You can keep the finished pancakes on a baking sheet in the oven at 175°F covered with a clean kitchen towel.

While the pancakes are cooking, prepare the whipped cream. Add the cream, sugar, lemon zest and lemon juice to the bowl of a stand mixer fitted with the whisk attachment. Whisk on high until soft peaks form.

To serve, fan out or stack up pancakes on a plate, then top with chopped Autumn Glory apples tossed in a little Meyer lemon juice. Finish with a drizzle of honey (or maple syrup) and a dollop of Meyer lemon whipped cream dusted with some fresh lemon zest. Enjoy warm!
Notes
* I originally photographed this recipe with maple syrup; however, after making these pancakes a few more times, I've found that honey is the best option here. It really ties together the apple, cinnamon and meyer lemon flavors. Maple syrup is still a great option, but if you've got some honey, try that first!
Tried this recipe?
Tag @brandiego on Instagram so I can check it out!
This post was written in partnership with Autumn Glory apples.  All thoughts, opinions and recipes are my own.
36