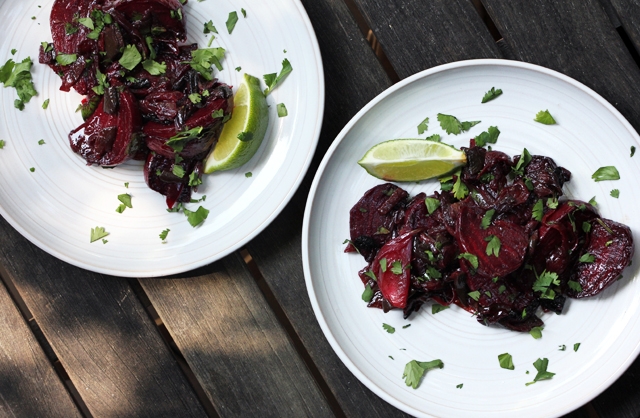 This post may contain affiliate links.
Roasted Beets with Red Onion, Poblano and Lime is another dish I will be serving at my friend's wedding coming up in October.  Not the most universally liked vegetable, beets may seem like a risky option for a wedding; however, this particular preparation of beets is seriously legit.  A guaranteed crowd-pleaser.  Really the best beets I have ever tasted.  Vibrant wedges of sweet, colorful beets are tossed with poblanos and sliced red onion then roasted in a dressing made of olive oil and Worcestershire sauce.  Finished with bright lime juice and fresh cilantro, these beets are bold, balanced and packed with the most amazing depth of flavor.  The Worcestershire infuses the vegetables with a rich, complex meatiness that works well with the natural earthiness of the beets.  The lime and cilantro cut through the heavy flavors and round out each bite.  Whether you like beets or not, you must give this recipe a try.  It's one I'm sure both you and the wedding guests will love!  Continue reading for the recipe.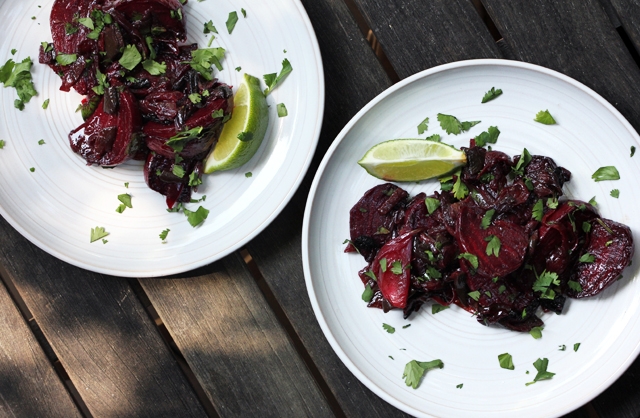 Roasted Beets with Red Onion, Poblano and Lime
Ingredients
1.5

pounds

small red beets (I used 3)

1

large red onion, sliced 1/4 inch thick

2

poblano peppers

1/3

cup

olive oil

3

tablespoons

Worcestershire sauce

1

teaspoon

kosher salt

Freshly ground black pepper

2

tablespoons

freshly squeezed lime juice

3

tablespoons

chopped cilantro
Instructions
Preheat oven to 425°F.

Start by preparing the beets. Trim the root and tip end of each beet, peel, then cut into wedges.

In a large bowl, combine beets, red onion and whole poblanos. In a smaller bowl, add olive oil, Worcestershire sauce, kosher salt and several turns of black pepper, whisking to combine. Drizzle the liquids over the beets, red onion and poblanos, tossing to evenly coat.

Spread vegetables out on a rimmed baking sheet then transfer to the oven. Roast until the poblanos and soft and blistered, stirring every 10 minutes (should take about 25 - 30 minutes). Remove the poblanos from the oven but continue to roast the beets and onions. Place the peppers in a small bowl and cover with plastic wrap. Continue cooking the beets and onions until the beets are tender (10 - 20 minutes longer). Set aside to cool.

Once the poblanos are cool enough to handle, peel off the skin, remove the stem and gently scrap out all seeds. Give the poblanos a rough chop.

Combine beets, onion and poblanos in a serving bowl. Add lime juice and cilantro, tossing to combine. Season with additional kosher salt and ground black pepper if needed.
Tried this recipe?
Tag @brandiego on Instagram so I can check it out!
4