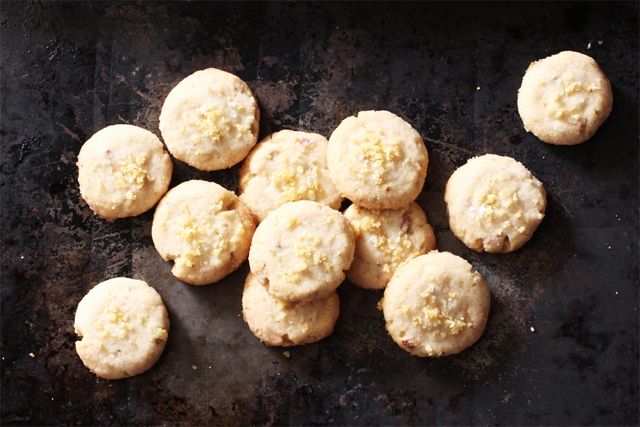 This post may contain affiliate links.
So I have some exciting news to announce today!!  Pacific San Diego, a local SD lifestyle magazine, asked me to participate in their newly launched blogger series.  I'll be sharing one article a week in the What's Cooking category.  First up, Potato Chip Cookies.  Made with vanilla, toasted pecans and potato chips, these salty-sweet confections come in two variations: salted crumble and chocolate dipped.  They taste like Pecan Sandies with a little something extra 🙂  The flavors are crisp, clean and well-balanced.  You simply must add these to your to-bake list.  In addition to the blogger series, I have another fun announcement.  Continue reading for details.
Pacific San Diego also featured me in their March edition!  Written by David Nelson, the two and a half page bio features a number of my photos including Summer Salad with Vanilla Vinaigrette, Bacon & Habanero Infused Vodka, Kosher Dill Pickles and others!  I really love how this turned out.  Thanks so much to the Pacific San Diego team 🙂
You can zoom in and read the article here.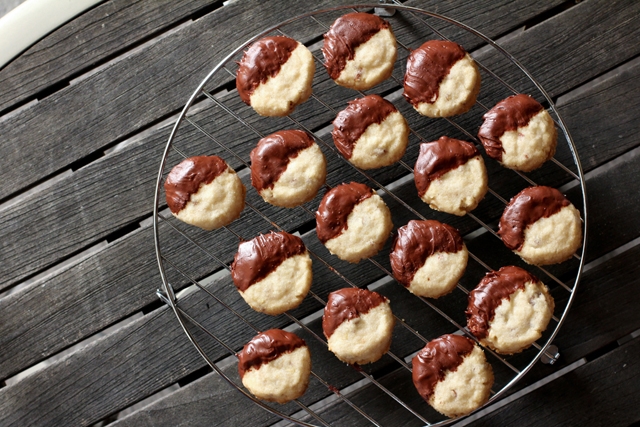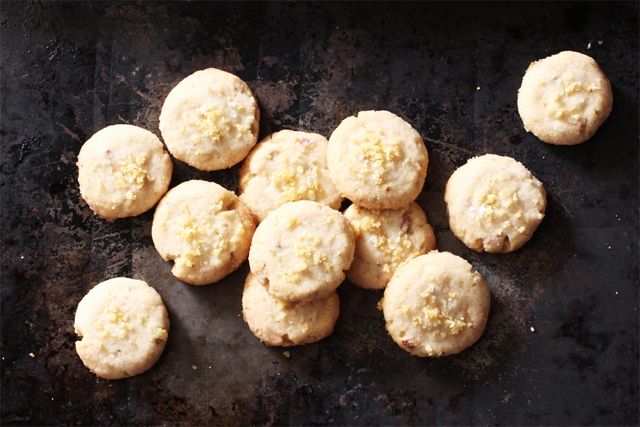 Potato Chip Cookies
Ingredients
1/2

cup

white sugar, plus extra for rolling

2

sticks (1 cup) unsalted butter, room temperature

1

teaspoon

vanilla extract

1/4

teaspoon

fine grain sea salt*

1/2

cup

chopped, toasted pecans

1/2

cup

finely crushed potato chips

2

cups

all-purpose flour

Crushed potato chips, for topping

Flaky sea salt, for topping

Melted bittersweet chocolate, for topping**
Instructions
Preheat your oven to 350°F and place a rack in the center of the oven. Line two baking sheets with parchment paper or silpats.

In the bowl of a stand mixer fitted with the paddle attachment, add sugar and butter. Cream on medium speed until light and fluffy (3 – 4 minutes). Add vanilla and fine grain sea salt, mixing until incorporated. Add pecans, 1/2 cup finely crushed potato chips and flour, mixing until just combined. Start your mixer on low so the flour doesn't fly everywhere, then increase speed to medium. Do not overmix. The dough will seem crumbly at first. Keep mixing a bit more until the dough starts clumping together (this is not a smooth dough).

Place some white sugar on a small plate. Scoop out 1 tablespoon of dough and roll it between your hands to form a ball. Roll the ball in the sugar until evenly coated then place on the prepared baking sheet. Slightly flatten the ball with the bottom of a drinking glass. Repeat with remaining dough, placing each cookie 1 inch apart from the others.

To make the salted crumble variety, sprinkle each cookie with crushed potato chips and flaky sea salt then bake until lightly golden around the edges (about 15 minutes). Transfer to a wire rack to cool.

To make the chocolate dipped variety, bake the cookies first, let cool then dip in warm, melted chocolate. Return the cookies to the wire rack and let rest until chocolate has dried.
Notes
* The potato chips I used were not overly salty, so I decided to add some additional salt to the dough. If you use a particularly salty chip, you can omit the 1/4 teaspoon fine grain sea salt.
** To make melted chocolate, combine 4 oz. finely chopped bittersweet chocolate (1 chocolate bar) and 1 tablespoon butter in a bowl set over a pot of simmering water (also known as a double boiler). The bowl should fit snuggly on top of the pot without touching the simmering water. Stir until the chocolate and butter are melted and combined.
Tried this recipe?
Tag @brandiego on Instagram so I can check it out!
1