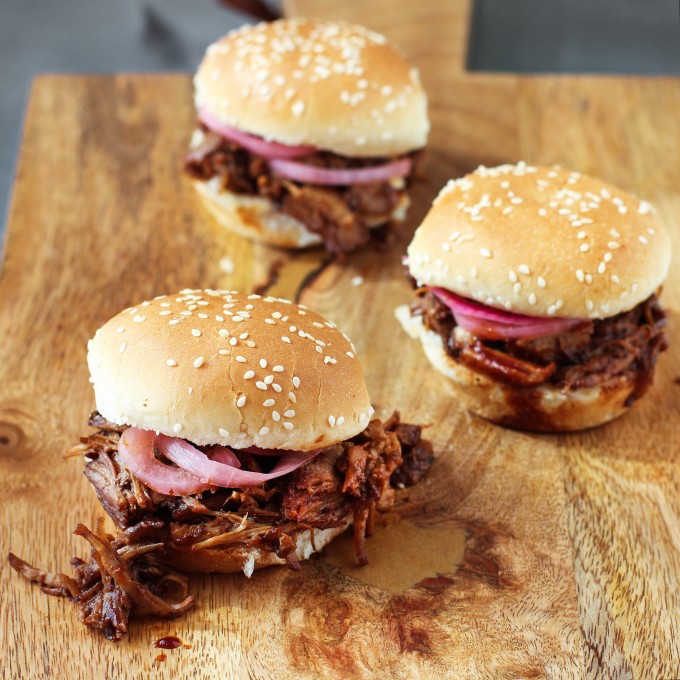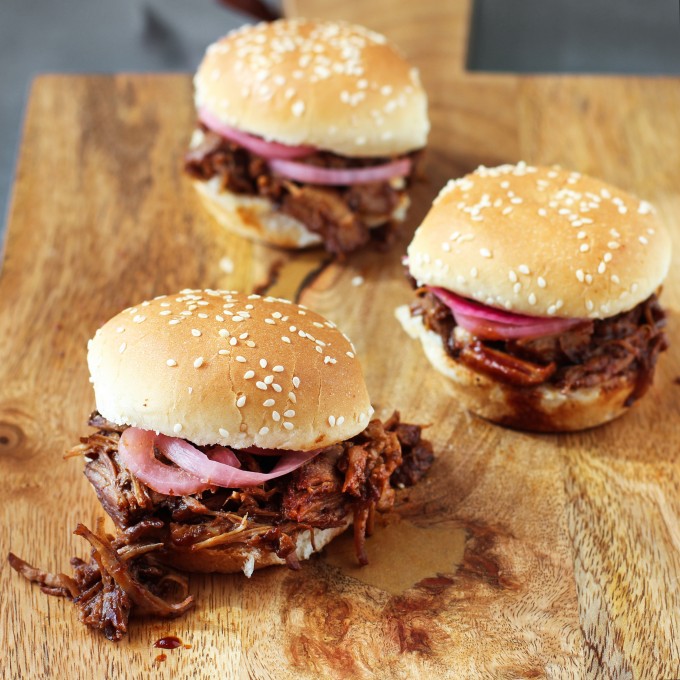 This post may contain affiliate links.
Slow Cooker Pulled Pork has been in my recipe repertoire for over 4 years now.  Consistently delicious, this pulled pork is succulent, smokey and unbelievably tender.  The best part?  It's so easy.  Marbled chunks of pork are showered in a fragrant flurry of spices, then cooked for hours in a bath of liquid smoke.  Usually, you should use liquid smoke sparingly; however, this recipe calls for an unabashed 1/2 cup.  As the pork cooks throughout the day, you're entire house will be enveloped by an drool-inducing fragrance.  The finished pork is packed with a smoky savoriness that one would think came from hours of cooking in a traditional smoker.
Years ago, I served this pulled pork with a cool, crunchy slaw on top.  Recently, I've been substituting in tart pickled red onions.  I love the contrast of the rich meat and the spicy, acidic pickles.  Slow Cooker Pulled Pork is perfect for a crowd, and would certainly fit in at any testosterone-charged Super Bowl party.  You need to make this.  Continue reading for the recipe.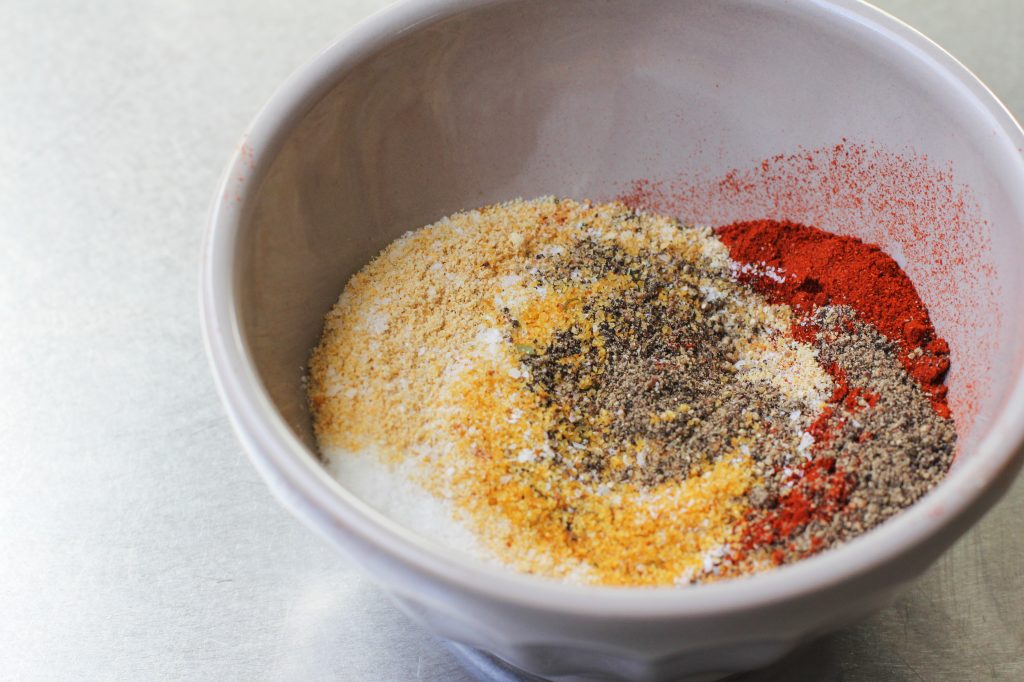 Slow Cooker Pulled Pork
Ingredients
1/4

cup

paprika

2

tablespoons

kosher salt

2

tablespoons

coarsely ground black pepper

1

tablespoon

garlic powder

1

tablespoon

dry mustard, preferably freshly ground

6

pounds

largely boneless country-style pork ribs (Boston butt, pork shoulder or picnic ham will also work)

1/2

cup

hickory bottled smoke
Toasted buns, for serving
Pickled Red Onions, for serving
Instructions
Combine paprika, kosher salt, black pepper, garlic powder and dry mustard in a small bowl, whisking to combine. Measure out a heaping 1/4 cup of rub and save remainder in an airtight container. This makes enough rub for 2 batches of pulled pork.

Cut pork into 3-inch chunks (precision is not needed here). Sprinkle each chunk of pork with the rub, coating each side. Pour bottled smoke into the bottom of a large slow cooker, then add chunks of rubbed pork.

Cover and cook on low from 10 to 12 hours until the pork shreds very easily. Using a slotted spook, scoop the pork from the juices at the bottom.* Shred pork and discard any bones.
To serve, pile pork high on a toasted bun. Slather with BBQ sauce and top with sliced of Pickled Red Onion.
Notes
*If you have leftover pork, be sure to save these flavorful juices. Cover and store in the refrigerator. The next day, skim off any fat that has congealed on the top. When you are ready to reheat, spoon the congealed juices over the pork. As the dish warms up, the juices will melt and keep the pork nice and moist.
Tried this recipe?
Tag @brandiego on Instagram so I can check it out!
Related articles and recipes:
Pulled Pork + Beer Cheese Grilled Cheese Sandwiches
Slow Cooker Pulled Barbecued Chicken Sandwiches
27