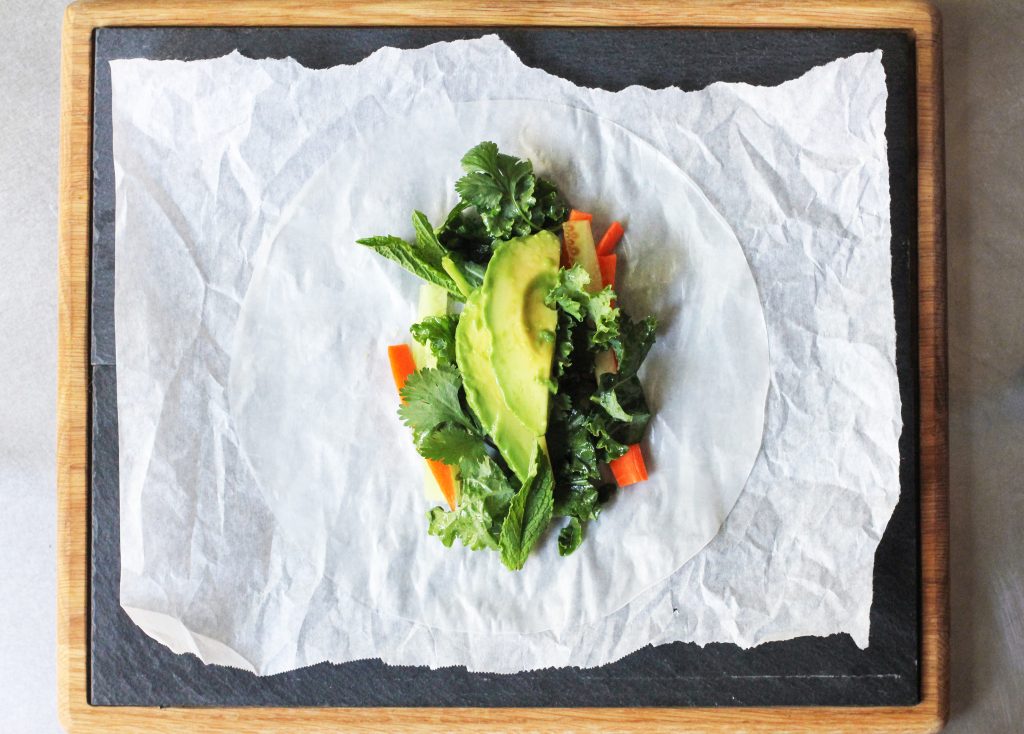 This post may contain affiliate links.
During San Diego's June Gloom, the weather is rarely ideal for going to the beach.  Which makes me sad, because it's around this time of the year that I start yearning for a beach day.  The beach is one of the main reasons why I moved from New Jersey to San Diego.  Each year while I was growing up, I would spend a week or two at my Aunt's beach house on Long Beach Island (eating many of these).  It was one of my favorite times of the year.  So naturally, when it was time for me to move out on my own, I picked a city with easy beach access.
On the rare occasion in June when the sun decides to break through the marine layer, I immediate make plans to go to the beach.  I pack my bag with a book, iPad, iPhone, tanning oil (I am a New Jerseyite at heart), water and snacks, like these Kale and Avocado Summer Rolls.  Kale is marinated in a dressing of honey, lime, fish sauce, garlic and chile, then wrapped up with a fresh mix of carrot, cucumber, avocado, mint and cilantro.  These flavors are bold and bright.  Portable gourmet, this summer roll can easily stay in my bag for a few hours without worry of spoilage.
So it ends up that today is actually one of those rare beautiful days in June.  I've got my bag almost all packed up, so I'm going to finish here.  I'll be on the beach enjoying a few of these tasty rolls.  Continue reading for the recipe.
I should also mention that this recipe can easily be turned into a salad.  Simply omit the rice paper and chop up the carrot and cucumber into a small dice.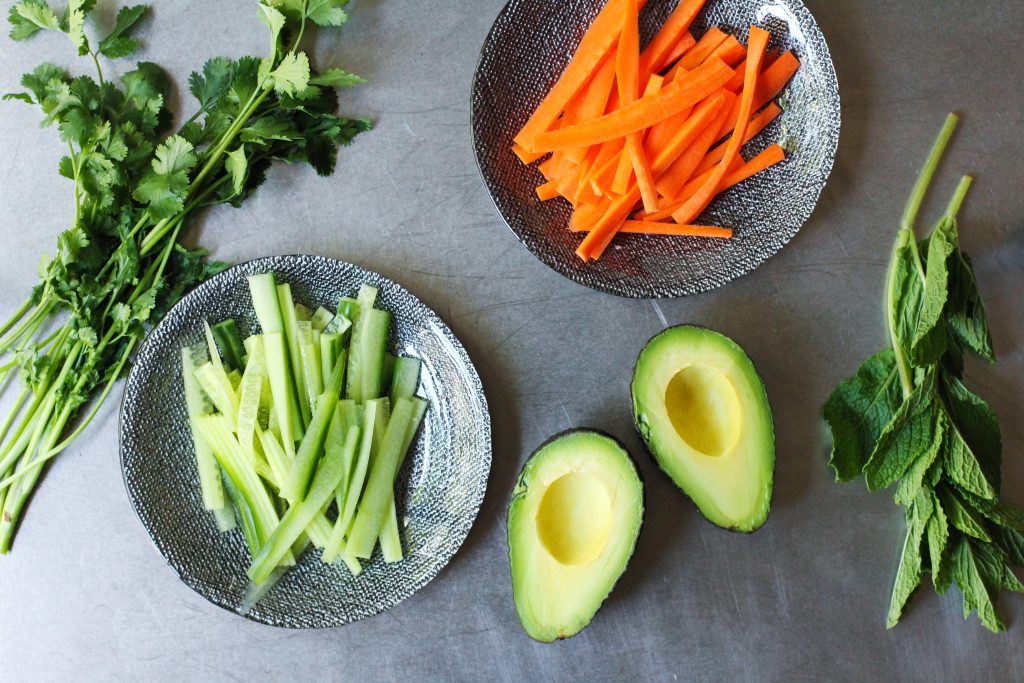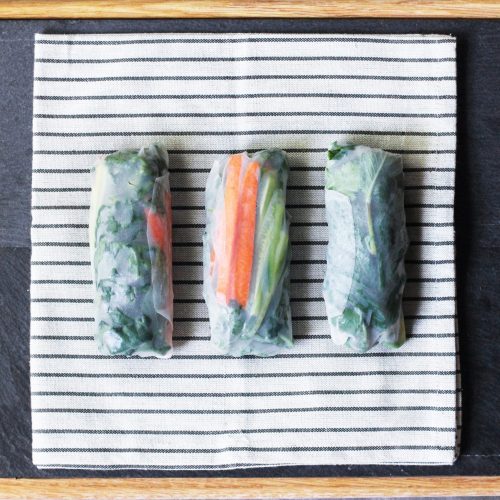 Kale and Avocado Summer Rolls
Ingredients
3

tablespoons

honey

1/2

cup

freshly squeezed lime juice

6

tablespoons

fish sauce

2

teaspoons

minced garlic

1/2

fresno chile or jalapeno, seeds and ribs removed, finely chopped

1

small bunch of kale, washed and thoroughly dried

2

Haas avocados

10– 12

sheets rice paper (8 1/2")

1/2

carrot, peeled and julienned

1/4

English cucumber, julienned

Cilantro leaves

Mint leaves
Instructions
Combine honey, lime juice, fish sauce, garlic and chile in a small bowl, whisking to combine. Remove the tough stem from each stalk of kale and discard. Roughly chop remaining leaves and place in a large bowl. Add 5 tablespoons of the dressing to the kale, tossing to combine. Let salad sit at room temperature for 30 minutes.

Cut each avocado in half and carefully remove the pit. Scoop out the flesh and thinly slice lengthwise. Place in a small bowl and toss with 1 - 2 tablespoons of the dressing. This will keep the avocado from turning brown. Reserve remaining dressing as a dipping sauce.

Fill a plate that's slightly larger than your rice paper with a thin layer of warm water. Dip one sheet of rice paper in the water, turn it over, and dip the other side in the water. Shake off any excess water, then place on a clean work surface. To the center of the rice paper, add a handful of kale salad, and a few slices of carrot, cucumber and avocado. Top with several leaves of cilantro and mint. Tightly roll the summer roll similar to how you would roll a burrito: fold over one side edge against the filling, then the top and bottom edges. Roll the paper towards the remaining open edge until the summer roll is sealed up.

Summer rolls can be made up to 1 day in advance. To serve, place rolls on a large platter in an even layer beside a small bowl of the remaining dressing. If you are taking them on the go, wrap summer rolls in parchment, and place dressing in a small mason jar.
Tried this recipe?
Tag @brandiego on Instagram so I can check it out!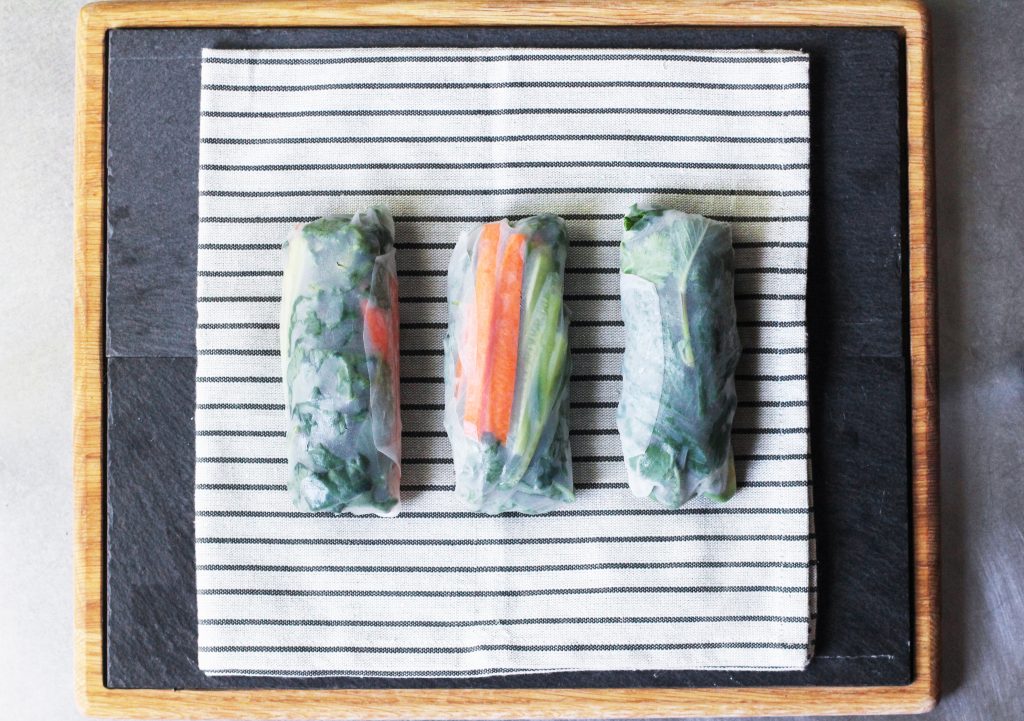 Related recipes and articles:
Raw Kale Salad with Balsamic, Pine Nuts, and Parmesan
3