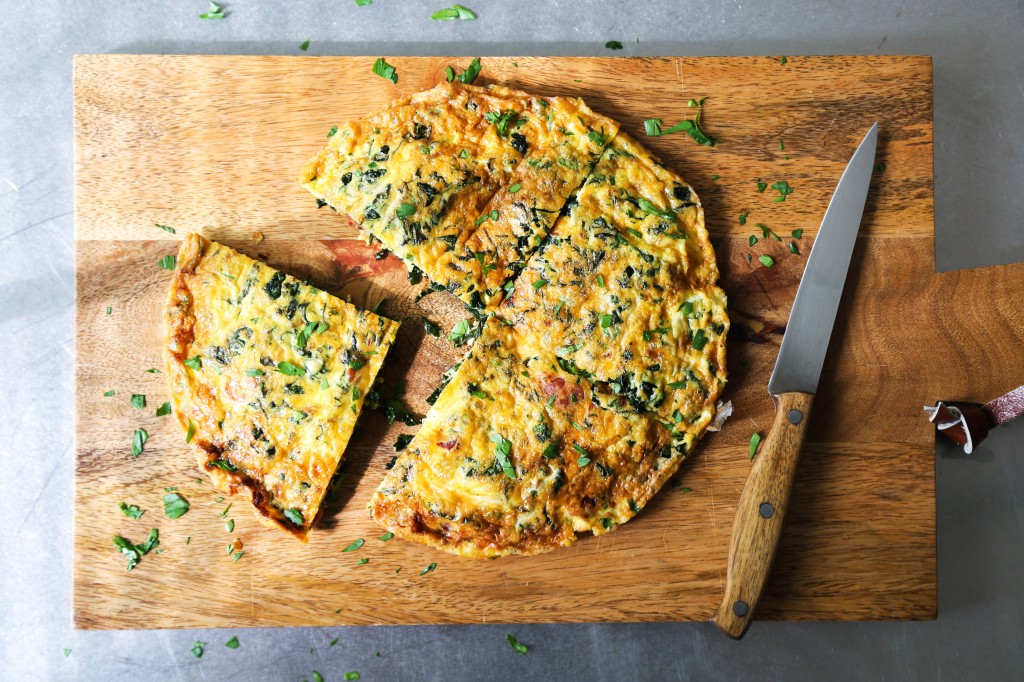 This post may contain affiliate links.
It's around this time each year that I'm usually super busy with my full time job.  It's event season and I've got a major one coming up next Saturday.  Amidst extensive planning and preparations, I find myself yearning for a lazy Sunday morning with the boyfriend.  The type of morning where we brew an extra-large pot of coffee.  The Food Network is on in the background, and I'm puttering around in the kitchen cooking up some waffles, pancakes, or scones (Instagramming along the way of course).  A morning with no commitments, and a shower is my most ambitious plan.
Unfortunately, this Sunday morning looks nothing like that.  Even though my schedule is packed, I still try to make time for a delicious, home-cooked breakfast.  Today, I've made this Kale and Bacon Frittata.  Rich and smokey, this egg-based dish is make with thin shreds of kale sautéed in bacon fat with shallot and crushed red pepper flake.  A golden-hued mix of egg, smoked gouda and parsley is then poured over the tangle of spicy bitter greens.  Crispy bits of bacon are tossed in at the end.  The finished frittata is luscious and hearty.  With each bite you'll enjoy a satisfying balance of spicy, salty, fatty, fresh and bitter.  And the crisp bacon provides savory pops of smoke and salt.  I may not be able to enjoy a lazy Sunday morning right now, but at least I can get a small bite of it before diving into my next project.  Continue reading for the recipe.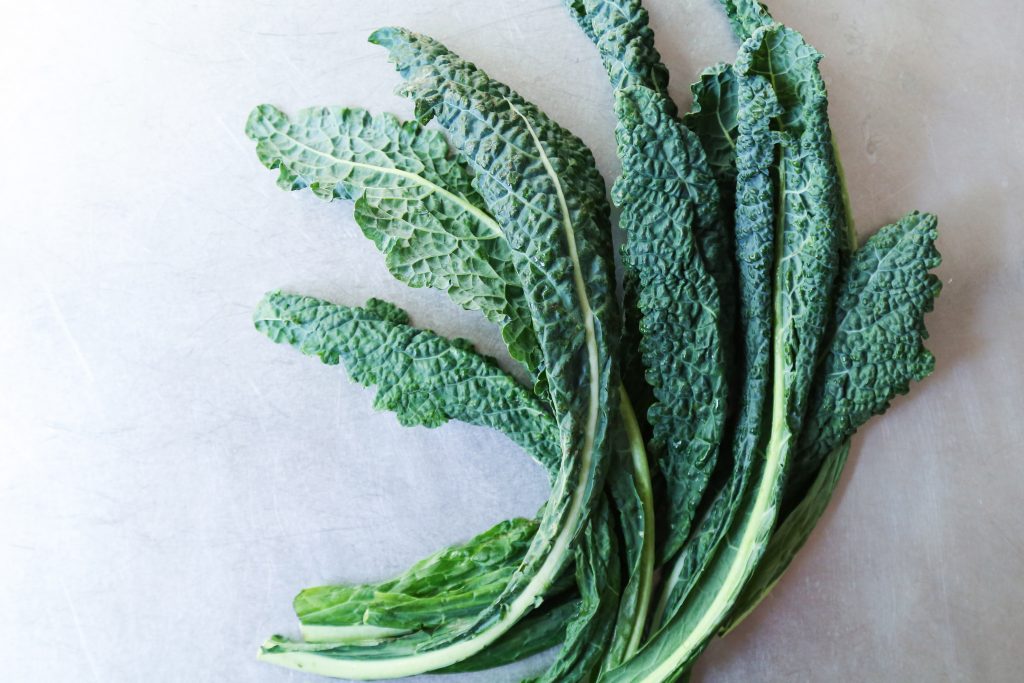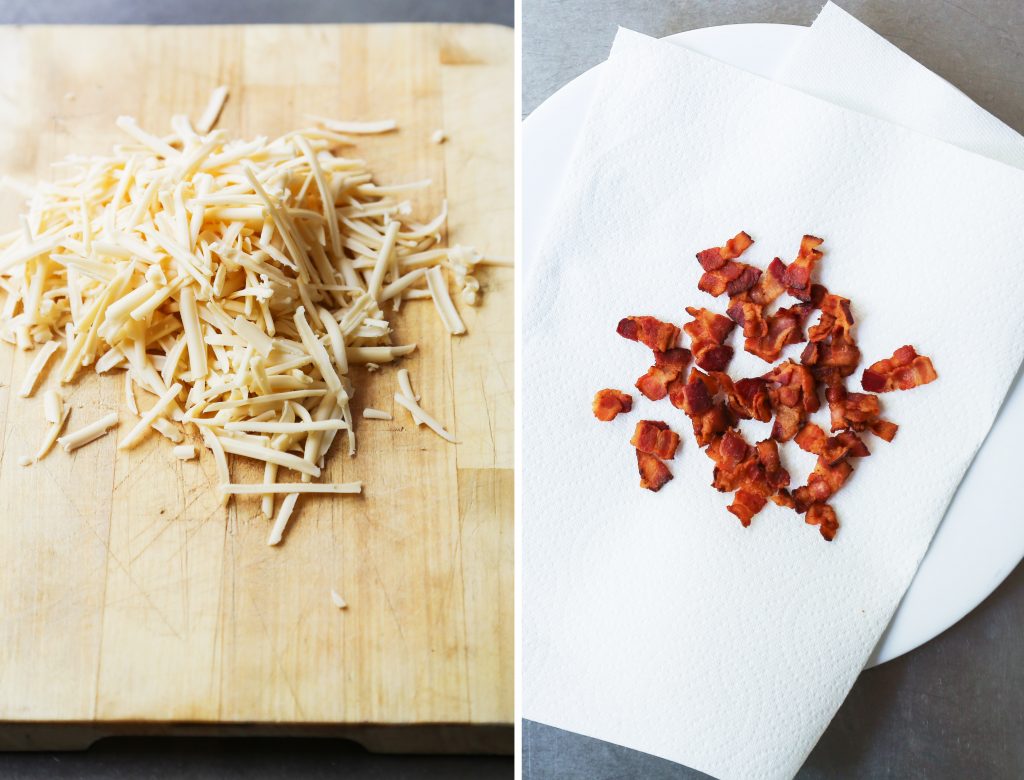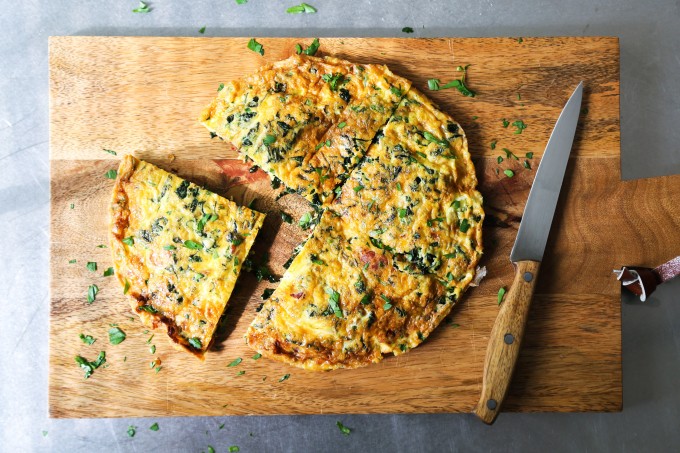 Kale and Bacon Frittata
Ingredients
3

strips bacon, cut into thick slices

1/2

cup

minced shallot

Pinch

of crushed red pepper flake, optional

2

cups

thinly sliced kale leaves, lightly packed

Kosher salt

6

eggs

1

tablespoon

minced flat leaf parsley, plus more for sprinkling

1/2

cup

grated smoked gouda (smoked mozzarella or sharp cheddar would work here too)

Freshly ground black pepper

Olive oil, as needed
Instructions
Preheat broiler on high, and place an oven rack on the top position (as close to the broiler as possible).

Add bacon to a 10" non-stick skillet over medium heat. Cook until the fat is rendered and the bacon is crisp but not brown/black (8 - 10 minutes). Using a slotted spoon, transfer bacon to a paper-towel lined plate. Keep the bacon fat in the pan.

Add shallot to the skillet with a pinch of crush red pepper flake (the size of the pinch will depend on how spicy you like your food), stirring to coat in the bacon fat (I'd recommend using a silicon spatula). Cook until the shallot is soft (3 - 4 minutes). Add the thinly sliced kale leaves, tossing in the fat and shallots. Cook until the kale is soft but not mushy (about 5 minutes). Season with a small pinch of salt.

While the kale is cooking, crack 6 eggs in a medium bowl. Add flat leaf parsley, smoked gouda, a pinch of salt (to taste) and several turns of black pepper. Using a fork, lightly whisk to combine.

Once the kale is done cooking, check the fat level in the pan. If it seems dry, add a little olive oil. Reduce heat to medium-low, then add the cooked bacon and egg-cheese mixture to the skillet, stirring to combine. Continue to scramble the eggs for 1 minute, then let cook undisturbed for 2 minutes. Take the skillet off the heat, then run a spatula around the edge of the frittata (it should be firm). Drizzle a little olive oil around the edge to keep it from sticking. Place the skillet underneath the broiler and cook until the top of the frittata is golden brown (2 - 5 minutes). Timing can vary based on your broiler, so watch this step closely.

Serve straight out of the skillet or transfer to a cutting board. Finish with a sprinkling of chopped parsley.
Tried this recipe?
Tag @brandiego on Instagram so I can check it out!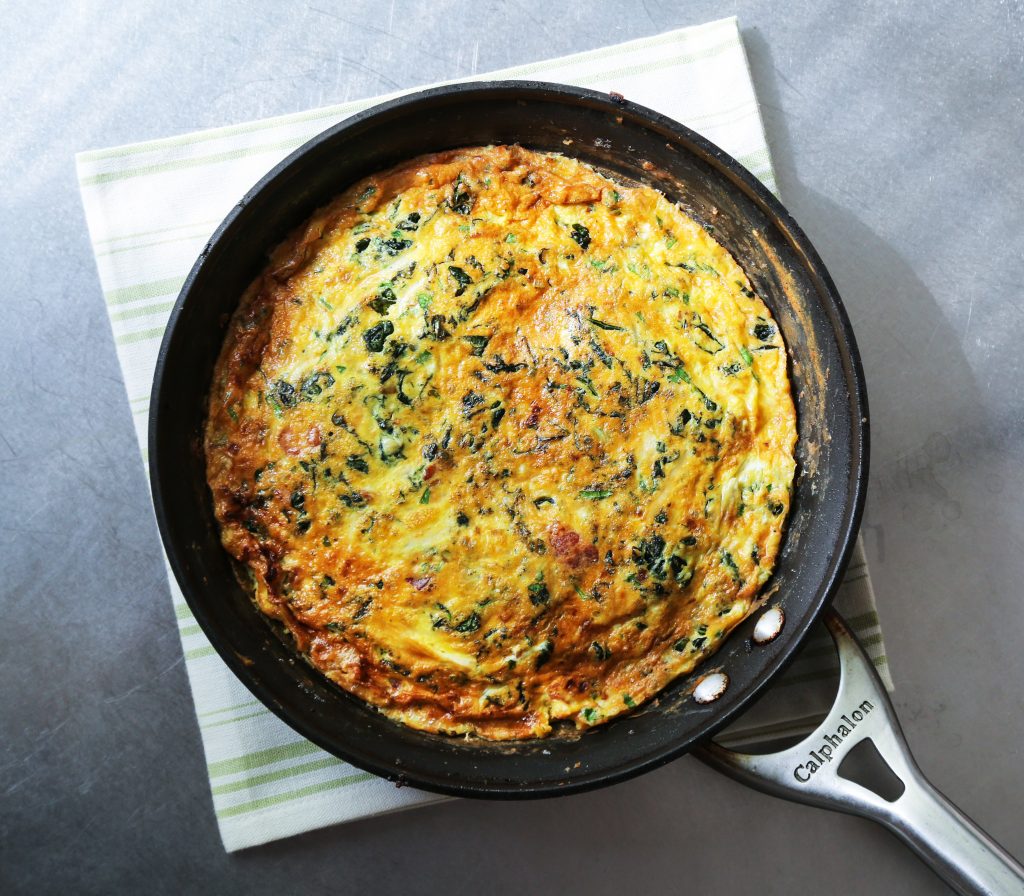 Related recipes and articles:
Brussels Spouts with Bacon and Miso-Mustard
13