Football season is almost here and I've got a mouthwatering Coca-Cola® and Kimchi Glazed Ribs recipe perfect for a Game Day bash, sponsored by The Coca-Cola Company and SheSpeaks.
This post may contain affiliate links.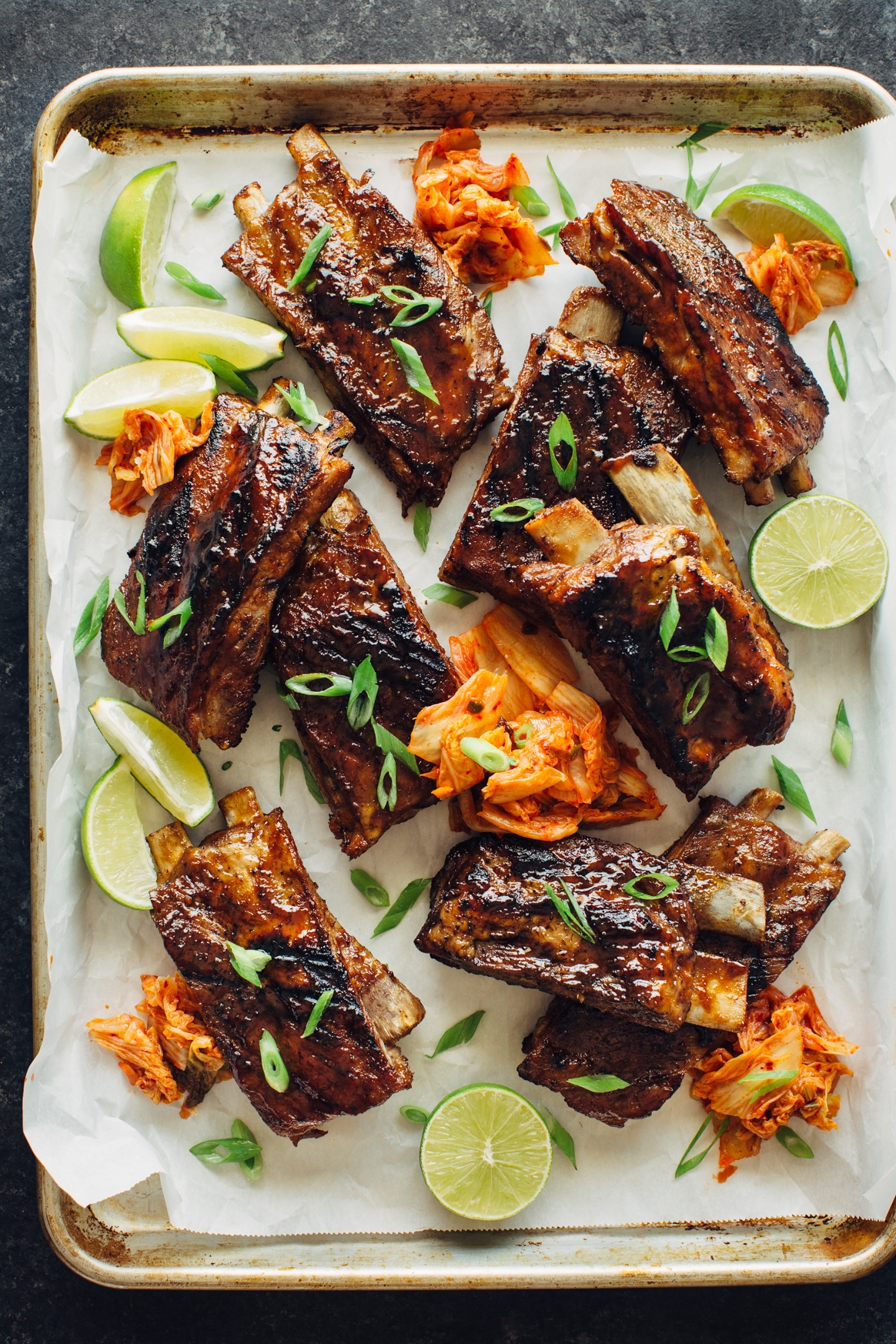 The all-star flavor combination here is crisp Coca-Cola® Classic and spicy kimchi, a Korean fermented cabbage.  The pairing goes beautifully with fatty pork spareribs.  
To make the glaze, you start by reducing 45 ounces of Coca-Cola® on the stovetop.  The concentrated Coca-Cola® is sweet and bright with an alluring note of vanilla. To this, you add kimchi juice (the liquid the cabbage is fermented in), brown sugar, Dijon mustard, white miso, fish sauce and rice vinegar.  The mixture reduces again until you've got a silky barbecue sauce just bursting with flavor. The mustard, miso and fish sauce provide some irresistible umami while the Coca-Cola®, brown sugar and vinegar add brightness and balance.
You make this sauce while you've got some ribs cooking in a low oven until tender. The ribs are then slathered with barbecue sauce, and grilled until glazed and charred in spots. My Coca-Cola® and Kimchi Glazed Ribs are bold, punchy and perfect to share with friends while watching the game. Continue reading for the recipe.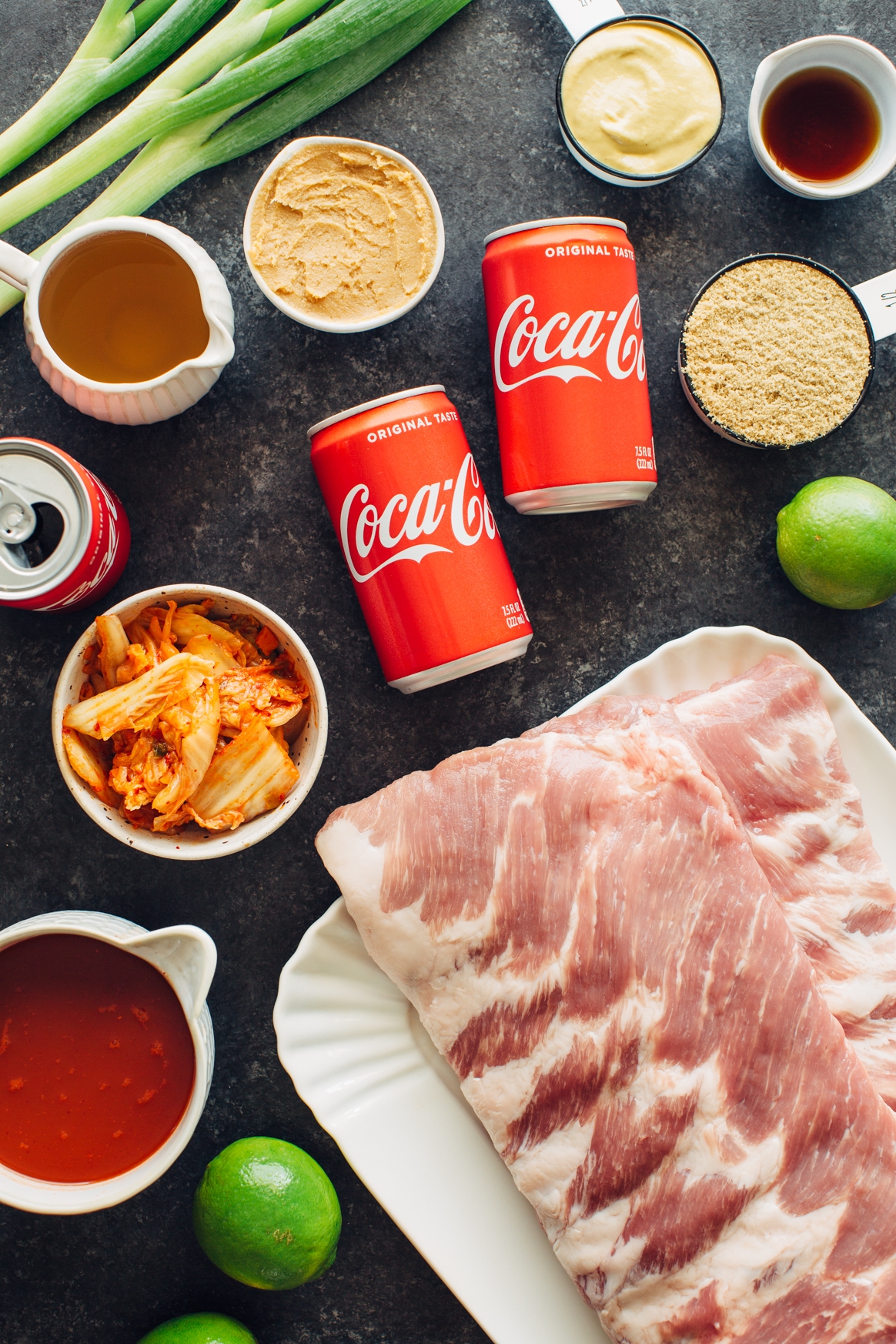 I stocked up on Coca-Cola® Mini-Cans at my local Sam's Club where they've got all the beverages you'd ever need for a fall football party, including beer, wine, spirits and plenty of non-alcohol drinks.  One thing I really love at Sam's Club is their Scan & Go app. I can scan items in my cart as a shop, pay within the app and make my way out of the store without having to wait in any lines!  So. Darn. Convenient. 
You'll need 6 of these mini-cans for this recipe, and the rest of the pack can be put on ice and served at the party.  Coca-Cola® glazed ribs are a classic, but this recipe really takes things to the next level. Coca-Cola® adds a sweet, citrusy note to the glaze with a little bit of vanilla and spice.
Aside from the Coca-Cola®, the other star ingredient here is kimchi.  We eat a lot of kimchi at our house, so I've got a 5 gallon container in the fridge.  Any kimchi will work here, just make sure that you purchase a jar that looks like it's got liquid in it (some packages of kimchi don't have liquid).  
If you don't get a full cup of kimchi juice from your jar of kimchi, you can also blend up some kimchi until smooth, and use that to make up the difference.  Your finished barbecue sauce won't be as smooth, but it'll be just as delicious.
You can make the barbecue sauce and cook the ribs up to one day in advance, so you can focus on other things the day of the party!  I prefer to finish the ribs off on a charcoal grill, but you could also use a gas grill or cook them under a broiler on high.
When you serve these ribs at your next football bash, set up a large platter of ribs with extra sauce on the side.  Scatter garnishes on top to make things look enticing and be sure to have plenty of napkins and ice cold Coca-Cola® nearby!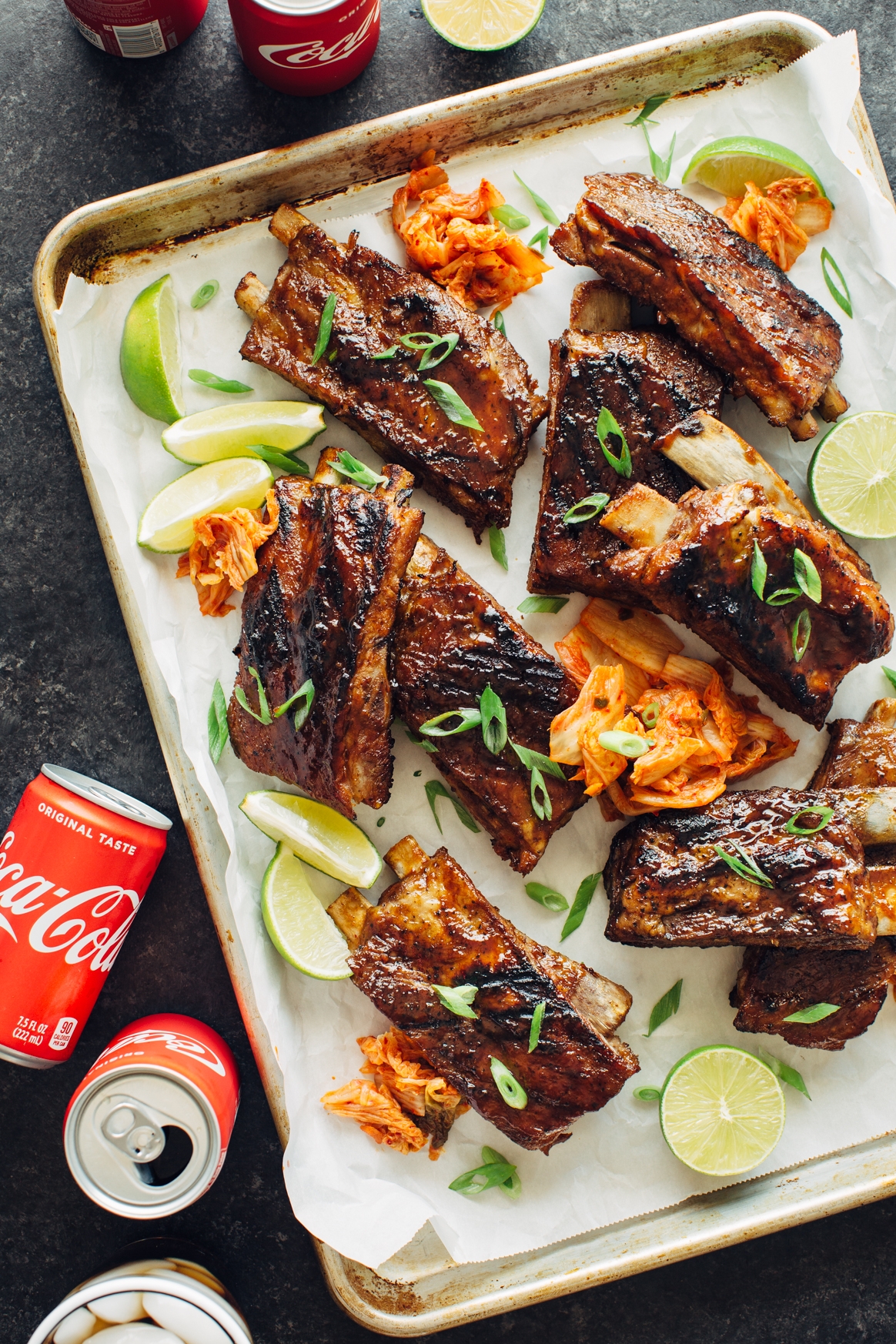 Coca-Cola and Kimchi Glazed Ribs
Ingredients
7 to 8

pounds

pork spareribs

1

cup

kimchi juice*

3/4

packed light brown sugar

1/3

cup

Dijon mustard

1/3

cup

white miso

2

tablespoons

fish sauce

2

tablespoons

unseasoned rice wine vinegar
Lime wedges, sliced scallion greens and kimchi, for serving (optional)
Instructions
Preheat an oven to 325°F and set oven racks in the top and bottom thirds of the oven. Season ribs generously with salt and pepper. Tightly wrap each rack of ribs in 2 layers of foil. Divide foil-wrapped ribs between 2 baking sheets and bake until tender (about 2 hours). Halfway through cooking, switch the positions of the baking sheets to ensure even cooking.

While the ribs are cooking in the oven, prepare the glaze. Bring Coca-Cola® to a boil in a medium saucepan set over high heat. Continue to boil on high until the coke is reduced to about 1 cup (45 to 50 minutes). Add kimchi juice, brown sugar, mustard, miso, fish sauce and vinegar, stirring to combine. Bring the mixture back to a boil, reduce heat to medium and simmer until reduced to 2 to 2 1/2 cups (30 to 35 minutes).

Let the ribs cool in the foil for a few moments, then drain off any excess fat and liquid. Cut each rib rack into 2 bone pieces. Reserve 1 cup of glaze for serving, then brush the remaining glaze all over the ribs. Grill or broil ribs, turning occasionally, until glazed and blackened in spots (about 5 minutes).

To serve, place ribs on a large platter with lime wedges and small mounds of kimchi. Top with a scattering of sliced scallion greens and enjoy immediately!
Notes
*Kimchi juice is the liquid that's in the kimchi jar. If you don't get a full cup of kimchi juice from your jar of kimchi, you can also blend up some kimchi until smooth, and use that to make up the difference. Your finished barbecue sauce won't be as smooth, but it'll be just as delicious.
Tried this recipe?
Tag @brandiego on Instagram so I can check it out!
This post has been sponsored by The Coca-Cola® Company and SheSpeaks.  All thoughts, opinions and recipes are my own.
25