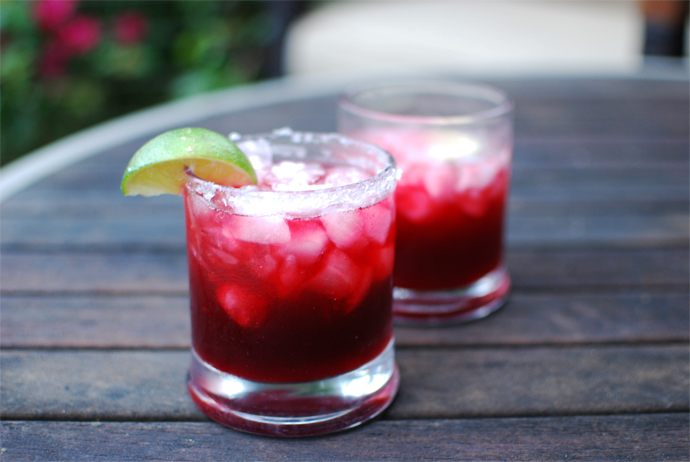 This post may contain affiliate links.
I just wanted to take a brief moment to share some of my top picks for 2010.  While scrolling through my recipe archives, I realized that this was going to be quite the difficult task.  I could have easily made this a top 20, but for brevity's sake, I decided to slim my picks down to a top 10.
Also, a quick note one of my cooking philosophies.  Nine of the ten recipes below feature seasonal ingredients.  This means that the produce used in the dish was in season at the time.  Zucchini and cucumbers in the Summer, figs and squash in the Fall and citrus in the Winter (no documented recipes from Spring).  I enjoy this cooking method because in-season produce is more flavorful and usually cheaper.  Expect more seasonal highlights in the years to come!
New recipes will commence next week.  Continue reading for my 2010 top picks.
Armenian Cucumber Infused Vodka
First up is my Armenian Cucumber Infused Vodka.  I chose this infusion over my others for two reasons.  One, the cucumber itself is just beautiful.  I decided slice the cuke into ribbons for pure aesthetic value.  The shapes, patterns and textures are like no other – a true testament to the beauty of a natural ingredient.  Two, this infusion acts as a base to some serisouly yumzo cocktails.  One of my friends turned to me after taking his first sip of Cucumber Lime Basil Martini and said "Damn, this is ****ing good".  I will definitely be infusing another batch this Summer.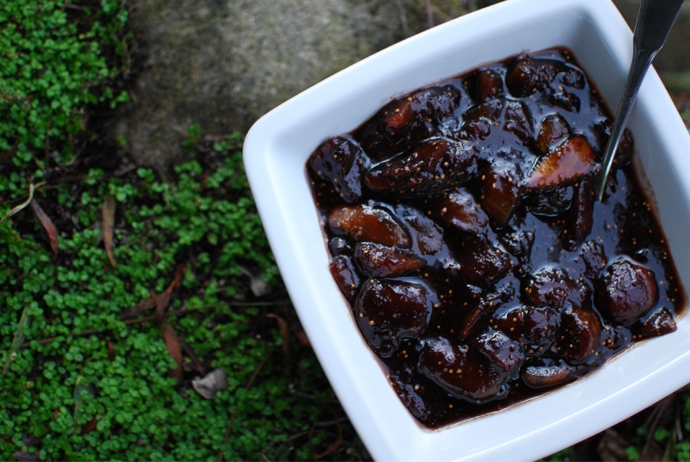 Next up is my Fig and Balsamic Jam.  Before this recipe, I had never made jam.  After several rounds of heating and cooling to get the perfect consistency, I lifted a spoonful of this jam to my mouth for a taste.  The flavors were just spot on – sweet, earthy and complex.  I was alone in my kitchen and exclaimed, "I just made some ****ing jam."  If my memory serves me right, I also sent out a similar mass text.  You could certainly spread this jam over warm toast for breakfast, but I enjoyed it the most with a cold scoop of vanilla ice cream.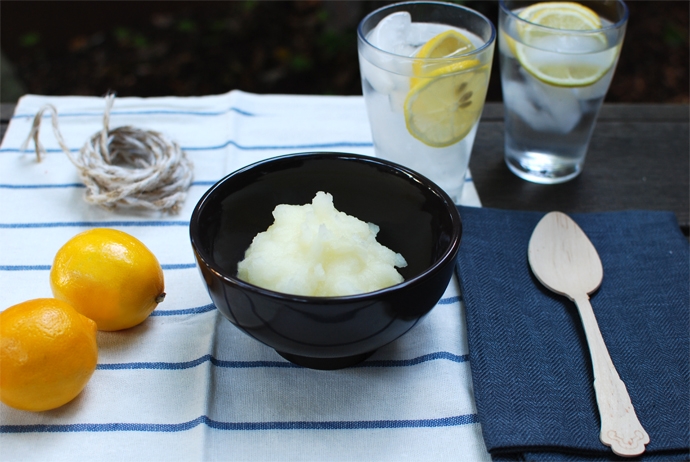 Meyer lemons are one of my favorite seasonal ingredients.  Each year I look forward to seeing a vibrant yellow display of them at the markets.  This Meyer Lemon Sorbet captures the essence of a meyer lemon in a cool, sweet-tart dessert.  This sorbet makes a perfect finish to a heavy Holiday meal.
Pasta with Kabocha Parmesan Sauce
Ok, I know the sauce looks a little bit like nacho cheese, but I swear, it's not.  Vibrant kabocha squash is roasted and then pureed into a creamy, earthy pasta sauce.  Flavored with shallot, Parmesan cheese, nutmeg and lemon juice, this sauce is a unique alternative to your standard pasta sauces (tomato or white).  If you are having trouble finding a kabocha squash, simply use a more common squash (pumpkin, butternut squash or acorn squash).
Red Quinoa and Roasted Acorn Squash Salad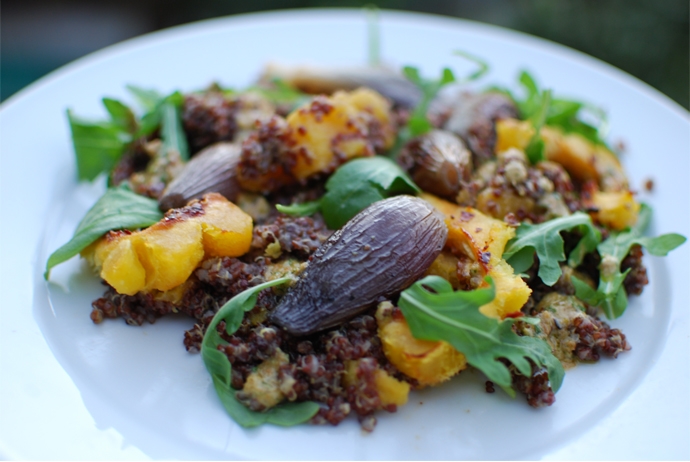 I wanted to feature this Red Quinoa and Roasted Acorn Squash salad because the flavors are unique and well balanced.  Caramelized torpedo onions lend a sweetness to the dish.  Acorn squash is roasted with red pepper flake and maple syrup giving the salad a creamy, earthy note with a hint of heat.  The pistachio-arugula dressing is rich and bold.  Grassy, savory red quinoa provides substance and heft.  Finally, fresh, peppery arugula rounds out the salad cutting through some of the heavier components.
Roasted Jalapeno Blackberry Margarita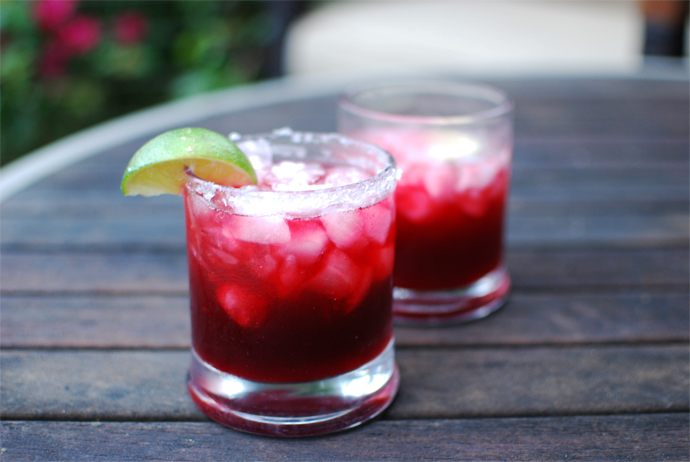 Several weeks after featuring this Roasted Jalapeno Blackberry Margarita, I had the pleasure of meeting the owner of Barrio Star.  He reviewed my recipe and gave me some kudos on the adaptation.  My version varies slightly from the original, but is equally as tasty.  Recreating stand out drinks and dishes from restaurants is one of my favorite challenges in the kitchen.  I certainly plan on featuring more recreations in 2011.
Smoked Chocolate and Tequila Ice Cream
I've made many ice creams, granitas and sorbets throughout the year.  I'd have to say that this Smoked Chocolate and Tequila Ice Cream is my crowning achievement.  This recipe is not easy; however, once you make it to end, you will be generously rewarded.  The finished ice cream is just packed with flavor and has an almost luxurious richness.  A lighter, frozen fudge if you will.  I did have a difficult time finding black cardamom.  I recall searching a number of ethnic markets for the particular spice.  Of course, I ended up finding it a Whole Foods (small green boxed spices near the bulk bins).  The key learning from this experiences was… start at Whole Foods.
Spicy Pumpkin Soup with Toasted Cumin Crema
Next up is my Spicy Pumpkin Soup with Toasted Cumin Crema.  Featuring canned pumpkin (rather than labor intensive homemade pumpkin puree), this soup comes together in a snap and is so darn flavorful.  Seriously… restaurant quality.  The toasted cumin crema both rounds out and sets off this soup.  Definitely Totes Yumbots 2012 (meaning totally yummy).
Mmmmm… Watermelon Sorbet.  Revisiting this picture whisks me back to mid Summer 2010 just days before launching Kitchen Konfidence.  The evening was hot and my friends and I had just finished enjoying a sizable backyard BBQ spread.  Fresh slices of Watermelon Sorbet studded with dark chocolate "seeds" were a perfect ending to a warm weather feast.  Presenting the sorbet in a watermelon rind is completely optional, but highly recommended.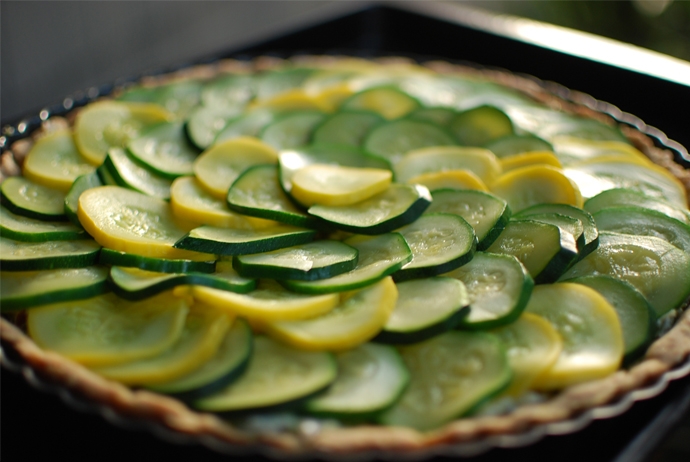 I'm finishing the roundup with my Zucchini Tart.  This showstopper recipe has WOW factor to the max.  Perfectly arranged zucchini slices provide major aesthetic appeal.  The contrasting flavors and textures of the tart make this dish utterly delicious.  Just a little warning though – a dish of this magnitude does require a good chunk of time in the kitchen, so please plan appropriately.
1