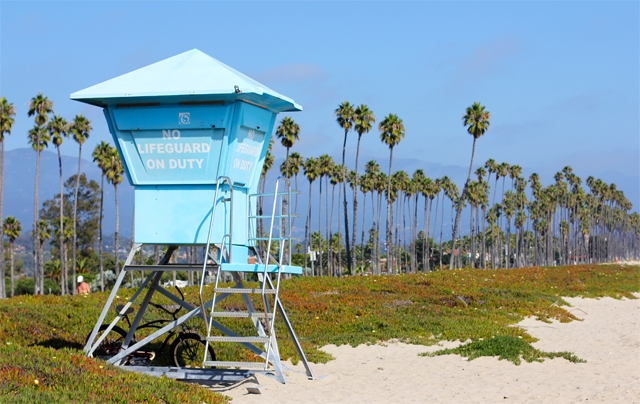 This post may contain affiliate links.
I love traveling; however, over the past several years, I've haven't really been traveling as much as I used to.  So when I got an invite to a friend's wedding in Guernville, CA (wine country), I decided to take some extra time off and embark on a 7 day road trip up and down the California coast.  My first stop:  Santa Barbara.  Santa Barbara is a smaller city north of Los Angeles nestled in between a stunning series of soaring mountains and the vast Pacific Ocean.  I first experienced the beauty of Santa Barbara during Spring Break 2001 (gawd… 10 years ago!).  I was immediately captivated by the city.  That visit was one of the reasons why I eventually moved from New Jersey to California!  Below is a series of photos from my recent road trip.  I won't be posting a recipe with this article, but expect some tasty bites later this week.  Continue reading for the experience.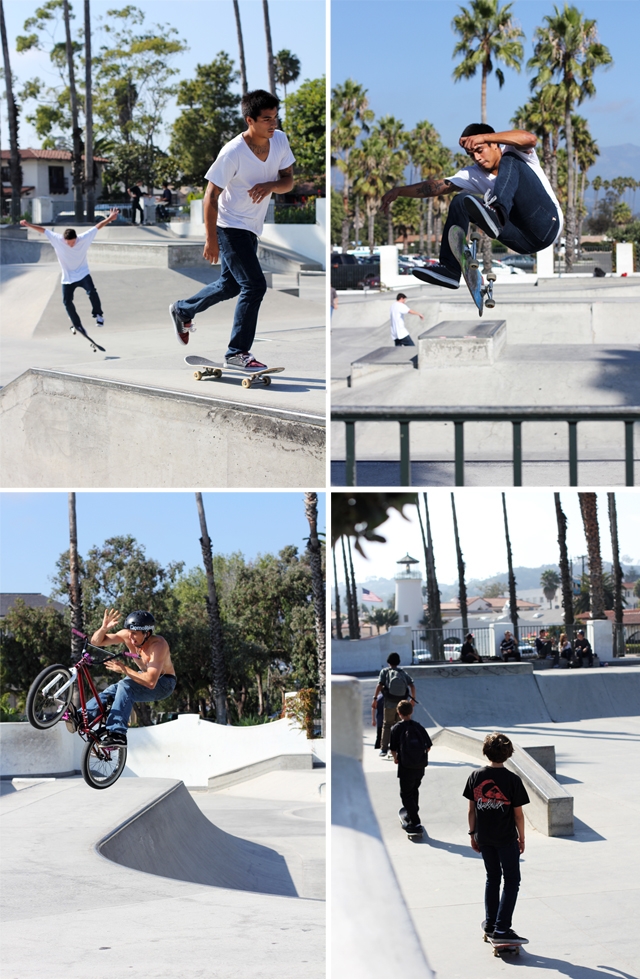 Upon arriving in Santa Barbara, I parked near the Visitor's Center and walked to an adjacent beach.  With a crisp, blue sky above my head, I dug my feet into the sand near the water's edge.  Breaking waves softened the ground around my feet allowing them to sink further into the sand.  Standing in front of the vast, shimmering ocean, I took a long moment to relax and clear my mind.  This is a tradition I like to go through each time I visit the beach.  As I walked back from the water, my "moment" was interrupted by shouts and clacks coming from the skate park pictured above.  I curiously approached the park with my camera in hand.  45 minutes later I snapped back to reality.  Watching these young daredevils was 100% mesmerizing.  With each jump, slide, grind and flip, I watched with bated breath, awaiting the landing (or lack of).  A skate park next to the ocean.  Southern California culture at its best.
After a long drive from San Diego and several hours of exploring the coast, I was famished.  Based on a recommendation from a local valet, I visited Lily's Tacos in search of some super casual Mexican cuisine (aka. a hole in the wall).  The menu at Lily's is short yet intriguing with a somewhat scary lineup of proteins.  Classics like Asada (marinated beef) and Adobada (marinated pork) sat on the menu with more daring items like Labio (cow lip), Lengua (cow tongue) and Ojo (cow eye).  That's right… a cow eye taco.
If I was spending a few days in Santa Babara, I would have definitely tried the eye or tongue tacos.  However, given that I had to be up and on the road early the following morning, I decided to go with what I knew – Asada, Adobada and Cachete (cow cheek).  Topped with onion, cilantro, radish and lime, these tacos were full of flavor.  A satisfying meal to get me through the rest of the day.
As I walked back to State Street (the main drag) from Lily's, I noticed a small shop named Chocolate Maya.  The store seemed similar to Chuao Chocolatier, one of my San Diego obsessions, so I decided to investigate.  Warm and inviting, Chocolate Maya has a rustic aesthetic with shelves upon shelves of brightly packaged chocolate.  Immaculate rows of artisan chocolates stared back at me as I approached the glass display case.  Each individual bon bon touting a beautiful design and an alluringly appetizing description.  I couldn't help but purchase a small box of 4 treats:  Chocolate Covered Caramel Mushroom, Strawberry Balsamic, Pineapple Basil and Salted Caramel (no surprise there).  So delicious.
The rest of my day was spent experiencing other well known spots in Santa Barbara.  Beautiful views found at Shoreline Park (pictured above) and serene contemplation at the Mission (pictured below).
I met up with a friend that evening for a taste of The Brewhouse, a local hotspot.  While enjoying a substantial Reuben sammich, I sipped on a daring blend of housemade Apricot Beer and Habanero Pilsner.  I can somehow never resist a fiery libation. Unfortunately, photo documentation of my trip during the evening is non existent.  As the sun retired for the evening, so did my camera.
The next morning, I packed my belongings and headed onward.  Before starting my long journey up the 1 to San Francisco, I stopped at The French Press, an adorable coffee shop located in the heart of the city.  Staffed with a small army of cute hipsters, The French Press served up quite the tasty coffee beverage.  The perfect way to start a day.  As I got on the 154 towards San Luis Obispo, I felt a small pang of melancholy.  The kind that can happen when you leave a place a familiarity and comfort, knowing that you are heading into the unknown.  Next Stop:  Big Sur.
0